The Hong Kong Housing Bubble
Hong Kong housing prices have risen significantly in recent years and the Hong Kong housing market is now regarded as one of largest housing bubbles in the world. UBS has commented on the fact that transaction volumes in the Hong Kong housing market have dropped significantly. UBS believes this is because people are holding onto their properties and expecting prices to rise further. However, the dependence on sentiment makes the long-term outlook highly uncertain.
Figure 1: Real Residential Property Prices for Hong Kong
Figure 2: Indicators of Hong Kong Housing Market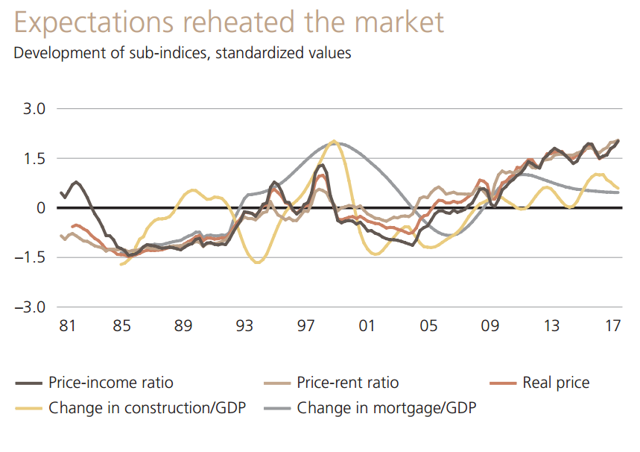 Figure 3: Housing Price Rises in past one year and five years in all cities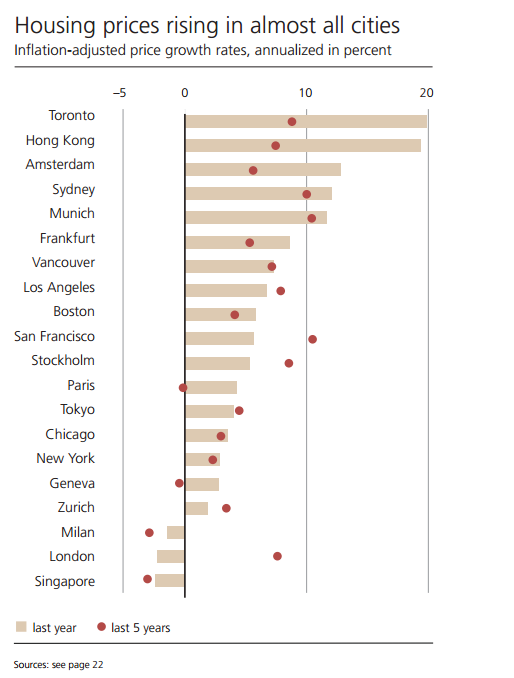 If the Hong Kong housing market is a "bubble", then it is essential to anlayze how it will develop in the future. In a Deutsche Bank report, we can find some very interesting characteristics of the Hong Kong housing bubble.
The primary volume chart sees a 10-year high in 2017 while secondary volume remained sluggish (Deutsche Bank (2017) Checking all the right boxes for price correction p.5).
Figure 4: Primary and Secondary Private Residential Sales in Hong Kong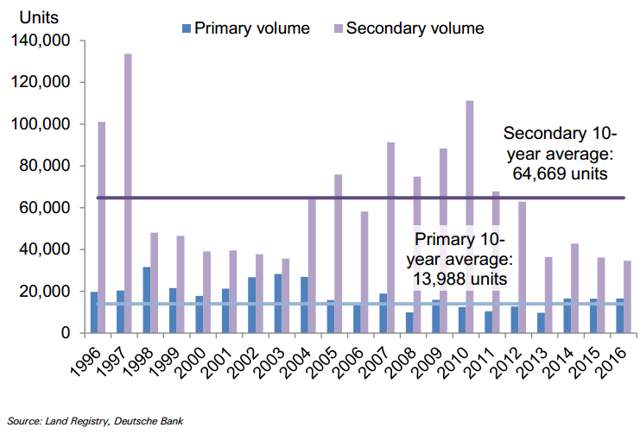 Figure 5: Volume Split between Primary and Secondary private markets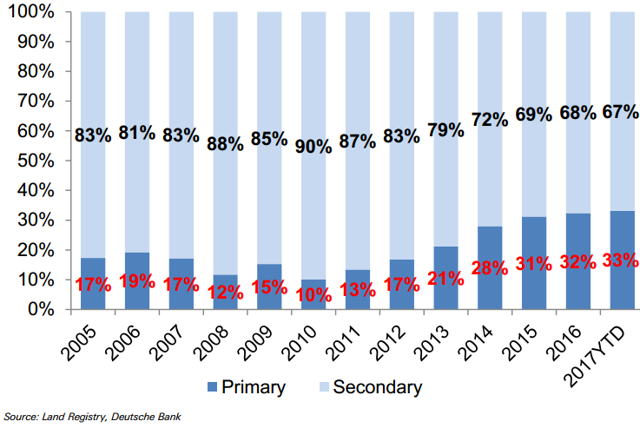 The charts seem to verify UBS's view that transaction volumes in the Hong Kong housing market have dropped significantly because people are holding onto their properties and expecting prices to rise further. But is this the whole story? In another Deutsche Bank report, a different explanation is offered for shrinking transaction volumes.
1. The Illusion of Short Supply
Deutsche Bank suggests that the supply shortage phenomenon is invalid after 2001. As of 2016, there are a total of 2,707,000 residential units in Hong Kong compared with 2,497,000 households and the illusion of a supply shortage is due to the HKMA's mortgage tightening. The property owners who want to sell their units would prefer to leave their houses vacant instead of renting them out (as loan-to-value is lower for units with a lease attached) (Deutsche Bank (2016) Hong Kong Property - The game has changed p.9)
Also, the Hong Kong government proactively increased land supply from 2011 and the bank expects the average housing completion in 2018-2020 to be at the rate of 21,036 units per year (93% above the average annual completion in the past 10 years of 10,926 units per year) (Deutsche Bank (2017) Checking all the right boxes for price correction p.4)
From the demand point of view, it is expected that there will be a shortfall of 2,799 public units in the next 10 years, but that there will be a surplus of 93,781 private units. (Deutsche Bank (2017) Checking all the right boxes for price correction p.6)
Figure 6: Government Versus Deutsche Bank's forecasts for new housing demand in 2017-2026 (Deutsche Bank (2017) Demographically challenged p. 13)

2. Low Affordability
Housing prices in Hong Kong are so high that only a small number of families can afford to buy houses. Based on the stress test of the HKMA, the minimum monthly household income required to buy an average unit in the private housing market in Hong Kong is HK$58,877 at a 2% interest rate level. And as of end-2016, only 425,000 (16.9%) out of a total of 2,507,000 households in Hong Kong earn such a monthly household income (Deutsche Bank (2017) Demographically challenged p.8)
However, as Hong Kong has adopted a currency-pegging system, the normalization of interest in the U.S. has pushed up the local interest rate in Hong Kong and forced banks to abandon fixed long-term low mortgage rate offerings. In turn, this increases the pressure on buyers and further reduces the affordability of the Hong Kong housing market. Deutsche Bank has also conducted a stress test and applied its in-house view of a 3.75% mortgage interest rate by 2019. Assuming the mortgage loan tenure remains unchanged at 30 years, the monthly mortgage installment will increase by 24% to HK$30,669 (from HK$24,737 currently), and the minimum monthly household income required will correspondingly increase to HK$70,615 (from HK$58,877 currently) (Deutsche Bank (2017) Demographically challenged p.10). This indicates that an even smaller number of families could afford buying a house in Hong Kong. Also, such a stress test is based on the assumption that the Hong Kong economy will not suffer from the Fed's interest rate hike and that local residents can maintain their income levels. If we consider the negative economic impact of a U.S. interest rate hike, the suffering could be even worse.
Based on the negative long-term view of the Hong Kong housing market, Deutsche Bank expects that by 2026 the vacancy rate will surge to 9% and the Anticipated Selling Price (ASP) will drop by 48% (Deutsche Bank (2017) Demographically challenged p.4). However, what could happen by 2026 provides little insight into the guidance of our current investment decisions because it could take an extremely long time for market prices to reflect the fundamental situation.
Next, let's consider what Hong Kong's current housing market looks like and see what could happen in the short term.
Aggressive Mainland Developers
The Hong Kong housing market has previously been controlled by a limited number of big players. Some of them, such as CK Asset Holdings Ltd., when faced with the uncertain future have adopted high asset turnover strategies to reduce inventory to counteract the impact of competition from the influx of mainland developers (Deutsche Bank (2016) Hong Kong Property - The game has changed). Mainland developers have been bidding aggressively in land sales and the resultant surge in land prices has already forced local developers to seek new ways to increase their holdings such as launching new construction projects within the shells of existing buildings.
From the perspective of mainland developers, although yields in both the office and residential sectors may not be especially appealing to those based in Hong Kong, the returns and opportunities are still attractive to mainland Chinese firms because house prices in Hong Kong are so high that doing one project in Hong Kong is as lucrative as doing 10 projects in second-tier cities in mainland China. What is more, Hong Kong is a good destination for Chinese developers to expand their overseas interests, especially because mainland firms are very familiar with the Hong Kong investment environment. Also, in the case of other foreign countries, it is difficult for mainland developers to respond in cases of an abrupt change in government investment policy.
Faced with the growing housing bubble, the HKMA has implemented measures to control the risks associated with mortgage loans. However, it is common practice for Hong Kong buyers to take out a second mortgage on the same property through various non-bank financial institutions (Deutsche Bank (2017) Demographically challenged p.7). One high profile case is that of Sun Hung Kai Properties (SHKP) which offered an unprecedented home loan worth as much as 120 percent of an apartment's value without the need to submit income proof. But the offer only applies to buyers who already own an apartment with a value of not less than 70 percent of the would-be purchase price of the designated Park Yoho Venezia apartment. Such activities diluted the influence of HKMA's tightening of mortgage lending designed to reduce the risk of a property bubble.
In summary, sluggish transactions in Hong Kong housing markets might be partly because people are holding onto their properties and expecting prices to rise further. However, it is more likely that the low affordability of local residents and the deteriorating demographic situation has resulted in buyers holding conservative views on the future. One illustration is that Hong Kong's exclusive Peak neighborhood has just recorded the most expensive deal of its type at HK$132,000 ($17,000) per square foot for a luxury apartment. However, in the same building, six other units failed to sell because the tendered bids were too low. This situation is so strange that it cannot prevent people from wondering if the transaction is real or just a marketing trick.
What we can learn for Trading
1. HKD reaching 7.85 not indicating a short attack
Hong Kong has implemented both strong-side and weak-side convertibility undertakings by virtue of which the HKMA undertakes to sell US dollars at 7.85 and buy US dollars at 7.75. Within the Convertibility Zone of between 7.75 and 7.85, the HKMA may choose to conduct market operations. As Hong Kong is experiencing an asset bubble, many in the media, especially mainland news agents, interpret the depreciation of HKD to 7.85 as a currency attack which the region experienced during the Asia Financial Crisis.
Although I have published several papers and reports which illustrate the weaknesses of the Hong Kong currency board system and which argue for a de-pegging, the Hong Kong economy is nevertheless still not in a very bad condition. The current round of depreciation does not look like a currency attack, at least for now. However, if we take a look at Hibor, we can obtain more information.
Chart 7: Hibor-Libor Gap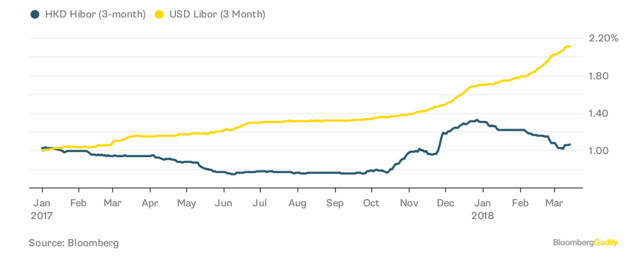 The HKMA is following the Fed and it has increased the official interest rate during the past two years. However, the inter-bank Hibor is much lower than the counterparty Libor, reflecting excess liquidity in Hong Kong. The currency board system and the interest parity mechanism will naturally adjust this situation by putting the HKD FX rate to the lower bound and forcing the HKMA to purchase the HKD to decrease liquidity to narrow the gap. So we can see that there will be a significant Hibor rate hike when the rate reaches 7.85 and this will force the HKMA to purchase the HKD.
Chart 8: Hibor Spike after intervention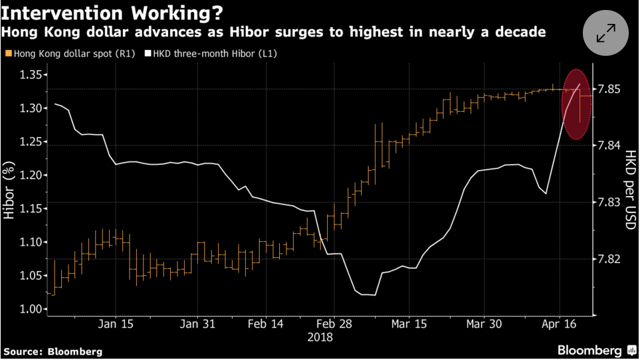 2. Housing market might be under pressure, but it is mainland developers who will burn the most
The gap between Hibor and Libor has been there for a period of time and the HKMA have authorities which can intervene to narrow the gap before the HKD depreciates to 7.85. Observers are speculating on the real reason why the HKMA does not take such action. One argument, which is related to the housing market, has been brought up by Chao Jiang from Haitong Securities. Jiang suggests that the Hong Kong government is concerned that the housing market will be hit hard when liquidity is limited. However, we have previously suggested that the current Hong Kong housing bubble has mainly been created by mainland real estate companies in the primary market. Local developers and residents are relatively conservative and the Hong Kong regulators have implemented several measures to control the risks. Therefore, when the housing prices drop, local firms and residents will be hurt, but it might not be as much as many people think. On the contrary, Chinese developers who have leveraged and invested a significant amount of money in Hong Kong might in fact be hit the most.
3. HKMA is concerned about the chain effects
The idea that the housing market is of vital importance to the Hong Kong economy is a universal belief among investors. The current housing bubble has been mainly created by mainland developers, and in reality, local Hong Kong real estate firms and residents can limit their losses when housing prices drop. However, the aftermath of the collapse is capable of causing chain effects which might be beyond the control of the HKMA.
The weakest aspect of a housing bubble collapse is the currency board system and the short selling of Hong Kong stocks and the currency. This could push up the Hong Kong local interest rates to an unreasonably high level which in turn would result in a hard landing for the economy and create massive unemployment. In view of the angry attitude of local residents towards the local and central governments, there is the possibility of protests on the streets which could create panic. Simultaneously, it would raise investors' expectations that the government could de-peg the HKD in order to stimulate the economy which would create a self-fulfilling prophecy. There are signs that this is the underlying concern of the HKMA.
---
Disclosure: I/we have no positions in any stocks mentioned, and no plans to initiate any positions within the next 72 hours. I wrote this article myself, and it expresses my own opinions. I am not receiving compensation for it. I have no business relationship with any company whose stock is mentioned in this article.