Editor's note: Seeking Alpha is proud to welcome Seth Cohen as a new contributor. It's easy to become a Seeking Alpha contributor and earn money for your best investment ideas. Active contributors also get free access to the SA PRO archive. Click here to find out more »
Over the last several decades, there has been a warming trend in nighttime temperatures, which is slowly becoming a bigger problem for farmers in the Midwest. On very hot and dry nights, plants have significant difficulty respiring and are at a heightened risk of damage if these hot, dry nights occur over several consecutive days.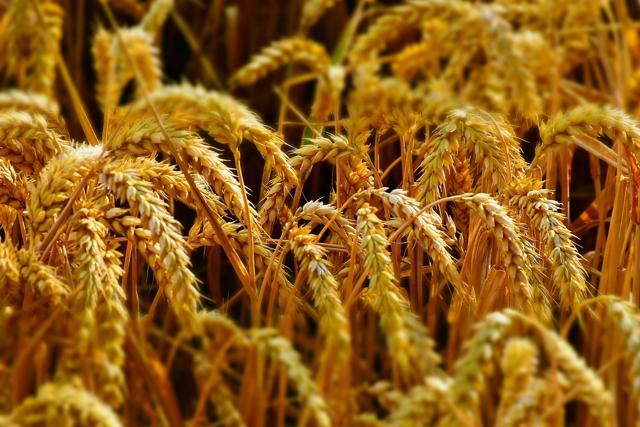 Source: Google Images - Pixbay
As recently as last year, research articles were published describing the impacts of drought and heat stress. In summary, the linked article explains that with warming temperatures, crops are at risk for heat stress damage. Advances in genetic approaches have limited the potential damage, but the authors admit that despite "major advances in the genetic approaches such as QTL mapping and transgenic approaches, there is still a big room for improvement." Furthermore, they state that the damage done strongly relates to both the type and stage of development of crops. Clearly, there is a correlation between overnight heat stress and crop growth/yields.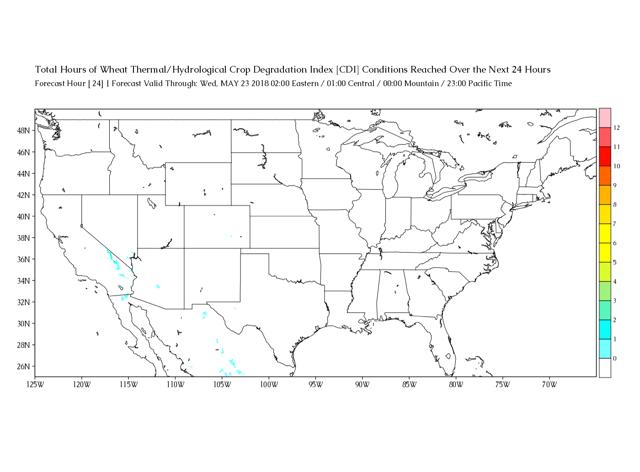 Source: Innovation Weather, LLC
By way of disclosure, I'm part of a startup company with a focus on mitigating weather risk called Innovation Weather, LLC. We have recently developed a tool to better understand overnight heat stress on summertime crops. Coined the CDI (Crop Degradation Index), we developed an algorithm to detect areas across the continent where certain crops are likely to experience overnight heat stress. The tool was designed to be crop dependent, as certain crops, such as soybeans, are more tolerant to heat stress than wheat. A forecast is made each hour and goes out 24 hours in the future. Whenever the criteria for the respective crop is met in a given location, that location then receives a "point" for that hour. Points are added up during the course of the night, until the sun begins to rise and counting stops.
Currently, the CDI-Wheat is near zero for almost the entirety of the wheat growing areas in Texas. In other words, during the evening of May 22-23, the conditions for CDI-Wheat are not met anywhere, with the exception of a few highly isolated locations for only one hour. Why does this matter? For starters, as of May 20, the USDA reported that 93% of Texas winter wheat was still in heading. Much of the wheat (88%) has yet to be harvested and is still vulnerable to damage. Additionally, the USDA revealed in the same report that much of topsoil moisture in the winter wheat growing areas of Texas are "very short" (i.e., dry), indicating that its already been a dry start to summer there.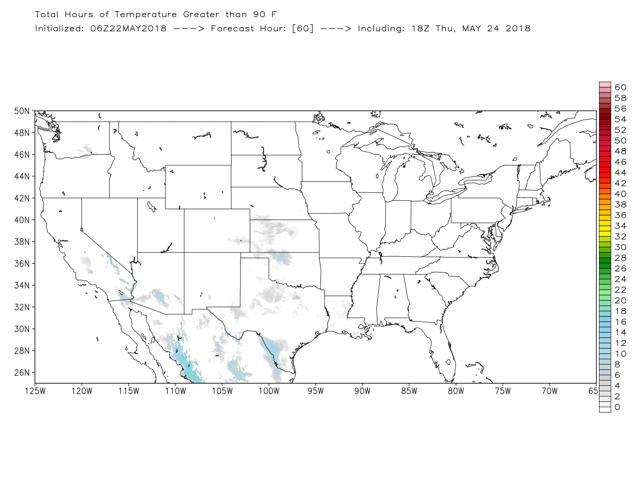 Source: Innovation Weather, LLC
Taking into account both the current conditions (dry), and the forecast for little-to-no overnight heat stress into the morning of the 23rd, there is not much concern to be had during the next 24 hours. It will be important to follow trends in the CDI for the next several days, as this will provide an insight into short- and medium-range commodity trading. Furthermore, there is a chance for isolated thunderstorms over the next two days. These events need to be monitored carefully as well, because their spatial and temporal extents will play a major role in moisture (or lack thereof) in the region.
Overall, a wise position for both the HRW Wheat futures market and for the Teucrium Wheat Fund (WEAT) would be hold to slightly long. Current and future weather trends indicate that dry and hot weather will continue, but the chance of rain in the next 72 hours will play a critical role in alleviating possible heat stress. Rainfall would return moisture to the region, which would allow for a return to normal conditions, thus preventing/limiting the threat for overnight heat stress. Last week (May 18) heavy thunderstorms did in fact soak parts of the region, where upwards of two inches of rain fell.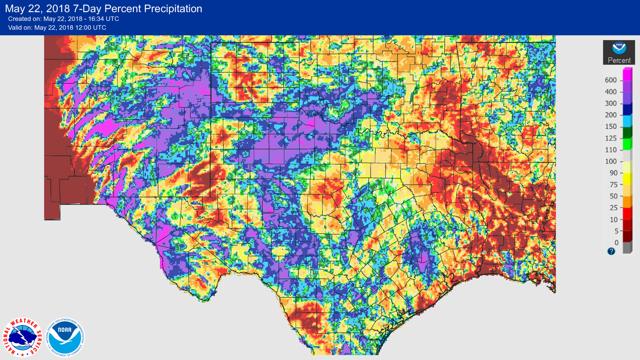 Source: National Weather Service
While this is certainly helpful, much of the wheat growing regions along the Texas-New Mexico border failed to see any rain, which is critical because a significant amount of Texas wheat is grown in this area of the state. Additionally, over the last week, Texas has seen below normal rainfall. Long-term weather trends suggest that this region of Texas will see increasingly warm weather over the next four to eight days. If dry weather continues, we would suggest taking a much longer position. If rain does in fact fall in western Texas, we would suggest going back to neutral.
As we approach the summer months, the focus will shift north to Oklahoma and Kansas, as harvesting of wheat in Texas is getting under way. Lastly, we recommend a hold for Teucrium Corn ETF (CORN). The corn crop, relative to wheat, is resistant to overnight heat stress. Additionally, temperatures in the corn belt are expected to remain cooler than in Texas. Therefore, we do not see CDI as being a fundamental factor in trading CORN futures, funds, etc.
Disclosure: I/we have no positions in any stocks mentioned, and no plans to initiate any positions within the next 72 hours. I wrote this article myself, and it expresses my own opinions. I am not receiving compensation for it (other than from Seeking Alpha). I have no business relationship with any company whose stock is mentioned in this article.