Electronic Arts (NASDAQ:EA) should take note that Zynga (ZNGA) made $45 million from in-game advertising in Q1 2018. This was thanks to Zynga's recent exclusive partnership with Unity Ads. Rewarded advertising tactics like the incentivized video ads from Unity Tech can increase the revenue of EA's free-to-play mobile games by 20%-40%. Electronic Arts needs this rewarded advertising tactic to augment its still-small revenue stream from mobile games.
Mobile is the biggest growth driver for the video games industry. Sadly, EA's total annual revenue from its mobile games is only $659 million. This amount is not even a third of King Digital's $1.99 billion revenue. Electronic Arts is still a struggling starlet in the $70.3/billion year mobile games industry.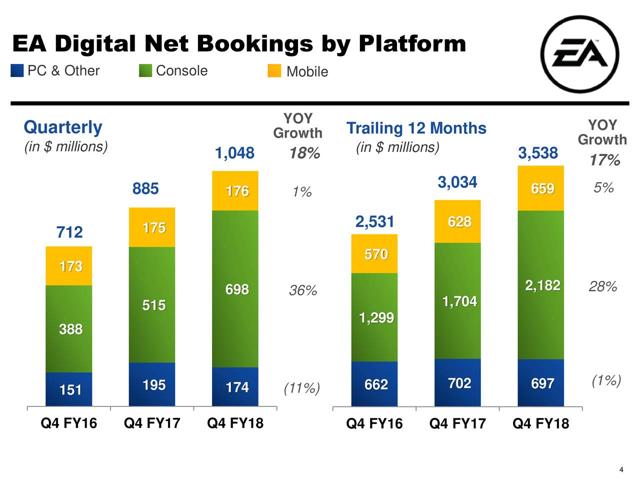 (Source: Electronic Arts)
There is also little risk of weakened in-app purchases from implementing rewarded video ads in-game. The people who spent real dollars to buy in-game items will remain the same. These paying customers already have the disposable income and the willingness to spend it on EA's games. Only those players unwilling to spend real money will opt-in on watching rewarded video ads. They will do so because they can get free premium game items from watching these video ads.
AdColony's survey last year said app publishers see rewarded video ads as the most effective monetization method.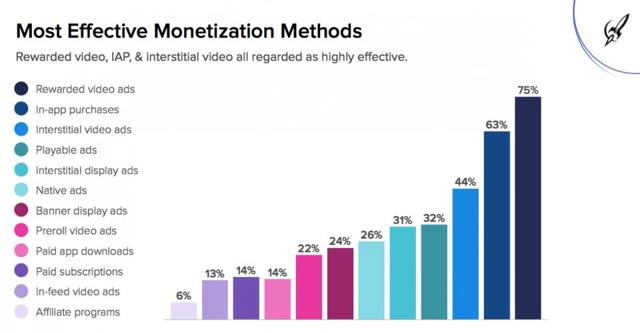 (Source: AdColony)
Why EA Needs A Stronger Revenue Stream From Mobile Games
EA needs a stronger revenue stream from its mobile games to offset any future decline in sales of its console games. The chart above illustrated that EA is still overly-dependent on console games. More than 61% of EA's FY 2018 revenue of $3.538 billion still came from console games.
It also matters that EA's best-selling console games are licensed. EA needs to share sports-related console games with the original intellectual property owners. Unfortunately, hit Battle Royale games like Fortnite and PUBG will keep on stealing player engagement (and digital purchases) from EA's console games.
Going forward, I believe Fortnite will remain the no.1 top-grossing console game for the next several months. I simply do not believe EA's FIFA 2018 can keep up with the $223 million/month (PC/Console/iOS) revenue of Fortnite.
Why Rewarded In-Game Advertising Is The Next Best Thing
Game developers and publishers cannot compel most players to spend real dollars on free-to-play games. The next best thing is to deliver targeted rewarded video ads. Non-paying players still contribute to the overhead cost of Electronic Arts. They deserved to be monetized via opt-in video ads.
I checked at ThinkGaming. I found out that only Star Wars: Galaxy of Heroes is making more than $100k in average daily sales to U.S. iPhone games. The other mobile games of Electronic Arts are finding it hard to reach the $100k per day daily revenue milestone on U.S. iPhone sales. The other struggling mobile games can be better monetized through the implementation of rewarded video ads.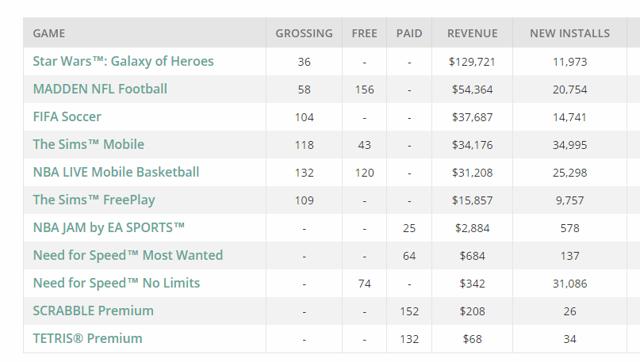 (Source: ThinkGaming)
The figures on the chart above represent average daily gross sales. The chart did not yet deduct the 30% cut of Apple (AAPL) from U.S. iPhone-processed in-app purchases coming from EA's mobile games. The weak performance of EA's mobile titles can be partly blamed on Fortnite being the top-grossing iPhone game in America for almost two months now. Released only last March 15, Fortnite's total global cumulative iOS revenue hit $50 million (66% of which came from American players) on the first week of May.
My source at Apptopia informed me last week that Star Wars: Galaxy of Heroes still has a 90-day running global net revenue of $46 million. He said this game still contribute 20% of EA's total revenue from mobile games in-app purchases. Star Wars: Galaxy of Heroes doesn't need rewarded video ads. However, the other mobile titles of EA certainly do. I checked at SensorTower. EA's famous licensed mobile games are struggling.
As per the latest April 2018 data of SensorTower, the global net monthly revenue of EA's Madden NFL Football was only $5 million. FIFA Soccer's April 2018 monthly net revenue was only $4 million. NBA Live Mobile did $1.7 million. Any mobile game that cannot do at least $7 million in net monthly revenue deserves to be monetized through rewarded or incentivized video ads.
The rewarded video ad is now the preferred ad format of non-paying players. Watching 12-second video ads gives them premium in-game items/currency that helps improve their gaming experience. The painful reality of freemium mobile games is that only around 2%-10% of active players spend real dollars on in-app purchases. The other 90% population of active players is freeloading. They can only be monetized through advertising.

(Source: Unity Tech)
The rewarded video ad format is a win-win-win proposition. Developers like Electronic Arts wins from playing the rewarded video ads and gaining the advertising money. Video ads also help engage and retain players. Players also wins from watching video ads by getting free premium items/currencies. Consequently, marketers who use rewarded video ads reach the targeted audience of active mobile gamers. Marketers wins if these video ad watchers are persuaded to click and install the advertised apps/goods.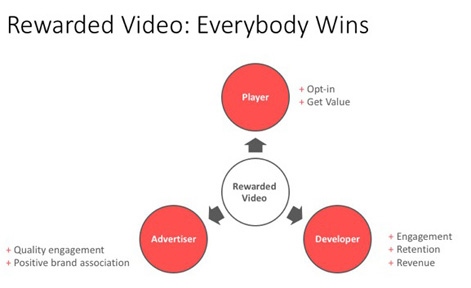 (Source: Supersonic.com)
Struggling EA mobile titles like The Simpsons: Tapped Out (which only had April net global sales of $800k) needs rewarded video advertising. It is painful to see that a famous licensed/franchise-based game like The Simpsons: Tapped out generate less than $1 million in global net monthly sales.
Conclusion
Electronic Arts' weak monetization from mobile means I cannot recommend a buy for EA. A hold rating is more appropriate because Electronic Arts has a decent balance sheet and acceptable revenue growth rate. I will only go long on EA if it can deliver at least $1 billion in annual revenue from mobile games.
Sad but true, despite having dozens of mobile titles, EA still doesn't have a decent share of the $70.3 billion/year mobile games industry.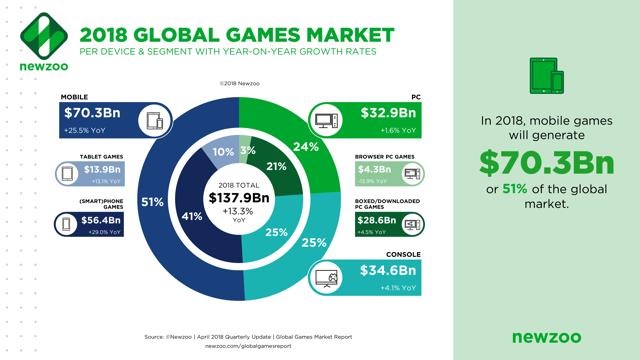 (Source: Newzoo)
Mobile games publishers like Electronic Arts need to be flexible in their monetization approach. Profiting from the players of their mobile games should not only be through in-app purchases. Making non-spending players watch opt-in rewarded video ads is a legitimate monetization method.
Electronic Arts doesn't even need to make new mobile games. The estimated 20%-40% revenue boost from rewarded video ads can already improve EA's $659 million annual revenue from mobile games. EA's licensed mobile games also need a more robust revenue stream because EA has to pay royalty fees to the original IP owners.