By Stacey Morris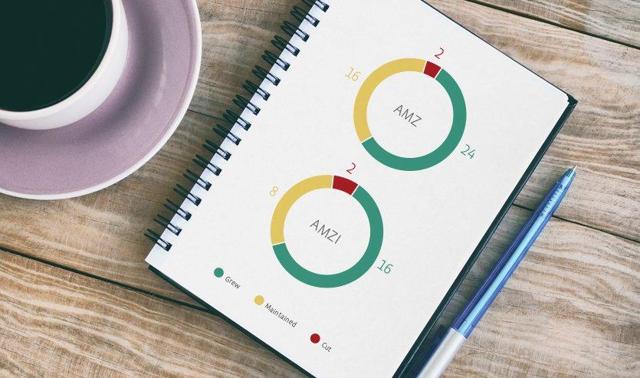 How many MLPs in the AMZ and AMZI grew, maintained, or cut their distributions for 1Q18?
For context, 1Q18 distributions refer to the distributions that will be paid in 2Q18 as a result of operational performance in 1Q18. The pie charts below reflect the Q/Q changes to distributions, comparing 1Q18 with 4Q17. Notably, the number of MLPs in the
AMZ Index
and
AMZI Index
that grew their distribution surpasses the number of MLPs that maintained or cut. However, there were notable cuts.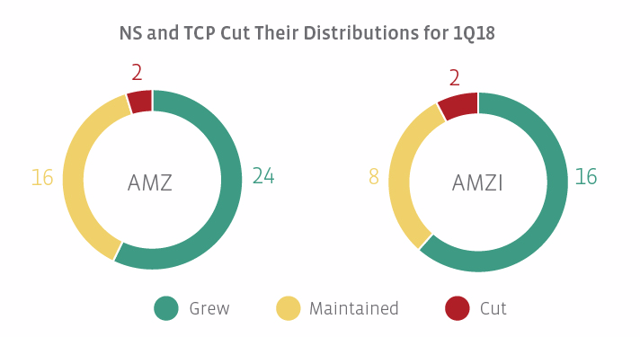 AMZ and AMZI constituents NuStar Energy (NYSE:NS) and TC Pipelines (NYSE:TCP) cut their distributions for 1Q18. In February, NS announced that it would cut its 1Q18 distribution to $0.60 (from $1.095), alongside the news that it would be merging with its parent, NuStar GP Holdings (NYSE:NSH). The distribution cut was described as a necessary step to position the company for the future, while reducing leverage and future requirements to access the capital markets. TCP announced its 35% distribution cut earlier this month with its 1Q18 results. TCP cited the potential for a material decrease in cash flows from its pipelines due to FERC's policy revision as a determining factor in reducing its distribution.
Notable Q/Q data points for the AMZ and AMZI
CVR Refining (NYSE:CVRR) had the highest sequential increase in the AMZ. The variable distribution refining MLP raised its 1Q18 distribution to $0.51 from $0.45 in 4Q17 - a 13.3% increase. Other AMZ constituents with double-digit percentage increases were Cheniere Partners (NYSEMKT:CQP), which increased its distribution by 10.0% to $0.55, and Hi-Crush Partners (NYSE:HCLP), which increased its distribution by 12.5% from $0.20 to $0.225.
Among AMZI constituents, Antero Midstream (NYSE:AM) had the largest Q/Q increase, with its 1Q18 distribution of $0.39 representing a 6.9% increase from 4Q17.
Most constituents grew their distributions on a year-over-year basis
The charts below compare the 1Q18 distribution with the 1Q17 distribution. If the name was in the index in both 1Q17 and 1Q18, its distributions were compared. Please note that there is survivorship bias in this method.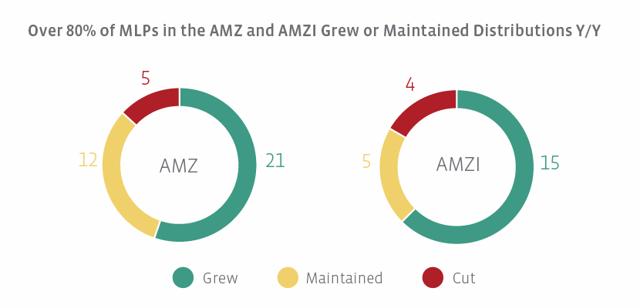 The chart below shows those AMZ and AMZI constituents that grew their distributions on a year-over-year basis5.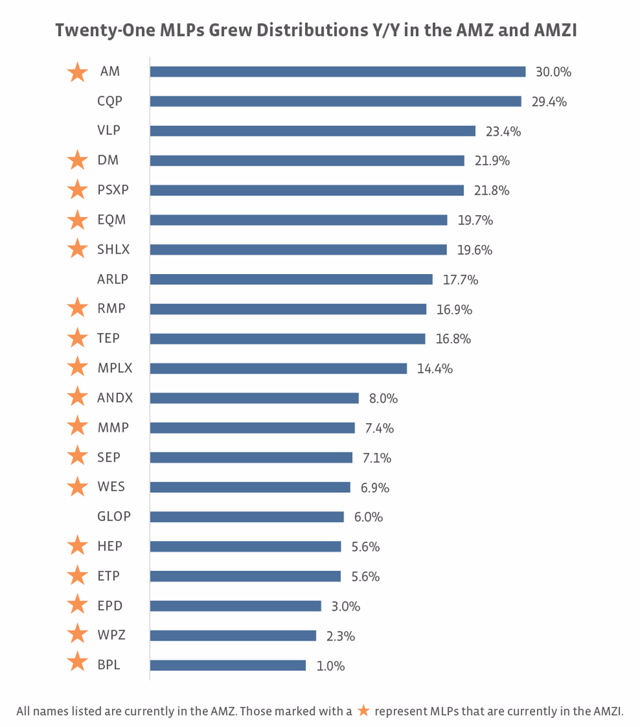 Names that maintained their distribution in 1Q18 relative to 1Q17 include (names with a star are also in the AMZI):
While most MLPs grew or maintained their distributions y/y, those MLPs whose 1Q18 distributions were lower than their 1Q17 distributions, in addition to TCP and NS, include Plains All American (NYSE:PAA)6, Genesis Energy (NYSE:GEL)7, and Suburban Propane Partners (NYSE:SPH)8. PAA and GEL are constituents of the AMZI Index, while SPH is only included in the AMZ Index.
So what?
Most MLPs in the AMZ and AMZI continue to grow their distributions, but the distribution cuts tend to detract from that fact. Distribution cuts add to the headline risk we've seen in the sector and distract from the positive fundamentals in the MLP space - WTI crude above $70 per barrel, US oil & gas production growing, MLPs announcing new projects, exports growing. We think a few cut-free quarters would help investors become more comfortable with the MLP space in general. If investors aren't distracted by the bad news of distribution cuts, there may be more room in the limelight for fundamentals and MLPs' growth projects.
Footnotes:
1 Increase from $0.318 to $0.334
2 Increase from $0.678 to $0.714
3 Increase from $0.2917 to $0.3049
4 Increase from $0.333 to $0.348
5 For Energy Transfer Partners (ETP), the 1Q18 distribution was compared to the 1Q17 distribution for Sunoco Logistics Partners (former ticker SXL) because SXL is technically the surviving entity, just renamed.
6 Decrease from $0.55 to $0.30
7 Decrease from $0.72 to $0.52
8 Decrease from $0.8875 to $0.60
Disclosure: © Alerian 2018. All rights reserved. This material is reproduced with the prior consent of Alerian. It is provided as general information only and should not be taken as investment advice. Employees of Alerian are prohibited from owning individual MLPs. For more information on Alerian and to see our full disclaimer, visit http://www.alerian.com/disclaimers.
Stacey Morris is the Associate Director of Marketing at Alerian, which equips investors to make informed decisions about Master Limited Partnerships (MLPs) and energy infrastructure. Ms. Morris engages with the investment community to increase awareness of the Alerian Index Series and support broader understanding of the role that midstream assets play in North American energy markets. Ms. Morris was previously the Investor Relations Manager for Alon USA Energy, overseeing investor communications for the corporation and its variable distribution MLP, Alon USA Partners. Prior to Alon, she covered the integrated majors and refiners at Raymond James as a Senior Associate in the firm's Equity Research Division. Ms. Morris graduated summa cum laude with a Bachelor of Science in Business Administration from Stetson University, and is a CFA charterholder.