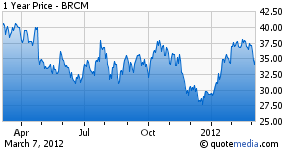 It seems that chip giant Broadcom (BRCM) continues to get a lot of attention these days. In addition to the interest that investors have taken in the company as evident by its 24% rise so far this year, the company has also received some considerable amounts of attention from other sources as well. Last week the company announced that it was being investigated by the Securities and Exchange Commission regarding its accounting practices relating to how much it has claimed as reserves for litigation. The inquiry will look as far back as June 2010.
The ongoing chip battle
On Friday, the company won a tentative patent infringement ruling barring rival chipmaker Emulex (NYSE:ELX) from selling controller chips for communications networks. However, during the ruling Emulex would be allowed an additional 18 months to offer the product to existing customers that had previously placed orders - in which case, Broadcom would be awarded 3% in royalties. A final ruling regarding this suit is expected to arrive at some point this week. Whoever claims that chips were no longer exciting has not been paying attention. But all of this is to be expected as chip makers prepare for what is expected to be a continuing surge in demand - attributable to the growing popularity of smart phone and mobile devices.
As the battle for chip supremacy continues, the question is, where does Broadcom rank among the other names such as Intel (NASDAQ:INTC) and Texas Instruments (NYSE:TXN) or even Qualcomm (NASDAQ:QCOM) since it recently topped Wall Street estimates in its latest quarter? It earned an adjusted profit of 68 cents a share, on revenue of $1.82 billion. Analysts had expected 64 cents per share, on revenue of $1.81 billion, according to a consensus survey by FactSet Research. Its earnings as well as that of several of its competitors continue to affirm my view that semiconductors are ones to watch for the rest of 2012.
Creating separation
However, what makes Broadcom a standout from its peers is that it also generates revenue from another popular and highly profitable stream - routing and switching equipment, one where it competes with the likes of Cisco (NASDAQ:CSCO) and Hewlett Packard (NYSE:HPQ). So as great as the outlook appears for the coming year when discussing its growth potential in smart phones and devices chip technology, investors have to also be pleased in its overall business. All of that notwithstanding, during the conference call, the company issued sales outlook for the current quarter that also topped what analysts had projected.
JPMorgan analyst Harlan Sur said in a note: "Although management was reluctant to call a bottom in the first quarter, we believe there are enough areas of strength in the form of new product and program ramps that should enable Broadcom to drive growth in the second quarter and into the second half of the year." He is certainly not alone in that sentiment - one that appears to be growing as evident by the $55 price target that has been placed on the stock and representing an increase of over 50% from current levels.
Summary
When I see bullish calls such as this, I have to ask myself, how realistic is it? Also, with so much being said about the company, is it possible that all of the good news has already been priced in? From a fundamental standpoint, the stock is currently trading at a P/E of 22 - which does not suggest that it is cheap by any measure. However, when compared to Qualcomm that is trading at a P/E of 24, the concern tends to evaporate a little bit.