IHS Markit's manufacturing PMI survey indicated further robust output growth and strong hiring momentum during May, according to preliminary flash data, but also highlighted how record supply chain delays are driving inflationary pressures higher.
PMI close to four-year high
The flash IHS Markit manufacturing PMI, an early cut of data based on approximately 85% of usual monthly replies from the 650-strong survey panel, edged up to a 44-month high in May. The headline PMI, a composite measure based on indices of output, new orders, employment, inventories and supplier delivery times, nudged higher from 56.5 in April to 56.6 in May.
While the improvement in the headline index provides encouraging news on the health of the US manufacturing sector, some of the sub-indices are worthy of closer scrutiny.
Manufacturing output to boost second-quarter GDP
At 56.2, the average PMI output index for the second quarter so far is up from 55.7 in the first quarter, indicating an acceleration of factory production growth and an increased contribution to second-quarter GDP. In fact, the index suggests that manufacturing is on course for its best calendar quarter since the opening three months of 2015.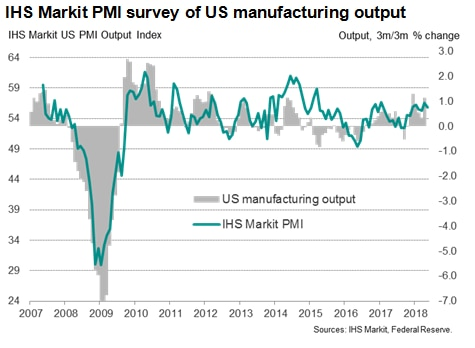 Bear in mind that this output index has exhibited an impressive 89% correlation with the official measure of manufacturing production growth from the Fed. The only period in which the PMI output index has contrasted with the Fed's manufacturing growth rate was around 2014-15, when the latter also diverged with other survey data (such as the ISM) and other series which are usually highly correlated, notably manufacturing employment.
Manufacturers step up their hiring
The May flash PMI survey also highlights how the upturn is being accompanied by further robust job gains. While down on the peak seen at the end of 2017, in part reflecting increased difficulties finding suitably skilled staff, statistical comparisons indicate that the manufacturing PMI employment index remained at an elevated level consistent with factory payroll numbers rising at a monthly rate of approximately 16,000 in May. The employment index enjoys a 94% correlation with the Bureau of Labor Statistics' payroll series over the past decade.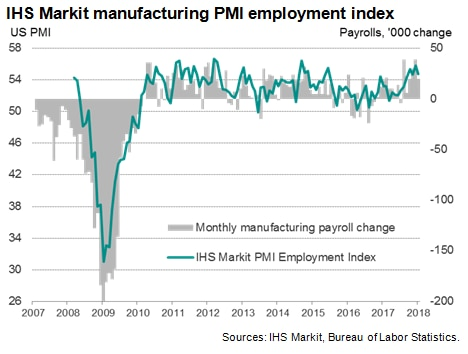 Rising capacity constraints
Despite the expansion of capacity indicated by the continued hiring, the May survey once again pointed to escalating capacity constraints.
First, new order inflows exceeded production growth to an extent seen only twice before in the past ten years, suggesting companies were struggling to boost capacity to meet demand. Backlogs of work consequently showed the largest rise since September 2015. Not surprisingly, expectations of future output growth also picked up to the highest for over three years, reflecting the need to boost production to meet demand.
Second, suppliers' delivery times lengthened to the greatest extent seen since the survey began in May 2007. Delays were blamed primarily on manufacturing production needs for inputs and raw materials outstripping supply, again reflecting the speed with which demand for goods has risen in recent months.
Seven-year high price pressures
Busier suppliers also mean those suppliers have had more pricing power as demand exceeds supply, and the May survey consequently saw widespread incidences of companies reporting higher input costs. Increased energy and oil prices added to the inflationary picture. Although down slightly on April, the PMI input prices index has indicated the highest rate of input price inflation for almost seven years so far in the second quarter.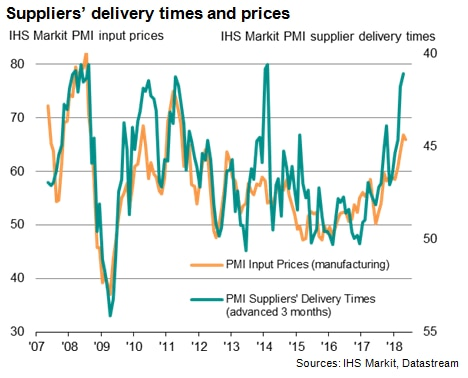 To help gauge consumer price developments, a useful construct is an index based on both input costs and suppliers' delivery times. This "price pressures" index exhibits a 77% correlation with CPI inflation, and a 78% correlation with inflation as measured by the annual change in official PCE prices. In May, the flash reading of this PMI-based price pressures gauge rose to its highest since May 2011.