Forget Blue Apron (APRN), Snap (SNAP), and all the other money-losing recent IPOs that have burned early investors in the past year. One company tops them all, and that's the storage hardware vendor, Tintri (NASDAQ:TNTR-OLD).
I've been bearish on this company since shortly after its ill-fated June IPO at $7 per share. Already observers were commenting that Tintri was destroying value in its IPO, which valued the company at just north of $200 million. The IPO, in effect, was a major down round - Tintri was estimated to be worth close to $800 million at the time of its 2015 Series F, with investors once having high hopes for the company. Tintri is a perfect illustration of how difficult it is to be in the hardware business - especially when you're a very small-scale vendor, with an inability to capitalize on operating efficiencies. Tintri's cash burn rate, even in its earliest earnings releases since going public, was extremely alarming - though since Tintri still had plenty of buffer from its IPO proceeds, investors weren't alarmed yet. But Tintri burned through that cash alarmingly fast, now, by the company's own admission, it has flagged serious liquidity concerns in its 10-K filing.
That filing, along with a Wall Street Journal Article that highlighted Tintri's doubts about operating as a "going concern," has tanked Tintri stock below $1.00. Per NASDAQ rules, if Tintri fails to raise its price above $1.00 for 30 calendar days, the exchange will trigger the process of de-listing the stock. That's a major catalyst on Tintri's way to pink-sheet status and eventually, bankruptcy.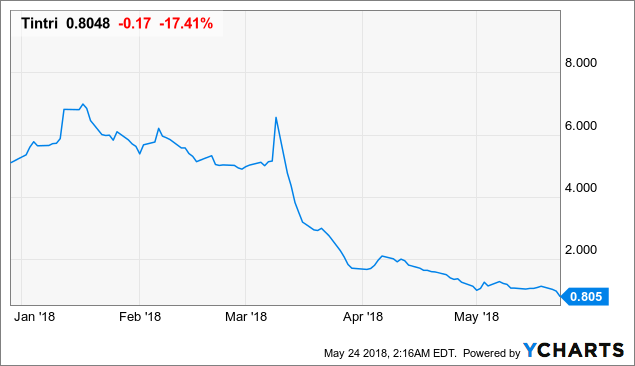 The bottom line on Tintri's stock - there's no hope for a rebound in this stock; no chance for daredevil risk-takers to make gains on a highly contrarian bet. Sell this name. Tintri's liquidity picture is simply too dire, and this fact has become way too public.
For IT buyers, buying IT equipment like Tintri's storage products isn't like buying furniture, where you can buy it, use it, and forget it. IT buyers require the constant support and consultation from their vendors, from whom they often make repeat and recurring purchases and expect continuous customer service. For that reason, an IT vendor's financial picture is a critical signal to a buyer - Tintri hardware becomes a much less appealing purchase if a buyer doesn't think the company will be around to service that equipment in a year from now. There's no reason to buy Tintri's product versus a much more stable competitor like Pure Storage (PSTG) or NetApp (NTAP), or better yet, the giant Hewlett Packard Enterprise (HPE). The "going concern" question of these vendors is not in question.
This explains why, despite huge growth in the flash storage industry, Tintri has lagged behind. In their most recent earnings releases, NetApp posted 43% y/y flash growth and Pure Storage 40% y/y. HP Enterprise doesn't break out flash versus non-flash storage revenues, but its overall storage business grew 24% y/y, the fastest growth rate within its broad-based portfolio of IT hardware products. Tintri, in its most recent quarter, reported a startling -29% y/y revenue decline. Buyers are staying away from Tintri like the plague. Its liquidity troubles are a sort of vicious cycle - without customers, Tintri can't get the cash flow to support the business, but without a healthy financial picture, neither can it acquire customers. This is a catch-22 that Tintri won't be able to untangle.
10-K Filing Highlights Huge Liquidity Crisis
Let's zoom in on Tintri's liquidity picture. Here's a glance at the company's most recent balance sheet, taken from its May 18th 10-K filing that sent the stock tanking below $1.00:
Figure 1. Tintri 4Q18 balance sheet

Source: Tintri 10-K filing
The company has $32.3 million of cash left on its books, along with a $68.6 million mountain of debt. Its free cash flow burn rate last quarter was -$23 million, about double last year's FCF burn rate; in the last fiscal year, Tintri burned through almost $100 million. It's a small wonder that Tintri exhausted essentially all of its IPO proceeds in less than one year.
In addition to the thinning balance sheet, one more note in Tintri's 10-K filing spooked investors to the core (emphasis added to the most important pieces):
If the Company is unable to successfully raise additional capital or otherwise address its liquidity requirements, it will likely fail to satisfy the minimum liquidity covenants of its credit facilities as early as the end of May 2018, which would constitute an event of default under those facilities and enable its lenders to demand immediate payment of all amounts due under those facilities. The Company does not currently have the ability to repay these amounts. Although the Company is seeking to raise additional debt or equity financing in order to remain in compliance with the financial covenants under its credit facilities, it may be unable to do so. As a result, the Company is currently undertaking a review of the potential business alternatives in addition to seeking additional capital, which may include restructuring or refinancing its indebtedness, undertaking additional restructuring plans, reducing or delaying capital expenditures, filing for bankruptcy protection, winding down its business, or selling the business or certain of its assets or operations.

Based on the Company's assessment, it is probable that it will be unable to comply with its financial covenants through January 31, 2019, and it may fail to comply with certain financial covenants as early as May 31, 2018, and as such it has classified all outstanding balances as of January 31, 2018 as a current liability."
Essentially, Tintri itself is flagging doubts about its ability to operate as a going concern. When Tintri initially posted these results (in a press release without the liquidity notes) in early March, shares rallied sharply above $5 for the first time in March, reacting to the news of a CEO switch and a $70 million restructuring plan. Now, however, it seems that any cost savings from the restructuring are unlikely to save this company in time. As predicted, Tintri's brief Q4 rally was extremely short-lived.
With the stock trading at less than $1 and with Tintri already failing its current financial covenants (its primary lender is Silicon Valley Bank (SVB), a tech-friendly bank that is already known for its creative and looser credit structuring based on revenue, not EBITDA, covenants), it's fairly obvious that neither debt or equity capital are really options for Tintri. Bankruptcy is not just a possibility, but the only real outcome from this high-pressure saga.
Key Takeaways
A cursory look at Tintri's financials and balance sheets from the earliest days of its IPO foreshadowed this outcome. In the three times that Tintri has reported earnings since going public, its losses have grown wider as revenues shrank from prior-year levels and margins contracted to unsustainable levels. There's no doubt that Tintri's all-flash arrays have, at times, been a popular product among customers, but now the company's inability to service its products have essentially scared away all new business. Going forward, Tintri's revenues will likely only come from sustaining buyers with existing purchase agreements. After all, what buyer will purchase hardware from a dying company?
Investors should approach Tintri with the same radioactive caution that its customers are. The company is in its swan song, with the capital raise necessary to float its operations seeming ever more unlikely. Perhaps more quickly than any other company currently trading in the public markets, Tintri is headed directly to zero.
Editor's Note: This article covers one or more microcap stocks. Please be aware of the risks associated with these stocks.