Background
1. It was mid-2016 when I turned bearish on many equity REITs (VNQ, IYR, RWR, ICF, SCHH, XLRE). At the very same time, June 28, 2016, to be precise, I've expressed my bullishness when it comes to mortgage REITs or "mREITs" (REM, MORT).
In the article "Mortgage REITs In 3 Charts And One Healthy Headache", I've why I prefer mREITs over eREITs. To wit:
Lower yields and lower spreads are concerns mREITs investors should no doubt take into consideration. Nevertheless, the current yields and spreads are not something we haven't seen before and, therefore, are no reason to steer away from mREITs.
Here's how mREITs performed versus eREITs since that day: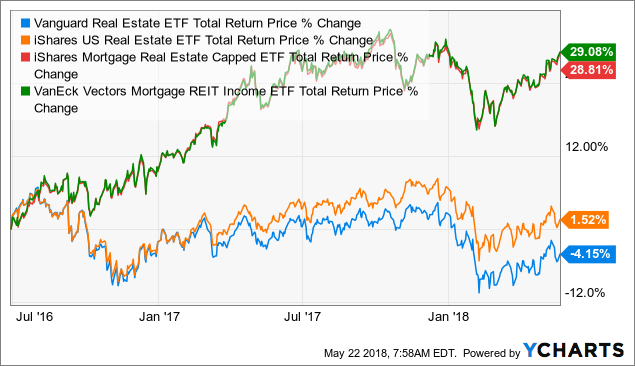 2. One of my most famous mREITs positions and a proud A-Team member is New Residential Investment (NRZ). Since the launch of the A-Team (3/31/2016), NRZ has smashed anything that stood in its way.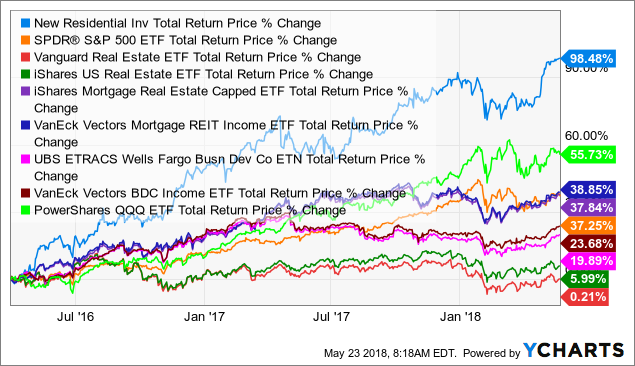 NRZ has outperformed any related or unrelated benchmark/index that you may wish compare it to:
Not only the broad market, SPDR® S&P 500 ETF (SPY) but even the technology-focused PowerShares QQQ ETF (QQQ)
eREITs: Vanguard Real Estate ETF or iShares US Real Estate ETF
mREITs: iShares Mortgage Real Estate Capped ETF or VanEck Vectors Mortgage REIT Income ETF
NRZ was one of the names that came up in our early-2017 attempt to identify mREITs that are worth keeping (versus those that need to be avoided) in light of a rising rates/yields macro environment.
3. The Wheel of FORTUNE is one of SA Marketplace top 15 services that deliver the best returns. That's true on both absolute and especially on a relative (risk-adjusted basis). How do I know? Because many of the top 20 services publish their results. We don't.
4. Many people - especially those who follow me for quite a long time - keep telling me that I suck. Even The Wheel of FORTUNE subscribers tell me occasionally that the service sucks. Why so? Because while we have much to be proud of, we are doing a bad job when it comes to marketing.
5. As a service, we never published an article or built a campaign that was based on our performance. While we think that this is the most (and perhaps only) important factor to be measured upon - we don't think that this is the right thing for us to be using in order to attract more subscribers. We sell other things although we certainly are very minded of performance.
6. Both Trapping Value and I believe that: i) Macro Trumps Micro, ii) Timing Is Everything and iii) Total Return Matters. These three pillars lead us in our analyses and they are building blocks in what our service offers: A constant attempt to eventuate the macro-landscape accurately and when and where we decide to build a house - bringing the appropriate items and material to ensure that the house we build isn't made out of cards...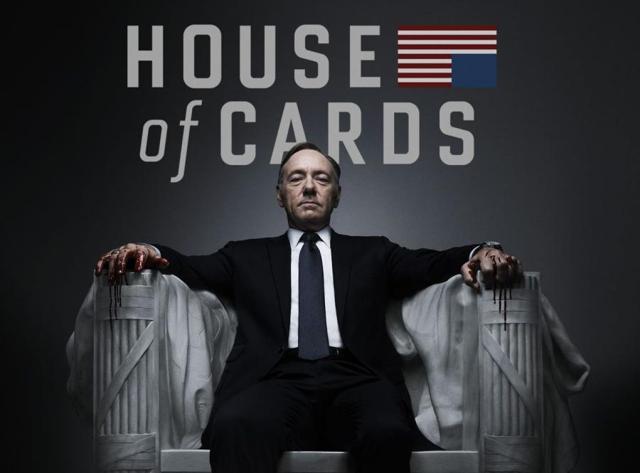 This article - the second part in this series - is aiming at tackling and possibly fixing most, if not all, of the above-mentioned issues.
In this series, I'll demonstrate the importance of the three pillars we believe in as well as the real difference they are making when it comes to performance.
Macro Trump Micro - Mortgage REITs Version
In the first part of this series we've covered Equity real estate investment trusts, or "eREITs" (VNQ, IYR, SCHH, ICF, RWR, XLRE).
Unlike eREITs, that own real estate properties such as shopping centers or medical office buildings, mREITs don't own physical properties. Instead, mREITs invest in property mortgages, either by lending money for owners of real estate and/or by buying existing property loans that have been bundled together into securities called mortgage-backed securities ("MBS").
There are two types of mREITs:
i) Agency = Loans that are issued and guaranteed by federal agencies such as Fannie Mae (OTCQB:FNMA), Freddie Mac (OTCQB:FMCC) or Ginnie Mae.
ii) Non-agency = Other, non-federal, loans.
Most mREITs usually specialize in one type of mortgage debt. Some mREITs only buy mortgages that are backed by a federal agency because they have a lower risk of default. On the other hand, such federal-backed loans are also less profitable. Other mREITs, sometimes referred to as non-agency mREITs, specialize in mortgages that are not guaranteed by a federal agency.
Just like banks (XLF, VFH, KRE), mREITs are essentially lenders. They try to finance themselves with short-term, cheap/low-cost, liabilities while investing in long-term, more expensive/profitable, assets. Just like any lender, they live out of the spread = their ability to make money on their assets than what they pay on their liabilities.
There are two major forces impacting mREITs:
1. Yields. Since the assets of mREITs are debts (they're buying), prices of these debts are moving up or down opposite to the direction of yields. If yields go up - prices go down (and vice versa).
Naturally, the tenor is also playing a major role in here: The longer the tenor - the greater the price fluctuations (as a result of changes in yields). mREITs are buying mortgages that are, in most cases, long-term debts.
It's no wonder that when yields move up - the book value ("BV") of a mREIT goes down. The longer the duration/tenor of the portfolio/debt - the larger the price decline is.
Keep in mind that over the past two years, the yield on the US 10-Year Treasury Note ("UST10Y") more than doubled itself.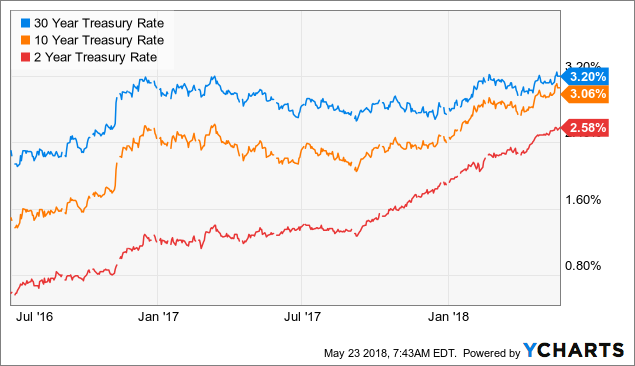 2. Spreads. Since mREITs "live on the spread", they wish to see a nice-steepen yield curve. The wider the spread (between long-term to short-term yields) - the better for mREITs' profitability. However, if the spreads contract - mREITs may find it harder and harder to maintain their profit margins.
Although yields have moved up along the entire curve over the past two years, spreads have contracted significantly during that time. That's especially true when you look at spreads since early 2017.
Here's how one of the most commonly-used spreads, the difference between UST10Y to UST2Y, looks like since mid-2016: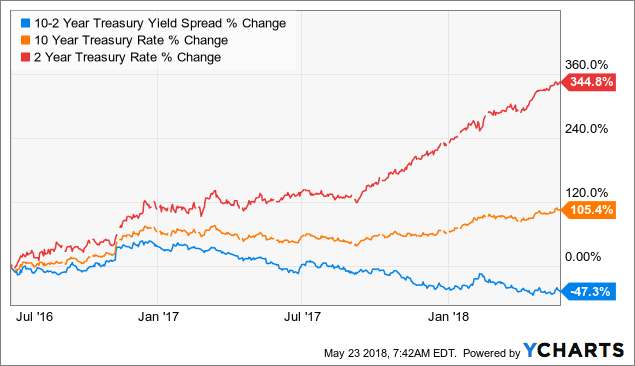 Here's how another-different spread, the difference between UST30Y to UST10Y, looks like since mid-2016: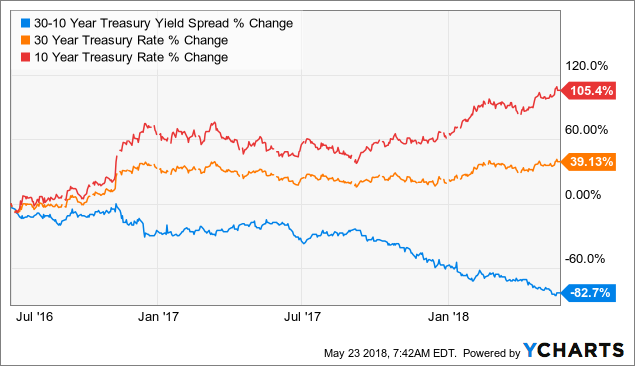 As you can easily see, this hasn't exactly been a perfect environment for mREITs over the past two years, especially not since the beginning of 2017.
As such, it's no wonder that many mREITs have struggled over the past year price-wise: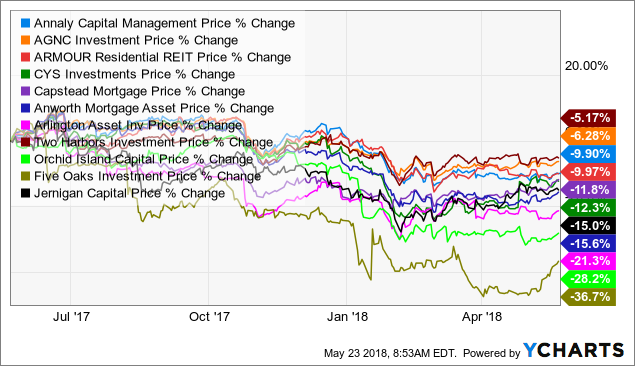 The two largest mREITs - Annaly Capital Management (NLY) and AGNC Investment (AGNC) - are probably the best illustration of the tough environment mREITs are dealing with.
Although they both managed to deliver positive returns on a total returns basis - these returns were minimal and surely fall short of the broader market (SPY) during the same time.
Following the US elections and surely in early 2017 (as the above charts suggest) it was clear that rates and yields are set to rise. Anyone who was (back then) and is willing (today) to face the simple truth of what the macro conditions spell out very clearly - could/can benefit immensely.
Look around without prejudice, analyse the macro environment without being affected by existing positions and take the necessary decisions that first and foremost suit the current macro conditions, way before you go into the micro.
mREITs Select Holdings
Here are few mREITs that we issued BUY trading alerts for (to The Wheel of FORTUNE subscribers):
| | | | | | | | | |
| --- | --- | --- | --- | --- | --- | --- | --- | --- |
| Symbol | Quarterly Distribution | Forward Yield | Trading Alert Date | Purchase Price | Current Price | Q1/2018 EPS | Dividends Paid | Total Return |
| ABR | 0.25 | 10.58% | Sep. 26, 2017 | 8.00 | 9.45 | 0.28 | 0.65 | 26.25% |
| BXMT | 0.62 | 7.85% | Feb. 5, 2018 | 30.00 | 31.61 | 0.64 | 0.62 | 7.43% |
| CHMI | 0.49 | 10.35% | Feb. 5, 2018 | 16.45 | 18.93 | 0.52 | 0.49 | 18.05% |
| GPMT | 0.38 | 8.30% | Feb. 6, 2018 | 16.50 | 18.32 | 0.35 | 0.38 | 13.33% |
Arbor Realty Trust (ABR) - A Dividend Growth Machine
One of the most generous mREITs out there. Exactly two years ago the dividend was still $0.15. Since then, shareholders have enjoyed a 66.67% rise:
+6.7% in 08/2016 to $0.16
+6.3% in 03/2017 to $0.17
+5.9% in 05/2017 to $0.18
+5.6% in 11/2017 to $0.19
+10.5% in 02/2018 to $0.21
+19% in 05/2018 to $0.25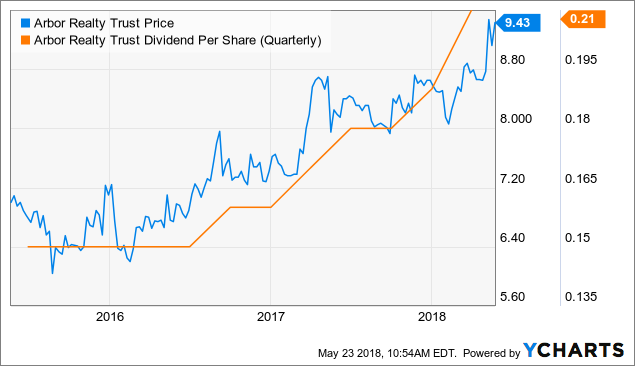 *Current dividend is $0.25 per quarter
The stock still trades at about 5% discount to BV and it certainly seems like it can move to the double-digit area.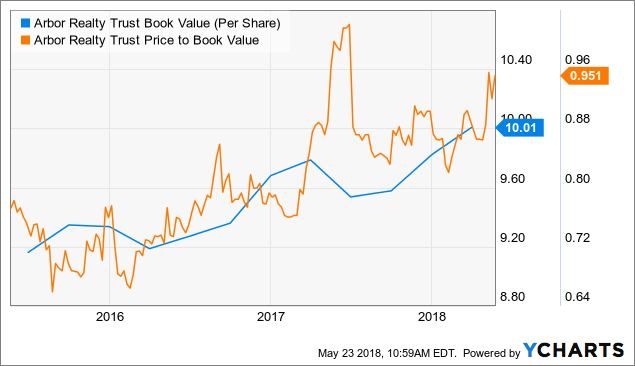 Earlier this month, the company has completed a $48.7 stock offering at an implied average share price of ~$8.84. As the current price suggests, this was just another opportunity to buy.
Blackstone Mortgage Trust (BXMT) - The Solid Stone
The Blackstone (BX) managed mREIT is one of the most stable, consistent, and solid mREIT one can find among this relatively volatile segment.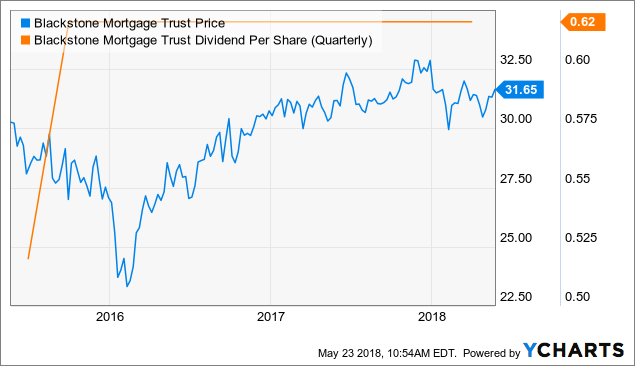 Except for very rare (temporary), the stock price remains anchored at +/-10% below/above the $30 mark. At that price, the almost 3-year old $0.62 quarterly dividend equals an 8.27% yield.
BXMT is trading at a premium of over 17% to BV and this makes it quite expensive. However, history suggests that you own BXMT mostly for the income and less for the price appreciation potential.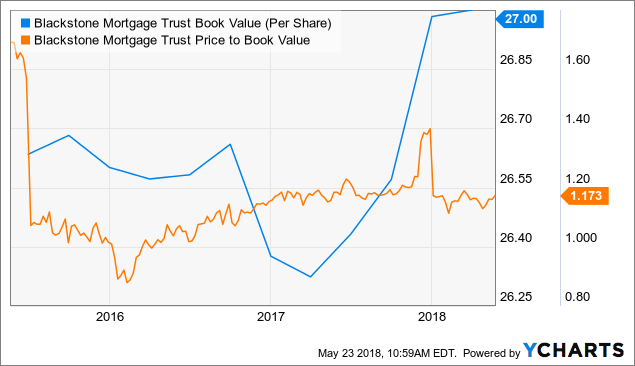 Truth is that we are holding BXMT way before we suggested it to the Wheel of FORTUNE subscribers. There are more than a few such cases where we owned stocks before the service was launched, e.g. NEWT or GAIN, and for many of those we never issued a trading alert as the stocks haven't traded (back) to our buy zones. Nonetheless, in the case of BXMT, we are happy to buy/add to at $30 or below and, therefore, once the stock hit the mark - we hit the purchase button.
Cherry Hill Mortgage Inv (CHMI) - The Cherry On Top
An undervalued mREIT that is looking to break a long-standstill from both price (breaching the $20) and dividend (increasing the current $0.49 quarterly dividend; it's about time)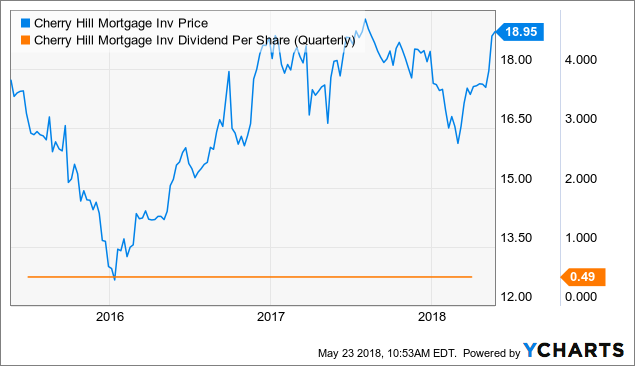 CHMI trades at ~7% discount to BV and while the last quarter saw the company missing the market EPS expectations by $0.02, it's earning above $0.50 per quarter on a continuous basis and this should either support an increase to the periodical dividend or allow for a special dividend to be paid.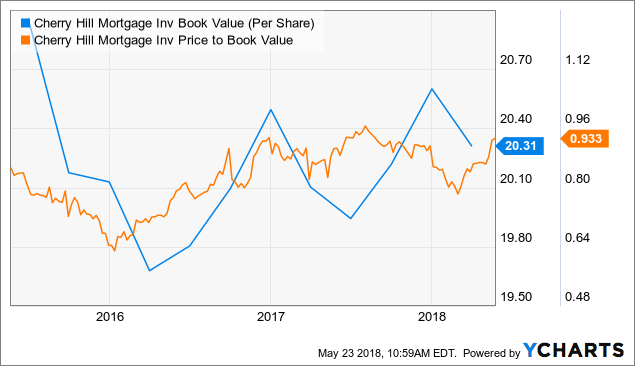 Back at the end of October 2017, Scott Kennedy set has a price target of $21.70 for CHMI. There are more than a few authors on SA I'm happy to debate with, but Scott isn't one of those...
Granite Point Mortgage Trust (GPMT) - One For TWO
On one hand, this company has a track record of less than one year as a public company. On the other hand, it's a company that was spun off Two Harbors (TWO) in June 2017. At the time, TWO got 76.5% of GPMT in return for moving $1.8B of commercial real estate assets and $1.2B of related debt into GPMT. In September 2017, TWO distributed its ~33M GPMT shares to its shareholders.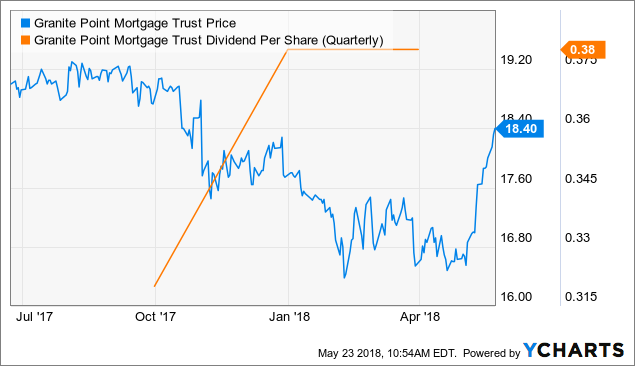 It was obvious (at least to me) that this distribution will put pressure on the stock as many TWO, now also GPMT, shareholders may wish to sell their GPMT shares. 76.5% of a company is quite a but number.
Indeed, since the date of distribution, the share price lost about 10% and then when it seems that the stock may found a bottom at mid 17s the stock market went through a 10% correction and took GPMT with it.
$16.50 was too low for us to resist and although the stock traded as low as $16.15 shortly after - a 15% discount to BV was attractive enough.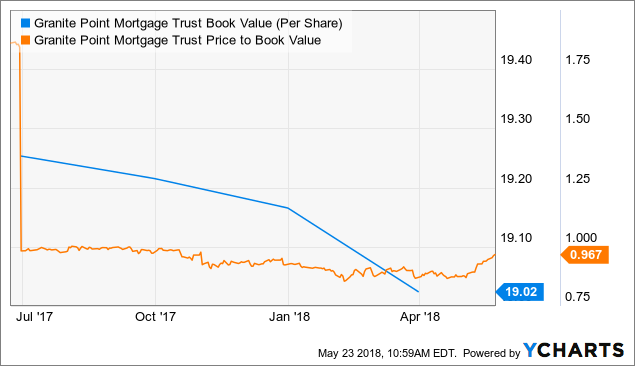 Bottom Line
The combination of higher yields and shrinking spreads is the worst most mREITs hope for. As a matter of fact, we're quite hesitant when it comes to mREITs right now and going forward. Many mREITs have posted negative results, especially when it comes to BVs.
Since this quarter, thus far, yields are higher and spreads are narrower, we wouldn't be surprised if this trend (of BV erosion) continues.
It's likely that the narrow spreads would start hitting profitability as well and it wouldn't surprise us to see more mREITs not earning enough to cover their dividends.
When it comes to any investment, mREITs particularly, it's not only about knowing when to spin the wheel but also about when to back off and let the game continue without you.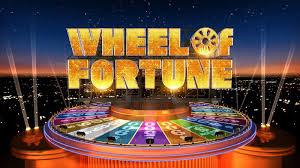 Author's note: If you like this article please scroll up and follow us. In order to make the most out of following us, please make sure that you're not only following us, but also doing so at real time:

That's the only way to get notifications regarding both articles and blog posts that we publish at real time.

The Wheel of FORTUNE monthly review for April is now available. Make sure you check it out while our free trial is still on!
The Wheel of FORTUNE is one of SA Marketplace most comprehensive services. Our universe (of coverage) is unlimited and we touched upon all types of securities: common stocks, preferred shares, public bonds, baby bonds, options, currencies, commodities and even multiple startegies.
Since 3/1/18 Trapping Value is part of The Wheel of FORTUNE so you now get two for the price of one.
Take advantage of a two-week, free of charge, first-hand experience before you commit to the service on a longer-term basis.
Make sure you read the reviews (133/135 possible stars) subscribers wrote about the service to gain a better understanding of what you may expect out of it.
Disclosure: I am/we are long ABR. BXMT, CHMI, GAIN, GPMT, NEWT, NRZ.
I wrote this article myself, and it expresses my own opinions. I am not receiving compensation for it (other than from Seeking Alpha). I have no business relationship with any company whose stock is mentioned in this article.
Editor's Note: This article discusses one or more securities that do not trade on a major U.S. exchange. Please be aware of the risks associated with these stocks.