Oil and gas stocks are off to a good start for the year. But, with share prices still being at depressed levels compared to 2014 highs, breakevens for the industry coming down, and oil prices continuing to rise in a growing economy, I believe the energy sector is in the early innings of a recovery, and frac sand companies are the best way to play it.
Schlumberger (SLB), a bellwether to the oil and gas industry, laid out positive growth forecasts for the industry and global economy stating that, "the demand growth outlook for 2018 is again expected to be north of 1.4 million barrels per day and is further supported by upward revisions in global GDP growth, clearly suggesting that the demand side of the oil market equation is on a very solid footing."
SLB went on further to say about inventories that, "Brent crude, which is now in backwardation, is seeing faster inventory draws and stocks are already approaching the five-year average. Today global inventory levels are down to 64 days of forward cover, and the North American stocks are already down to 2014 levels."
The noted points above are the obvious reasons to be invested in energy stocks. However, there is a greater theme at play that needs to be considered for investors: "oversupply" of frac sand is a good thing for the sector as a whole and serves as the backbone of all U.S. oil and gas operations in North America.
Going a step further, oil and gas companies are exposed to risks that frac sand companies (silica sand miners) do not have, such as the inability to obtain large amounts of quality proppant, supply chain disruptions, bottlenecks, degradation of equipment, scaling up and down, and increasing complexity of wells, making frac sand companies an attractive investment alternative to traditional oil and gas investments.
To prove frac sand companies are doing better than ever, are not affected by oversupply issues, and are not exposed to the same risks as other oil and gas stocks, just look at their earnings over the last four quarters. The top three frac sand miners are reporting robust revenues, with clear visibility into 2019, as all are sold out and fully contracted for years to come.
Hi-Crush (HCLP) First-Quarter 2018 Results
The company reported 1Q 2018 revenues of $218.1 million vs. $216.5 million in 4Q 2017 and $83.4 million in 1Q 2017. It also reported 1Q 2018 net income of $53.9 million vs. $43.2 million in 4Q 2017 and net loss of $(6.8) million in 1Q 2017.
Fairmount (FMSA) First-Quarter 2018 Results
First-quarter 2018 revenues were $273.3 million, relatively flat from $273.9 million in the fourth quarter of 2017 and 58% higher compared with $172.6 million in the first quarter of 2017.
For first-quarter 2018, the Company had net income of $28.9 million, or $0.13 per diluted share, compared with net income of $19.9 million, or $0.09 per diluted share, in the fourth quarter of 2017.
U.S. Silica (SLCA) First-Quarter 2018 Results
SLCA announced net income of $31.3 million for the first quarter ended March 31, 2018, compared with net income of $2.5 million.
Revenue totaled $369.3 million compared with $360.6 million for the fourth quarter of last year, an increase of 2% sequentially and 51% over the first quarter of 2017.
When taken as a percentage of revenues, frac sand miners are reporting more net income than most drillers like Whiting (WLL), Oasis (OAS), or Callon Petroleum (CPE). Even other service companies, like Halliburton (HAL), Schlumberger, and National Oilwell Varco (NOV), are reporting solid net income, but risks and costs remain elevated, as opposed to frac sand players. Some drillers, like Sanchez (SN), even reported a net loss last quarter, citing hedging issues.
Frac Sand Demand is Booming, While Others Pay the Price
Combined with positive earnings displayed by frac sand companies, positive underlying trends are driving oil and gas activity such as longer laterals, higher proppant loadings, and more stages.
Black Mountain Sand presented some interesting stats, pointing to how huge the need is for quality proppant is in the Permian, alone.
Permian Basin accounts for 37% of all U.S. proppant demand
68,500 tons per day which is enough to fill 600 rail cars per day
The Permian uses more proppant per day than the next two largest-consuming basins combined (Eagle Ford and Marcellus/Utica)
Permian Basin usage is estimated to reach 40% of all U.S. proppant demand by 2022
Climbing to 119 billion pounds
163,000 tons per day - enough to fill 1,500 rail cars per day
Run-of-the-mill Wolfcamp horizontal well
Uses 13 million pounds of proppant on average 300 truck deliveries of sand per well
Up to 5,000 pounds per lateral foot
NOV stated in a recent conference call that "completion intensity of unconventional wells continues to move up and to the right. Laterals are getting longer, stage counts are increasing, pressures and proppant loadings per stage continue to rise, and completions now represent 65% or more of average North American well costs.
These trends in proppant usage serve as tailwinds for frac sand companies, but act as headwinds to other energy players, due to costs for wells rising significantly in 2018 and numerous other factors that investors should take note of.
Quality Proppant in Large Amounts Hard to Obtain
At the end of the day, all oil and gas companies benefit from the above-stated completion trends, overall, as long as production and profits grow. But, there could be many risks for E&P operators that investors are overlooking that frac sand companies do not have to face. For example, fracking companies have to obtain copious amounts of proppant in the first place, which can be a major hurdle in itself.
HAL agrees about the struggles of obtaining large amounts of sand, which is in short supply, and believes more sand is necessary for the industry. "Our sophisticated sand supply desk and logistics system is working to mitigate this problem. I believe the ultimate solution is the increased use of local sand. We intend to utilize those resources to provide services for our customers as increased supply comes online in the latter half of the year."
Secondly, frac sand is adding major stress to rail systems, putting pressure on E&P's supply chains. HAL confirmed this issue stating, "looking forward, the U.S. rail system is experiencing high demand driven by strong economic activity. This increased overall demand is adding stress to the rail system, while at the same time our industry is attempting to move more and more sand every quarter. This stress is making the timing of deliveries less predictable."
Thirdly, trucking adds another set of problems for E&P operators. "After rail, the next logistics bottleneck is trucking. The issue today is not in tractors and trailers, it's finding qualified drivers and dealing with congested infrastructure. Containerized sand is an effective tool to reduce demurrage and truck demand per well site. We continue to roll out our containerized sand solution currently deployed across about a third of our fleet to reduce cost, increase efficiency and improve our service quality," HAL commented.
So, frackers and E&P companies can have a difficult time even getting proppant, which impacts earnings significantly. But, E&P companies can also be negatively affected by numerous other factors, like supply chain pressures and bottlenecks.
Frac sand companies, in contrast, couldn't be happier with the supply constraints for sand. Although some fracking would be postponed with bottlenecks, the well will eventually get fracked. If not, sand companies are fully contracted for years out anyway with take or pay contracts, which have WTI escalators built in that allow sand contracting prices to rise with the price of oil, guaranteeing visibility and revenues.
Silica Sand miners also benefit from fixed cost absorption when business activity scales up, diversification of industrial revenues, international sales, and pricing power through the WTI escalators, whereas other oil and gas companies don't, which we will discuss further.
Oil and Gas Players Have Risks That Frac Sand Companies Don't Face
NOV summarizes the problems that a services company could face better, "the commodity price pullback that began late in the second quarter, which saw oil prices fall into the low to mid-$40s, and ensuing activity declines, caused our drilling contractor customers to retrench and stop spending on all, but the most essential of items."
Despite moving more than half of their business onshore from offshore, and being one of the largest service companies in the world, NOV is still exposed to volatile revenue swings and earnings risks. NOV reported softness in offshore orders, which was expected, but onshore fracking equipment deliveries were postponed. Even though equipment orders in North America were just delayed, the effects can be huge. Analysts seem to agree and have a more bearish view on NOV, with the average price target being seen as about $35.00 a share.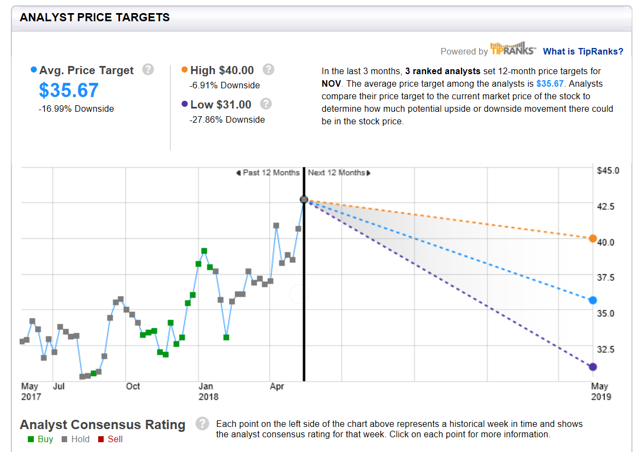 Source: Etrade
To be sure, NOV is not worried about the transitory lull in orders, standing their ground saying "we saw customers not pick up equipment by the end of the quarter on items like mobile rigs, which we suspect is related to, again, not yet having cruise and logistical support in place to initiate operations with these new assets." However, the delays are still very much a threat to earnings for service companies on a quarterly basis, a problem which frac sand companies are insulated from.
Let's compare NOV with another services giant in Halliburton, who has positive net income and appears to be firing on all cylinders, judging by the latest earnings.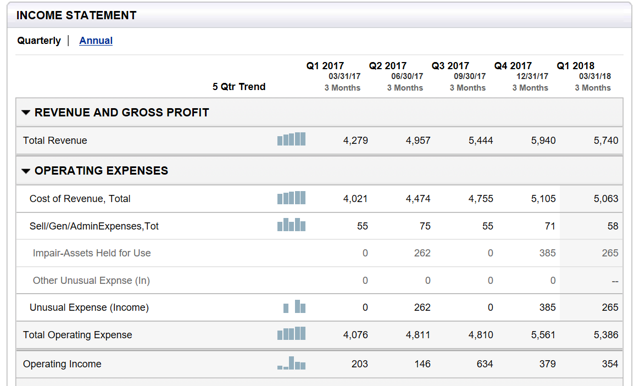 Source: Etrade
HAL had many positives to highlight on their most recent conference call, one being the obvious increase in stage counts and proppant loadings, alluded to above, "in March, our production enhancement product service line achieved record stage count per crew, higher than at the previous peak in 2014."
Accelerated Degradation of Equipment Hurts Driller's Earnings
But, another tailwind to sand companies, while a headwind to drillers, is wear and tear on rigs due to intensity of horsepower, and increased proppant loadings per well. This dynamic actually helps service players, too, who's earnings largely depend on replacement parts from wear and tear. But, equipment degradation definitely hurts frackers and drillers.
HAL provided insights into the cause of this trend in degradation: "A key driver of this degradation is service intensity which quickly translates to shorter equipment lives and higher maintenance costs. Maintenance costs are growing and the costs are real. Today, we pump three to four times of sand volume through equipment compared to 2014."
HAL went on to say that "the pressure pumpers who execute these frac jobs, our customers, are putting more abrasives and more horsepower into the ground than ever before, and executing more stages per day, which makes this endeavor highly capital-intensive and highly consumptive of frac iron."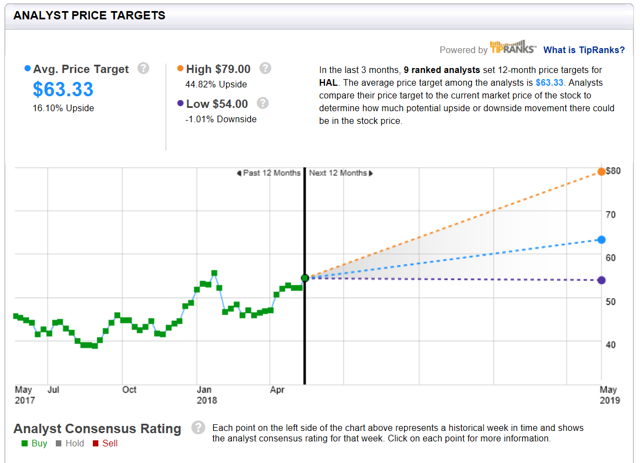 Source: Etrade
Clearly, analysts are applauding Halliburton's efforts to supply replacement parts to a highly intensive shale industry, with the current price of around $50 being the low forecast, and the high forecast being almost $80. Of course, this forecast implies significant upside from current prices. But, are investors overlooking other risks that service companies face?
Drillers Conserving Parts Hurts Service Players
Along with supply chain woes, and equipment degradation, more risks can hamper oil and gas players that frac sand players do not have to worry about, such as drillers choosing to conserve parts, should oil prices fall for an extended period of time.
If drillers choose to save money by conserving parts, that could have an adverse impact on service players, like HAL's, earnings. We already know that NOV's earnings were impacted by customers retrenching spending during the slowdown. NOV reminded investors that, "the result [of the commodity downturn] for us was deferred deliveries, and a sharper-than-anticipated falloff in orders for new equipment, re-activation services, and spare parts."
While drillers will always drill in order to pay their hefty bills, parts can be re-used in drilling operations to help save on costs; especially today, with technology making the equipment more resilient. Sand, on the other hand, cannot be re-used. Frac sand cannot be conserved very well, either, due to shortages that persist throughout the industry.
Scaling Up Also Seen As Major Risks For E&P Players
In similar fashion to how delays in equipment orders, or the conservation of parts, can affect earnings in a substantial way for service companies, another major risk to service companies and drillers is simply scaling up business activity when times are good.
SLB said, "the biggest risk to our full cycle returns in the core business is first the huge cost of scaling up and scaling down capacity in an increasingly volatile business environment."
While scaling is a risk to every business, service players and drillers, alike, have more moving parts to deliver throughout their supply chains than frac sand companies, and experience rising costs when activity scales up. In opposite fashion, frac sand companies lower their costs when volumes and business activity increase, through fixed costs absorption.
Drillers Carry Substantially More Risk Than Frac Sand Miners or Even Most Service Companies
Investors can now see the risks that oil and gas companies are exposed to, unlike frac sand miners. But, despite their stock prices almost doubling in just under a few months, pressure pumpers and drillers, like Whiting, Oasis, Callon, and Sanchez, have numerous other risks to their revenues as well that frac sand players don't have to deal with, hence the high rewards investors have seen lately from those shale drilling stocks.
Of course, many factors could hamper driller's shares, such as high leverage, oil prices falling, the economy shrinking, inflation, hedging, or any of the risks stated above, like supply chain restraints, wear and tear, and scaling. But, a grave risk for drillers that most overlook is the simple fact that all wells are not created equal.
In fact, some wells can be dry, or too complex to frack. SLB reminded investors that "in North America land where the E&P companies have added significant capex over the past year, the production growth is so far falling short of expectations, driven by supply chain inflation, operational inefficiencies, and the need to step out from the Tier 1 acreage."
Oasis bought more land in the Permian for a hefty price tag, recently, in an effort to expand operations. As a result, investors had to stomach a round of dilution in order to pay for the acquisition, and there's no guarantee that this land will even have competitive wells. Same for Callon Petroleum, who just bought land from Cimarex (XEC) in the Permian, for $570M, and will be diluting shareholders a public offering of 22M common shares.
Whiting already wrote down almost a billion worth of assets in their Redtail acreage due to underperformance. WLL stated that "though we believe there are many opportunities that can deliver strong returns at Redtail, it does not currently compete with our Bakken assets. It may benefit from accelerated capital to realize the field's full potential."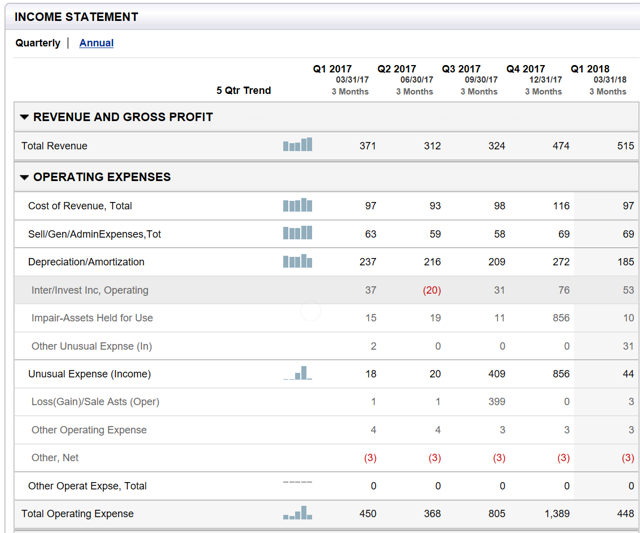 Source: Etrade:
As investors can see by the Whiting's income statement, revenue and profit seem to be in an uptrend. But, operating expenses are rising in tandem with profits; a large portion of the income, in fact. Again, sand players don't have this issue, due to their business model benefiting from fixed cost absorption when business activity increases.
Currently, with oil prices showing upward momentum, Whiting is planning to operate within cash flow and pay down debt, stating that, "we're trying to get our leverage down below two times. And we can do that with our current plan by the end of 2019 with the excess cash flow we'll generate at $55. At $60, there's even more cash there, which means we have more opportunities what we can do with it. We'll see what prices do. We'll see how much cash we generate, and we'll try to make the best decision at that time."
Operating within cash flow is a positive for companies like WLL. But, these plans are based on a bullish oil price environment. Should prices fluctuate for any reason, earnings and margins are impacted in a huge way. Some drillers are so leveraged that they have to drill, just to keep the lights on, which plays into frac sand player's hands again.
E&P Players' Margins Affected By Smallest Change in Oil and Gas Prices
Obviously, it is known that changes in oil prices pose risks to E&P companies. But, maybe investors are not realizing how sensitive E&P's earnings are too volatile oil prices, as opposed to frac sand companies.
Take it from Exxon Mobil (XOM), who threw out an interesting stat on one of their conference calls. XOM claimed, for every dollar that the price of oil fluctuates, earnings are impacted by $500 million. So, one can imagine how the rest of the industry's revenues would be affected by changes in oil prices, even if only by a dollar or two.
"Yeah. We have the earnings sensitivity. For every dollar per barrel, it's about $500 million of earnings per barrel - of cash per barrel."
Driller's margins are affected by any change in oil prices, whereas sand companies aren't usually affected until a $5-10 drop comes in oil prices, which is where the WTI escalators really start to pay off.
With major underinvestment worldwide, short cycle plays with a quick payback period will continue to be the viable play until oil prices show they can stay high enough for an extended period of time. As a result, service players with North American shale exposure, especially frac sand companies, are the primary beneficiaries of short cycle operations.
More Short Cycle Shale Plays Driving Frac Sand Pricing Power and Fixed Cost Absorption
HAL confirms the motives behind short cycle plays stating, "this shift in capex allocation is largely driven by the shorter cycle return and lower risk profile North America shale provides. In this paradigm, we see sustainable growth over a longer period of time rather than the boom and bust, which has characterized past cycles in North America."
So, since break-evens have fallen to the $35-45 range, and continue to fall further, short cycle (unconventional, fracking) will stay in vogue for years to come. While many E&P operators will make healthy profits, the risks and capital requirements are higher than that of frac sand companies, who are earning more net income (as a percentage of total revenues) than most E&P operators, through fixed cost absorption.
More volumes of sand shipped, especially via unit trains vs. manifest trains, lowers costs significantly throughout the supply chain, boosting margins. Sand players also experience increased pricing power through bullish supply/demand dynamics, and their take or pay contract structure, which, again, has built-in WTI escalators that rise with the price of oil.
International Markets and Industrial Diversification Make Frac Sand Players More Dynamic Investments than Traditional Oil and Gas Investments
Finally, short cycle, unconventional shale basins are opening up all over the world, and silica sand companies are taking advantage of the international sales opportunities, unlike oil and gas companies.
Silica sand miners, like Fairmount Santrol, will already have their foot in the door through industrial sales currently made worldwide. The industrial segment of Fairmount, for example, sells to end markets that have a hand in virtually every application of modern-day living, at attractive margins, too.
Some areas of interest for unconventional drilling that investors should watch closely are in the Middle East and Australia. Service players and drillers can operate internationally, but the risks and costs for those companies, as stated above, are magnified tremendously.
SLB confirmed unconventional fracking being adopted in the Middle East and Australia saying, "activity growth in Saudi Arabia was driven by improved productivity in our unconventional resources project, which enabled us to complete a higher stage count. In Asia, activity strengthened in Indonesia on increasing rig count and market share, while Australia benefited from higher demand for hydraulic fracturing and drilling services."
NOV's rig building business is showing promising signs of recovery in the Middle East, as well as in Argentina, where the Vaca Muerta shale play continues to grow. NOV reported that "after a couple of head fakes earlier in the downturn, some key Middle Eastern tenders are moving forward now. And since the close of the quarter, we sold 2 more land rigs into Latin America, where we see more interest for high-spec AC rigs from drillers pursuing unconventional drilling programs."
HAL backed up NOV's statements about Argentina, saying "in Argentina, there are exciting improvements in unconventional resources. We successfully completed the longest lateral section ever in the Vaca Muerta formation, flawlessly pumping 42 stages, a great job by the team demonstrating their focus on our value proposition in Argentina." Emerge has already barged sand into Argentina, although costs to ship there are 3x higher than when shipping domestically. Nonetheless, it is encouraging for the frac sand miners to see HAL setting record stage counts in Argentina, as more stage counts equal more sand.
HAL also included some color on basins opening up in Mexico, stating, "a record number of blocks are scheduled to be auctioned in Mexico, representing a pipeline of service activity in the coming years."
As we already know from the Fairmount-Unimin merger press conference, Unimin is already selling frac sand to Mexico in small amounts, and Fairmount already had a coating facility in Mexico. So, with the new Permian mines being built in-basin by them and others, more proppant could potentially be sent down to Mexico by barge. Emerge has already barged sand into Argentina, where infrastructure for rail and trucking is limited at the moment.
Overall risks to oil and gas companies as well as frac sand companies
The above-stated risks for oil and gas companies may tend to be overlooked by investors, but the following risks are the more obvious ones to investors. Nonetheless, they should be noted.
HAL highlighted that wage inflation is a real risk for oil and gas companies, on their most recent conference call, "The labor market is tight. U.S. unemployment is at an all-time low and in some basins, it's just above 2%. That is tight. We have the advantage of being able to recruit nationally to find qualified field personnel. However, given the level of activity today, there will likely be wage inflation and additional pricing will be necessary for cost recovery."
Another risk that investors tend to worry about for oil and gas companies is a switch from oil to gas, or even someday having the entire world go solar. While a plausible idea, the reality of the world going solar is slim unless the industry can become viable enough to survive without government subsidies. However, should solar spread further and actually affect oil and gas demand, frac sand players, who mine silica, would be in an enviable position to take advantage of the trend.
Electric vehicles should not pose a real threat to frac sand companies, either. Maybe oil and gas players would be affected by commodity pricing, but Exxon welcomes the switch. The slide below shows how electric vehicles are affecting LNG demand: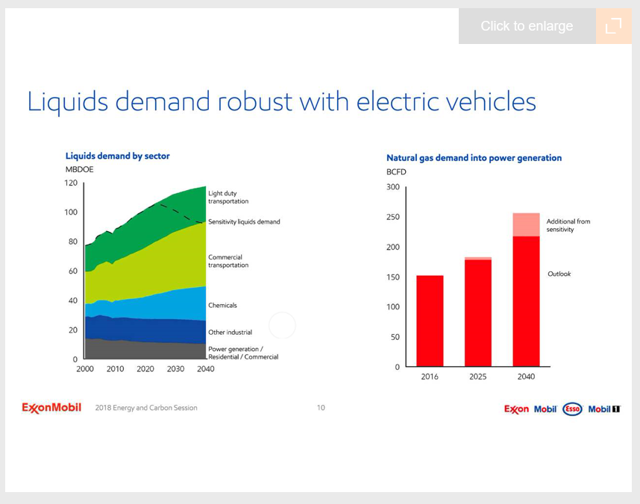 Source: Exxon Mobil Investor Relations
Clearly, demand for LNG continues to rise, which should continue to support gas producers. But, whether the world chooses oil, natural gas, or solar, frac sand companies are indifferent to the situation as their services are required in all three scenarios.
Another potential risk to the industry is the OSHA dust regulations set to take effect soon. If companies don't get the necessary last mile support to cover and transport the silica sand, which causes silicosis when breathed into the lungs, steep fines will be handed out. Fortunately for frac sand players, they now all have last-mile solutions for their clients, including Smart Sand (NASDAQ:SND).
As far as the oversupply risks go for frac sand companies, Hi-Crush, Emerge Energy (NYSE:EMES), U.S. Silica, Fairmount Santrol, and Smart Sand, have not been affected by new local brown sand announcements because the new sand coming online is primarily 100 mesh, which is only a small part of frac sand company's revenues (when divided by basin), since there are many grades of sand used in fracking. Moreover, the new brown sand cannot leave Texas viably due to losing rail costs savings. Therefore, demand for Northern White sand should remain healthy in all basins outside of the Permian (which represents over 50% of drilling activities taking place in North America).
Rail pressure issues can also plague the entire industry, not just frac sand players. However, rail constraints are a problem that the entire country is dealing with, at the moment, as the U.S. economy continues to heat up.
Conclusion
During the oil and gas downturn in 2014, earnings for frac sand players suffered, and that caused investors to peg frac sand stock performance to oil prices. However, the energy landscape has changed dramatically since then. Frac sand companies should not be as tied to commodity prices anymore since breakevens have come down to a point where short cycle provides the least amount of risk with the most reward.
While short cycle plays offer high rewards, the sheer amount of drilling done means risks and costs will also be high, weighing on E&P operator's earnings. Degradation of equipment, scaling business activity up and down, changes in oil and gas prices by just one dollar, drillers conserving on parts, supply chain bottlenecks, and an inability to even obtain enough quality proppant, are just some of the headwinds that oil and gas companies face.
Frac sand players, in contrast to traditional oil and gas companies, carry much less inherent risk, yet are delivering on the same levels of net income, if not better, especially when taken as a percentage of revenues. They also get to experience the benefits of fixed costs absorption when business activity scales up, pricing power through WTI escalators and bullish supply/demand dynamics, and diversification from industrial and international revenues, as fracking continues to spread worldwide. Even a switch from oil to liquefied natural gas, or even solar, caters to frac sand company's strengths, as they are major suppliers of the silica sand needed for both the production of solar panels, and the extraction of natural gas.
Combine these above dynamics with the fact that silica sand is the most used ingredient on earth, besides water, and investors will finally understand why frac sand is the logical play now over traditional oil and gas stocks. I own the frac sand players in my portfolio for these reasons and remain a buyer on all dips.
Disclosure: I am/we are long EMES, HCLP, SND, FMSA, ETP.
I wrote this article myself, and it expresses my own opinions. I am not receiving compensation for it (other than from Seeking Alpha). I have no business relationship with any company whose stock is mentioned in this article.