In the current bull market, many investors have gone away from dividend-yielding stocks in search of growth. Though there may be some validity to that, an increase in the dividend often points to a company in a solid financial position that wants to reward investors. This year, many stocks have raised their dividends, but five strong companies are of particular note. These companies are:
Dr. Pepper Snapple (NYSE:DPS-OLD): DPS has experienced dramatic dividend growth in the face of delivering above-estimated fourth quarter earnings along with a solid 2012 projection.
Yield: 3.56%
1-Year Growth of Dividend: 34.4%
1-Year Chart:
(Click charts to expand)
(NASDAQ:CNBC)
General Electric (NYSE:GE): GE has had seven quarters of earnings growth and delivered:
4Q Operating EPS of $0.39, up 11%; Full-year 2011 Operating EPS of $1.37, up 22% (excluding effects of preferred redemption)
4Q Continuing EPS of $0.37, up 3%; Full-year 2011 Continuing EPS of $1.23, up 8% (includes effects of preferred redemption)
Revenue of $38.0 billion for the quarter; $147.3 billion for the year
These results are strong, but the company itself is diversified and has provides stability that yield-seeking investors are looking for.
Yield: 3.55%
1-Year Growth of Dividend: 32.6%
1-Year Chart: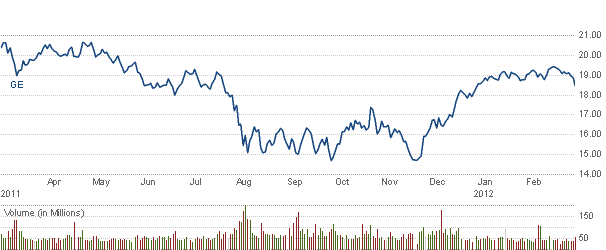 Philip Morris: (NYSE:PM): PM delivered its fifth consecutive earnings surprise in the wake of increased sales in Asia and Europe. The stability within the brand is exceptional is it maintains 15 of the world's major tobacco brands. With its current earnings performance and dividend hike, the stock is a solid investment into the coming years.
Yield: 3.67%
1-Year Growth of Dividend: 15.6%
1-Year Chart: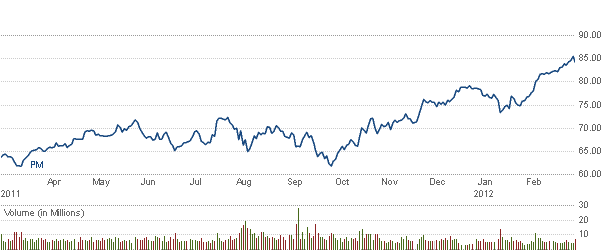 CMS Energy (NYSE:CMS): CMS reported a solid fourth-quarter with EPS of $.15 vs. $.9 in the same quarter last year. With a dividend of nearly 4.5%, the stock puts forth exceptional yield to investors and has delivered strong results in the past quarter.
Yield: 4.48%
1-Year Growth of Dividend: 27.3%
1-Year Chart: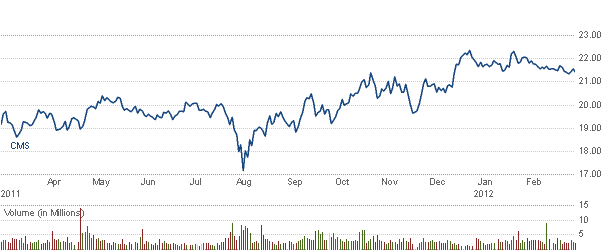 Pfizer (NYSE:PFE): Though PFE fourth-quarter profit fell, the company delivered a solid plan to cut costs and move forward after the company's patent for Lipitor went away. Though Q4 may not have been the company's brightest moment, PFE is a diversified player in the prescription drug market and provides stability and a very high yield to investors.
Yield: 4.09%
1-Year Growth of Dividend: 11.1%
1-Year Chart: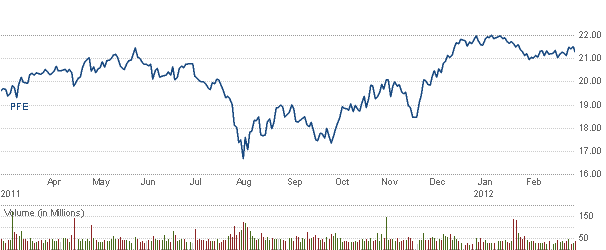 Conclusion: For the aforementioned reasons, these five stocks throw off strong yields and have delivered stable earnings over the past quarters. These earnings hikes are evidence of the company's ability to reward shareholders. Though 2012 may not be the year for chasing dividend stocks, these companies are solid investments into the coming years.
(All financial metrics referenced above are obtained from Yahoo! finance, CNBC Analytics, S&P Capital IQ & Thomas Reuters)
Disclosure: I have no positions in any stocks mentioned, and no plans to initiate any positions within the next 72 hours.