Welcome to the May 2018 cobalt miner news. This month, I introduce two promising cobalt juniors from the famous Broken Hill district of Australia - Havilah Resources and Castillo Copper.
For some background on the cobalt miners, please check out my earlier articles:
The past month saw cobalt prices flat line. Of far greater importance was the epic Volkswagen (OTCPK:VLKAF) 40,000,000,000 Euros deal. Yes, a 40 billion Euro purchase of lithium-ion battery supplies. This confirms Volkswagen is deadly serious about their EV plans. It is also terrific news for the EV metal miners, as the 3 battery manufacturers involved will now need to secure supply of raw materials including cobalt.
A cobalt ore sample from Cobalt Blue and BPL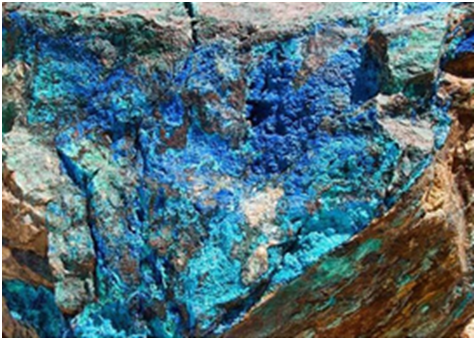 Cobalt price news
As of May 23, the cobalt spot price was US$41.50, the same as this time last month. The LME cobalt price is 90,500/tonne. The London Metals Exchange [LME] inventory remains low but unchanged from last month (see graph below).
Cobalt spot prices - 1-year chart - USD 41.50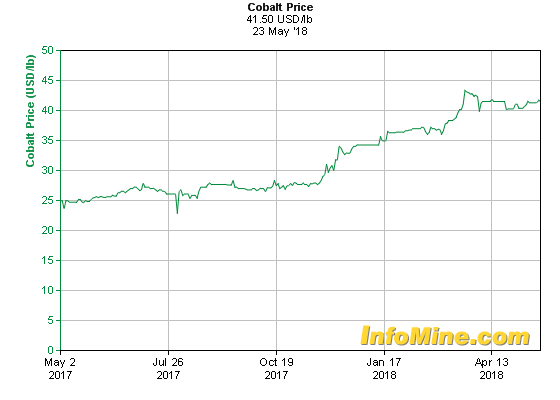 Source: InfoMine.com
LME cobalt 1 year inventory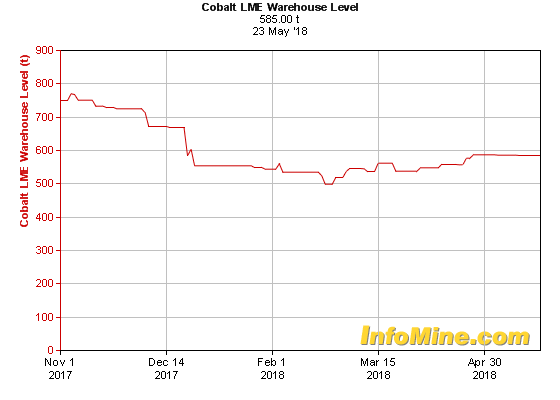 Source: Infomine.com
Cobalt demand and supply
On May 11, Mining Weekly reported:
"Cobalt supply pressures rising amid DRC conflict mineral concerns. Technology and clean technology companies are increasingly struggling to secure adequate supplies of cobalt, while the ethical sourcing of cobalt also remains a challenge."
On May 21, Bloomberg reported:
"Threat of cobalt shock is a top risk for Electric Vehicles. Key EV metal is facing shortages in early 2020s, BNEF says. Recycling, battery chemistry shift can help reduce reliance. A burgeoning risk of a supply crunch in cobalt - a key battery metal that's more than tripled in price in two years - poses one of the biggest threats to forecasts for rising electric vehicle adoption. Major investment in mines is required to avoid price spikes that could see cost reductions for lithium-ion batteries stall, Bloomberg New Energy Finance analysts said Monday in a report. Shortages of cobalt are likely earlier than previously forecast and the issue poses a potential challenge to EV sales over the coming five to seven years, according to the report. "The long lead time to bring on new mines and the concentration of cobalt reserves in the Democratic Republic of the Congo mean there is a real possibility of supply shocks in the early 2020s," the BNEF analysts said. Higher rates of recycling and a shift to less-cobalt intensive batteries can alleviate, but won't remove, risks of supply constraints, according to BNEF. With a lack of major new projects, the cobalt market is likely to fall into a deficit from 2021, Darton Commodities said in a February report."

Source
Investors can read my article on Trend Investing - "My Cobalt Demand Versus Supply Model - March 2018."
Cobalt market news
On May 3, Fortune reported:
"VW just ordered $48 billion in electric car batteries. That's about what Tesla is worth right now. Volkswagen AG said it was writing a check for batteries that almost match Tesla's entire market value. VW has awarded battery-purchasing contracts worth 40 billion euros ($48 billion), double from just a few weeks ago. The deals take the German manufacturer within striking distance of a sought-for 50 billion-euro total. By 2025, VW plans to sell as many as 3 million all-electric cars per year, Chief Executive Officer Herbert Diess told investors Thursday at the annual shareholder meeting in Berlin. "By 2020 we will offer our customers more than 25 new electric models and more than 20 plug-in hybrids," Diess said. "In just a few years' time, then, across all brands and regions, we aim to put the world's largest fleet of electric vehicles on the road." All I can say is WOW!
On May 4 Bloomberg reported:
"Elon Musk warns that Tesla's cobalt use is heading toward zero. The maker of electric vehicles said in a letter to shareholders it has slashed its reliance on cobalt for its Model 3 vehicle, while raising nickel content, and that its latest batteries already employ less cobalt than similar types already on the market. "We think we can get cobalt to almost nothing," the carmaker's chief executive officer said in response to a question on reducing battery costs."
Note: The 60kWh GM Bolt/LG Chem battery uses 20 kgs of cobalt. Benchmark Minerals response article is below.
On May 3, Benchmark Minerals wrote:
"Panasonic reduces Tesla's cobalt consumption by 60% in 6 years…..But cobalt supply challenges remain. Tesla has long been a proponent of nickel-cobalt-aluminium [NCA] technology developed by Panasonic in Japan, which goes against the grain of a nickel-cobalt-manganese [NCM] focused electric vehicle [EV] industry. Tesla's first Model S consumed on average 11kg of cobalt per vehicle. Today, using a fixed pack size for a more accurate comparison, Tesla's Model 3 consumes 4.5kg per vehicle. Benchmark forecasts that NCM batteries will make up 70% of the total global lithium ion battery market by 2026. NCA has been far less widely adopted and the main proponent remains as Tesla. Benchmark only expects NCM811 to have a material impact on the lithium ion battery industry from 2022 onwards when we forecast it to account for 10% of the cathode market. Panasonic and Tesla have made excellent improvements to their cell technology whilst being able to reduce cobalt dependency, but this is likely to pretty much be the end of the road of cobalt reductions in NCA. And with any new technology that could usurp NCA or NCM still on a 10-year horizon, cobalt's use in lithium ion batteries is here to stay. Benchmark estimates that cobalt's use lithium ion batteries will triple between now and 2026 as a wave of EV demand engulfs the industry. Whilst efforts are being made to reduce cobalt dependency, the order of magnitude of growth sales will far outweigh this. This EV surge is far more significant than the reduction of cobalt intensity which is close to its limit. Whilst there is political scrutiny on the cobalt supply chain, there is a huge amount of work to be done to simply increase supply to meet our EV demands. More cobalt will be needed and the reliance on Democratic Republic of Congo as the primary supplier will increase. The cobalt conundrum continues."
On May 21, Investing News released a good Chris Berry voice interview discussing the cobalt sector (2nd half of the interview) which you can view here.
Cobalt company news
China Molybdenum [HKSE:3993] [SHE:603993] (OTCPK:CMCLF)
On April 23 4-traders reported,
"China Molybdenum CMOC senior management may sell up to 1.46m A shares. China Molybdenum (CMOC) (03993) said it has been notified by Li Chaochun (chairman and executive director), Li Faben (executive director and general manager), Yuan Honglin (non-executive director), Zhang Zhenhao (supervisor), Gu Meifeng (chief financial officer) and Jiang Zhongqiang (vice general manager) that they proposed to dispose of on-market in aggregate not more than 1.46 million A shares, representing around 0.007% of the total share capital of CMOC."
Glencore [HK:805] (OTCPK:GLCNF)
On May 3 Glencore announced,
"First quarter 2018 production report." Highlights include:
"Production was largely in line with expectations across all commodity groups. Full year guidance is unchanged from that presented in February.
Own sourced copper production of 345,400 tonnes was 21,300 tonnes higher than Q1 2017, reflecting the commissioning of phase 1 of Katanga's whole ore leach project in December 2017, partly offset by the impact of maintenance at the Mount Isa smelter and Alumbrera's expected decline as it moves towards end of mine life.
Own sourced zinc production of 242,700 tonnes was 36,500 tonnes (13%) below Q1 2017, mainly reflecting the disposal of Rosh Pinah and Perkoa in August 2017. Adjusting for such, production was in line.
Own sourced nickel production of 30,100 tonnes was 5,100 tonnes (21%) higher than the comparable period, reflecting the continuing stabilisation and ramp-up of Koniambo's processing plant, where both production lines are now operational, and stronger performances at Murrin and INO.
Attributable ferrochrome production of 409,000 tonnes was 31,000 tonnes (7%) below Q1 2017, mainly reflecting furnace downtime and challenges with the subsequent restart.
Coal production of 30.7 million tonnes was in line with Q1 2017, reflecting a stronger contribution from the Australian thermal portfolio (impacted by adverse weather in the base period), offset by weather-related reductions at Prodeco. Full year coal production guidance (unchanged) includes the largely offsetting impacts of the Hail Creek JV acquisition, expected in H2 2018, and lower production now expected from Prodeco in 2018, before returning to higher levels in 2019.
Glencore's entitlement interest oil production of 1,156,000 barrels was 209,000 barrels (15%) lower than Q1 2017. This was in line with Q4 2017 as natural field declines in Equatorial Guinea were offset by increasing production in Chad from the drilling campaign that started in H2 2017.
Full year 2018 Marketing EBIT expected to be within the top half of the $2.2 billion to $3.2 billion long term guidance range."
Note: Cobalt production was 7,000 tonnes for the quarter, up 11% from a year earlier, but down on the 7,600 tonnes in Q4, 2017.
On May 4, Glencore announced,
"Glencore refers to the announcement on 16 October 2017 concerning the Consortium's agreement to sell to CEFC China Energy Company Limited a 14.16% stake in Rosneft. The members of the Consortium have agreed to dissolve the Consortium originally put in place in December 2016 for the purposes of acquiring a 19.5% stake in Rosneft and will take direct ownership of the underlying Rosneft shares. In connection with that, the Consortium has today entered into an agreement to transfer a 14.16% stake in Rosneft to a wholly owned subsidiary of QIA (the "Transaction") the consideration for which will to be used for the settlement of the Consortium's liabilities. This agreement will become effective on 7 May 2018."
On May 11, Bloomberg reported,
"Glencore seeks out-of-court Congo solution with Dan Gertler. The Swiss company was granted a temporary injunction against the Israeli billionaire on May 1 after asking the U.K. court to rule against a Congolese judge's decision to freeze assets at its Kamoto Copper project. In the African case, Gertler is seeking $2.28 billion in damages and unpaid royalties, which Glencore stopped paying after he was sanctioned by the U.S. in December."
Katanga Mining [TSX:KAT] (OTCPK:KATFF)
On May 8, Katanga Mining announced,
"Katanga Mining Limited today provided an update on the legal proceedings disclosed by the Company on April 20, 2018. As previously disclosed, the Company's joint venture partner, the Democratic Republic of Congo ("DRC") state-owned company La Générale des Carrières et des Mines ("Gécamines"), in the Company's 75% DRC operating subsidiary Kamoto Copper Company ("KCC"), commenced legal proceedings to dissolve KCC following KCC's failure to address its previously disclosed capital deficiency or, alternatively, if the Court were to provide KCC with a period of time within which to regularize the situation, to request the appointment of an expert to assess and report to the Court on KCC's financial position and its recapitalization plan (the "Capital Deficiency Proceedings")."
On May 14, Katanga Mining Limited announced,
"Katanga Mining Limited today announces its 2018 first quarter production and financial results. The cobalt production section of the plant was commissioned during March 2018 leading to the production of 525 tonnes of cobalt metal contained in hydroxide."
You can also read my original article from January 1, 2017, "Katanga Mining is a potential turnaround story." Followers of mine who bought back then with me at CAD 0.13 and sold when I recommended Trend Investing subscribers to reduce at CAD 2.89 made a nice 2,123% gain in just over a year.
Sherritt International [TSX:S] (OTCPK:SHERF)
On May 7, Sherritt International announced,
"Sherritt International successfully completes pilot testing of innovative process to upgrade Alberta Bitumen at lower cost. "Sherritt has identified a new application of our proven processing capabilities that addresses a significant need within Alberta's oil sands industry to reduce costs and improve pipeline capacity," said David Pathe, President and CEO of Sherritt International. "The successful pilot-scale demonstration marks an important first step in commercializing this technology, and builds on our unique metals processing expertise to create longer term growth opportunities. Our next testing phase is expected to involve more extensive collaboration with Alberta bitumen producers and include demonstrations of our upgrading process on a larger scale."
Umicore SA [Brussels:UMI] (OTCPK:UMICY)
No news for the month. I did come across an interesting linked report - "Global Lithium-Ion Battery Recycling Market to grow at a CAGR of +22% by 2021."
Sumitomo Metal Mining Co. (TYO:5713) (SMMYY)
On May 17, Sumitomo Metal Mining Co. announced,
"Sumitomo Metal Mining Co. progress of business strategy." The cobalt related item was "Further strengthening of nickel/cobalt business (progress with Pomalaa project)", and secure a "stable supply from Ni, Co raw material".
MMC Norilsk Nickel [LSX:MNOD] [GR:NNIC] (OTCPK:NILSY)
On May 11, MMC Norilsk Nickel announced,
"Kola MMC (part of the Nornickel Group) completed stage 1 of its project to upgrade distribution substation No. 70. The substation supplies electricity to the electrolysis section of the tank-house at the Monchegorsk site, as well as to the active storage of chlorine. This is seen as a landmark event for Kola MMC, which is implementing a large-scale investment project to introduce a nickel electro-winning technology to the existing capacities."
On May 18 2018 MMC Norilsk Nickel announced,
"Bystrinsky GOK launches sales of iron ore concentrate. Bystrinsky Mining and Processing Plant (Bystrinsky GOK, Trans-Baikal Territory), having recently started selling copper concentrate, has added magnetite (iron ore) concentrate to its sales mix. The plant has completed its first 680 t shipment of the product to China, with another 10,000 t planned to follow in May. Markus Meurer, Nornickel's head of global sales, says the Company has already signed long-term contracts to sell copper and magnetite concentrates. In addition to China and Russia, other target markets include Japan and South Korea. Nornickel constructed Bystrinsky GOK in a hard-to-reach area of the Trans-Baikal Territory in late 2017. After reaching the design capacity, the plant will be producing up to 3.5 mt of magnetite concentrate and 260,000 t of copper concentrate."
Investors can also read my article, "Time To Buy Norilsk Nickel Before The Nickel Boom Perhaps Starts In 2018."
Freeport-McMoRan Inc. (FCX)
On May 22 Seeking Alpha reported, "Freeport McMoRan spikes as Rio Tinto said ready to accept Grasberg deal. Freeport McMoRan (FCX +3.3%) spikes as much as 6.5% following a report that Rio Tinto (RIO -0.4%) is ready to accept a $3.5B deal with Indonesia's government for its interest in the Grasberg copper and gold mine. State-owned Inalum plans to acquire Rio's joint venture interest in the operation under a wider arrangement aimed at taking control of FCX's local unit, according to the report."

Highlands Pacific [ASX:HIG] (OTC:HLPCF)
On April 30, Highlands Pacific announced "Mine Quarterly Activities report for the period ended 31 March 2018."
On May 23, Highlands Pacific announced,
"Highlands placement and Ramu refinancing. Cobalt 27 acquires a cash flowing cobalt-nickel stream on producing Ramu nickel-cobalt mine for US$113 million (C$145 million)."
Highlights include:
"The world's first producing cobalt-nickel stream on the world-class Ramu Nickel-Cobalt mine.
Stream on producing Ramu Nickel-Cobalt Mine for US$113Million (C$145 Million). Cobalt 27 is pleased to announce the transformational acquisition of a producing cobalt-nickel stream over a long-life, world-class asset that provides immediate cash flow to the Company. The world's first producing cobalt-nickel stream on the world-class Ramu Nickel-Cobalt Mine.
Stream over 55.0% and 27.5% of Highlands Pacific Limited's ("Highlands") attributable share of cobalt and nickel production, respectively, from the Ramu Nickel-Cobalt Mine ("Ramu") in exchange for a US$113 million (C$145 million) upfront deposit (the "Transaction").
Highlands management estimates a mine life in excess of 30 years.
As a result of the Transaction, Highlands' effective attributable ownership of Ramu will increase from 8.56% to 11.3%.
Estimated attributable stream production of approximately 450,000lbs of cobalt and 2.25million lbs of nickel in concentrate per year.
Expands and diversifies portfolio: cobalt and nickel are important battery metals positioned to benefit from global adoption of electric vehicles and grid storage systems.
Cobalt 27 is in advanced discussions with two local PNG stakeholders which own an equity interest in Ramu (collectively "MRDC") to negotiate a US$87 million stream agreement on the same terms for a proportionate metal stream based on their aggregate attributable interest in Ramu.
Ramu has successfully ramped up since construction completed in 2012 and is now operating at peak production and in the 1st quartile of the global cost curve and maintains robust margins at spot and long-term consensus prices."
Of interest, 4-traders shows an analyst price target of AUD 0.21. I recommended the stock back in February in Trend Investing at AUD 0.08.
Possible mid-term producers (by ~2020)
eCobalt Solutions [TSX:ECS] (OTCQX:ECSIF)
No news for the month.
Investors can read the latest company presentation here.
Upcoming catalysts include:
2018 - Project financing and off-take agreements
Fortune Minerals [TSX:FT] (OTCQX:FTMDF)
No news for the month.
Investors can read the latest company presentation here. Analyst consensus target is CAD 0.40, representing 100% upside.
Upcoming catalysts include:
Mid 2018 - Updated feasibility study capital and operating costs
2018 - Possible off-take or equity partners, project financing
RNC Minerals [TSX:RNX] (OTCQX:RNKLF)(formerly Royal Nickel Corporation)
On May 1, RNC Minerals Corporation announced,
"RNC Minerals Corporation announces that its Beta Hunt Mine produced a total of 13,780 mined gold ounces in Q1 2018, an increase of 8% over the fourth quarter of 2017 and 149% versus the corresponding quarter in 2017. RNC expects continued improvements in production volumes and grade in the second quarter of this year, with the commencement of production from the Western Flanks Central and AWF 14 Level stopes. 169 kt were mined at Beta Hunt at an average grade of 2.54 g/t during Q1 2018, improvements of 6% and 3%, respectively, compared to the fourth quarter 2017. 110 kt of production was milled at an average grade of 2.36 g/t, compared to 158 kt and 2.39 g/t, respectively, in Q4 2017."
On May 14, RNC Minerals Corporation announced, "RNC Minerals announces its financial results and review of activities for the quarter ended March 31, 2018."
Investors can view the company presentations here, or my CEO Mark Selby interview on Trend Investing here.
CleanTeq [ASX:CLQ] [TSX:CLQ] (OTCQX:CTEQF)
On May 3 CleanTeq announced,
"Definitive Feasibility Study [DFS] for Clean TeQ Sunrise Project remains on track for delivery in June 2018. Targeting substantially increased metal production over the first 10 years. Nameplate refinery capacity increased substantially to 7ktpa cobalt and 25ktpa nickel to maximise production optionality."
CleanTeq has 132kt contained cobalt at their Sunrise project.
Investors can also read my recent article, "Is A Scandium Boom Next - A Look At The Scandium Miners", and the latest company presentation here.
Upcoming catalysts include:
June 2018 - DFS
Australian Mines [ASX:AUZ] (OTCQB:AMSLF)
On May 7, Cobalt 27 announced, "Cobalt 27 acquires royalty on Flemington Nickel Cobalt Project in Australia." For more information see below in Cobalt27 section.
Investors can read my recent article here, my CEO interview here, or view the latest company presentation here.
Upcoming catalysts include:
June 2018 - BFS
Ardea Resources [ASX:ARL] (OTC:ARRRF)
In a recent Battery Metals conference presentation Ardea stated,
"Scoping Studies exploring the potential of an upside 2.25 Mtpa throughput scenario are nearing completion-Over 8,000 tpa cobalt sulphate, over 70,000 tpa nickel sulphate."
Note the PFS was on a base-case scenario of 1.0Mtpa over a 25-year mine life, using just 5% of the total reserves base. The point being a larger scale operation should boost overall economics.
On May 5 Mining News reported,
"Ardea advancing fashionable quinella. Ardea, which was spun out from Heron Resources, believes it has a large zinc and gold mineralised system on its hands at Lewis Ponds, with one of the four metallurgical diamond core holes drilled at the project hitting 61 metres grading 3% zinc-equivalent. Lewis Pond is the bountiful Lachlan Fold Belt of NSW and was previously assessed as an underground opportunity with a historic resource of 6.6 million tonnes at 1.5 grams per tonne gold, 69gpt silver and 2.4% zinc. Ardea believes an exploration target of 15-25Mt grading 2.2-3.7% zinc equivalent could be outlined, and could be exploitable with an open cut to 200m depth."
In total, Ardea has 405kt of contained cobalt and 5.46mt of contained nickel at their KNP project near Kalgoorlie in Western Australia.
Investors can view their latest company presentation here, and my interview with former Managing Director Dr. Matt Painter on Trend Investing here.
Upcoming catalysts include:
July 2018 - Scoping Study on a 2.25Mtpa throughput scenario.
August 2018 - Goongarrie Resource & Reserve Upgrade.
Mid 2019 - DFS results - KNP cobalt project.
A comparison of Ardea Resources to peers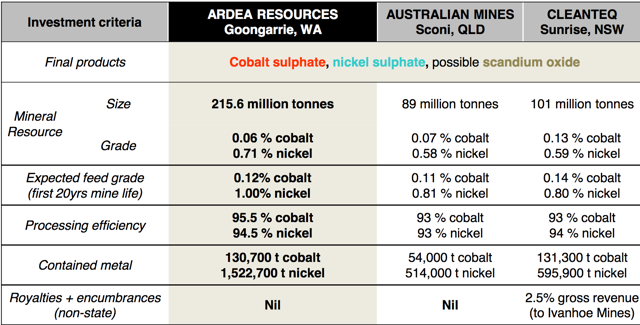 Cobalt Blue Holdings [ASX:COB] (OTCPK:CBBHF)
On April 30 Cobalt Blue announced,
"Cobalt Blue Quarterly report March 2018. Cobalt Blue announced a significant resource upgrade at the Thackaringa Cobalt Project. The global Mineral Resource estimate now comprises 72Mt at 852ppm cobalt (Co), 9.3% sulphur (NYSE:S) & 10% iron (Fe) for 61.5Kt contained cobalt (at a 500ppm cobalt cut-off) compared to the June 2017 Mineral Resource estimate (detailed in ASX release of 5 June 2017) the upgrade reflects a 31% increase in total tonnes and a 23% increase in contained cobalt. The new Mineral Resource estimate succeeds a substantial resource definition drilling program comprising some 74 holes for approximately 12,500m; the resultant improvement in geological confidence has supported the classification of approximately 72% of the Mineral Resource as Indicated."
In total, Cobalt Blue currently has 61kt of contained cobalt at their Thackaringa cobalt project in NSW, Australia.
Trend Investing subscribers would have been able to buy Cobalt Blue when I wrote about them back in November 2017 at AUD 0.23, making a nice 5 fold gain in 7 months. My interview with CEO Joe Kaderavek is on Trend Investing here, with an updated interview discussing the LG deal here.
Upcoming catalysts include:
June 2018 - PFS to be released.
June 2019 - DFS to be released.
Aeon Metals [ASX:AML](OTC:AEOMF)
Aeon Metals 100% own their Walford Creek copper-cobalt project in Queensland Australia. The 2012 JORC stated Indicated and Inferred Resources of 73Mt at 1.43% Cu equivalent containing: 296,000t of copper, 60,000t of cobalt, 623,000t of zinc, 626,000t of lead, 55moz of silver.
On May 17 Aeon Metals reported, "20m intercept of Chalcopyrite 2.5km from existing resource. Three rigs continue drilling 24/7 at Walford Creek." Note: Chalcopyrite is the copper containing ore."
Recent previous announcements have confirmed mineralization strikes at 4.6km and 7.4km along strike from the defined existing resource.
For more information, you can read my article "Aeon Metals May Have A World Class Copper And Cobalt Sulphide Resource In Northern Australia."
Investors can view a recent Bell Potter broker report here with a price target of AUD 0.54 (~100% upside), and the latest company presentation here.
Upcoming catalysts include:
2018 - Further drilling and drill results, further upgrades to the resource.
GME Resources [ASX:GME][GR:GM9] (OTC:GMRSF)
GME Resources own the NiWest Nickel-Cobalt Project located adjacent to Glencore's Murrin Murrin Nickel operations in the North Eastern Goldfields of Western Australia. The NiWest Project which has a total resource (0.8% Ni cut-off): 81Mt at 1.03% Ni and 0.06% Co (~75% in M&I categories) for an estimated 830,000 tonnes of nickel metal and 52,000 tonnes of cobalt.
On May 7, GME Resources Limited announced,
"GME Resources Limited is pleased to announce a 1:25 renounceable entitlement issue (the Issue) at 11 cents per share, to raise up to approximately $2 million."
Investors can read the latest activities report here, or an excellent investor presentation here.
Havilah Resources [ASX:HAV] [GR:FWL]
Havilah 100% own the Mutooroo copper-cobalt project about 60km west of Broken Hill in South Australia, with an average cobalt grade of 0.13% and 17,100 tonnes of contained cobalt in sulphide ore. They also have the nearby Kalkaroo copper-cobalt project. Havilah also have a 15% royalty on the Portia gold mine which assists their cash flow, and their soon to be developed North Portia gold project. They also have a massive iron ore project called Grants iron (within the Mutorroo area) and several other very promising exploration projects including the massive Jupiter Iron Oxide Copper Gold Target.
Havilah's Mutooroo cobalt project near to Cobalt Blue's Thackaringa project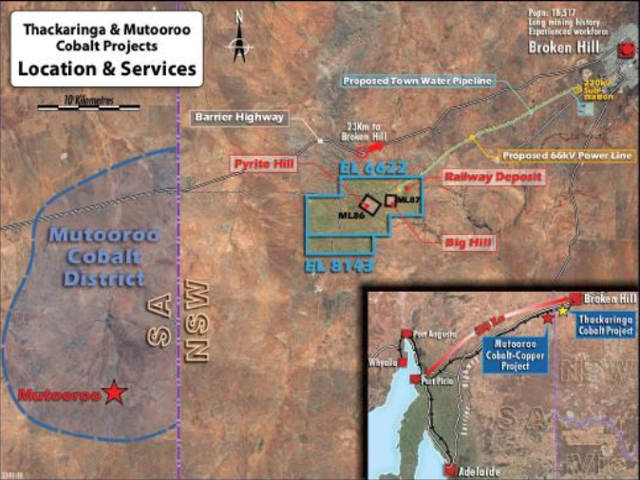 On May 15, Havilah Resources announced,
"North Portia Copper-Cobalt-Gold resource upgrade. Total resource (oxide and sulphide) contains copper metal of 101,400 tonnes, cobalt metal of 594 tonnes, gold of 258,800 ounces, and molybdenum metal of 5,630 tonnes."
On May 18 Havilah Resources announced: "Acquisition of key tenement in Grants Iron Ore basin."
Havilah has the largest Australian copper-cobalt resource base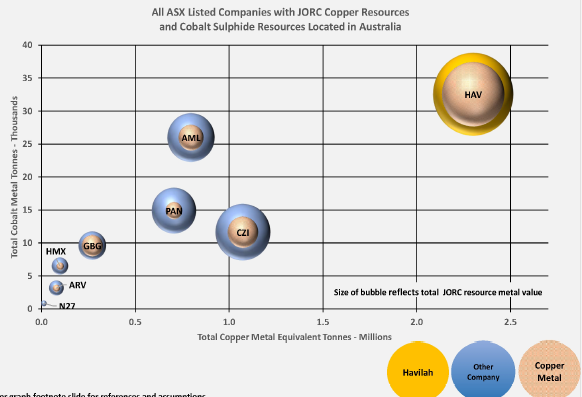 Note: Investors can learn more by reading my recent article - "The Broken Hill District May Grow To Become Australia's Premiere Cobalt Mining Center."
Investors can view the company presentations here.
Note: Other neighbors to Cobalt Blue include Alloy Resources [ASX:AYR], Castillo Copper [ASX:CCZ], Broken Hill Prospecting [ASX:BPL], and Archer Exploration [ASX:AXE].
The very promising Broken Hill cobalt district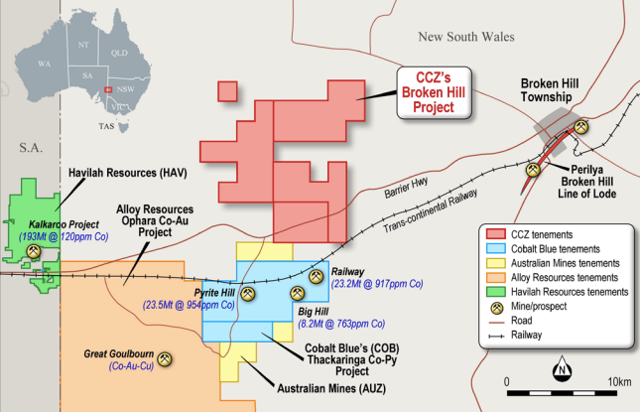 Castillo Copper [ASX:CCZ]
On May 2, The Next Mining Boom reported,
"$31M capped CCZ confirms same geology as $148M capped neighbour COB. CCZ announced to market just this week, all six highly prospective targets identified at Broken Hill display the same Himalayan Formation geology to COB's Thackaringa deposit. This style of mineralisation makes for easy extraction and reduced operation costs."
On May 17 Castillo Copper announced:
"Phase I assays confirm wide spread mineralisation at Cangai, Phase II drilling campaign set to start. Castillo Copper's Chairman Peter Meagher commented: "The first round of drilling at Cangai Copper Mine, which specifically targeted deeper sulphide mineralisation, has been highly successful, evidenced by some encouraging assays, which demonstrated extensive mineralisation, that also produced assays over 3% copper. Moving forward, the next drilling campaign, which is set to commence once regulatory approval is secure, has been designed specifically to determine the extent of high-grade\ supergene ore mineralisation near legacy workings. Further, in an encouraging development, metallurgical test-work and JORC modelling of the stockpiles will be fast-tracked, as several prospective customers are showing interest in signing off-take agreements for the discarded ore."
In a similar article "Castillo identifies six Himalaya-style cobalt targets" by Finfeed they stated,
"CCZ's project is situated 17 kilometres west of the historic Broken Hill mining centre, within a prolific region of NSW steadily emerging as a hub for battery metals. Broken Hill in particular is thought to contain one of the largest undeveloped cobalt reserves in the world, however previous exploration in the area has predominantly focused on zinc, lead and gold."
Castillo Copper's Himalaya formations likely to contain cobalt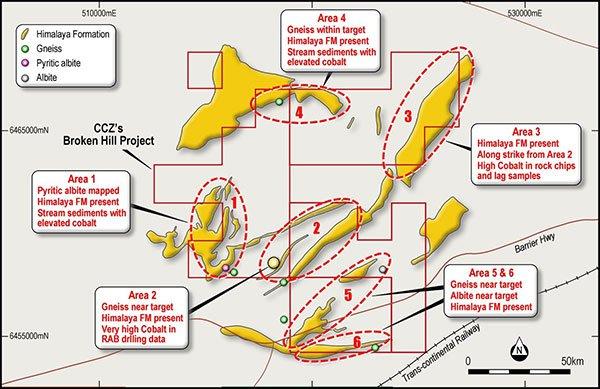 Cassini Resources [ASX:CZI] [GR:ICR] (OTC:CSSQF)
Cassini's flagship is the West Musgrave Project hosting over 1.0 million tonnes of contained nickel and 2.0 million tonnes of contained copper in Resource. The company has a buy in JV with OZ Minerals [ASX:OZL] (OTCPK:OZMLF) for West Musgrave. The company also has several other promising projects.
On May 2 Cassini Resources Limited announced,
"Cassini Resources Limited is pleased to provide results and interpretation of an Airborne Electromagnetic [AEM] survey at the Yarawindah Brook Project, flown in February 2018. The Yarawindah Brook Project is an early stage Ni-Cu-Co sulphide exploration project, 130km northeast of Perth in Western Australia. The Company has an option to acquire 80% of the Project from private company Southwest Metals Pty Ltd. Further details of the option agreement can be found in ASX release dated 29 January 2018."
Investors can read the latest company presentation here.
Nzuri Copper [ASX:NZC] (OTCPK:NZRIF)
Nzuri 85% own the Kalongwe copper-cobalt project in the Kolwezi region of the Democratic Republic of Congo [DRC]. The Kalongwe resource is a near surface oxide resource of 302,000t contained copper at an average grade of 2.72% copper, that also includes 42,000t contained Cobalt (at an average 0.62% grade). In late 2017, China's Huayou Cobalt invested US$10m in Nzuri Copper buying a 14.8% stake.
No news for the month.
Investors can read the latest company presentation here.
Celsius Resources [ASX:CLA] [GR:FX8]
Celsius owns 100% of Opuwo Cobalt Pty Ltd, which in turn holds the right to earn up to 76% of the Opuwo Cobalt (sulphide) Project in Namibia. Mineralisation has already been intersected over a 15 km zone in the initial Celsius drilling program. Celsius has ~126,000 tonnes of contained cobalt at an average grade of 0.11%.
On May 3, Celsius Resources Limited announced,

"Celsius Resources Limited is pleased to announce that it has successfully completed a bookbuild for the issue of approximately 48.6 million shares to raise $9 million, at an issue price of 18.5 cents per share ("Placement"). The Placement was well supported by institutional and professional investors from North America, Hong Kong, Europe and Australia."
On May 22, Celsius Resources Limited announced,
"Celsius Resources Limited is pleased to advise that the Company's Share Purchase Plan [SPP], which closed on Friday 18 May 2018, was heavily oversubscribed with applications of more than $6 million received from shareholders. The SPP provided eligible shareholders with the opportunity to apply for up to $15,000 worth of shares at 18.5 cents per share to raise a maximum of $3million. Accordingly, the Company will issue 16,216,216 new Shares on 1 June 2018 in accordance with the SPP timetable."
Investors can view the company presentations here.
Cruz Cobalt [CUZ] (OTCPK:BKTPF)
On May 23, Cruz Cobalt Corp. announced,
"Cruz Cobalt Corp. is pleased to announce that the company is planning to commence operations shortly on its numerous cobalt properties located in the vicinity of the Ontario cobalt camp. Cruz Director, Seth Kay, stated, "We are very excited at the prospect of starting up operations on our properties located within the Cobalt camp of Ontario. We anticipate multiple areas to be worked on as we have flow through funds on hand and plan to be active in Ontario shortly."
First Cobalt [TSXV:FCC] (OTCQB:FTSSF)
On May 23, First Cobalt announced,
"US Cobalt Inc. and First Cobalt Corp. are pleased to announce that US Cobalt has received a final order from the Supreme Court of British Columbia approving the previously announced acquisition by First Cobalt. First Cobalt has also agreed to provide a bridge loan to US Cobalt for up to $5 million to maintain the current drill program at the Iron Creek Project until the close of the transaction."
On May 24, First Cobalt announced,
"First Cobalt Corp. is pleased to announce that results of recent drilling have further extended the strike length of the mineralized zone in the Kerr area to over 350 metres. Results to date from this recently-identified mineralized zone located south of Kerr Lake in the Cobalt North area of the Canadian Cobalt Camp confirm the area hosts a near-surface network of cobalt veins and disseminated mineralization associated with silver and nickel, as well as copper, zinc and lead."
Investors can view the company presentations here.
Bankers Cobalt [TSXV:BANC] [GR:BC2] (NDENF)
On May 5, 4-traders reported,
"Bankers Cobalt Corp. announces that it intends to complete a non-brokered private placement (the Financing) of up to 50,000,000 units (each a Unit) at a price of CAD $0.12 per Unit for aggregate proceeds of up to CAD $6,000,000. Each unit will consist of one common share of the Corporation (a Share) and one-half of one Share purchase warrant (a Warrant)."
Investors can view the company presentations here, or my CEO Stephen Barley interview on Trend Investing here.
Australian cobalt projects listed by resource size including grade
NB: Additional to the above, Aeon Metals has 60kt of contained cobalt at their Walford Creek project, and Australian Mines has 54.5kt of contained cobalt at their Sconi project. Cobalt Blue now has 61kt of contained cobalt.
Cobalt27 Capital Corp. [TSXV:KBLT] [GR:27O][LN:OUPZ] (OTC:CBLLF)
Cobalt27 is a listed investment company that offers unique exposure to a portfolio of cobalt assets - Cobalt metal, cobalt royalties and direct cobalt properties. Cobalt27 owns 2,982.9 tonnes of cobalt.
On May 7, Cobalt27 announced: "Buying royalties from Jervois Mines into two projects for $US4.5m."
May 17, Cobalt 27 Capital Corp. announced:
"Cobalt 27 Capital Corp. announced today that the Company has entered into a US$80 million revolving term credit facility (the "Credit Facility") led by National Bank of Canada with a syndicate of financial institutions including Bank of Montreal and The Bank of Nova Scotia (the "Lenders"). The Credit Facility is to be used for general corporate purposes and investments in the mineral industry, including the acquisition of streams, royalties, and other interests. The Company intends to increase the size of the Credit Facility as it builds its cobalt-focused investment portfolio."
May 22, Cobalt 27 Capital Corp. announced, "Cobalt 27 acquires a cash flowing cobalt-nickel stream on producing Ramu Nickel-Cobalt mine for US$113 Million (C$145 Million)." I discussed this in detail in the Highlands Pacific section above.
Other Cobalt27 royalties include:
Australia Mines' Flemington Cobalt-Scandium-Nickel project - 1.5% Gross Revenue Royalty ("GRR").
Scandium International's Nyngan project - 1.7% GRR.
Investors can read my article "Cobalt 27 Is A Unique Opportunity To Invest In The Cobalt Boom With None Of The Risks Associated With Mining."
Other juniors and miners with cobalt
I am happy to hear any news updates from commentators. Tickers of cobalt juniors I will be following include:
African Battery Metals [AIM:ABM], Artemis Resources Ltd [ASX:ARV] (OTCPK:ARTTF), Auroch [ASX:AOU] [GR:T59], Azure Minerals [ASX:AZS] (OTC:AZRMF), Barra Resources Ltd. (OTC:BRCSF) [ASX:BAR], Blackstone Minerals [ASX:BSX], BHP (NYSE:BHP), Berkut Minerals [ASX:BMT], Brixton Metals Corporation [TSXV:BBB](OTC:BXTMD), Canada Cobalt Works [TSXV:CCW] (TAKRF), Canadian International Minerals [TSXV:CIN], Castle Silver Resources Inc. [TSXV:CSR] (OTC:TAKRF), Cobalt Power Group [TSX:CPO], Cohiba Minerals [ASX:CHK], Conico Ltd [ASX:CNJ], Corazon Mining Ltd [ASX:CZN], Cudeco Ltd [ASX:CDU] [GR:AMR], Dragon Energy [ASX:DLE], European Cobalt Ltd. [ASX:EUC], First Quantum Minerals (OTCPK:FQVLF), Global Energy Metals [TSXV:GEMC] (OTC:GBLEF), GME Resources [ASX:GME] (OTC:GMRSF), Global Energy Metals [TSXV:GEMC] [GR:5GE1] (GBLEF), Hinterland Metals Inc. (OTC:HNLMF), Independence Group [ASX:IGO] (OTC:IIDDY), King's Bay Res (OTC:KBGCF) [TSXV:KBG], Latin American Resources, LiCo Energy Metals [TSXV:LIC] (OTCQB:WCTXF), M2 Cobalt Corp. (TSXV: MC) (OTCQB: MCCBF), MetalsTech [ASE:MTC], Metals X (ASX:MLX) (OTCPK:MLXEF), Meteoric Resources [ASX:MEI], Mincor Resources (OTCPK:MCRZF) [ASX:MCR], Northern Cobalt [ASX:N27], Pacific Rim Cobalt [BOLT:CSE], PolyMet Mining [TSXV:POM] (NYSEMKT:PLM), OreCorp [ASX:ORR], Power Americas Minerals [TSXV:PAM], Panoramic Resources (OTCPK:PANRF) [ASX:PAN], Pioneer Resources Limited [ASX:PIO], Platina Resources (OTCPK:PTNUF) [ASX:PGM], Quantum Cobalt Corp [CSE:QBOT] GR:23BA] (OTCPK:BRVVF), Regal Resources (OTC:RGARF), Riva Resources [ASX:RIR], Sienna Resources [TSXV:SIE], (OTCPK:SNNAF), US Cobalt [TSXV:USCO] (OTCQB:USCFF), and Victory Mines [ASX:VIC].
Conclusion
Cobalt spot prices were unchanged in May at USD 41.50.
My highlights for the month were:
Volkswagen awarded battery-purchasing contracts worth 40 billion euros ($48 billion).
Bloomberg - "Threat of cobalt shock is a top risk for Electric Vehicles."
Cobalt27 purchasing a large royalty on Highlands Pacific Ramu nickel-cobalt project and Cobalt 27 acquires royalty on Flemington Nickel Cobalt Project in Australia.
For those investors interested in buying the best cobalt juniors with huge potential upside, you can read my latest Trend Investing articles below.
As usual, all comments are welcome.
Trend Investing
Thanks for reading the article. If you want to go to the next level, sign up for Trend Investing, my Marketplace service. I share my best investing ideas and latest articles on the latest trends. You will also get access to exclusive CEO interviews and chat room access to me, and to other sophisticated investors. You can benefit from the hundreds of hours of work I've done to analyze the best opportunities in emerging industries, especially the electric vehicle and EV metals sector. You can learn more by reading "The Trend Investing Difference", "Recent Subscriber Feedback On Trend Investing", or sign up here.
Disclosure: I am/we are long GLENCORE (LSX:GLEN), KATANGA MINING [TSX:KAT], NORILSK NICKEL (LME:MNOD), HIGHLANDS PACIFIC [ASX:HIG], AUSTRALIA MINES [ASX:AUZ], FORTUNE MINERALS [TSX:FT], RNC MINERALS [TSX:RNX] , ARDEA RESOURCES [ASX:ARL], COBALT BLUE [ASX:COB], AEON METALS [ASX:AML], GME RESOURCES [ASX:GME], CASSINI RESOURCES (ASX:CZI) , HAVILLAH RESOURCES [ASX:HAV], CONICO LTD [ASX:CNJ], CRUZ COBALT CORP [TSXV:CUZ], BANKERS COBALT [TSXV:BANC], POSEIDON NICKEL [ASX:POS], ALLOY RESOURCES (ASX:AYR), CASTILLO COPPER (ASX:CCZ), CELSIUS RESOURCES [ASX:CLA]. I wrote this article myself, and it expresses my own opinions. I am not receiving compensation for it (other than from Seeking Alpha). I have no business relationship with any company whose stock is mentioned in this article.
Additional disclosure: The information in this article is general in nature and should not be relied upon as personal financial advice.
Editor's Note: This article covers one or more microcap stocks. Please be aware of the risks associated with these stocks.