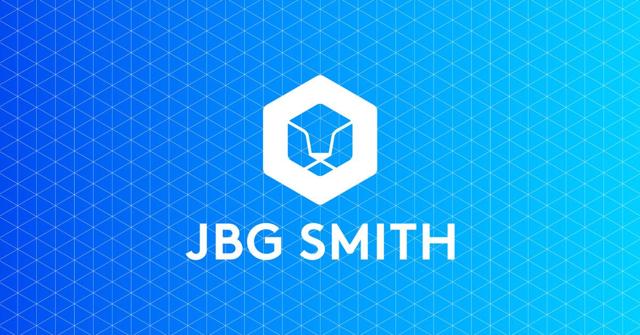 In 2017, one of the oldest Real Estate Investment Trusts in the world, Vornado Realty Trust (VNO), decided to team up with D.C.'s best real estate management firms, JBG Companies, to spin-off (tax free I should add) Vornado's entire D.C. portfolio in to a separate publicly traded REIT that would be entirely focused on the D.C. Metro area. Thus, from the product of this inception of real estate titans, JBG Smith Properties (JBGS) was born. The spin-off created the newest, and also the largest pure-play D.C.-focused REIT.
This article will try to explore and examine the D.C. Metro real estate market, the big move that many in the District are anticipating, and whether or not this newcomer to the market is poised for success in one of the most expensive markets in the country.
Delighted by the District (D.C. Snapshot)
The D.C. Metro and immediately surrounding areas are one of the most robust, diverse and amenity-rich locations in the United States. With the average household annual income almost 73% greater than the national average, population growth outpacing almost every other city metro, an outstanding talent pool of educated workers and one of the highest concentrations of millennials in the country it's easy to see why so many are excited to invest in the D.C. markets.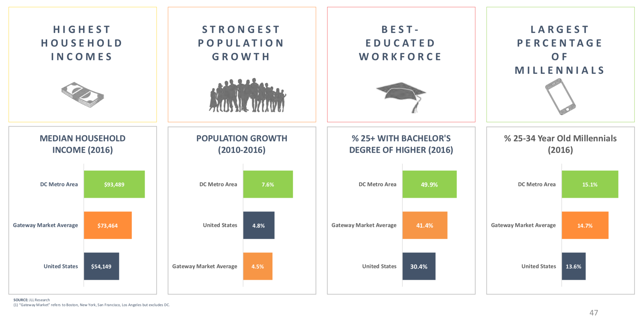 (Source: From JBG Smith Annual Investor Presentation)
Coupled with the above population statistics, the market has also shown resiliency and insulation from major market downturns like the tech bubble bursting and the great recession of 2008. Of course, it helps too that D.C. is the nation's capital and that many of the major national security and defense departments and contractors are there, adding an incredible technological infrastructure to the area. With population growth still going strong and construction starting to slow, the D.C. real estate market is likely to benefit over the coming years, especially if one of the world's largest tech giants decides to call this place home 2.0.
Prime Location
In January, Amazon (AMZN) disappointed the majority of the country by releasing a short list of location finalists for its second headquarters. The short list narrowed the search down to just 19 cities (we all know Newark isn't getting it), and three of the lucky finalist who would be receiving 50,000+ jobs and billions of dollars just so happen to be in the D.C. metro area. This is leading many to speculate that the District could be the future home to Amazon.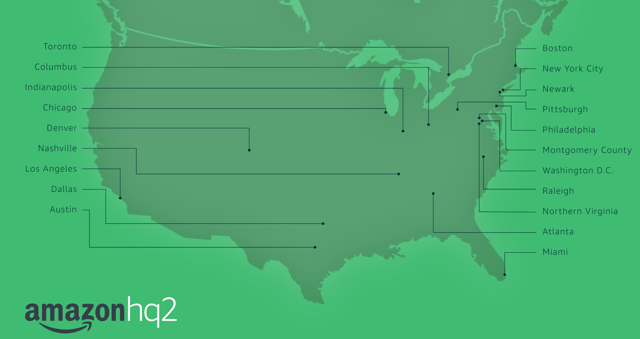 (Source: from Amazon's website)
This makes sense as D.C. provides an overwhelmingly strong case that it should be the new headquarters location. Aside from a giant, well-educated and diverse talent pool, in 2013 Northern Virginia saw over 70% of the ENTIRE WORLD'Sinternet traffic come through the area. On top of that incredible statistic, the new 600,000 square foot data center that Amazon Web Services just opened in Northern Virginia houses 70% of all of AWS's IP addresses. Obviously, from an internet perspective alone, this is an amazing place for the new headquarters, but you probably still need more convincing. Besides the fact that the owner, and currently richest man in the world, Jeff Bezos, owns the Washington Post, the area's largest news publication, he also recently purchased a house in the District. Other than the pure ease of commute for Bezos, the company has also been aggressively growing lobbying efforts and government relationships over the years. For the complete picture on its investment in government relationships definitely check out Bloomberg's Spencer Soper, Naomi Nix, Ben Brody and Bill Allison's infographic article about Amazon's growth in lobbying spending. For those of you that still aren't convinced check out the map below showing the proposed D.C. metro headquarters in proximity to other Amazon locations in Northern Virginia.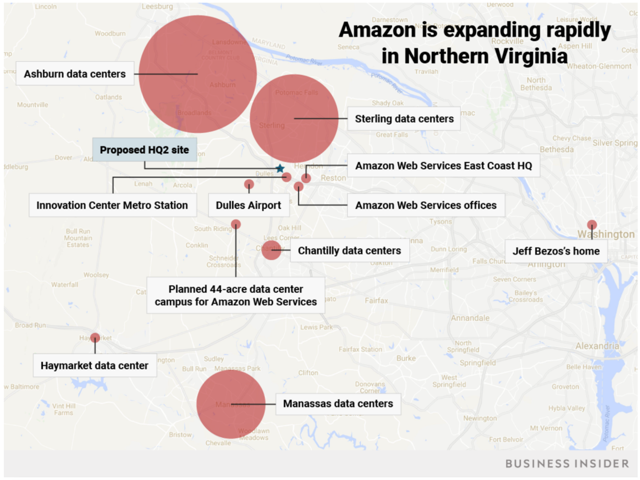 (Source: Business Insider)
How the move would impact D.C.
Based off of how the current headquarters has impacted the Emerald City, D.C. is looking at an increase of over 50,000 jobs directly from Amazon, and another 40,000 to 50,000 in indirect jobs coming over the next few years. This would basically double job-growth and population growth in the area increasing demand for real estate. On top of increase in demand, don't forget the billions of dollars that will be invested in buildings and infrastructure along with the billions more added to the economy through direct Amazon employees' compensation. There really isn't a need to keep driving home the point because it's quite obvious that every major player in the area stands to benefit from the big move, so if and when it happens a lot of real estate players in the area are about to get rich(er).

(Source: Amazon's Website)
Lion's Share
Who better to reap in the benefits of the new headquarters than D.C.'s largest pure-play REIT. JBG Smith is essentially biting at the bit in anticipation of the announcement. The three-quarter old company has had their eyes on the move before it was even created and from the very first shareholder letter, has dedicated an entire section to Amazon hopes. Without going too far down the rabbit hole of conspiracy, you could even speculate that the whole idea of the spin-off was to focus on the likelihood of the tech giant's migration.
The company announced earlier this month its new affordable housing strategy, the "Washington Housing Initiative". This $10 million bet will be aimed at providing affordable housing to lower-income workers. To be fair, "low-income" in the District is not the same as most places in the country. The initiative is likely targeting Amazon's average employee with an annual income of $100,000, which even with six figures it's hard to find affordable housing in Northern Virginia. This is a stunning bet on the future of the D.C. market and really shows the company's confidence in the move. Of course, the obvious elephant in the room is the question, "well what if Amazon doesn't choose D.C."? Surprisingly, JBG Smith might still be positioned well for success even without the big move.
Under the microscope
JBG Smith specializes in mix-use real-estate development. This is the strategy of mixing locations where people work, live, eat and shop into one development site to hopefully have an overall property value that is greater than the sum of its parts on their own, you know, two plus two equaling five. While there are obvious examples of this model not working out, done properly and in the right location this strategy can be successful, especially in marketing to millennials who would prefer to have ease of access and walkability where they live and work. D.C. could be the perfect place for this model with a great walkability score by having everything from work commute, metro access, grocery shopping and even international flights all within walking distance.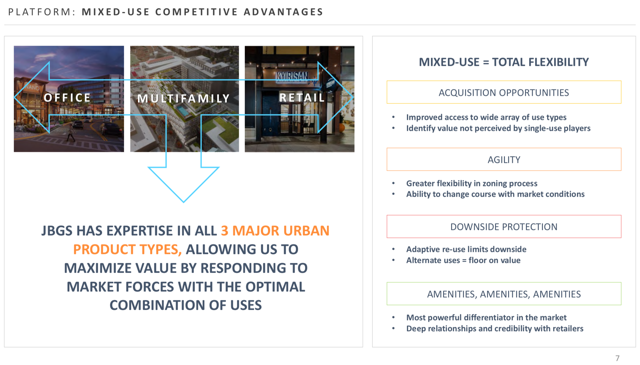 (Source: JBGS Annual Shareholder Presentation)
This strategy is an excellent marketing tool for investors, but when you look at the company's present portfolio, 65% is in operational office and the remaining 35% is in either operational multifamily or in under construction properties (also including more office spaces), so for now, JBG Smith is primarily a commercial office space operator. The management has said it's targeting a more evenly diversified portfolio of 50/50 office and multifamily, but the bulk of current exposure is in office space which sadly has been struggling over the last few quarters in D.C., as well as most of the country, as people are concerned about supply outpacing demand. Fortunately for JBG Smith, the submarkets in which they operate are more attractive than the majority of the office space in the country with higher occupancy rates and faster rent growth. The D.C. area saw 2017 asking rents 22.7% higher than the overall market average.
With being an office space operator in the capital, the company obviously leases to government agencies and contractors who are highly correlated with and dependent upon federal budget priorities. After the release of the new fiscal budget, JBG Smith offered an analysis of their portfolio where they found that only 2% of their portfolio is exposed to low budget priorities agencies whose leases are coming due in the near future. The largest portion of their exposure to government agencies is high budget priorities like the department of defense who will benefit from an increase of $165 billion in defense spending.
(Source: JBGS Annual Shareholder Presentation)
JBG Smith's multifamily units are performing at decent levels with a 3.5% compound annual growth rate (OTCPK:CAGR) in asking rents, but the properties seem to have less market favor than most others in the area with JBG Smith's occupancy rate 0.7% lower than the overall market's occupancy rate. Hopefully, with a market outlook of supply being bottlenecked and JBG Smith's commitment to mix-use development, this spread between JBG Smith and the overall market occupancy rates will decrease. As previously mentioned, the company is trying to expand its multifamily units at a faster rate than its commercial office space, so even without the move from Amazon, the affordable housing initiative (mostly consisting of Class B units) will likely help JBG Smith improve its overall multifamily occupancy rate moving forward. This initiative will also help ease growing pains as many fear that without affordable housing, the area cannot house the lower-income workers that are the backbone behind the service economy that helps create the diversity and amenity-rich area that makes the D.C. Metro so attractive.
JBG Smiths entire portfolio of under construction, near-term and long-term pipeline projects are expected to greatly help the business. The company currently has over one million in commercial office square footage and 1,500+ multifamily units under construction with the average time to completion in under two years. The market is reacting favorably to the company's under construction office space with 69.1% preleased (67.2% in the top of buildings) which vastly outshines the overall market of just 52% preleased spaces.
The company has also posted impressive financial growth over its short lifespan. The company has increased FFO/share by $0.59 from -$0.24 to $0.35 in three quarters, and while still not reporting positive earnings, has lowered net loss per share by over 90% from -$0.61 to -$0.04. Additionally, the company reported these impressive financial growth numbers while it kept net debt/adj. EBITDA leverage constant. Management forecasts 6% CAGR in NOI (2% attributed to its existing operational portfolio) and an increase of $10-12 in NAV per share from its development pipeline.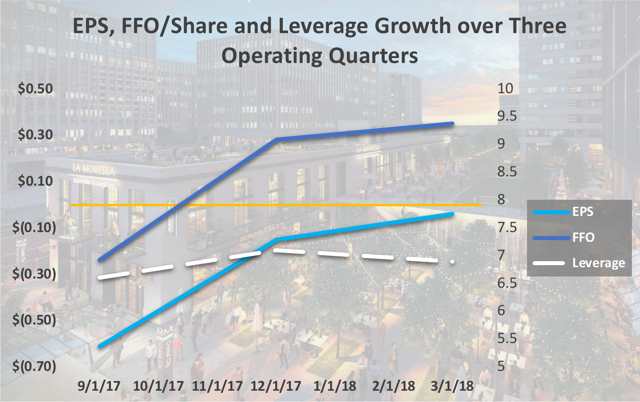 (Source: Author generated graph)
Competition comparison
This company could be a fantastic growth story, but that's just it, currently, it's only a growth story. With a current dividend yield of only 2.46% ($0.90 annually), it pays out lower than the risk-free rate of almost 3% from a 10-year treasury bond. Without an appreciation in price, investors are likely better off with safer risk-free or low-risk government bonds, especially since the current dividend from JBG Smith is lower than the annual inflation rate of 2.5%. This highlights the fact that this REIT is expected to be a growth story in the coming years as investors see a likely improvement in financials in the future. To the company's credit, there will probably be an increase in the dividend yield in the near future since that payout ratio for 1Q18 was only 65% of FFO, leaving lots of room for a growth in dividends. However, even with an increase in the yield, JBG Smith will still under deliver compared to the rest of the market with the average yield for D.C. Office REITs of just under 5%, and an average yield for D.C. Multifamily REITs of 3.5%. Along with being low-yielding, JBGS stock is also expensive, currently trading at an annualized FFO/share multiple of 30x (I used annualized FFO/share to be generous since the first two quarters were not as strong as the last). In comparison, the average D.C. Office REIT trades around a 16x multiple, and the average D.C. Multifamily REIT trades at a multiple of under 20x.
Dividend Yield Comparison for D.C. Office REITs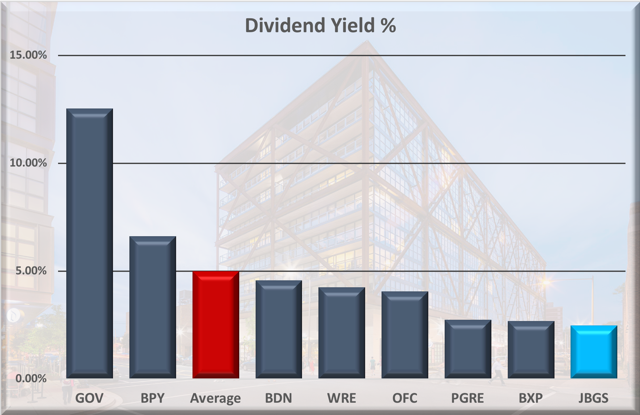 (Source: Author generated graph)
Dividend Yield Comparison for D.C. Multifamily REITs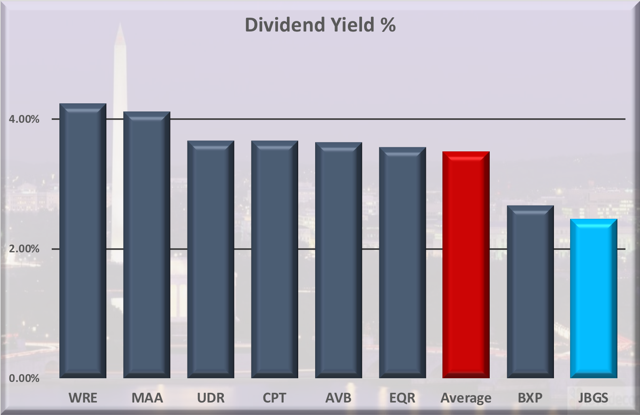 (Source: Author generated graph)
Price Multiple Comparison for D.C. Office REITs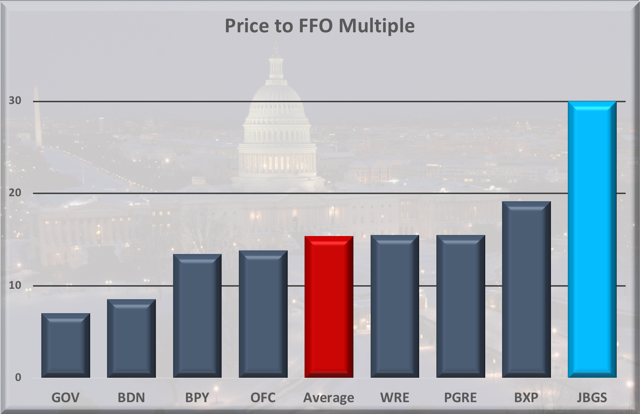 (Source: Author generated graph)
Price Multiple Comparison for D.C. Multifamily REITs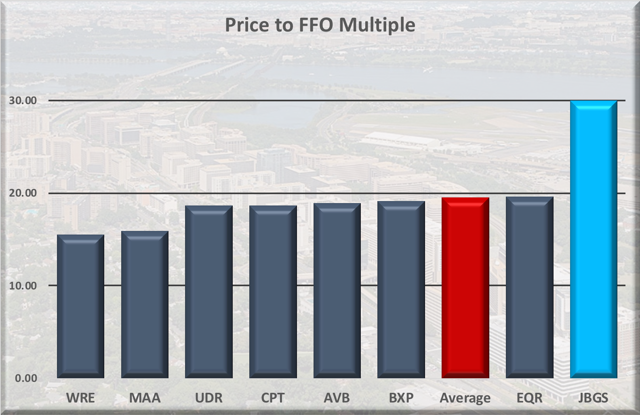 (Source: Author generated graph)
Does this fit in your portfolio?
This pick is not for someone looking to add a nice, safe addition to their high-yield/stable income portfolio. With or without Amazon, JBG Smith is a growth story through and through, and with having a low yield and high price multiple this REIT is comparable to many of the current data center REITs, but is in an industry with a lot less growth outlook. Over the next few quarters I do expect to see JBG Smith continue to improve financials and maybe even give a nice bump to the dividend yield, but for the time being, this should probably remain out of most REIT portfolios, especially for those investors closer to retirement. Although JBG Smith won't find a home in my current portfolio I do think it's an interesting D.C. pure play with great growth potential that I can continue to revisit over the next 3-5 years. With the move from Amazon and the prospect of growth in the company already priced in by the market I couldn't recommend accumulating more shares at this point, and unless you're more bullish on the D.C. real estate market than I am this REIT is a HOLD if you already own shares, and an AVOID if you don't, at least for now.
Disclosure: I/we have no positions in any stocks mentioned, and no plans to initiate any positions within the next 72 hours.
I wrote this article myself, and it expresses my own opinions. I am not receiving compensation for it (other than from Seeking Alpha). I have no business relationship with any company whose stock is mentioned in this article.