Welcome to the huh edition of Oil Markets Daily!
Oil markets can often move so much so fast that it's hard to get your handle on what's really going on.
For example, WTI is currently trading below $68/bbl today down more than $4/bbl since last week. The reason?
Saudi and Russia are in discussion of a potential to increase oil production by 1 million b/d IF there are more supplies lost from Venezuela and Iran.
But you won't read the "if there are more supplies lost from Venezuela and Iran" commentary from most of the headlines. No, you will just read the part talking about Saudi and Russia potentially increasing oil production by 1 million b/d. We won't even mention the fact that this is still in discussion, and the 1 million b/d number was just a figure thrown out of thin air to bait the journalists.
Nonetheless, the severe climb we've seen in energy equities and oil needed "a reason" to sell, and as we wrote in our OMD earlier in the week titled, "Oil - What To Look For Next?"
Overall, you will see weak hands sell into these headlines about the potential for OPEC to discard the production cut agreement, but if you understand our thesis (as detailed here), we do not think OPEC will exit the production cut agreement. The basic understanding here is that we do not believe this is a production cut, to begin with, but a mere pullback from max capacity.
So, are we concerned that Saudi and Russia are even contemplating increasing production by 1 million b/d?
No, and here's why.
There are several variables in the oil outlook that wasn't there at the end of 2017 when we did our price forecast.
1. Permian production bottleneck is worse than it appears.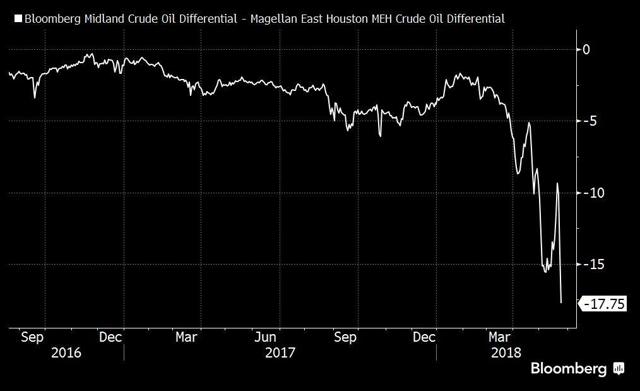 Midland basin differential hit a high of -~18/bbl yesterday. This is likely manifesting itself into potential shut-ins over the summer if takeaway capacity lags the increase in production.
US oil production is a big growth engine for non-OPEC supply growth this year, so any setback will show stagnant production growth for at least a few months, which will translate into supplies lost and lower storage.
In addition, we have recently compiled data from Kpler to match the difference in actual exports versus EIA's stated US crude exports, and we find this staggering divergence: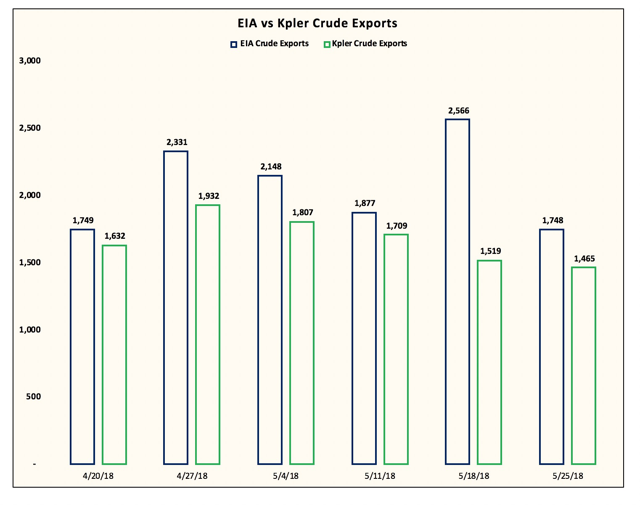 What you see in the chart above is that EIA has massively overestimated US crude exports since April 20th. As a result, we have seen the overestimation of demand turn itself into a positive adjustment factor.
Now if you broke this into a table, this is what it looks like compared to adjustment factor: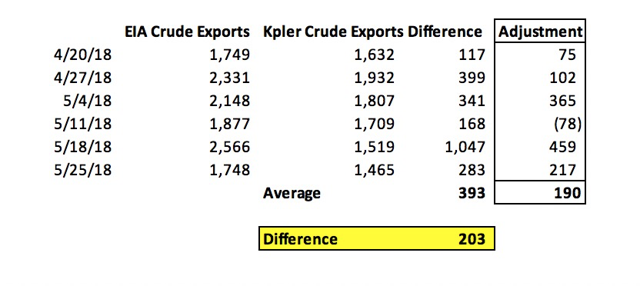 If it is true that EIA has overestimated exports on average by 393k b/d since April 20, and the adjustment factor has only averaged +190k b/d, the 200k b/d difference could be explained by overstated supplies. (For discussion on adjustment factor, please see this write-up.) This then could go on to explain that EIA's weekly US oil production model of 10.7+ million b/d may be overstated.
How would we know that this is right? You will have to wait for the EIA 914 report in July, but next week's EIA 914 should show a jump in US oil production to ~10.5 million b/d with April showing a flat month-to-month growth trajectory. If so, this certainly lines up with the Midland basin widening we are seeing and the bottleneck issues that are surfacing.
Overall, this implies that US oil production growth may have stalled in recent months, which pushes global oil supply and demand model to the bullish side.
2. Iran Sanction
Iranian sanction was not in our model. So the loss in Iran's oil production resulting from reinstated sanctions was not in the model. The estimates currently vary from no change in production to ~1 million b/d lost. We are in the camp that Iran will get its barrels to the market one way or another, but logistical issues will drop exports by ~200k b/d.
Saudi's recent comments are intended to reassure the market that if indeed Iran's oil production falters, say, by 1 million b/d, that it would be willing to step in to fill the hole. Of course, that's assuming Iran's oil production can actually fall that much, and export volumes are impacted. So far, we have not seen a decrease in Iran oil production, and as a result, we think Saudi's commentary is more of a preparation statement than an actionable one.
3. Venezuela falling far faster than we thought
A perfect storm is hitting Venezuela. Conoco won an injunction against Venezuela and has recently started seizing oil cargoes for repayment. You can also see this in the ports in Venezuela. Ships have stalled.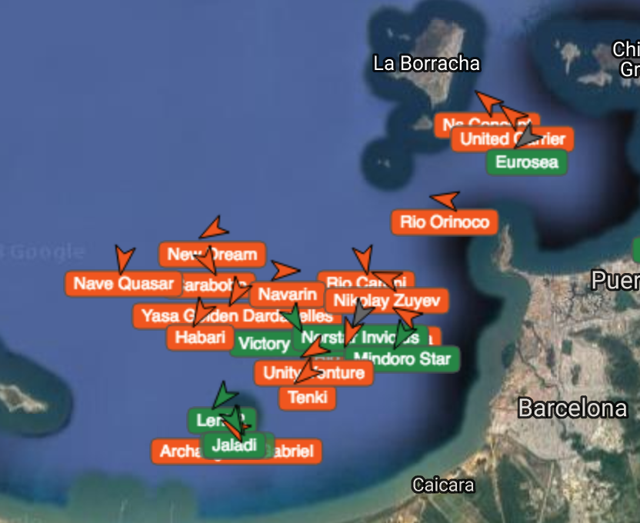 Source: Kpler
Venezuela's oil production currently sits at ~1.4 million b/d with estimates showing a further decrease to ~750k b/d to 1.3 million b/d. As you can see again with this forecast, the range is wide and unpredictable.
Saudi and Russia have both commented on the situation in Venezuela, with Saudi's Khalid al-Falih reiterating that they are watching the situation closely.
Assuming that Venezuela's oil production falls, Saudi may step in temporarily to fill the lost supplies.
Putting the three together
If it's not clear by now, these three variables we have listed are all tilted to the bull side. The only variable that's coming in below our original estimate has been lower than expected PMI figures out of Europe. But China's oil demand remains robust with imports growing at ~9.5% y-o-y and India growing at ~5-6% y-o-y.
Because Venezuela and Iran have the ability to send Q4 storage balances to -2 million b/d from the original -1.1 million b/d, the talk of Saudi increasing oil production is merely mitigating a scenario of -2 million b/d deficit. In our last weekend's flagship report, we wrote that if indeed Q4 balances came in at -2 million b/d, this is where OECD storage would end 2018: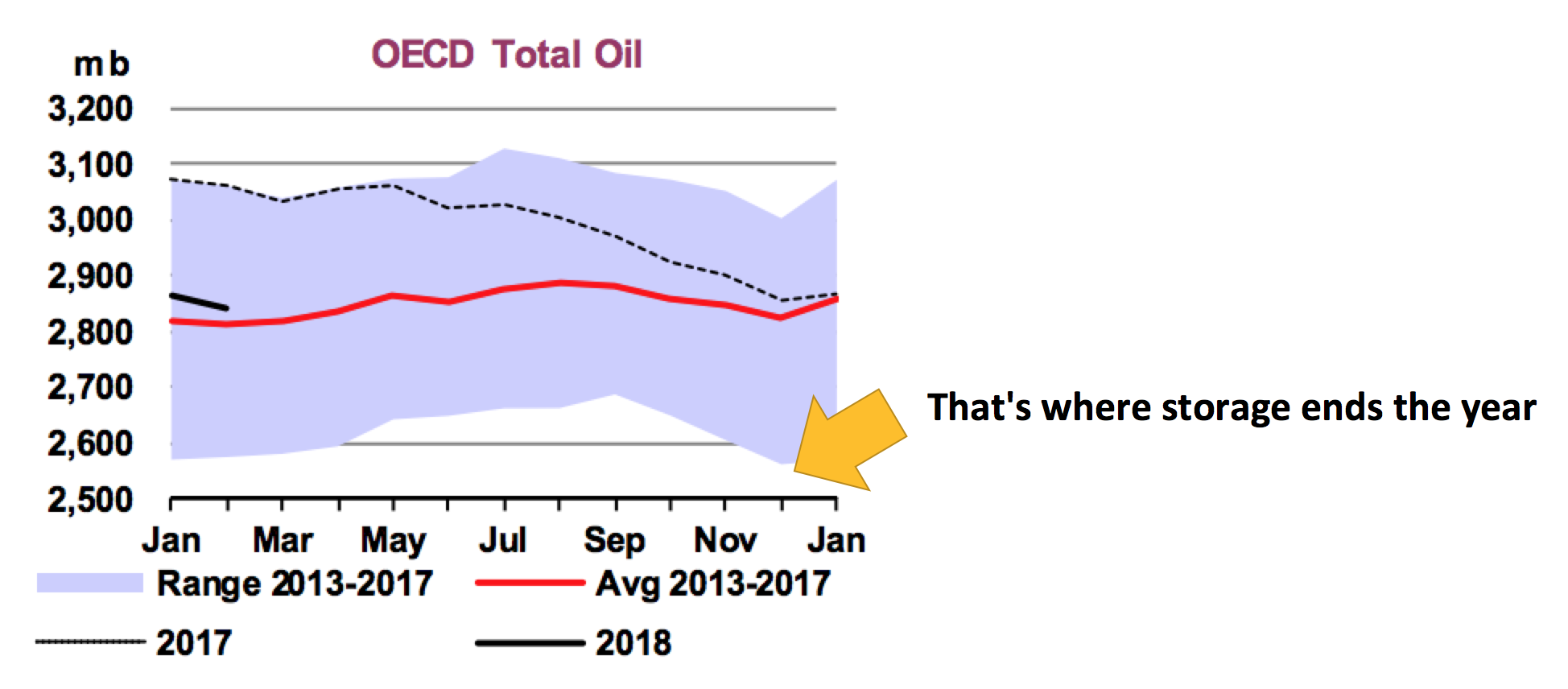 In addition, if one assumed that there was no short-term spare capacity left in the market (OPEC and Russia ramps production as much as possible) and if Venezuela's production did cliff fall, this is what would happen:
Concluding Thoughts
How should you then treat today's news?
If indeed Saudi and Russia increased oil production, it will only come at a time when additional supplies are lost. Barring some unforeseen miracle, it's unlikely Venezuela's oil production will stabilize anytime soon, but the question surrounding production lost in Iran is the unknown variable for the time being. This is why in our opinion, we believe that Saudi will reiterate something along the lines of:
We continue to monitor the supply side.
If there are massive supplies lost, then Saudi would consider increasing production.
OECD absolute storage level remains the target.
And if Saudi does increase short-term barrels to help cushion any supplies lost in the market, our analysis indicates it won't be able to hold that production level for a sustained period of time. In our view, Saudi's max output is closer to 10.6 million b/d as opposed to the 12.5 million b/d so widely touted.
Are we then changing our view on the bullish oil thesis?
No, we continue to expect upside price target of $85/bbl WTI in 2018 with a forecast of $70/bbl average. Global oil supply/demand models continue to show deficits into year-end and 2019, and unless that changes, our thesis doesn't change.
Thank you for reading. If you liked this article, please leave a "Like" at the bottom.
If you have found our oil market articles to be insightful, we know you will find our premium service even more valuable to you. We have been one of the few research firms to have nailed the oil market fundamentals, and if you have questions, we have answers. See here for more info.
Starting June 1, we will be increasing the subscription prices for our premium service. The monthly subscription price will increase from $100/month to $150/month, and the annual subscription price will increase from $800/year to $900/year. If you join before then, you will be able to lock in the old rate. We hope to see you join the HFI Research community today!
Disclosure: I/we have no positions in any stocks mentioned, and no plans to initiate any positions within the next 72 hours.
I wrote this article myself, and it expresses my own opinions. I am not receiving compensation for it (other than from Seeking Alpha). I have no business relationship with any company whose stock is mentioned in this article.