We remain positive on the bond markets based on fundamental information.
The weakness in fixed income markets so far this year is not reflective of fundamentals, in our view, and we generally remain positive on the market overall. Although recent global data has cooled down a bit, we expect to see a continuation of synchronized growth in the medium term with a modest, cyclical uptick in inflation. From a fiscal policy perspective, we believe the U.S. fiscal stimulus package, including the closely examined tax reform plan, is a near-term positive for growth, while on the monetary side, we expect developed-market central banks to continue moving toward less accommodative policies.
The fund's diversified sources of return across fixed income asset classes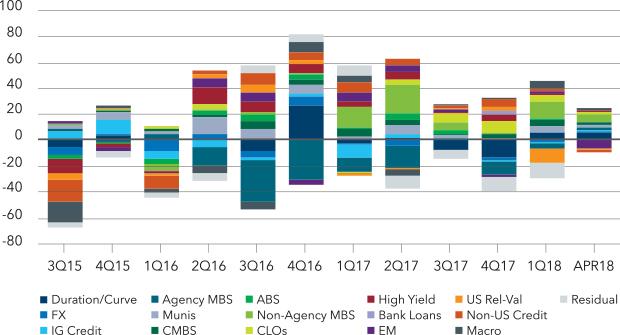 Source: BlackRock as of 4/30/18. Quarterly return attribution is based on gross returns of the fund's Institutional share class. U.S. Relative Value: The fund's U.S. relative value strategies reflect the portfolio management team's specific views on the mortgage market. Macro: The macro strategy is how the portfolio management team implements thematic and macro-economic investment views through duration, yield curve and foreign-currency positioning. Residual: This non-attributable portion of the fund's total return is derived from trading and allocation effects across the fund's investment strategies. For standardized performance, click here
Performance data quoted represents past performance and is no guarantee of future results. Investment returns and principal values may fluctuate so that an investor's shares, when redeemed, may be worth more or less than their original cost. Current performance may be lower or higher than that shown. All returns assume reinvestment of all dividend and capital gain distributions. Refer to blackrock.com/tr for current month-end performance.
During the month of April, we maintained the fund's underweight duration position (lower sensitivity to interest rate movements) relative to the benchmark index, with a month-end effective duration of 5.55 years. We continue to hold a curve-steepening bias with an overweight to duration on the front end of the curve as it offers an attractive yield with less sensitivity to higher interest rates. We believe long end rates will move marginally higher in the medium term as investors require more yield amid solid global growth, a cyclical but modest uptick in inflation, and broadly less accommodative monetary policy from developed-market central banks. The fund holds modest inflation expressions in 3- to 5-year Treasury inflation-protected securities as we believe market inflation expectations are underestimating future rates of inflation.
Amid tight valuations and a risk-off tone in the market, we remain neutral in investment grade credit, where we hold select names rather than broad index exposure. We continued to hold a small allocation to high yield credit, which performed well in April. The fund remains overweight in agency mortgages and we increased the overweight in municipals as these high-quality sectors provide attractive diversification benefits.
We continue to prefer securitized assets, which typically experience strong demand in a low-yield environment. Although we slightly reduced the fund's overweight exposure to emerging markets as the sector came under pressure this month, we remain convicted on the view that the sector should continue to be supported by synchronized global growth and strong fundamentals. The fund has exposure to select countries including Brazil, Argentina and Mexico.
Download Report: oef-total-return-fund-usd-expanded-commentary-en-us.pdf
All fund performance and data based on Institutional shares, all other share classes will vary. Institutional shares are not available to all investors and that performance, fees, and ranking data for various share classes could be higher or lower.
Investing involves risk, including possible loss of principal.
Carefully consider the Funds' investment objectives, risk factors, and charges and expenses before investing. This and other information can be found in the Funds' prospectuses or, if available, the summary prospectuses which may be obtained visiting the iShares ETF and BlackRock Mutual Fund prospectus pages. Read the prospectus carefully before investing.
Stock values fluctuate in price so the value of your investment can go down depending on market conditions.
International investing involves risks, including risks related to foreign currency, limited liquidity, less government regulation and the possibility of substantial volatility due to adverse political, economic or other developments. These risks often are heightened for investments in emerging/ developing markets or in concentrations of single countries.
Fixed income risks include interest-rate and credit risk. Typically, when interest rates rise, there is a corresponding decline in bond values. Credit risk refers to the possibility that the bond issuer will not be able to make principal and interest payments.
Non-investment-grade debt securities (high-yield/junk bonds) may be subject to greater market fluctuations, risk of default or loss of income and principal than higher-rated securities.
Short-selling entails special risks. If the fund makes short sales in securities that increase in value, the fund will lose value. Any loss on short positions may or may not be offset by investing short-sale proceeds in other investments.
The Fund's use of derivatives may reduce the Fund's returns and/or increase volatility and subject the Fund to counterparty risk, which is the risk that the other party in the transaction will not fulfill its contractual obligation. The Fund could suffer losses related to its derivative positions because of a possible lack of liquidity in the secondary market and as a result of unanticipated market movements, which losses are potentially unlimited. There can be no assurance that the Fund's hedging transactions will be effective.
The opinions expressed are those of the fund's portfolio management team as of April 2018, and may change as subsequent conditions vary. Information and opinions are derived from proprietary and nonproprietary sources deemed by BlackRock to be reliable, are not necessarily all-inclusive and are not guaranteed as to accuracy. There is no guarantee that any forecasts made will come to pass. Reliance upon information in this material is at the sole discretion of the reader. Percent of net assets figures represent the Fund's exposure based on the economic value of securities adjusted for futures, options, swaps and convertible bonds.
©2018 BlackRock, Inc. All rights reserved. BLACKROCK, BLACKROCK SOLUTIONS, BUILD ON BLACKROCK, ALADDIN, iSHARES, iBONDS, iRETIRE, LIFEPATH, SO WHAT DO I DO WITH MY MONEY, INVESTING FOR A NEW WORLD, BUILT FOR THESE TIMES, Target Date Explorer the iShares Core Graphic, CoRI and the CoRI logo are registered and unregistered trademarks of BlackRock, Inc., or its subsidiaries in the United States and elsewhere. All other marks are the property of their respective owners.
The Funds are distributed by BlackRock Investments, LLC (together with its affiliates, "BlackRock").
500484
This post originally appeared on the BlackRock Blog.