Real Estate Weekly Review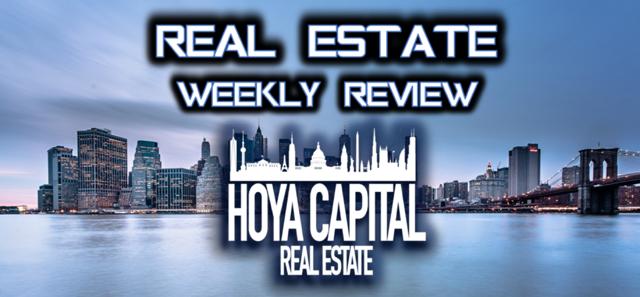 The rollercoaster ride continued for real estate sectors this week, as interest rates continue to dictate the performance of the REIT and homebuilding sectors. After dipping more than 3% last week, the REIT ETFs (VNQ and IYR) rallied more than 2% as the 10-year yield plunged back below the 3.0% level. The seemingly relentless rise in oil prices abated this week as US production continues to surge, prompting OPEC to consider raising their production targets in an effort maintain market share. Crude oil (USO) dipped more than 5% this week, pulling down global interest rates and powering the yield-sensitive sectors higher. Despite booming US production, oil prices are still up more than 35% YoY.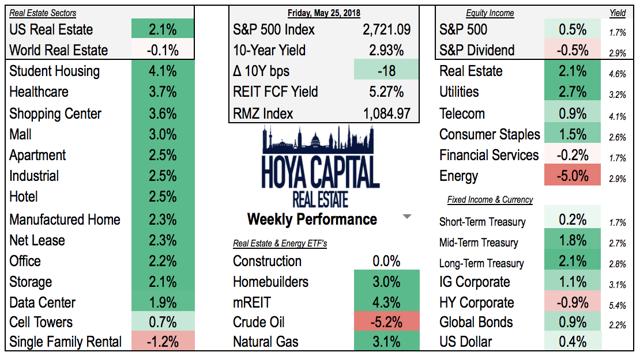 (Hoya Capital Real Estate, Performance as of 2pm Friday)
Yield-sensitive and retail REIT sectors were the outperformers on the week, led by strong performance at QTS (QTS), Spirit (SRC), Brixmor (BRX), CBL (CBL), and Omega (OHI). National Storage (NSA), DDR (DDR), Macerich (MAC), Invitation Homes (INVH), and Physicians Realty (DOC) were the only REITs in negative territory this week.
Homebuilders (XHB) recovered to finish higher by 3% after a mid-week dip following disappointing earnings from Toll Brothers (TOL). The high-end homebuilder sees strong order volume, particularly in the west, but shrinking margins from higher construction costs. In other areas of the real estate sector, mortgage REITs (REM) finished the week higher by 4% while international real estate finished flat.
Implications of Dodd-Frank Rollback On Real Estate
The Economic Growth, Regulatory Relief and Consumer Protection Act was signed into law this week, a bipartisan piece of legislation that rollbacks some of the more restrictive regulations on small and mid-sized banks. Most notably, the threshold for "systemically important" institutions was raised from $50 billion to $250 billion, which is expected to save tens of millions of dollars per year in compliance costs for community banks. The legislation has several implications for real estate markets.
On the residential side, the National Association of Realtors cheered the move to loosen mortgage underwriting requirements for the smallest banks. Even after the change, mortgage lending standards remain far more restrictive than the pre-recession period. On the commercial side, the most notable change was the clarification of the High Volatility Commercial Real Estate (HVCRE) rules, which had gone into effect as part of the Basel III provisions in 2016, and had set steep capital requirements for CRE loans that were backed by assets deemed to be speculative. The modifications to the rule limited the definition of HVCRE to essentially include only new development loans, and now allows the capital requirements to be met with the appreciated value of the underlying asset. Importantly for REITs, which benefit from the tight lending standards on new development, the modifications will not significantly loosen capital requirements for new construction, which have served as a regulator on new supply growth in recent years.
Overall, this legislation stopped short of a complete overhaul of the Dodd-Frank rules but does appear to have a fixed many of the inefficiencies under the prior rules. The net result will likely be a mild loosening of credit standards for mortgage loans and slightly more access to capital for commercial real estate investors. The net effect on homebuilders and REITs will likely be neutral to slightly positive.
2018 Performance
REITs are now lower by 6% YTD, significantly underperforming the S&P 500, which is higher by 2%. Homebuilders are off by more than 10%. The 10-Year yield has climbed 53 basis points since the start of the year, aided by the 14% climb in the price of crude oil.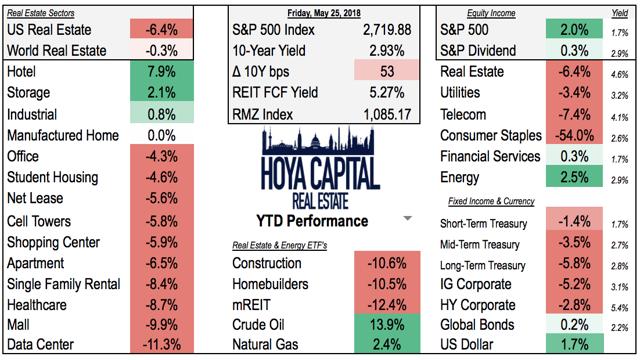 Hotel, storage, and industrial REITs have led the way so far in 2018 while retail REITs have continued to lag. Below is the total return performance by real estate sector, as categorized by NAREIT.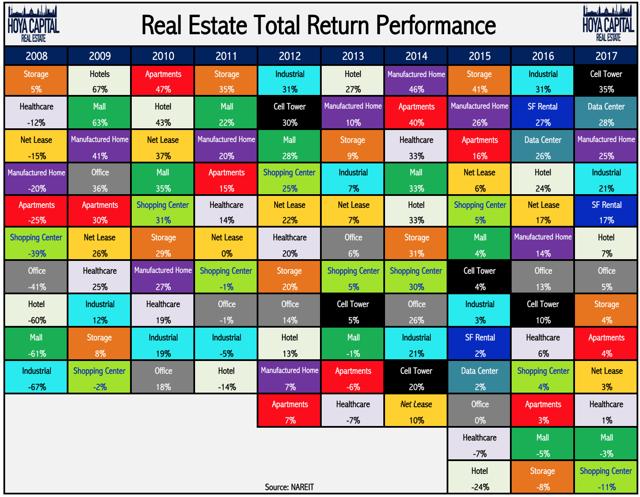 REITs ended 2017 with a total return of roughly 5%, lower than its 20-year average annual return of 12%. Going forward, absent continued cap-rate compression, it is reasonable to expect REITs to return an average of 6-8% per year with an annual standard deviation averaging 5-15%. This risk/return profile is roughly in line with large-cap US equities.
Real Estate Earnings Recap
With 1Q18 earnings season now concluded, it's clear that REITs have easily surpassed expectation and their own conservative guidance. Fundamentals are showing signs of improvement across most sectors, reversing a downtrend that began in late 2016. Construction activity peaked in 2017 in most sectors, but most sectors continue to deal with an inventory overhang that will linger at least through 2018. With supply growth cooling amid higher construction costs and tighter financing conditions, demand growth becomes the wild-card.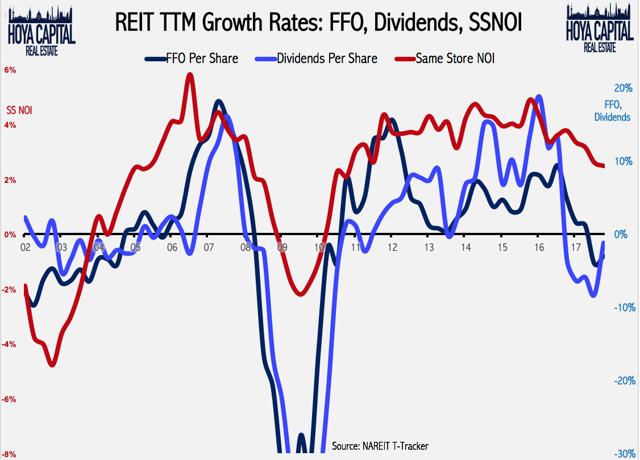 On a TTM basis, same-store NOI slowed to 2.5% from 2.7% last quarter. The industrial and manufactured housing sectors continue to exhibit sector-leading fundamentals while the retail sectors continue to lag the broader average.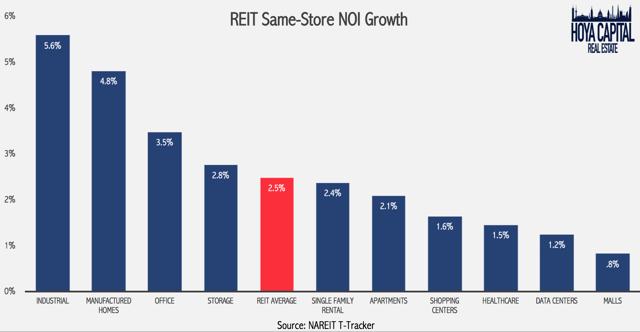 This week, we analyzed the quarterly results of the net lease sector: Don't Count Out Net Lease REITs. Net lease REITs were crushed by the recent rise in interest rates, which have been the kryptonite for the otherwise healthy sector. Investors remain wary of rate-sensitive real estate sectors. Solid 1Q18 earnings, combined with signs of stabilization in the rate markets, have prompted a rally and restored the coveted NAV premium. Fundamentals remain strong across the sector. Through challenging times, investors have applauded these REITs' ability to effectively and nimbly adapt their capital allocation strategy based on market conditions. National Realty (NNN), Realty Income (O), and Store Capital (STOR) continue to plow ahead with accretive acquisitions.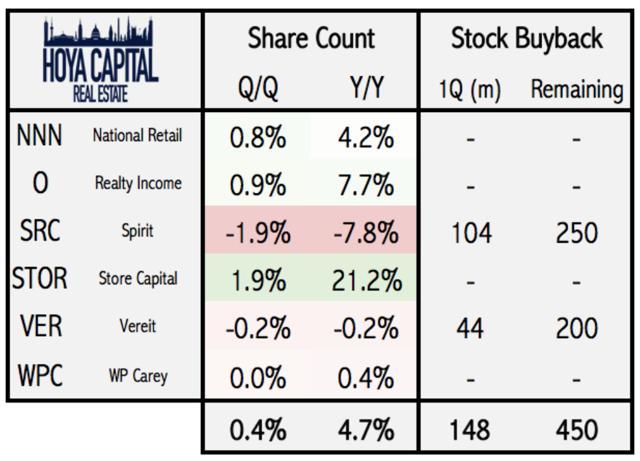 We also analyzed the results for the self-storage sector: Storage REITs: Light at the End of the Tunnel. Self-Storage REITs were the darlings of the REIT sector from 2010 through 2015, but the past two years have been far more challenging. Relentless supply growth continues to weaken fundamentals. There may be light at the end of the tunnel. 1Q18 earnings were generally better than expected. Demand has been surprisingly robust, particurally for Extra Space (EXR) and CubeSmart (CUBE), but oversupply concerns continue to linger. As demand is largely driven by job growth and labor market turnover, JOLTS data is an important metric to watch. Recent JOLTS data showed a record-high number of job openings.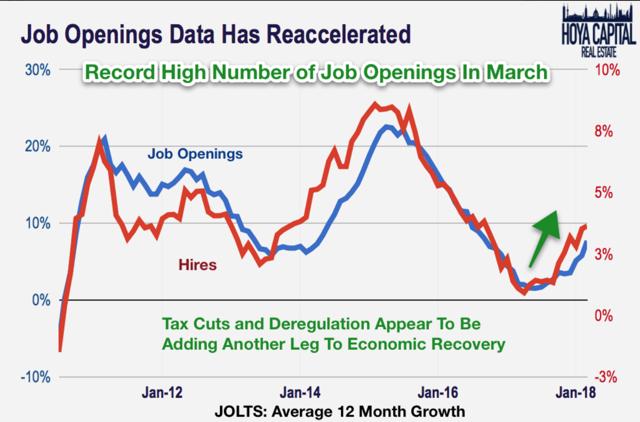 Last week, we analyzed the quarterly results in the mall sector: Mall REITs: Narrative Vs. Reality. Malls continue to be the ugly of the REIT sector. The "death of the mall" narrative does jive with the reality of solid fundamentals and sales performance at top-tier malls. Tenant sales per square foot have surged nearly 5% over the past year at Class-A malls. Macy's strong first quarter same-store sales further confirmed this trend of tenant rejuvenation. The bifurcation between top-tier malls (SPG, GGP, TCO, MAC) and lower-tier mall REITs (CBL, WPG, PEI, SKT) continued in 1Q18. High-productivity mall REITs reported another solid quarter, while lower-productivity malls continue to struggle.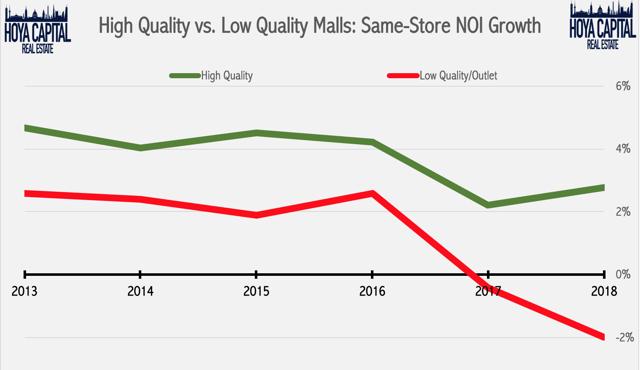 Real Estate Economic Data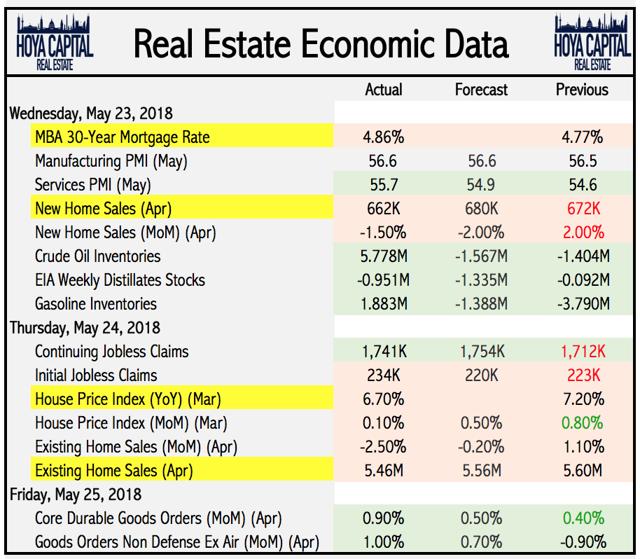 (Hoya Capital Real Estate, HousingWire)
April Home Sales Below Expectations
This week, new and existing home sales data was released. Both new and existing home sales were strong in early 2017 but faded into year-end, likely due to rising mortgage rates, unaffordability issues, and continued tight supply levels. April's data continued the trend of solid but slowing new home sales and moderating existing home sales. New and existing homes missed expectations in April and the prior months were revised lower. Existing sales have risen less than 0.1% over the past year, the weakest rate of growth since early 2015. New home sales, which is primarily composed of single family homes, have been the relative bright-spot, growing 7.9% on a TTM basis, but slowing from the 15% rate seen in early 2017.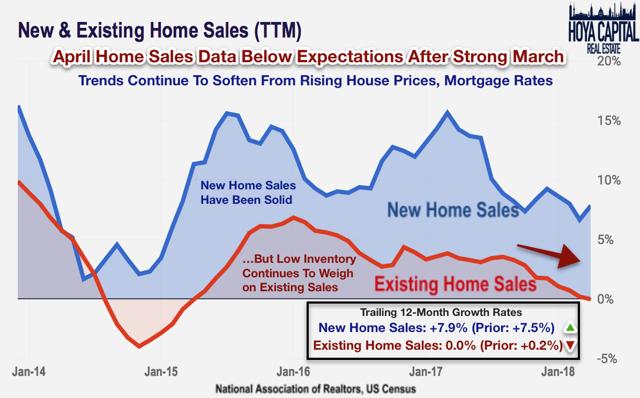 By historical standards, new home sales remain at mid-1990s levels and even lower after adjusting for population growth. That said, the significant overbuilding of single family homes that occurred between 1995 and 2005, perhaps the most significant cause of the financial crisis, has contributed to the slow post-recession recovery in new home construction. The growth in existing home sales have slowed since 2015, but this rate remains healthy by historical standards. Too many existing home sales (as we saw from 2003-2006) indicate that either mortgage standards have gotten overly loose or short-term housing flipping activity has increased. At around 7% per year, the turnover rate of existing homes is roughly inline with pre-2000 levels.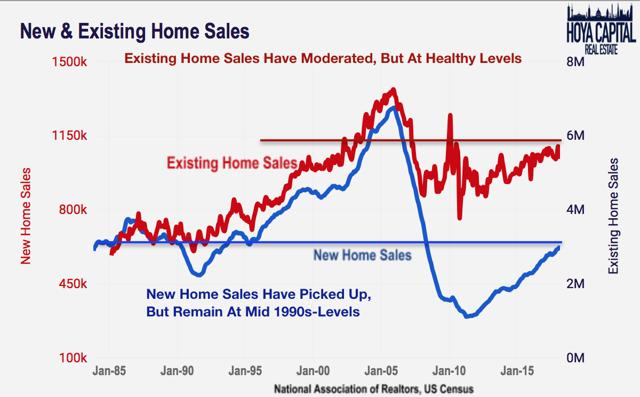 Existing home inventory remains near historically low levels, primarily a result of the tepid pace of new home construction in the aftermath of the recession. Other effects are at play, too, including the increased institutional presence in the single family rental markets and the rising rate of homeownership among the older demographics. First-time homebuyers made up 33% total existing home sales last month, down from 34% in April 2017. The rate of first-time homebuyers remains stubbornly below the pre-bubble level of 40-45% and the bubble-peak of 52%. We have yet to see the younger demographics enter the homeownership markets in any significant numbers.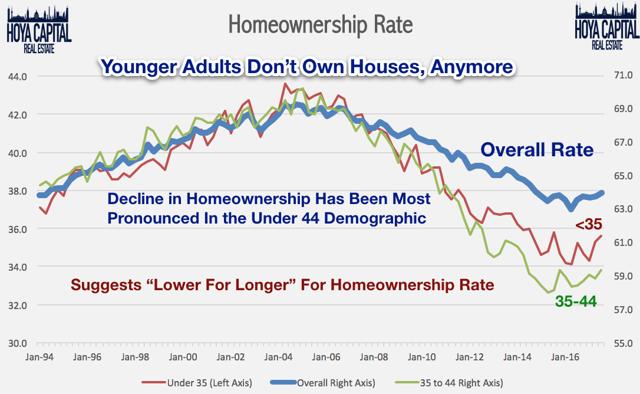 Home Prices & Mortgage Rates Continue To Rise
Heading into this year, we predicted that home prices would finally show signs of slowing due to rising mortgage rates, a slow but steady rise in supply levels, and changes to the tax code which removed key homeownership incentives. While still early, we have yet to see evidence that home price appreciation is being significantly affected by any of these factors. All major measures of home prices inflected higher at the start of 2018, indicating that the demand-effects of strong economic growth and tax cuts, as well as the effects of rising construction costs, are outweighing the negative impacts on house prices. Home prices have risen at least 5% YoY in every month since late 2012. This week, the FHFA index showed a 6.6% YoY rise in home prices in March, up from the 6.4% rate in the prior month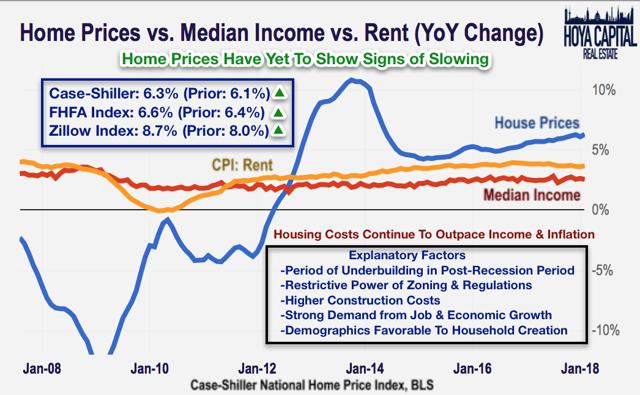 We should note, however, that these metrics tend to lag current market conditions by 2-4 months, and we have yet to see the recent uptick in mortgage rates integrated into the data. The 30-year mortgage rate has risen by more than 120 bps since mid-2016, representing a 15-20% rise in annual mortgage payments. A homeowner with a new $250,000 fixed-rate mortgage will be paying $2,000 extra in annual payments compared to the same mortgage originated in mid-2016. All else equal, rising mortgage rates put downward pressure on home prices.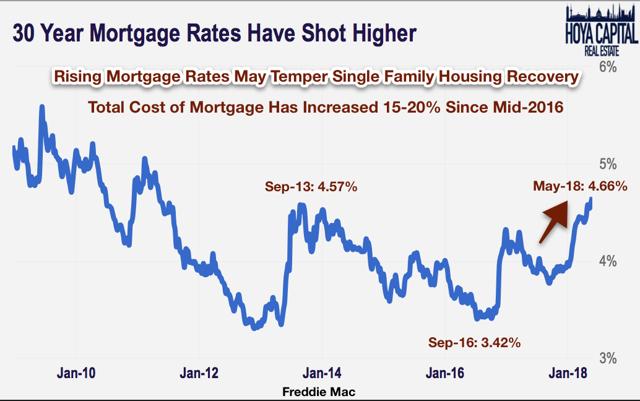 We continue to discuss the implications of rising home prices and mortgage rates on the broader housing markets. Rental rates have risen far more modestly over the last five years compared to home prices. Using our Buy vs. Rent index, we see that for the average household, renting appears to be the superior economic value relative to homeownership.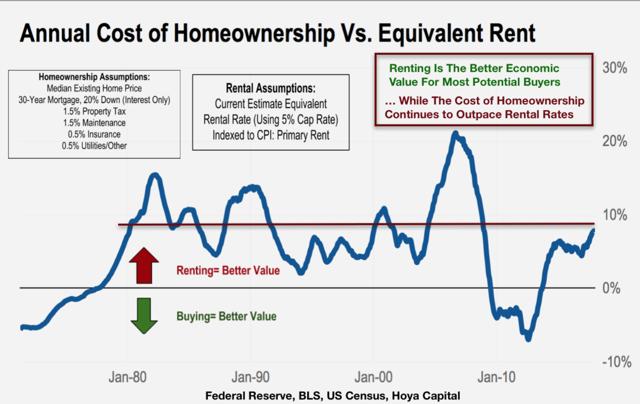 Despite peaking supply growth, national rent indexes continue to show surprisingly strong rental market fundamentals. According to the to Zillow ZRI Rent index, rent growth bottomed in mid-2017 and has recovered in recent months. Supply pressure will be a continuing theme throughout 2018. With supply growth a certainty, the wild card for apartment rent growth will be demand. We continue to believe that rental demand will surprise to the upside due to homeownership unaffordability, strong labor markets, and changes to the tax code which further incentivize renting.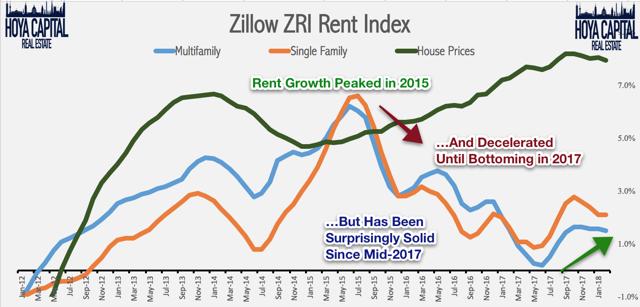 Bottom Line
Real estate sectors continue to trade at the mercy of interest rates. After dipping more than 3% last week, REITs rallied this week as the 10-year plunged back below 3.0%. The seemingly relentless rise in oil prices abated this week as US production continues to surge, prompting OPEC to consider raising their production targets in an effort maintain market share.
Homebuilders recovered after a mid-week dip following disappointing earnings from Toll Brothers. The high-end homebuilder sees strong order volume, particularly in the west, but shrinking margins from higher construction costs. Powered by income and job growth, home price appreciation has surprised to the upside so far in 2018, bucking the effects of higher rates and changes to the tax code. New and existing home sales came in short of expectations, continuing a longer-term trend of slowing growth. Homeownership unaffordability, limited new supply, and rising rates weaken the 2018 outlook.
With 1Q18 earnings season now concluded, it's clear that REITs have easily surpassed expectation and their own conservative guidance. Fundamentals are showing signs of improvement across most sectors, reversing a downtrend that began in late 2016. We will continue our REIT Rankings quarterly updates over the coming weeks. Be sure to check out all of our reports to see how each sector stacks up: Net Lease, Malls, Industrial, Data Center, Apartments, Shopping Center, Hotel, Office, Healthcare, Industrial, Single Family Rental, Cell Tower, Manufactured Housing, Storage, and Student Housing.
Please add your comments if you have additional insight or opinions. We encourage readers to follow our Seeking Alpha page (click "Follow" at the top) to continue to stay up to date on our REIT rankings, weekly recaps, and analysis on the real estate and income sectors.
Disclosure: I am/we are long VNQ, SPY, MAA, CPT, OHI, PLD, GGP, STOR, SHO, SUI, ELS, ACC, EDR, DLR, COR, REG, CUBE, PSA, EXR, BXP, EQR, INVH, SPG, HST, TCO, AMT, SBRA, AMZN. I wrote this article myself, and it expresses my own opinions. I am not receiving compensation for it (other than from Seeking Alpha). I have no business relationship with any company whose stock is mentioned in this article.
Additional disclosure: All of our research is for educational purposes only, always provided free of charge exclusively on Seeking Alpha. Recommendations and commentary are purely theoretical and not intended as investment advice. Information presented is believed to be factual and up-to-date, but we do not guarantee its accuracy and it should not be regarded as a complete analysis of the subjects discussed. For investment advice, consult your financial advisor