The average stock in the Nasdaq 100 is up just over 3% year to date. Using snapshots from our popular Trend Analyzer tool, below is a look at the best and worst performing stocks in the Nasdaq 100 so far in 2018.
At the top of the list is Netflix (NASDAQ:NFLX) with a year-to-date gain of 81.96%. Over the last five days alone, NFLX is up 7.4%, and it's 10.95% above its 50-day moving average. As you can see in the trading range screen on the right side of the snapshot, recent gains have pushed NFLX well up into overbought territory.
Micron (NASDAQ:MU) has experienced an even bigger move over the last five trading days with a gain of 12.41%. The stock is 17% above its 50-DMA, and it's up 49.5% YTD.
Align Technology (NASDAQ:ALGN) is the third strongest Nasdaq 100 stock so far in 2018 with a gain of 42.69%. Behind ALGN are Adobe (NASDAQ:ADBE), Seagate (NASDAQ:STX), Amazon.com (NASDAQ:AMZN), and Autodesk (NASDAQ:ADSK) - all with 2018 gains of more than 30%.
Other notables on the list of big winners so far this year for the Nasdaq 100 include NVIDIA (NASDAQ:NVDA) with a gain of 28%, Intel (NASDAQ:INTC) at +18.6%, Microsoft (NASDAQ:MSFT) at +14.93%, and Wynn Resorts (NASDAQ:WYNN) at +14.86%.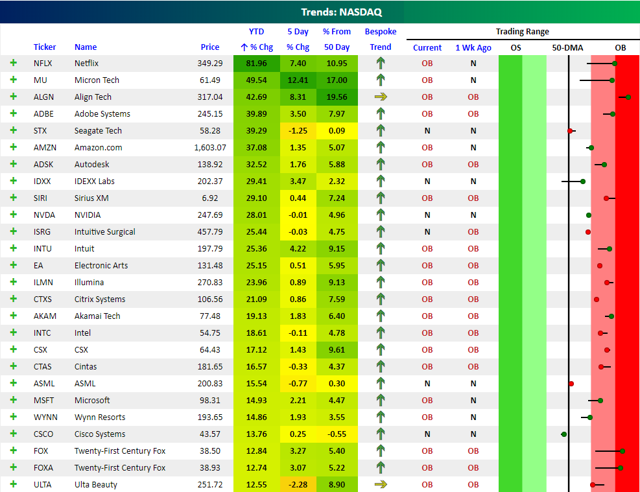 Not all Nasdaq 100 stocks are going gang-busters this year. As shown below, 11 stocks in the index are down more than 20%, and an additional 13 are down 10%+.
DISH Network (NASDAQ:DISH) and NetEase (NASDAQ:NTES) lead the list of losers with year-to-date declines of more than 35%. Dentsply Sirona (NASDAQ:XRAY), Incyte (NASDAQ:INCY), Kraft Heinz (NASDAQ:KHC), and Symantec (NASDAQ:SYMC) are all down more than 25%, while stocks like Celgene (NASDAQ:CELG) and Comcast (NASDAQ:CMCSA) - among others - are down more than 20%. As you can see from our "Trend" ratings and our Trading Range section, the majority of these stocks are in long-term downtrends and trading in oversold territory.