Is household formation the chicken or the egg when it comes to new home sales? Historically, 30% of new home purchases are by first-time buyers, My first home purchase was a new home because of various programs and grants for mortgages that were more prevalent for new homes.
The year was 1972 - and the new house was $21,000 with $99 down and $99 total closing costs which I financed using FHA - and I had only been working for one year after university. Of course I was making $800 per month gross, and mortgage interest was in the 7% range.
In terms of the housing sector - those were the good 'ole days. Baby Boomers were joining the productive part of the economy, and the need for housing was beginning to accelerate. The quantity of new homes sold was on a par of today. But there was one significant difference.
In 1972 there were almost 1,900,000 households formed - and in 2017 there were a little over 400,000 households formed.
There is a general correlation between new home sales and household formation.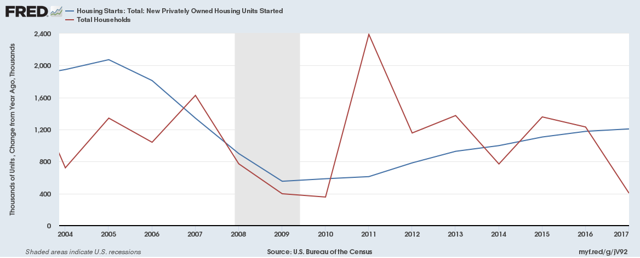 Whether a first time buyer buys a new home or existing home - the continual growth in the number of households means new homes must be built to at least match the total growth of households. And additional new homes must be built to compensate for existing homes destroyed or abandoned for various reasons.
During the last decade - new homes were overbuilt (see green line on chart below) - and this was one of the causes of the Great Recession as the housing market collapsed. Today, this excess inventory has been worked off - and this is the major reason housing prices are advancing.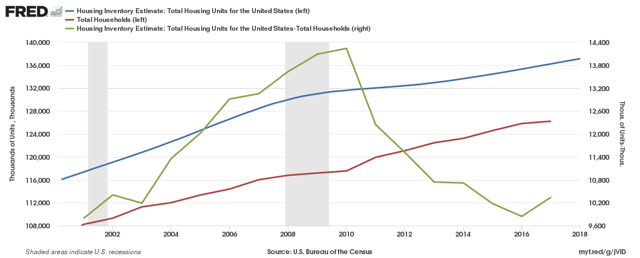 Housing inventory is an estimate produced quarterly by US Census. The definition is:
Housing unit is a house, an apartment, a group of rooms, or a single room occupied or intended for occupancy as separate living quarters. Separate living quarters are those in which the occupants live separately from others in the structure and which have direct access from the outside of the building or through a common hall. For vacant units, the criteria of separateness and direct access are applied to the intended occupants whenever possible. If the information cannot be obtained, the criteria are applied to the previous occupants. Tents and boats are excluded if vacant, used for business, or used for extra sleeping space or vacations. Vacant seasonal/migratory mobile homes are included in the count of vacant seasonal/migratory housing units. Living quarters of the following types are excluded from the housing unit inventory: Dormitories, bunkhouses, and barracks; quarters in predominantly transient hotels, motels, and the like, except those occupied by persons who consider the hotel their usual place of residence; quarters in institutions, general hospitals, and military installations except those occupied by staff members or resident employees who have separate living arrangements.
An interesting graphic was released this week by US Census: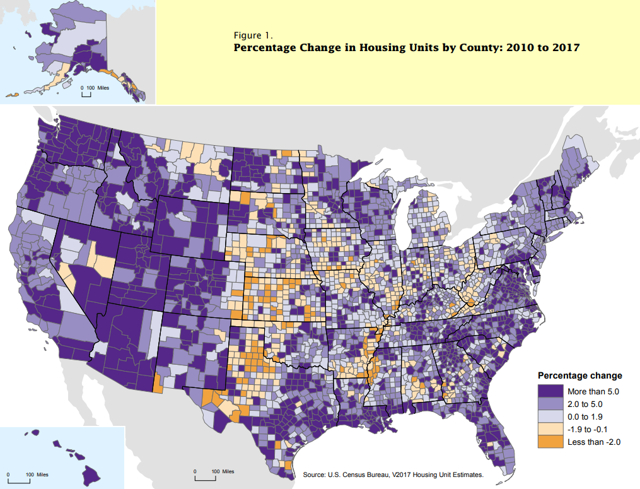 This goes to show that there are many sections of the country that are actually shrinking - and supports the contention that many houses are in the wrong place - while other high growth areas have too few houses.
But in any event, low household formation negatively impacts the need for new homes. The boom times for housing seen in past decades are over.
My usual weekly wrap is in my instablog.
Disclosure: I/we have no positions in any stocks mentioned, and no plans to initiate any positions within the next 72 hours.