Welcome to the May 2018 edition of the lithium miner news. This past month saw little change for the lithium stocks despite the incredibly good news from Volkswagen (VLKAY). It seems the market still cannot get over oversupply fears. Meanwhile the lithium price action confirms a balanced lithium market and longer-term contract price increases.
Lithium spot and contract price news
During May, 99.5% lithium carbonate China spot prices were down 0.44%. Global Lithium Carbonate Equivalent (LCE) contract prices are around US$16,000/tonne, and are up about 20% on 2017 prices. SQM recently reported its average LCE contract price in Q1 2018 was US$16,400/MT.
Lithium China Spot prices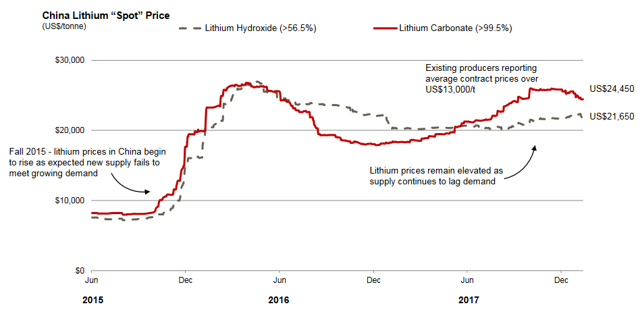 Source: Lithium Americas January 2018 company presentation
Lithium demand versus supply outlook
On May 23, as part of SQM's earnings release, the company stated:
"Demand growth in the lithium market continues to be strong, and we expect it to surpass 20% during 2018, mainly driven by a 54% growth in the battery market for electric vehicles. During the first quarter, supply did not keep the same pace, and therefore market conditions remained tight and prices increased significantly during the first three months of year, totaling an average of approximately US$16,400/MT. Given the strong demand, we will work to increase our total capacity from 48,000MT to 180,000 MT in the next three years, investing a total of US$525 million in Chile, mainly in chemical plants in Antofagasta. The first stage of this investment, US$75 million, will bring our capacity from 48,000 MT/year to 70,000 MT/year this year. As a result, we believe our 2018 sales volumes in the business line should reach approximately 55,000 MT as we ramp up the current production."
Roskill lithium demand forecast - 1mtpa by 2026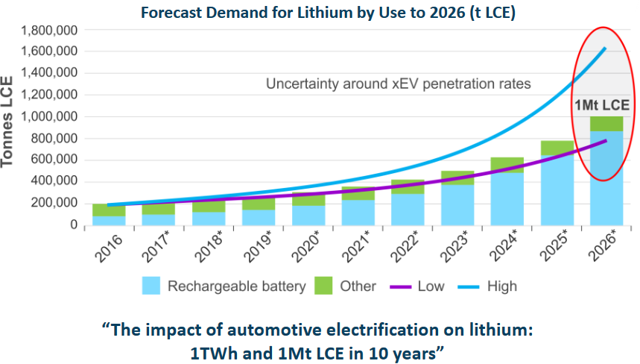 Source: Robert Baylis, Roskill, 9th Lithium Supply and Markets Conference, 31st May 2017
Note: My updated model forecasts LCE demand by end 2025 is ~1.15mtpa based on an electric car penetration rate of 15%.
Lithium market and battery news
On May 2 Investing News reported:
"Ford, Tesla, GM's electric car production could be hit by this problem. Moody's predicted a shortage of electric vehicle batteries....if a scarcity of key metals such as cobalt, copper, lithium and nickel causes a slowdown in battery production. 'Declining ore grades for copper, continued lack of investment in new mines, and the time required to bring new discoveries to production will constrain metal availability and, ultimately, the metal sector's ability to meet growing demand from battery/automakers, particularly in the near-term,' the firm said in a research note. 'Given the time involved in making a greenfield investment decision and receiving necessary permits new nickel and copper mines will take at least 5-10 years, if not longer, to reach initial production ramp-up,' it said. Deficits in refined copper and nickel are expected to increase, though they are small at the moment. Conversely, Cobalt looks likely to be in significant deficit, perhaps as early 2018."
On May 3 Fortune reported: "VW just ordered $48 billion in electric car batteries. That's about what Tesla is worth right now. Volkswagen AG said it was writing a check for batteries that almost match Tesla's entire market value. VW has awarded battery-purchasing contracts worth 40 billion euros ($48 billion), double from just a few weeks ago. The deals take the German manufacturer within striking distance of a sought-for 50 billion-euro total. By 2025, VW plans to sell as many as 3 million all-electric cars per year, Chief Executive Officer Herbert Diess told investors Thursday at the annual shareholder meeting in Berlin. "By 2020 we will offer our customers more than 25 new electric models and more than 20 plug-in hybrids," Diess said. "In just a few years' time, then, across all brands and regions, we aim to put the world's largest fleet of electric vehicles on the road." All I can say is WOW!!!
On May 22 Renew economy reported:
"Australia on cusp of new mining boom, driven by electric vehicles. A new report from Bloomberg New Energy Finance has forecast that demand for copper, high-purity nickel, cobalt and lithium used in the manufacture of EV battery packs is forecast to rise 31 times, 42 times, 19 times and 29 times respectively to 2030, as sales of EVs soar to 30 million by 2030. At current commodity prices, BNEF says, the supply of these materials for batteries would be worth $US75 billion in the year 2030." "Global demand for EVs is expected to grow exponentially in the mid-to-late 2020s, when we expect electric vehicles will become cheaper than traditional cars powered by internal combustion engines," said BNEF's lead EV analyst for Australia, Ali Asghar. "This raises the prospect of a mining boom in the high value metals used to make these cars." "Australia sits on top of vast reserves of almost all these metals, so there is a huge opportunity for our resources sector."
Lithium miner news
Albemarle (NYSE:ALB)
On May 9 Albemarle announced:
"Albemarle continues double digit growth in first quarter on strong lithium results. First quarter 2018 earnings were $131.8 million, or $1.18 per diluted share, compared to $51.2 million, or $0.45 per diluted share in the first quarter 2017. The increase in 2018 was primarily driven by earnings growth of our Lithium segment and a loss on early extinguishment of debt of $0.34 per diluted share recorded in 2017. First quarter 2018 adjusted EBITDA increased by $37.3 million, or 17.7%, compared to the prior year. First quarter 2018 adjusted net income was $145.2 million, or $1.30 per diluted share, compared to $119.0 million, or $1.05 per diluted share, for first quarter 2017, an increase of 24%. The Company reported net sales of $821.6 million in first quarter 2018, up 13.8% from net sales of $722.1 million in the first quarter of 2017, driven by the favorable impact of higher sales volumes primarily in our Lithium segment and favorable price and currency exchange impacts across all three segments."
Subscribers of Trend Investing can view an interview I did with CEO Luke Kissam here.
Sociedad Quimica y Minera S.A.
On May 23 SQM announced:
"SQM reported net income for the three months ended March 31, 2018 of US$113.8 million, 10% higher than in same period of 2017. First quarter 2018 revenues were US$518.7 million."
Investors can read the company's latest presentation here.
FMC Corp. (NYSE:FMC)
On May 2 FMC Corp. announced:
"FMC Corporation announces first quarter 2018 results. FMC Corporation today reported first quarter 2018 revenue of $1.2 billion, an increase of 103 percent year-over-year. On a GAAP basis, the company reported earnings of $1.96 per diluted share in the first quarter, or $267 million, which compares to a net loss of $0.92 per diluted share, or a net loss of $124 million, in the first quarter of 2017. First quarter adjusted earnings were $1.84 per diluted share, an increase of 328 percent year-over-year."
On May 21 Investing News released a good Chris Berry voice interview discussing FMC and the lithium sector which you can view here.
Catalysts:
October 2018 - IPO of FMC's lithium business.
(Chengdu) Tianqi Lithium Industries Inc. [SHE:002466]
On May 17 The Financial Times reported:
"China's Tianqi Lithium buys stake in Chile's SQM for $4.1bn."
"Tianqi Lithium agrees to purchase 62,556,568 A shares of Sociedad Química y Minera de Chile S.A. held by Nutrien (NYSE:NTR) for consideration of $65 per share in cash."
On May 21 4-traders reported:
"Tianqi Lithium agrees to purchase Nutrien's SQM A share investment. Nutrien Ltd. and Tianqi Lithium Corporation announced today that they have signed an agreement, whereby Tianqi Lithium has agreed to purchase 62,556,568 'A shares' of Sociedad Quimica y Minera de Chile S.A. ['SQM'] held by Nutrien for consideration of $65 per share in cash. The announced transaction represents the entirety of Nutrien's 'A shares' at a gross valuation of approximately US$4.07 billion."
Construction is ongoing at its Kwinana lithium hydroxide plant in Western Australia, and is expected to be finished in late 2018.
Jiangxi Ganfeng Lithium [SHE:002460], Mineral Resources [ASX:MIN] (OTCPK:MALRY), Neometals (OTC:RRSSF) (Nasdaq:RDRUY) [ASX:NMT], International Lithium Corp. [TSXV:ILC] (OTCPK:ILHMF)
On May 1 Reuters reported:
"Australia's Mineral Resources says to sell minority stake in lithium project. Mining services provider Mineral Resources Ltd on Tuesday said it was looking to sell a minority stake in its Wodgina Lithium mine in the west of Australia. The Australian company said in a statement that it was seeking partners to take up to 49 percent of the project in the Pilbara region, after receiving a number of unsolicited approaches from parties interested in a stake or in offtake agreements." "This minority sales process is in line with (our) strategy of investing in early-stage projects, adding significant value and then seeking equity partners to share in the value," Managing Director Chris Ellison said in the statement."
On May 2 Mineral resources announced:
"Wodgina Mineral Resource and Ore reserve update."
On May 25 Neometals announced:
"Neometals declares 1 cent unfranked dividend. In addition, Neometals has recently concluded on market share buy‐back program under which ~$6.2 million worth of shares were bought back by Neometals."
Regarding Neometals investors can read my recent article "Neometals Offers Four Great Opportunities For The Price Of One", and my CEO interview here.
Investors can also read my article on International Lithium here, and former CEO interview here.
Orocobre [ASX:ORE] [TSX:ORL] (OTCPK:OROCF)
On May 24 Orocobre announced: "Updated Cauchari resource estimate - 3.0 Mt Lithium Carbonate Equivalent. The exploration program is being managed by JV partner Advantage Lithium Corp. ("Advantage Lithium") (TSX Venture: AAL) (OTCQX: AVLIF) who hold 75% of Cauchari. Orocobre owns 29% ofAdvantage Lithium's issued capital and 25% directly in the joint venture. +6-fold increase of the inferred resource to 3.0 Mt LCE at Cauchari at 450 mg/l Lithium. The brine has excellent chemistry for processing and the Mg/Li ratio averages 2.5, very similar to Orocobre's Olaroz project. Scoping Study/Preliminary Economic Assessment (PEA) scheduled for completion in this quarter."
You can read the latest investor presentation here. You can read more on my article on Orocobre here, and subscribers of Trend Investing can view an interview I did with CEO Richard Seville here.
Galaxy Resources [ASX:GXY] (OTCPK:GALXF)
On May 15 Galaxy reported: "Sal de Vida - Updated Feasibility Study." Highlights include:
Results from the updated feasibility study for the Sal de Vida Project validate a technically superior, highly profitable, long life (40 years) and low-cost lithium and potash project.
Post-tax Net Present Value ("NPV") of US$1.48 billion at an 8% discount rate (real).
Post-tax Internal Rate of Return ("IRR") of 26.9%, with post-tax payback period of approximately 3 years from first production.
Capital cost estimate of US$474million, including US$31million for an optional potash production circuit.
Operating costs at full production of US$3,144 per tonne of lithium carbonate after potash credits.
Average annual revenues of US$360 million and EBITDA of US$270 million.
JORC-compliant reserve estimate of 1.1 million tonnes of recoverable lithium carbonate equivalent ("LCE"), supports a long initial project life with 25ktpa of lithium carbonate and 94ktpa of potash production respectively.
Upcoming catalysts include:
2018 - Mt Cattlin resource upgrade. James Bay Feasibility Study. Sal De Vida (SDV) project financing evaluation and off-take discussions.
North American Lithium (private) (alliance with CATL)
No news for the month.
Note: China's CATL has a large controlling stake in its lithium project in Quebec.
Note: Not be confused with American Lithium (OTCQB:LIACF) [TSXV:LI].
Alliance Mineral Assets Limited ("AMAL") [SP:AMS]/Tawana Resources (subsidiary Lithco) [ASX:TAW] (OTCPK:TWNAF)
On April 30 Tawana Resources announced: "Quarterly Activities report for the quarter to 31 March 2018". Highlights include:
"Tawana and Alliance Mineral Assets Limited (Alliance) announced an intention to merge via a scheme of arrangement. Alliance to acquire 100% of Tawana shares. Merged group will own 100% of the Bald Hill Project, and elevate its status as a pure‐play mid‐tier lithium company. Merged group will trade on ASX and SGX Catalist boards with a pro‐form a market capitalisation of ~A$446 million. Simplifies ownership structure and operational management of the Bald Hill asset, providing potential for efficiency benefits. Merged group will have enhanced financial capacity with a strong pro‐forma balance sheet.
Completion of a fully underwritten A$20 million placement to sophisticated and institutional investors. Tawana to complete an additional A$5 million conditional non‐underwritten placement.
Tawana to spin out Cowan, Yallari and Mofe Creek assets to create a new exploration-focused company with prospective lithium and iron ore assets. Tawana to transfer assets to wholly‐owned public company. Spinout will allow Tawana to focus on Bald Hill Mine.
$5 million loan secured from nominee of Weier for development of Bald Hill Mine."
Investors can read the Tawana company presentation here, or a CEO interview here. Tawana/Alliance has a binding five-year off-take agreement with Burwill Commodity Limited.
Altura Mining [ASX:AJM] (OTC:ALTAF)
On April 30, Altura Mining announced: "Stage 2 Definitive Feasibility Study at Pilgangoora delivers outstanding results." Highlights include:
"Definitive Feasibility Study to duplicate Stage 1 processing plant and produce 440,000 tpa of 6% Spodumene concentrate delivers positive results.
Robust economic outcomes include a post-tax NPV(10%) of A$834M, an IRR of 63% and a 2.3 year pay back. Life of Mine [LOM] revenue set to be A$4.377B with LOM EBITDA of A$2.473B over an estimated mine life of 13 years.
Stage 2 project significantly de-risked by having all major statutory approvals, key personnel and contractors in place to commence production.
First product from expansion expected 18 months after Final Investment Decision.
Significant upside still likely with Altura's 16,000ha of exploration tenements surrounding Pilgangoora."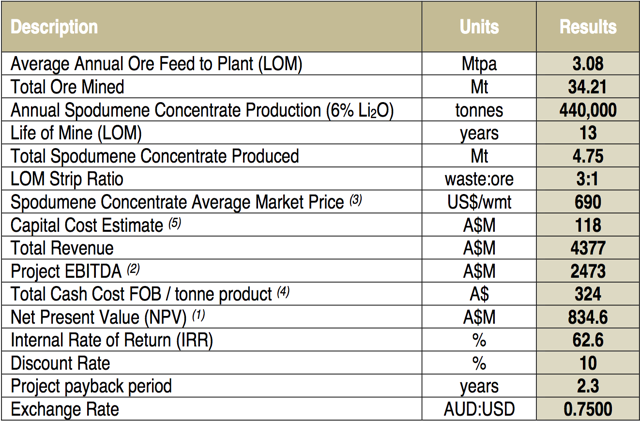 On May 22, Altura Mining Limited announced:
"Commissioning update- first crushed ore stockpiled at Altura Lithium project. Completion of the commissioning phase scheduled for the end of June 2018. Altura remains on schedule for first lithium concentrate production in Q2 2018. First shipment expected in July 2018."
Investors can read my article "Lithium Miner Altura Mining Is A Bargain" (back at AUD 0.15). Investors can also read a company presentation here.
Upcoming catalysts:
End Q2 2018 - Production is forecast to commence.
Mid 2018 - Phase 2 (450ktpa spodumene) expansion study results to be released.
Pilbara Minerals [ASX:PLS] (OTC:PILBF)
On May 15 Pilbara Minerals announced:
"Pilbara Minerals on target for first spodumene concentrate production. First load commissioning commences at the Pilgangoora crusher and DSO ore production advances."
Upcoming catalysts:
End Q2 2018 - Commence lithium production.
Mid 2018 - DFS for Phase 2 (800ktpa spodumene) expansion study results to be released.
AMG Advanced Metallurgical Group NV [NA:AMG] [GR:ADG] (OTCPK:AMVMF)
On May 15 Advanced Metallurgical Group announced:
AMG Advanced Metallurgical Group is pleased to announce the startup and commissioning of AMG Mineracao's first lithium concentrate processing plant at the Mibra Mine in Minas Gerais, Brazil. "The startup of our first lithium concentrate plant completes phase one of our strategy to add lithium to our critical materials portfolio," said Dr. Heinz Schimmelbusch, AMG CEO and Chairman of the Management Board. "This is an exciting day not only for AMG, but also for our employees, the local community and everyone who has joined us here to celebrate the commencement of operations." AMG's first lithium concentrate plant will supply 90,000 tons of lithium concentrate per annum, a key component in the production of lithium-ion batteries. AMG is presently finalizing detailed engineering and procuring long lead time equipment for the second 90,000 ton lithium concentrate plant, also located at the Mibra mine, with construction expected to be completed by the end of 2019. The investment for the expanded lithium concentrate production includes a major reconfiguration of the existing mine infrastructure and the doubling of tantalum production from 300,000 pounds to 600,000 pounds per annum.
Upcoming catalysts:
June 2018 - Production to begin at the Mibra mine in Brazil (initially 90ktpa).
End 2019 - Stage 2 production (additional 90ktpa) to begin.
Lithium Americas [TSX:LAC] (NYSE:LAC)
On May 14 Lithium Americas announced, "Lithium Americas reports first quarter 2018 financial and operating results." Highlights include:
Cauchari-Olaroz:
Development activities continue as planned with the advancement of detailed engineering, pond construction, camp construction, plant design and supply purchases, with Stage 1 production expected to commence in 2020.
Engineering for the infrastructure is over 80% complete with plant design at close to 70% complete.
Evaporation pond construction commenced in early February and the filling of the ponds is expected to begin in the second half of 2018.
There are currently close to 400 people working in Argentina, including direct employees and contractors.
Facilities to provide an additional 400 beds to the construction camp are already commissioned.
Lithium Nevada:
On April 5, 2018 the Company updated the Measured and Indicated mineral resource at its Lithium Nevada project to 6.0 million tonnes of lithium carbonate equivalent ("LCE") at 2,917 parts per million lithium ("ppm Li") and the Inferred mineral resource to 2.3 million tonnes of LCE at 2,932 ppm Li.
The updated resource represents an approximate 80% increase in the Measured and Indicated mineral resource from the Company's 2016 resource estimate, and establishes Lithium Nevada as the largest known lithium resource in the United States.
Remain on track to release results of NI 43-101 Preliminary Feasibility Study ("PFS") by the end of Q2 2018.
Continuing to evaluate potential partnership and financing scenarios to advance the Lithium Nevada project.
Note: In Argentina Minera Exar is a 50/50 joint venture between Lithium Americas and Sociedad Quimica y Minera de Chile S.A ("SQM") and holds a 100% interest in Cauchari-Olaroz.
Investors can read my article "Lithium Americas Is Looking Good And Is Now Significantly De-Risked" (back at CAD 0.96 (adjusted CAD 4.80). Investors can read their May company presentation here.
Upcoming catalysts:
Mid 2018 - PFS for Lithium Nevada. Pond construction and filling (H2 2018) at Cauchari-Olaroz.
2019 - Cauchari-Olaroz plant construction.
2020 - Stage 1 Cauchari-Olaroz lithium production of 25ktpa.
NB: LAC previously sold 50% of the Cauchari-Olaroz project to SQM.
Promising lithium juniors
Other juniors include: Advantage Lithium (OTCQB:AVLIF) [TSXV:AAL], AIS Resources [TSXV:AIS] (OTCQB:AISSF), American Lithium Corp. [TSX-V: LI] (OTCQB:LIACF), Argentina Lithium and Energy Corp. [TSXV:LIT] (OTCQB:PNXLF), Argosy Minerals [ASX:AGY] (OTC:ARYMF), AVZ Minerals [ASX:AVZ] (OTC:AZZVF), Bacanora Minerals [TSXV:BCN] [AIM:BCN] [GR:1BQ] (OTC:BCRMF), Birimian Ltd [ASX:BGS] (OTC:EEYMF), Critical Elements [TSXV:CRE] [GR:F12] (OTCQX:CRECF), Dajin Resources [TSXV:DJI] (OTCPK:DJIFF), Enigri (private), Eramet (EN Paris:ERA) (OTCPK:ERMAY), European Metals Holdings [ASX:EMH] [AIM:EMH] [GR:E861] (OTC:ERPNF), Far Resources [CSE:FAT] (OTCPK:FRRSF), Force Commodities [ASX:4CE], Kidman Resources [ASX:KDR] [GR:6KR], Latin Resources Ltd [ASX: LRS] (OTC:LAXXF), Lithium Australia [ASX:LIT] (OTC:LMMFF), Lithium Power International [ASX:LPI] (OTC:LTHHF), LSC Lithium [TSXV:LSC] (OTC:LSSCF), MetalsTech [ASX:MTC], MGX Minerals [CSE:XMG] (OTC:MGXMF), Millennial Lithium Corp. [TSXV:ML] (OTCQB:MLNLF), Neo Lithium [TSXV:NLC] (OTC:NTTHF), NRG Metals Inc. [TSXV:NGZ] (OTCQB:NRGMF), Nemaska Lithium [TSX:NMX] [GR:NOT] (OTCQX:NMKEF), North American Lithium (private), Piedmont Lithium [ASX:PLL] (OTC:PLLLY), Prospect Resources [ASX:PSC], Sayona Mining [ASX:SYA] (OTCPK:DMNXF), Savannah Resources [LSE:SAV], Standard Lithium [TSXV:SLL] (OTC:STLHF), and Wealth Minerals [TSXV:WML] (OTCQB:WMLLF).
Global X Lithium & Battery Tech ETF (NYSEARCA:LIT) - Price = US$33.41
The LIT fund moved only very slightly upwards for the month of May. The current PE is 20.91.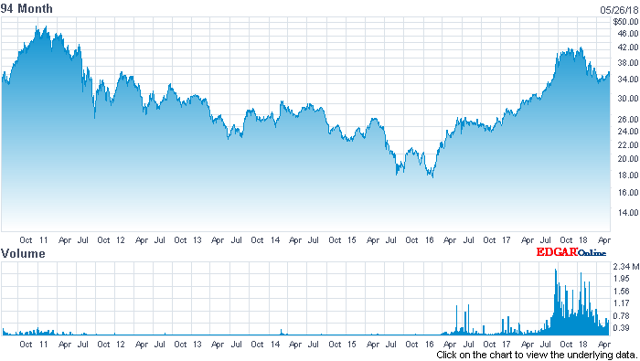 (Source: Nasdaq)
Lithium & electric metals fund (ISIN DE000LS9L822) - Access via the Stuttgart stock exchange or wikifolio.com
The portfolio gives investors broad exposure across the EV metals miners covering lithium, cobalt, nickel, rare earths, and graphite. I am the portfolio manager. The certificate is endless (open fund) and listed on the Stuttgart Stock Exchange so it can be bought via a broker that carries the ISIN or via Wikifolio. The ticker is DE000LS9L822 listed on the Stuttgart stock exchange and accessible from any German exchange.
The performance since creation on March 31, 2107 is +16.6%, and the management fee is 0.95%pa.
Disclosure: I may receive 50% of the profit from the above fund.
Conclusion
May has been another mediocre month for the lithium miners despite excellent fundamentals as shown below in my highlights. It seems investors continue to fear shadows of oversupply many years down the track that may never materialize.
My highlights for May were:
Volkswagen's massive 40 billion euros order of electric car batteries.
BNEF forecasts demand for copper, high-purity nickel, cobalt and lithium used in the manufacture of EV battery packs is forecast to rise 31 times, 42 times, 19 times and 29 times, respectively, to 2030.
Outstanding Q1 earnings results especially from FMC and Albemarle driven by lithium.
China's Tianqi Lithium buys stake in Chile's SQM for $4.1bn.
Galaxy Resources updated FS result for Sal de Vida with a post-tax NPV8% of US$1.48 billion (~A$ 1.9b).
An impressive Stage 2 FS from Altura Mining - Post-tax NPV10% of A$834M, an IRR of 63% and a 2.3 year payback.
AMG announces the startup and commissioning of its Mibra Mine in Brazil.
As usual all comments are welcome.
Disclosure: I am/we are long NYSE:ALB, NYSE:SQM, ASX:ORE, ASX:GXY, ASX:PLS, TSX:LAC, ASX:AJM, ASX:EMH, TSXV:ILC, ASX:AVZ, ASX:LPI, ASX:PLL, ASX:SYA., TSXV:AIS, TSXV:WML. I wrote this article myself, and it expresses my own opinions. I am not receiving compensation for it (other than from Seeking Alpha). I have no business relationship with any company whose stock is mentioned in this article.
Additional disclosure: The information in this article is general in nature and should not be relied upon as personal financial advice.
Editor's Note: This article covers one or more microcap stocks. Please be aware of the risks associated with these stocks.