Midstream traded down and underperformed utilities (+3.2%) and the S&P 500 (+0.3%), with oil price declines offering a reason for midstream to pause following a very strong couple of weeks for oil, energy and midstream. Considering XLE was down 5.5% and oil dropped 5%, midstream held up pretty well, benefiting from its considerable income component in a good week for Treasuries and utilities.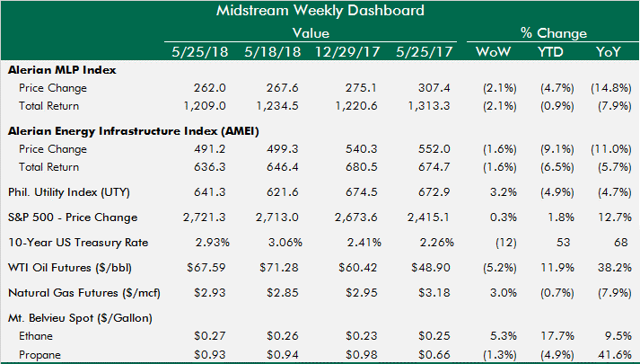 After trading up to its highest level since February 20, the MLP Index traded down each of the last 4 days of the week to finish -2.1% vs. last week. Among the largest MLPs in the index, BPL, WPZ, and PAA underperformed, MMP, MPLX and EPD outperformed and ETP was in line.
With earnings and the big annual MLP conference behind us, we enter a lull for scheduled company-specific news over the next few months. But there are project catalysts on the horizon for the biggest midstream corporations, including KMI's TransMountain Expansion Project (5/31 deadline imposed by KMI) and ENB's Line 3 Replacement project (late June PUC ruling). Also, simplification watch continues across the MLP universe.
The MLP Index total return is close to flat YTD and is closing in on the S&P 500 YTD, but MLPs remain way off the pace year-over-year. AMEI is underperforming the MLP Index YTD, dragged down by exposure to Canadian Midstream, to underperformers like MIC and SEMG, and to utilities. AMEI is slightly ahead of the MLP Index year-over-year (-5.7% vs. -7.9%). Midstream is headed for a second straight positive month, and investor confidence is building in the latest recovery.
2018 MEIC/MLPA Conference
There is one word that captures the essence of the 2018 annual MLPA/MEIC conference: "Butthurt". Yes, that is a word. It was officially added to the Oxford Dictionaries in 2015, along with words like "Awesomesauce" and "Hangry". Butthurt (adj.) means overly or unjustifiably offended or resentful. I first remember hearing the word about 5-6 years ago on the Comedy Central show Workaholics.
After doing the road biking activity offered at the conference this year, my butt definitely hurt for several days. But, after having dinner meetings with MLP management teams and investors for two nights and catching up with folks in the hallways of the conference, it was clear MLP investors are feeling butthurt about many things: how MLPs have underperformed despite strong fundamentals, how some MLPs have failed to take drastic enough measures to fix their businesses, how other MLPs have announced transactions that hurt L.P. investors, how the sector is rife with big overhangs on projects and structure.
MLP management teams are also feeling butthurt over not being able to attract attention for company-specific execution, and as always for their stock prices. Sell-side research analysts were butthurt over having to share management team meetings with 10-15 other sell-side analysts.
Other takeaways from the conference:
Commodity consensus. Investors take for granted oil price strength and a very strong fundamental backdrop, with many expecting oil prices to go much higher.

Constraints and flaring issues in the Permian create long-term opportunity for Midstream, but they can also lead to short term headwinds for volumes, especially with few MLPs able to take advantage of wide arbs due to hedges or high capacity utilization.

Consensus higher prices are good for regions outside the Permian with good economics for production growth and adequate infrastructure in place today.
Bargaining power driving optionality. Equity interests in downstream projects granted to upstream producers or their MLP subsidiaries is a growing trend, impacting producer-backed MLPs on one side and pipeline developers on the other.
Your meeting with XYZ has been cancelled. Fewer companies showed up and there were many last-minute cancellations due to corporate actions taken in recent weeks (BWP, SEP, EEP, TCP, WPZ). Kudos to those MLPs that did support the conference, including DM, which could have easily cancelled along with many other FERC-impacted MLPs.

Crowded meetings. Higher investor attendance than last year, despite fewer MLPs in attendance (or in existence), made for crowded meetings. Crowded meetings weren't all bad, because at times you can reinforce opinions investors agree on in the room, which made those opinions more impactful on management teams.

In any event, hope you all found a spot to relax this Memorial Day weekend that was less crowded than your group meetings at the conference.
MLPguy love. Thanks to all those who complimented our efforts at team MLPguy, it makes the effort worthwhile to know you read it and appreciate it.
Winners & Losers
While MLPs were down overall, there were a few bright spots. BKEP bounced back after a few bad weeks to lead all MLPs this week. ARLP rallied ahead of its final simplification transaction that closed Friday. Two large MLPs with low float (ENBL and CQP) made the top 5. And finally, CEQP rounded out the top 5. CEQP was really the belle of the ball in Orlando, enjoying a victory lap a few years after taking dramatic, but necessary steps to reset its business, in contrast to others who have limped along taking half measures along the way.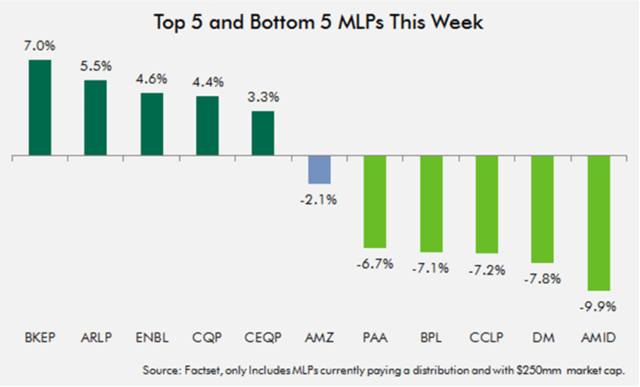 On the downside, PAA was a notable loser this week, presumably on lower oil prices and ongoing dialogue with investors regarding its S&L hedging strategy. PAA dropped out of the top 5 on the YTD leaderboard this week, as CEQP continues to rise. The bottom 5 YTD saw considerable change week over week. DM took over the bottom spot. DLNG, BPL and EEP joined the bottom 5, while EQM, BKEP and CAPL climbed out of the cellar.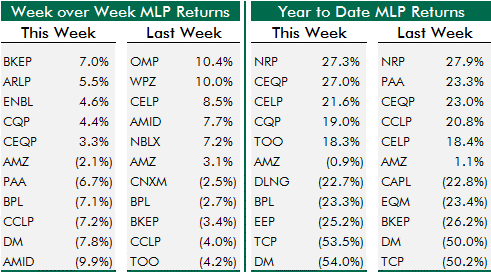 General Partners & Midstream Corporations
The GP and midstream corp. group outperformed MLPs this week overall, but there was only 1 name that traded up (WGP). Recent vintage GPs EQGP, TEGP-OLD and AMGP were also outperformers. On the downside, higher beta and commodity sensitive names SEMG, TRGP and PAGP underperformed as commodity prices rolled over.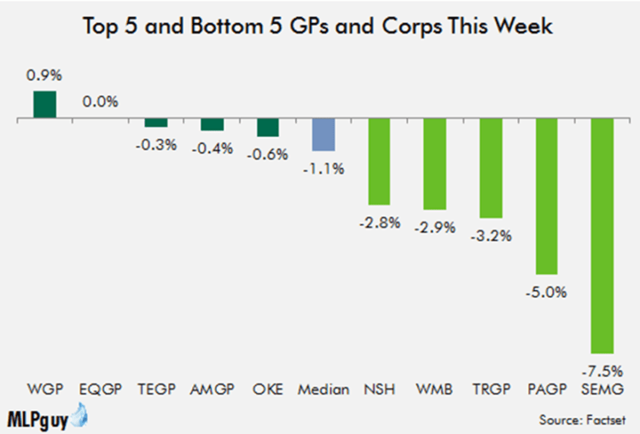 PAGP took a hit on the YTD leaderboard this week, but it remains in the group that has separated itself from the rest of the group so far this year. The bottom 5 didn't change, although SEMG's downdraft sent it to the bottom of the group.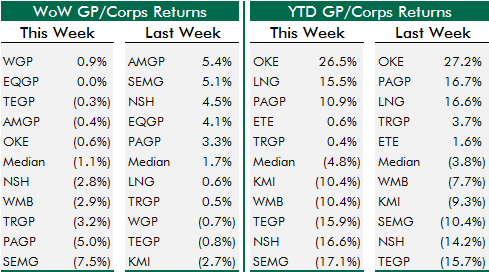 Canadian Midstream Corporations
Canadian midstream corporations all traded down, with limited dispersion of returns this week. The largest three names (TRP, PPL and ENB) traded in a very tight band. Weak oil prices probably contributed to overall weakness. ENB was the worst performer, probably a combination of Line 3 uncertainty and simplification overhang after last week's merger announcements.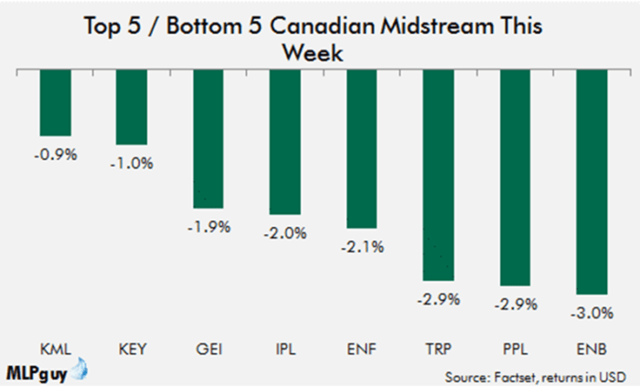 KML continues to lead all Canadian midstream corporations so far this year as the TMEP deadline looms.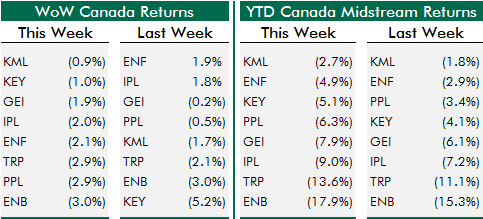 News of the (Midstream) World
The sector gave us a reprieve from simplification this week. Instead, we got Cheniere's (NYSEMKT:LNG) well-telegraphed FID on Corpus Train 3, plus we got incremental announcements on a few projects, asset sales, and some legal activity related to the usual suspects (TransMountain and Mariner East). Next Thursday is KMI's self-imposed deadline for TransMountain's expansion project, so more to come there.
Capital Markets
None, although a few MLPs I met with this week seemed eager to tap into the preferred market again soon, so stay tuned.
Growth Projects / M&A
Cheniere Energy announced it has made a financial investment decision (FID) on Train 3 at Corpus Christi liquefaction project (press release)

This is the first FID on new liquefaction capacity in the US since 2015

LNG plans to issue a full notice to proceed to Bechtel to continue construction, which began in late 2017 under limited notice to proceed

LNG will fund Train 3 with free cash flow and with its recently closed amended credit facilities which increased total commitments to $6.1bn
Magellan Midstream announced plans to expand the western leg of its refined petroleum products pipeline system in Texas following a successful open season (press release)

MMP is expanding the capacity to 150,000 bpd from 100,000 bpd, with potential to expand by an additional 20,000 bpd

Project is expected to cost $300mm and be in-service by mid-2020
Enterprise Products announced that Apache dedicated 100% of the NGLs produced from its Alpine High development to EPD (press release)

EPD has committed to accept a minimum of 205,000 bpd on its Shin Oak Pipeline

EPD also noted that APA has an option to acquire up to 33% of the pipeline (initial capacity of 550,000 bpd), exercisable after the in-service date (expected in 2Q 2019)
Sanchez Midstream (NYSEMKT:SNMP) and Targa Resources announced the merger of their respective 50% interests in the high pressure Carnero Gathering Line and Raptor Gas Processing Facility to form an expanded 50/50 JV in South Texas (press release)

In addition, the JV has acquired TRGP's 200 MMcf/d Silver Oak II Gas Processing Plant and Sanchez Energy (NYSE:SN) has dedicated over 315,000 gross Comanche acres in the Western Eagle Ford
Keyera (OTC:KEYUF) (KEY-CA) announced the acquisition of a US liquids terminal business near Tulsa, OK for $80mm (press release)
Legal & Regulatory
National Energy Board (NEB) in Canada recommended approval of a variance for TransCanada's North Montney Mainline Project which, would allow construction to start on the proposed $1.4bn natural gas project in northeast British Columbia (press release)

The project is backed by 20-year commercial contracts with 11 shippers and is expected to be in-service by mid-2019
Energy Transfer's Mariner East Pipeline (ME) is halted again after a PUC administrative law judge issued an emergency order (Philly.com)

The order instructed the immediate suspension of service on ME1 where sinkholes appeared earlier this year

ME2 was ordered to halt construction on the 3.5 mile stretch through West Whiteland Township, PA
British Columbia's Supreme Court dismissed legal challenges to Kinder Morgan's Trans Mountain from the City of Vancouver and the Squamish Nation (CBC)

The project still faces a challenge in the Federal Court of Appeal by First Nation and a potential judicial review of the NEB approved pipeline route
Related to Trans Mountain, The Canadian Senate passed a bill declaring that the project is under the "general advantage" of Canada and that it would ensure it will not be delayed (CTV News)

The bill still needs to be go through the House of Commons and Prime Minister Trudeau
Editor's Note: This article discusses one or more securities that do not trade on a major U.S. exchange. Please be aware of the risks associated with these stocks.