For the first time in a number of months, I have made a substitution in the Project $1M portfolio, my real money portfolio to try and attain a $1M portfolio in 10 years from a base of ~$275k.
Having real money in the portfolio definitely heightens the emotions around individual portfolio positions. While it heightens the highs when a position goes on a run, it also magnifies the lows as a position crashes and continues to crash, which has been the case with Celgene (CELG). I had flagged a couple of updates ago that I was second-guessing my decision to include Celgene in Project $1M. It was one of the few positions in my portfolio that didn't possess some type of tailwind driving its business performance forward or some defensible moat that was continually strengthening over time.
Other positions in the portfolio, such as Amazon (AMZN), Google (GOOGL), MasterCard (MA), Booking Holdings (BKNG) all have tailwinds propelling their businesses forward, such as the growth in online advertising, e-commerce, or online travel or even the trend from cash to credit for purchases. Additionally, they also possess network effects that strengthen their dominance in their respective markets or verticals.
It was increasingly dawning on me that Celgene possessed neither. Here was a business whose core franchise Revlimid is steadily approaching end of life prior to generic entry, and where the company's missteps with respect to diversifying its dependence on Revlimid have included expensive acquisitions such as Juno and failed filings like Ozanimod. Nonetheless, I believed that Celgene possessed a unique 'biotech accelerator' model to finding new innovation, which was something that I believed would pay dividends for the company long term and which also suggested to me that the business was worth more than what it was trading for.
The thing that I always struggled with regarding Celgene was the fact that I couldn't say that I ever had a high degree of conviction that the business would be worth more at the end of my Project $1M time frame than what it is trading for now. Celgene has a promising portfolio, but I still have difficulty assuring myself that it will be able to offset the patent cliff that it faces. It hasn't helped that the company has had a remarkable downturn in the last few months. Celgene has declined almost 50% since its highs last year and by more than 20% since the beginning of the year.
With everything considered, I've made the decision to exit the stock. I entered the position ~$107, so I've taken a hit on the sale.
I've made the decision instead to swap out Celgene and soon to be acquired Sirtex with an old favorite of mine, CSL Behring (OTCPK:CSLLY). I already own a good chunk of CSL Behring, a mainstay investment of mine when I was assembling my Australian portfolio a number of years ago. The effect of this change has been to increase the concentration in my portfolio, something that I'm making a more conscious effort to do. In my 17-position portfolio, my top 5 positions account for >50% of the portfolio value and top 10 positions ~80%.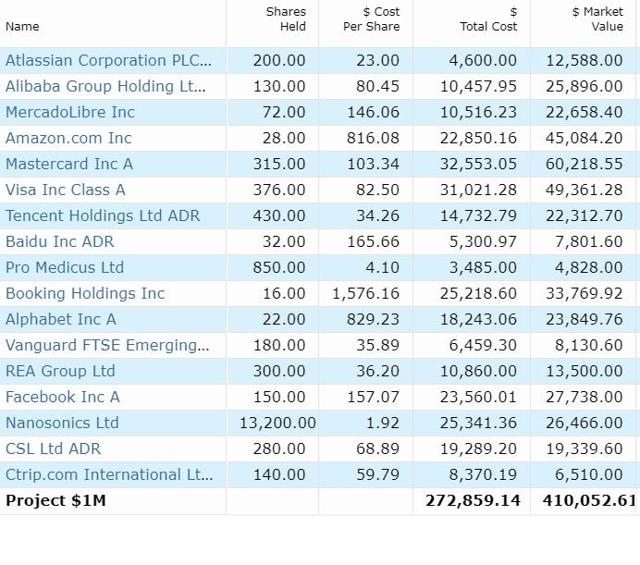 As I wrote recently, CSL is arguably Australia's greatest business and is a dominant player in the oligopoly that is plasma collection and fractionization. With high barriers to entry due to high capital costs in collection, fractionization, and regulatory approvals, no new business has entered this market in the last 20 years.
CSL has managed to grow revenues in the low double digits, while returns on invested capital and earnings growth have exceeded 25% in the last few years. While the core blood fractioning business provides steady growth, CSL has developed a lucrative niche in specialized plasma-based therapies targeting rare conditions that provide enhanced returns. This is a rapidly growing business that should continue to grow well into the future for CSL. Best of all, entry into these specialized therapies is effectively limited to the few core players that are in the blood fractioning business today, as the plasmas and proteins from fractionization are key elements in this drug development process.
I've learned a number of lessons from my unsuccessful foray into Celgene. The first of which is that you don't need to hit every business out of the park to put together some respectable returns. Celgene has been a real drag on the portfolio (the worst performing position), but I've still been able to clock in returns of close to 20% annually for the 2.5 years that Project $1M has been running.
Being comfortable with the underlying business risk inherent in positions in my portfolio and competitive dynamics that influence success is important to me. I could never really wrap my head around Celgene, the science, how likely the business was to commercialize new drugs and whether it would get over Revlimid issues. These were all things that clouded my willingness to hold Celgene.
I can understand the drivers of businesses like MasterCard (MA), Facebook (FB), and Amazon a lot easier. The same with CSL's core business and competitive position also. I think that's definitely something that played into my decision. Celgene may have the best pipeline and prospects. I just couldn't understand it well enough to get my head around it.
The other thing I've realized here is that no doubt, there is a definite psychological element to this decision also. If I was up more than double on this position like I am on others like Alibaba (BABA) or Atlassian (TEAM), I doubt I would have given Celgene's misfortune and accompanying 30% loss and crash in share price too much consideration. But as is the case when things aren't trending well, it brings out all the blemishes in the investment case to the surface, and finally, with Celgene, I just didn't like the odds in the investment case for what I wanted to achieve out of the position.
I've realized that while losses, on the whole, don't worry me too much (I'm sporting a >20% loss on CTRIP (CTRP) at the moment), a lack of understanding of the core drivers of a stock and an ability to rationalize an investment case doesn't sit well when things unravel. I've made some big money when there has been market panic around an investment idea that later proved to be unfounded.
Picking up Alibaba as a foundational position for this portfolio a few years ago for ~$60-ish was one of those moves. Pouncing on Cochlear in the midst of a major market recall in 2011 was another that has earned me close to a 4x return. In both those cases, I understood the potential of those businesses and what would ultimately drive them back to true value.
Sadly, I just can't get there with Celgene, and while this may be the steal of the century at these prices, I'm folding my hand on this one.
Disclosure: I am/we are long ALL STOCKS MENTIONED. I wrote this article myself, and it expresses my own opinions. I am not receiving compensation for it (other than from Seeking Alpha). I have no business relationship with any company whose stock is mentioned in this article.
Editor's Note: This article discusses one or more securities that do not trade on a major U.S. exchange. Please be aware of the risks associated with these stocks.