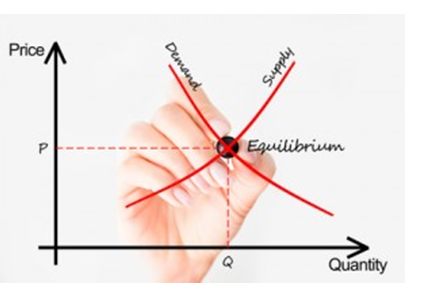 The Peak
Major Lithium producers' stock values peaked earlier this year after a robust growth spurt beginning in 2016. Currently, major players, Albemarle (ALB), Sociedad Quimica y Minera de Chille (SQM) and FMC Corp. (FMC) are off their earlier highs and in consolidation. That process continues to be affected by an ever changing perceived balance in the equation between current and future global supplies of Lithium weighed against the growing demand for Lithium-ion batteries.
Chart Update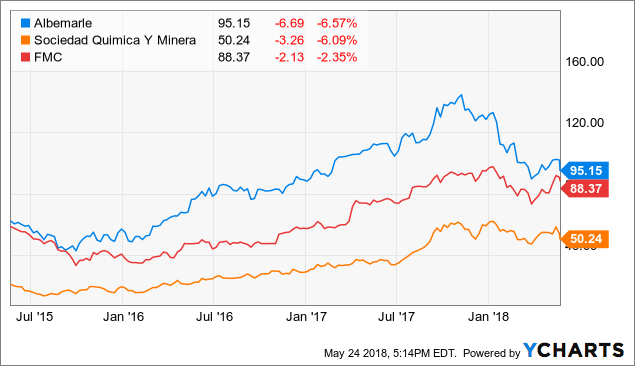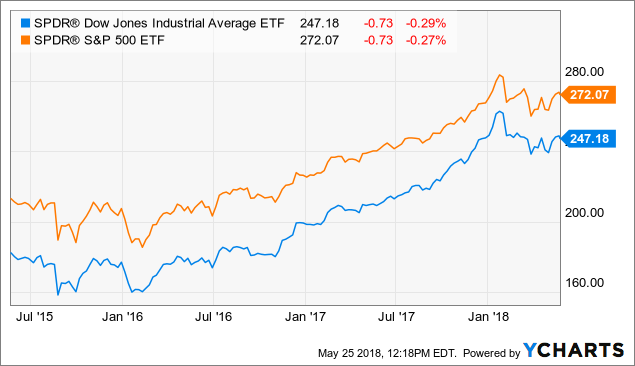 As seen above, after a steady upward two year climb, the three majors that produce the greatest global supply topped out at the end of 2017. A similar trend is noted in major stock indices, and this may have been a contributing factor. But a major driver is the price of Lithium that is directly affected by its global supply in comparison to worldwide demand.
A Paradoxical Boom-Bust
It is early in a cycle that promises a global paradigm shift in how we power transport vehicles and a myriad of growing personal electronic devices. Ongoing development portends an initial unknown growth cycle that extends, at least, until 2025, a good yardstick for investors to work with. The paradoxical nature of the cycle is the possibility of booms and busts along the way.
The Basic Equation
The Lithium equation is driven simply by the demand for power versus the supply of Lithium to create it. What happens during this projected interim period is paramount for the industries and investors.
It begs the question, will Lithium demand for the full range of battery powered products be greater than the amount of Lithium produced? This would auger well for the Lithium producers and their stock values.
The counter side of the equation asks, will the demand side shrink or will greater innovation and production produce a global glut of cheaper Lithium and correspondingly lower its stock values?
Clearly, this has been a key dynamic in demand and supply for fossil fuels for numerous decades with oil prices ranging up and down .
Knowing this will occur on a time continuum with changing dynamics for each side of the equation, investors should be prudent in keeping a close eye on both.
Additionally, I will add an external caveat that is paramount in monitoring the price of oil and also extends to Lithium. Geopolitical dynamics significantly impact supply and pricing, but this variable is best reserved for another time.
Growing Demand for Lithium Battery Power
Any question about the viability and acceptance of electric vehicles and evidence of a growing worldwide need for battery power is moot. Transparency Market Research expects the global Lithium battery Market to increase USD $77.42 billion by 2024. During this span, they project annual compound growth of 11.6 percent in their March 2018 report.
Growing use of consumer electronic devices and growing adoption of clean energy in the automotive industry is expected to drive the market in the coming years. Although the consumer electronics segment is projected to hold the biggest market share during the forecast year, hybrid vehicles and electric vehicles (EVs) are expected to increase demand for lithium-ion batteries at the fastest rate.
Battery Ramp Up
Ramp up for Lithium-ion battery production is expected to grow as world demand for hybrid and electric cars, energy storage systems and high drain portable electronics continues to grow.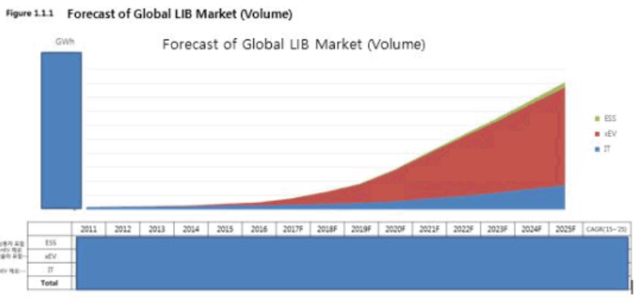 Primary drivers include: International Battery Metals Ltd., Lithium Americas Corp. (NYSE: (LAC), Advantage Lithium Corp. (AVLIF), Panasonic Corporation (PCRFY).
Capital Flows Into Lithium Assets
Billions of dollars are being invested into manufacturing facilities to increase lithium battery production with an expectation of lower battery prices.

There is a seismic shift in China which is the world's largest market for building electric and hybrid cars. The plan is to build a dominant domestic industry for both electric cars and battery manufacturing. Beijing plans to sell 2 million electric vehicles by 2020 and to eventually phase out petroleum operated vehicles. In my opinion, if successful, this is prodigious scale production.
Growing Demand
The paradigm shift into increasing battery operated power sources has produced what appears to be an imbalance between the user and Lithium producers. There has been a recent perception by users that the supply side remains slow to respond to the growing global demand. This has alarmed some major end users to invest billions of dollars in securing supply-side assets and supply chain developments.
A report published by Transparency Market Research projects that the Global lithium-ion battery market will increase to a value of $77.42 billion by 2024. Further projected is an annual growth rate of 11.6 percent from 2016 to 2024.
A hunger for Lithium has encouraged users to strike deals with Lithium battery producers and miners thereby guaranteeing needed supplies for expanding production. These new synergies between the demand and supply components anticipate a growing marketplace for electric cars and other battery operated devices and emphasize the need to grow Lithium supply.
Lithium production: Investment and Innovation
Investment has fostered research for improving processing technologies for extracting Lithium, which I believe to be one of the most important and promising recent innovative ventures for supply side Lithium production.
Billions of dollars are being invested into manufacturing facilities to increase Lithium battery production with an expectation of lower battery prices.

In the past two years, the industry has seen major Asian automotive, investment, and battery material and manufacturing companies invest, acquire, or arrange off-take agreements with companies that are either in production or are moving towards production.

The global battery market is anticipating hitting 120 billion by 2020.

Global Markets are screaming for Lithium with money pouring in.
Recent Investment
April 2018: Japan based, SoftBank invests nearly $100 million for a 9.9% interest in Canadian lithium firm Nemaska Lithium (OTCQX:NMKEF). Nemaska is currently in need of funds to support the buildout of a lithium hydroxide and carbonate producing facility located in Quebec.

March 2018: CATL announced a $66 million investment into North American Lithium, which will allow the company to expand its current product offering from spodumene concentrate to lithium carbonate. North American Lithium is expected to be able to deliver up to 23,000 T LCE per year once the facility is operational.

February 2018: Millennial Lithium (OTCQX:MLNLF) announced a follow-on investment supported by both new and existing Chinese investment groups. Millennial Lithium Corp. is engaging in a private placement of up to 2,206,671 units at $3.50 per unit. The private placement is to be completed concurrently with the company's public offering, which was announced on Feb. 20, 2018.

February 2018: POSCO (OTCPK:PKXFF) announced a supply agreement and investment into Australian lithium play Pilbara Minerals (OTCPK:PILBF). The South Korean steelmaker agreed to buy up to 240,000T of lithium concentrate a year from Australian miner Pilbara Minerals.

January 2018: Toyota Tsusho (OTCPK:TYHOF), the strategic trading arm of Toyota Motors (TM), invested nearly A$300 million into Orocobre (OTCPK:OROCF) in consideration for 15% of the company.
IMO, this is good news for producers and is enabling research to increase Lithium production from brine which is the easiest and cheapest production technique.
New Innovative Extraction Techniques
The Lithium game is not about exploration; it is about innovation. New Lithium extraction techniques are the Holy grail for increasing the supply of Lithium. Extraction from complex brines has been the least time consuming production technique. One advantage is minimal pretreatment to remove calcium or magnesium.
On May 15, Enertopia Corporation (ENRT) on the OTCQB announced an update for a new process for the recovery of Lithium using synthetic brine as part of the Clayton Valley, Nevada project.
The process is performed in conjunction with technology partner Genesis Water Technologies Inc. (GWT), a leader in specialized water treatment solutions. The project is in the final stages of experimental research and a final report is pending.
A Possible Game Changer for Extracting Lithium
International Battery Metals (IBAT;OTCPK:RHHNF) recently hired John Burba as CEO after his company developed a second generation technology for rapid Lithium extraction valued at $2.5 billion.
According to Burba, the process takes the lithium out of the oil field brine on a continuous basis. As the brine passes through the system, the lithium is collected while impurities flow right through and go straight back into the ground. The end-product is a diluted stream of lithium chloride and water that comes out as the brine goes by. That solution, which has a smaller volume and far fewer impurities than the original brine, is far easier to process.
The new second generation technology Burba and his team will be implementing for IBAT creates a lithium extraction process that reduces an 18-24 month process to just one day.
In the swarm of new entrants to the lithium playing field, International Battery Metals stands out-front and center-because it's sitting on a proprietary advanced technology that could push lithium into the production stage rapidly. North American oil field brines represent a staggering Lithium resource. Think, from mine waste to motor vehicle!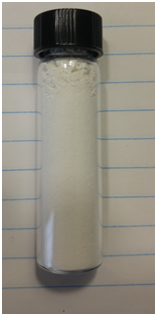 Extracted Lithium
Faster extraction can revolutionize the impact upon cost and the ability of producers to meet greater and greater anticipated demand.
With respect to the equation previously mention, investors must consider that the supply side is also likely to grow faster than it has, and factor that into their future investments.
Analysts Differ About The Prospects For Lithium
Perceived notions about the balance in the Lithium equation can produce striking conclusions by stock market analysts that may be off the mark, yet markedly affect the stock values of lithium producers.
For example, some analysts recently expected lithium prices to fall this year after all-time highs in 2017. In January, Albemarle, a major, fell a surprising 23% as analysts began to worry about an over-supply of Lithium. This begs the question, why would a top performer sink, and why did USB change their call from a neutral to a buy rating?
Analysts looked at the equation paradox previously described on the basis of:
Other companies' announcements that they are expanding their Lithium mining efforts, and to resulting fears that the Lithium market was getting flooded with an "oversupply" of the metal, and downgraded the stock.
They didn't get it right. Their expectation was not apparent in the recent blow out numbers reported by Albemarle, a must review. What followed immediately was an analyst upgrade by USB with a current $150 price target.
Take Away
It is my opinion, based on current market metrics, there will be a boom in both lithium-ion battery production of all kinds as part of a shift to electric power from other forms of energy.
I look at this energy sector with conviction that continued growth can be expected in the coming decade as long as the paradigm shift demanding more battery power continues to grow.
Demands for battery power will push Lithium production to new highs for some time, but it is my expectation that supply will begin to catch up with demand, something I think analysts acted on prematurely. This means that what goes up may taper and even fall off as need lessens.
Projections, 2018 to 2025, are a good range during which to monitor the balance, but, IMO, major growth in Lithium output, and potentials for profitability, are likely to occur sooner rather than later.
Finally, I favor the major Lithium producers ALB, SQM, and FMC and expect innovation to drive them higher. I plan to cover each in another upcoming Lithium series for Seeking Alpha. Please stay tuned and watch to see if these producers break above their current resistance levels.
Authors Note: Thank you for reading and commenting. You can follow my articles on SA by clicking on follow.
Disclosure: I/we have no positions in any stocks mentioned, and no plans to initiate any positions within the next 72 hours. I wrote this article myself, and it expresses my own opinions. I am not receiving compensation for it (other than from Seeking Alpha). I have no business relationship with any company whose stock is mentioned in this article.
Additional disclosure: Author Disclosure: The information and data that comprise this article came from external sources that I consider reliable, but they were not independently verified for accuracy. Points of view are my considered opinions, not investment advice. I bear no responsibility for investment decisions you decide to make.
Editor's Note: This article covers one or more microcap stocks. Please be aware of the risks associated with these stocks.