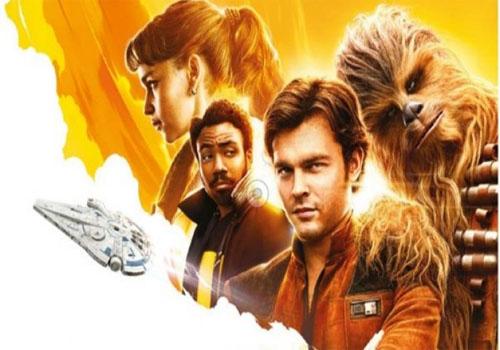 (Image credit: Disney)
Let me just start this by cutting right to the point.
Yes, Han Solo's origin story may not be a record-setter, but Disney (NYSE:DIS) investors would be wise to look past all the overreaction they are going to see following the Memorial Day weekend.
So why is that? Especially in the wake of what will be a debut that just barely broke $100 million over four days? The answer is even though this is an embarrassing debut for a heralded franchise, you can bet Disney won't make the same mistakes again.
This isn't your typical studio, and when things go wrong, they get rectified. You won't see this company's board bury their heads in the sand and pretend nothing happened. Something did happen and the red flags have been there for a while, but because it's Star Wars, executives were willing to roll the dice.
Solo is the first summer release of the new films under the Mouse House. The previous three all debuted in December. By taking that end of the year slot, Disney made them "event" films and they had free reign at the box office. In fact, it was the success of The Force Awakens, Rogue One and The Last Jedi that led the studio to shift next year's Episode IX from the summer to December.
The problem with a summer track is the movies are sandwiched between tentpoles from other studios. Case in point Deadpool 2, which is looking at a week two haul of around $55 million - and a good chunk of that likely would have otherwise gone towards Solo. As it stands, Solo is going to have one more week without real competition, but then it runs through a stretch where Ocean's 8, Incredibles 2 and Jurassic World: Fallen Kingdom come in succession.
While Ocean's and Incredibles target different audiences, there is still crossover and the new "event" feel. Not to mention, every dollar helps in these types of situations.
There's also the negative buzz that has followed Solo since its original directors Chris Miller and Phil Lord left the project and were replaced by Ron Howard. For a film like this, that type of news is hard to overcome and likely did play a role in souring the mood for the movie. Though credit Howard for stepping in and making a solid attempt to right the ship early.
Early reports actually have the film receiving an "A-" Cinemascore rating from audiences, which is just a little below the "A" ratings the previous new films received. Films that score a high rating like that are usually ones that have legs at the box office and put up solid multipliers.
The other question weighing on investors is whether the franchise is overexposed. While I stand by the view that this is the not the end of the world for one of Disney's core-four divisions, I do think some of the fatigue set in. We just had The Last Jedi back in December, and that sucked up a lot of the, air especially since it marked the (real) return of fan favorite Mark Hamill.
We all know why Disney scheduled another Star Wars so close - money. The studio does this all the time with its Marvel films, and has yet to see it dilute the brand. As a result, the assumption was Star Wars - which hasn't been back in the spotlight as long - would have the same success.
It didn't.
However, Disney is in a "fool me once" scenario and not about to get had for a second time. But let's also not forget $100 million is still a strong start for a movie in general and is only being dissected so hard because it's Disney and Star Wars.
It also does beg the question - should investors worry about Disney's long-term health in 2018 with Avengers and Solo now both out, and only one doing the business expected? I think it's a ding for sure, but in the grand scheme I don't think we are talking a level of money that will impact earnings or long-range estimates. Disney's next film, The Incredibles 2, is slated to be a success, and then Marvel's Ant-Man and The Wasp follows a few weeks later.
The summer season ends for the studio with the live-action Christopher Robin - which, based on the first trailer that just came out last week, looks really charming. My only concern is that people may not realize it is meant to be in the same vein as the live-action versions of Cinderella and Beauty and The Beast that did so well in prior years.
Disney then ends the year with a trio of films, including The Nutcracker, the Wreck-It-Ralph sequel and the new Mary Poppins.
Now I'll say this - I am optimistic Disney pulls through the rest of the year with relative ease, but I do see a scenario where some of these projects run into similar problems. Case in point Ant-Man's sequel, which takes place prior to the events in Avengers: Infinity War timeline and likely won't shed new a lot of new light (if any) on that massive cliffhanger that people are still talking about a month later
To me, this is the equivalent of what AMC did a few years back by slating the new season of prequel Fear The Walking Dead just a week after the big season finale "fade to red" fake-out of mothership The Walking Dead. Audiences were so focused on that finale, they didn't care about the spin-off series.
In addition to what I mentioned above about Christopher Robin, I'm also wondering if anybody really wanted another Nutcracker or Mary Poppins film. In fact, the only film I feel 100% confident is the Wreck-it-Ralph sequel.
That said, regardless of how 2018 ends, take a look towards 2019 and any of those fears should be assuaged. Aside from the Marvel universe - led by the female-fronted Captain Marvel, we have the live-action versions of Dumbo, The Lion King and Aladdin, plus sequels Toy Story and Frozen, as well as, of course, Star Wars: Episode IX.
For now, I have the faith in Disney's team that they see the market for these films and believe they will have the desired effect, so I'm able to for now brush aside those concerns, and I think investors will as well.
Although, let's see where we stand in September.
Disclosure: I/we have no positions in any stocks mentioned, and no plans to initiate any positions within the next 72 hours.
I wrote this article myself, and it expresses my own opinions. I am not receiving compensation for it (other than from Seeking Alpha). I have no business relationship with any company whose stock is mentioned in this article.