3 Gold Stocks With Recent Insider Buying
Insider buying has been picking up a bit in the gold sector, which perhaps isn't all that surprising given the recent pullback in gold prices and the declaration from Goldcorp's chairman that we've likely reached "peak gold" (which I absolutely believe to be true). Three gold stocks have seen notable buying activity in particular.
Insider buying refers to when the CEO, CFO, director or any other insider of a company purchases its company's stock. Tracking insider buying and selling is completely legal (not to be confused with the term insider trading, which refers to when insiders have access to nonpublic information and use that information illegally to profit or avoid losses).
As I've stated in the past, I view insider buying as a positive sign because, in general, I think it means insiders of a company are bullish on the stock and think it will rise. I think insiders typically tend to buy shares of stock when they feel the stock has bottomed and has upside and little downside. Insiders are basically "putting their money where their mouth is" and betting on a higher stock price.

The strategy of "following" insiders purchases has worked out for me in the past two successful trades in particular are Avnel Gold and True Gold, which were bought out at a premium and outperformed the benchmark VanEck gold miners index (GDX)]. But I want to caution readers that this is just one factor I take into consideration when doing my due diligence on a company.

Insider selling can be viewed as a negative sign, but this isn't always a dealbreaker. You can also take into consideration recent options exercises by the insider, the total holdings of each insider following the sale, and the total annual compensation of the insider compared to the size of each purchase.
All information is according to SEDI filings posted within the last few months, listed at CanadianInsider.com. The transactions all occurred on the TSX or the TSXV exchange, even though some of the stocks listed below also trade on US exchanges.
1. Barrick Gold (ABX)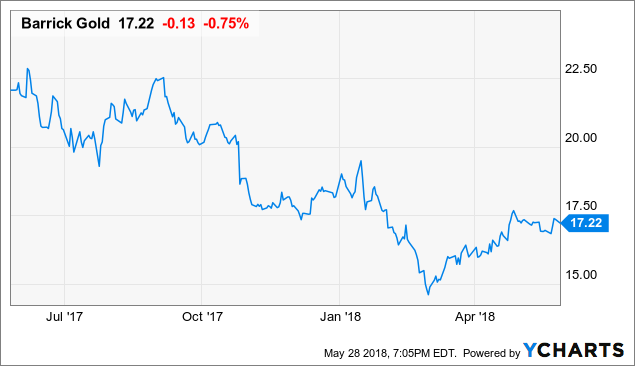 Barrick (my #8 overall gold stock pick for 2017) has seen notable insider buying lately. This follows a strong first quarter 2018 financial performance by the miner, in which it produced $500+ million in cash flow and $181 million in free cash flow.

For 2018, Barrick has guided for gold production between 4.5 - 5.0 million ounces of gold at $765 - $815 AISC, and 385 - 450 million pounds of copper production at $2.30 - $2.50 AISC/lb. It expects to end the year with net debt of $5 billion, down from $13.1 billion in 2014, as it continues to pursue aggressive debt reduction.
The following transactions occurred on the TSX; no SEC filings were reported on Barrick's US stock listing.
- On May 4, Katherine Sipos, chief of staff, bought 3,000 shares at a price of $17.34 per share.
- On May 4, Mark Francis Hill, chief investment officer, bought 9,000 shares at a price of $17.70 per share, bringing his share holdings to 18,453 shares.
- On May 7, Catherine Philippa Raw, chief financial officer, purchased 10,000 shares at a price of $17.37 per share. On May 16, Raw bought 39,408 shares at a price of $16.94 per share, bringing her share holdings to 73,352.
- On May 16, Robert Krcmarov, executive VP of exploration and growth, bought 3,000 shares at $16.85 per share.
- On May 15, Gregory Alan Walker, senior VP of operational and technical excellence, bought 19,340 shares at a price of $16.90. On May 2, Walker also purchased 12,000 shares at a price of $17.25 per share.
Also noteable is Barrick's recent investment in Midas Gold, which is developing the Stibnite gold project in Idaho. This 20% stake in Midas might lead to a takeover at some point in the future and a long-term growth opportunity for Barrick, but for now, the deal was for investment purposes.
Barrick's estimated annual gold production is projected to fall over the next few years, while the Stibnite mine is estimated to produce more than 300,000 ounces of gold per year at competitive costs.
2. INV Metals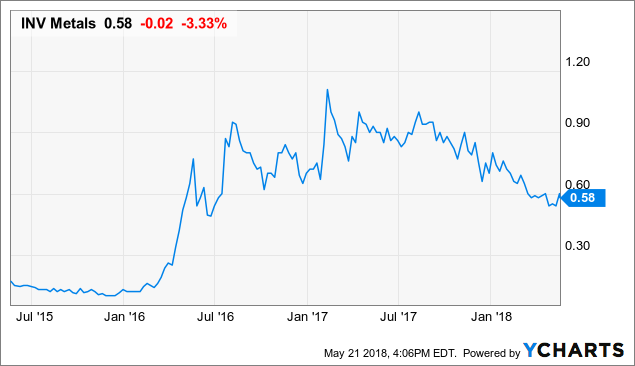 INV Metals (OTC:ILNLF) is a junior gold company that is focused on exploring and developing the Loma Larga gold property in Ecuador. Loma Larga has probable gold reserves of 1.86 million ounces at 4.98 g/t, with an additional 10.5 million ounces of silver and 73.6 million pounds of copper.
A feasibility study is underway and due for completion later this year, with the goal of production by late-2020. A pre-feasibility study was completed and returned mostly positive results, giving the project an after-tax NPV of $301 million (5% discount) using a $1,250 gold price. According to the study, the mine is estimated to produce 150,000 ounces of gold annually at $590/oz and a 12-year mine life.
One director of INV Metals recently bought shares:
- On May 17, Parviz Farsangi, director, bought 200,000 shares in the public market at a price of $.555 per share, bringing his total share holdings to 700,000 shares.
- Also take note that insiders currently own over 16% of the company, according to INV's corporate presentation.
- Another notable insider is IAMGOLD (IAG), which owns 35.6% of the company. IAMGOLD recently pointed out its investment in INV Metals in its Q1 2018 financial results news release.
INV is well capitalized, as it ended the first quarter of 2018 with $14 million in cash. Readers should note that INV carries a market cap of just $53.7 million and does not have any cash flow from operations, as it is developing a gold project, so it is a more speculative investment.
3. Osisko Mining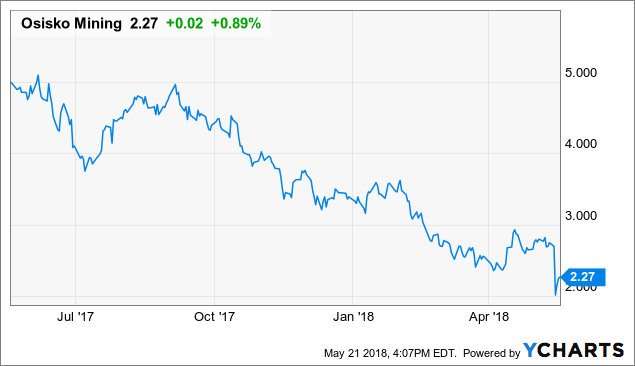 Osisko Mining (OTCPK:OBNNF) shares have fallen off a cliff over the past year and a half and recently fell further after Osisko's initial resource was announced at the Windfall deposit.

A total of 580,000 meters of drilling has led to an initial resource of 601,000 ounces indicated (7.9 g/t) and 2.28 million ounces inferred (6.76 g/t) at Windfall. This is in addition to the 510,000 ounces inferred resource at Osborne Bell (6.13 g/t).
This is a very large resource with 3.5+ million ounces all together and the grades look impressive, but investors were perhaps expecting more measured and indicated resources and less inferred resource. Osisko still has a lot of work to do with infill drilling, as inferred resources are the lowest-confidence category, an "educated guess" on gold resources.

A key insider at Osisko Mining recently bought shares:

- Jose Vizquerra, chief operating officer and senior VP of corporate development, recently went on somewhat of a buying spree.
On May 17, he purchased 20,000 shares at a price of $2.20 per share.
This brought Vizquerra's total share holdings to 741,011 shares, which represents approximately .35% of the company. Back in March, Vizquerra increased his share holdings by nearly 400,000 shares, buying at prices between $2.46 - $2.56.
Notable Insider Sales
1. Pretium Resources (PVG)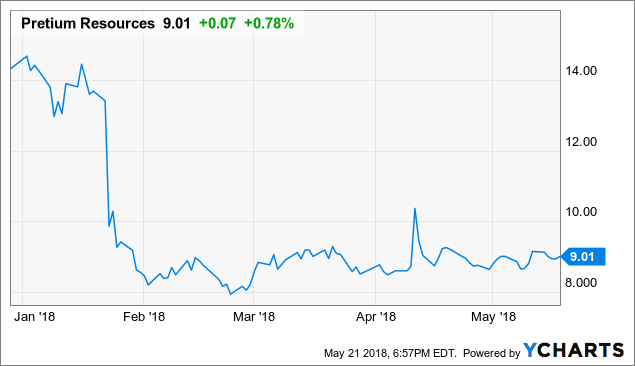 Pretium is ramping up production at the high-grade Brucejack mine in Canada and its trading near 52-week lows.
Pretium's recent Q1 2018 financial results left a bit to be desired, with AISC topping $1,000/oz, above guidance of $700 - $900/oz, and a net debt level that has reached $688 million. Results should improve throughout the year.

However, one insider recently sold shares.
- On May 17, George Paspalas, director, sold a total of 95,000 shares, at prices between $8.95 - $9.16 (on the TSX).
However, note that Paspalas exercised a total of 100,000 shares of Pretium at a price of $6.40 per share before making the sale. Paspalas owns 33,035 shares after the sale.
This sale of stock by a director of Pretium does not inspire confidence in the company in my opinion, but it also isn't a red flag, either, as it's pretty normal for an insider to exercise and then sell shares.
2. B2Gold (BTG)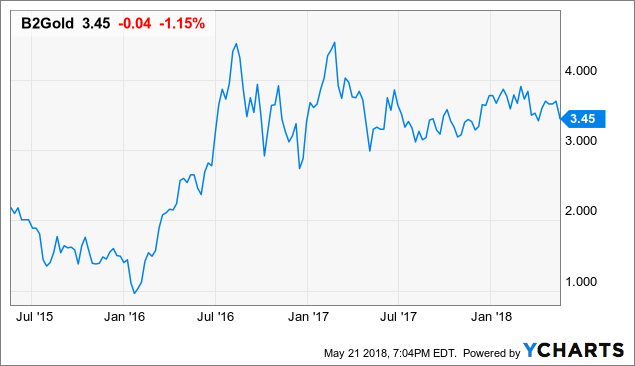 B2Gold is a growth-focused gold miner that is estimating between 910,000 - 950,000 ounces of gold production this year from its 5 operating mines, which would represent nearly 100% growth from 2015 production of 493,265 ounces.
The company's massive Fekola mine achieved commercial production last year and is now the company's flagship asset, estimated to produce between 400,000 - 410,000 ounces of gold this year at AISC between $575 - $625 per ounce. Consolidated gold production in the first quarter of 2018 was a quarterly record of 239,684 ounces, which included 114,142 ounces of gold at Fekola.
Here's a summary of recent insider trading activity:
- On May 14, Hugh Mackinnon, senior officer, sold 30,000 shares of B2Gold at a price of $3.64. Mackinnon exercised 30,000 options at a price of $3.00 per share before making the sale. He owns just over 314,000 shares of B2Gold following the sale, according to filings.

- On May 14, Robert Gayton, director, sold 100,000 shares of B2Gold at a price of $3.00 per share, after exercising 100,000 stock options at a price of $3.00 per share. Gayton owns 279,000 shares of B2Gold following the sale, according to filings.

- On May 18, Brian Scott, senior officer, exercised 75,000 options at a price of $3.0 per share and then sold all 75,000 shares at a price of $3.64. Scott owns 167,597 shares of B2Gold following the sale.
This article was first available to subscribers of the Gold Bull Portfolio, a premium service offered by Gold Mining Bull. Insiders also received more detailed analysis of each stock and buy/sell recommendations.
A subscription gets you updates and access to my real-life gold portfolio holdings (breakdown by stock symbol and weighting), research on junior miners/explorers, and early access to insider buying reports, earnings releases and more.

Disclosure: I/we have no positions in any stocks mentioned, and no plans to initiate any positions within the next 72 hours. I wrote this article myself, and it expresses my own opinions. I am not receiving compensation for it (other than from Seeking Alpha). I have no business relationship with any company whose stock is mentioned in this article.
Editor's Note: This article discusses one or more securities that do not trade on a major U.S. exchange. Please be aware of the risks associated with these stocks.