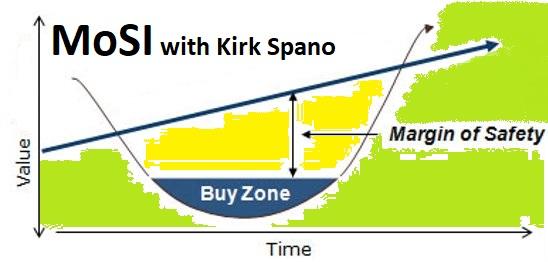 Oil prices are taking a hit right now as the media and markets are fooled by a narrative that new oil supply is coming onto the market from Saudi Arabia and Russia. That is not the real story. In fact, it's #fakenews.
Good traders took some profits on oil positions in the middle of last week. Smart investors will be expanding their asset allocation to oil investments in the next few weeks.
Narratives, Traders and Investment Strategy
The narrative being painted by the media and spun by oil shorts is that Saudi Arabia and Russia are about to put more oil into the markets and drive oil prices lower. As I will explain below, that is the wrong interpretation of what is going on.
As a long aside first, I'd like to stop to discuss something. If folks haven't figured this out yet, the media is often incomplete in both the story and the explanations. Though, their headlines are fantastic! And the breathy interviews on TV, with the yelling mixed in, outstanding television.
Hungry traders, looking to help their trades by talking a supportive story, whatever it might be, use the headlines to push and pull investors in and out of positions that should be left alone.
This of course has been how things have worked for a very long time - ask Jesse Livermore. Today, because of the internet, creating narratives to repeat over and over has become far more effective. It is also far more dangerous for investors who are easily manipulated.
I've been around long enough to know this, traders, they can certainly get it right for a while. A handful can even justify the time spent trading versus investing. Most traders though don't make enough to make it worth the time spent. The IRS tells us that every year.
When traders are chanting a narrative, investors, for the most part, should use the chant as a sort of bread crumb trail to finding a good entry price. What do I mean by that? Quite simply, when traders sing a tune and pile into a short-term trend, an investor can usually find a very good entry on stock in a company you would like to be part owner of when the inevitable reversal comes - presuming you are right about the factors and fundamentals that you have done a lot of research on (like watching and listening to the company's investor presentations, reading corporate reports of the company and competitors, as well as reading through some trade magazines or websites).
If you are actually listening to the traders for their fundamental reasoning, you are listening to the wrong people. Traders, for the most part, there's a handful of exceptions (I'm one), trade based on technical indicators and short-term quantitative data. As a group, their understanding of fundamentals is not particularly good. In fact, if you talk to a good trader, they'll often tell you they don't care much about fundamentals. The bad ones often say that too.
So, decide who you are. Are you an investor who makes the occasional trade? Or, are you a trader who wants to spend a lot of time working against the hedge funds, proprietary professional traders and institutions? I am the former.
Here's what I know of the current bearish narrative on oil. It's wrong. Oil is heading to $80 per barrel soon. It might not be this week or next week, but soon enough that a lot of oil company stocks are entering a golden age for the next few years.
The Peak Oil Plateau, Russia and Saudi Arabia
I first talked about a coming "peak oil plateau" back in 2014 and that it would start with a "plunge" in oil prices - that of course happened. More recently, I have discussed how the plateau will be an extended period where oil demand and supply are almost balanced with demand slightly above supply. This circumstance will support the price of oil until whenever it is that EVs start to take a bite out of oil supply (2030 in my chart below).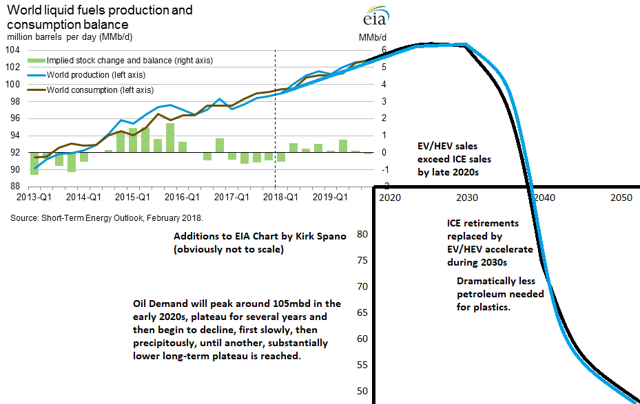 Right now, Saudi Arabia and Russia are talking about filling the gap in oil production left by Venezuela and probably Iran soon. This is a far cry from flooding the market with oil and driving prices lower.
Phil Flynn at Price Futures Group in Chicago pointed out that the talked-about 800,000 barrel increase would "barely" offset Iran and Venezuela, but "the market is taking that as a big increase."
Even if Saudi Arabia decides to increase production, and they will to offset further declines I believe, it will take a few months just to start to bring that increase to market. So, what just happened is largely jawboning to keep summer oil prices a little lower and flatter (flatter like a plateau).
It's important to note that Saudi Arabia really is the only nation with significant excess capacity. Russia has a little spare capacity, but not much if the reported shape of their wells is true.
What is really triggering the oil selloff then? Saudi Oil Minister Khalid Al-Falih has discussed the "anxiety" that some of its customers are facing. This tweet is being touted as having something to do with it: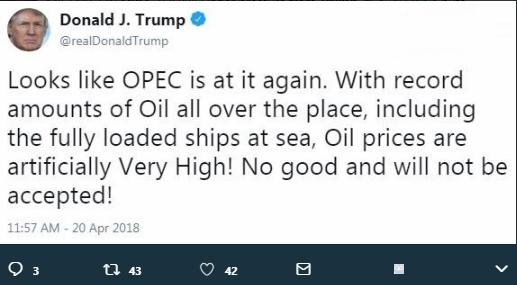 Here's the thing, per the EIA, the United States only gets about 30% of our imported oil from OPEC anymore. The United States imports about 7.5 million barrels of oil per day. Only 2.4 million is from OPEC and only 1.4 million from the Persian Gulf. America imports 5.1 million barrels per day from non-OPEC members, primarily Canada at 3.6 million barrels per day, with another 650,000 coming from Mexico. So that's over half of U.S. oil imports from our immediate neighbors.
So, why did Donald Trump make that tweet? Because most of his base doesn't know where our oil comes from. He was just catering to their insecurities and angst again to keep them on board.
It's important to think about how inconsequential that tweet, made a month ago, should be to oil prices. And for the record, as we talked about months ago, there is very little "floating" oil left, it's mostly been offloaded as the oil futures market went into backwardation. That said, we also get this from the Economic Times:
We were in the meeting in Jeddah, when we read the tweet," OPEC Secretary General Mohammad Barkindo said on Friday. "I think I was prodded by his excellency Khalid Al-Falih that probably there was a need for us to respond," he said. "We in OPEC always pride ourselves as friends of the United States."
Saudi Energy Minister Khalid Al-Falih talked of smoothly releasing some oil supply: "I think in the near future there will be time to release supply."
Al-Falih also talked about the Aramco (ARMCO) IPO: "The timing I think will depend on the readiness of the market, rather than the readiness of the company or the readiness of Saudi Arabia." That IPO does better with oil in near $80 vs. near $60.
And let's think about this from Russia's Energy Minister Alexander Novak:
$80 per barrel is way higher than expected … it is surprising and unexpected for us... We cannot argue that higher prices are always a good thing for producers. When prices are way too high, it leads to the market being overheated and it results in destabilisation and excess supply."
So, what is really more important to the Saudis than President Trump's tweeting. It is whether the price of oil is starting to stunt demand as the IEA said might be starting to happen a few weeks ago. It is also whether or not it kick-starts more competition.
The competition that neither Saudi Arabia nor Russia wants to see is an uptick in offshore drilling, especially the long cycle megaprojects. I have discussed this at length as well here:
Deep Water Drillers Are Doomed Even If Oil Prices Surge
...and here: Shale Never Was OPEC's Primary Target
Russia, of course, could care less about President Trump's tweets about oil prices. It comes down to dollars and rubles for them.
What is going on is really the management of the price of oil around $80 per barrel, but not much higher. And, it's important going into the summer driving season in the U.S. not to hurt demand short-term.
Russian Energy Minister Alexander Novak also said, "I strongly believe that we will find a compromise, because all countries are interested in a stable market."
And that makes a lot of sense, since OPEC will generally follow Saudi Arabia, although the nations that are pushing back on production increase because they want to make sure they do not make any less money.
Finding an equilibrium for supply and demand that maintains oil prices near $80 per barrel, not falling too far, nor rising too high is just right.
OPEC and Russia are looking to maintain the Goldilocks price of oil which I discussed at length in Oil Price's Goldilocks Moment back in March, saying that "the Saudis' excess capacity is to provide supply at the margins."
In other words, the Saudis and Russians want to maintain the price of oil in stable, narrow range. Like on a plateau!
How To Make Money On Traders
The oil market is having a bipolar moment. The traders and their breathy narratives are moving the price of oil and oil stocks right now - just as Saudi Arabia and Russia want.
So, just as the traders are being played again by the Saudis and Russians, so too should you play the traders. Short interest in oil futures have risen and long positions have fallen according to the Commitment of Traders Report.
In other words, the fall in price of oil is a trade. The plateau price around $80 is fundamental. And that's important.
With Saudi Arabia having stunted long cycle oil megaprojects, oil demand still growing, the price of oil will largely be in Saudi hands for a very long time as the global swing producer.
That doesn't mean the traders can't make a buck in the next month or so. They can. But, oil will head back towards $80 per barrel, probably in Q3 as I and Goldman Sachs (GS) have predicted.
For investors, as I covered in the golden age for oil stocks article linked above, lean oil producers in the Permian oil shale are going to do very well going forward. They became profitable in recent quarters with realized oil prices in the low $50s. Going forward, the worst case would seem to be prices in the $60s, but more likely approaching $80.
This dip in share prices is a chance to buy some of the better producers that I have mentioned previously.
Here is a trade that a lot of you should learn to make. It will generate income, play the calendar for the next month or so, and give you good entry prices below today's prices.
Sell cash-secured put options on oil producers in the Permian basin. The premiums are very high due to the current volatility and if the shares get put to you, it will be at a net price below today's. For example:
Sell the Encana (ECA) $12 July puts. You'll get about 60¢ or 5% for an 8-week holding period on your cash. If the stock is put to you, your net price is in the lower to middle $11s, roughly a buck below today's price and right at the support of the 200-day moving average (yeah - trader talk).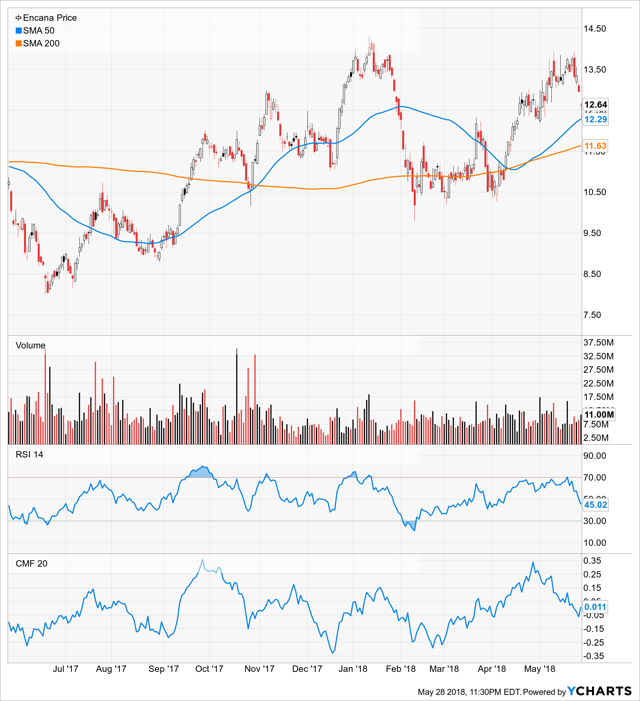 As discussed several times, this is one of my favorite oil plays. Take a peek at the money flow, it's already showing some strength, I wouldn't be too cute on this trade, it's about ready.
My other favorites are Occidental Petroleum (OXY), the largest Permian producer, with their own midstream and export facility on the Gulf, and Pioneer Natural Resources (PXD) which is becoming a Permian pure play. Neither has options ready to go just yet, but if the downtrend continues, aim for their 200dma as well.
Margin of Safety "Forever Discount" Expiring Soon
Margin of Safety Investing is on sale now for only $1 per day, just $365 per year. The price will rise to $499 at the end of July. Future discounts will be for the first year only. Sign up for a free trial now.
The current $365/year discount is for as long as you are a member. Try us on for size. Take a free trial while it's available.
The "forever discount" for Margin of Safety Investing will end soon due to changes at Seeking Alpha. Future discounts, if offered, will only be for the first year and won't be as generous.
Disclosure: I am/we are long ECA, PXD, OXY.
I wrote this article myself, and it expresses my own opinions. I am not receiving compensation for it (other than from Seeking Alpha). I have no business relationship with any company whose stock is mentioned in this article.
Additional disclosure: I own a Registered Investment Advisor - https://bluemoundassetmanagement.com - however, publish separately from that entity for self-directed investors. Any information, opinions, research or thoughts presented are not specific advice as I do not have full knowledge of your circumstances. All investors ought to take special care to consider risk, as all investments carry the potential for loss. Consulting an investment advisor might be in your best interest before proceeding on any trade or investment.