I was pleasantly surprised to see Gundlach come out and defend technical analysis last week. Although not a major shock to me, he made some comments that are worthy of discussion. I've been aware of Gundlach's 'technical bend' over the years simply through his overall calls and outlooks at specific areas which only 'technicians' would focus on.
Looking at his comments below a few things standout.
He confirms the concept of sentiment, which although is a behavioral phenomenon, often gets thrown under the technical analysis umbrella.
He places odds of success on scenarios where price and sentiment meet (70%).
He discusses combining fundamentals, technicals, and behavior.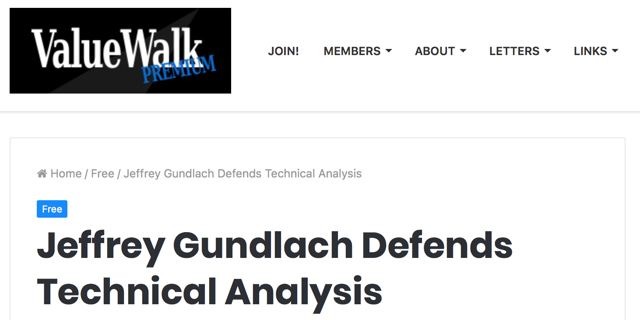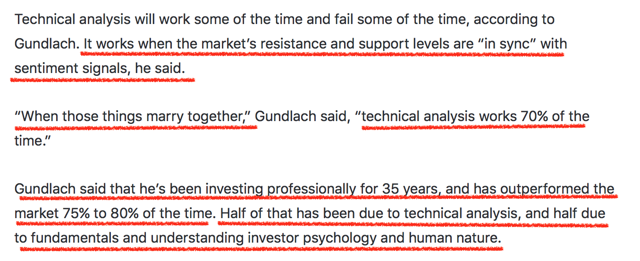 If didn't know better I'd say Gundlach was a Fusion Trader (although I would probably put more weight on fundamentals and investor psychology).
Let's look at some examples of this price/sentiment 'marriage' in action and how we can take it a step further.
Support meets Sentiment: S&P 500 2015-2016
The S&P 500 in 2015-2016 was a great example of support 'syncing' with sentiment signals. The left panel shows the market retesting the lows seen in 2014 and 2015. In other words prior support. At the same time we see a large spike in a key sentiment reading. Although I have numerous sentiment indicators internally, in this case I have chosen a more simple google trends search. As you can see the search term 'sell stocks' spikes to its highest reading on record. To the right we see the market hold.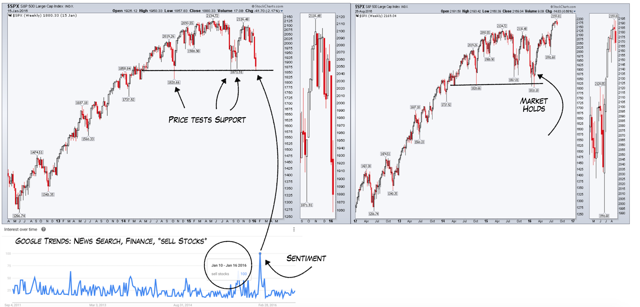 And as we all know, the market then runs up over 55% in the following 12 months.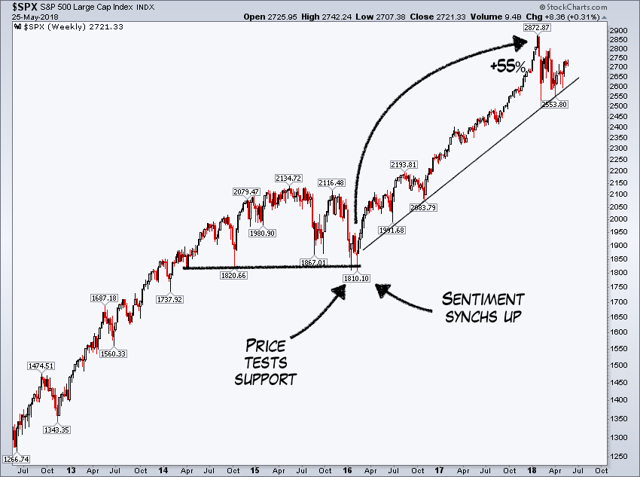 Retracements meets Sentiment
Taking these concepts a bit further, we are not confined to just 'support' levels. We can expand this price/sentiment thinking to other areas such as resistance, downtrend lines, or even retracements.
The following chart focuses on gold in 2016. Price was at a 38% retracement from the 2011 all time high and the November 2015 low. For those less familiar with this technique, the bottom line is to think about an area of resistance we then want to synch sentiment with. That is all, we just need a meaningful level (key being meaningful). The lower panels show two sentiment indicators suggesting extremes readings at the time.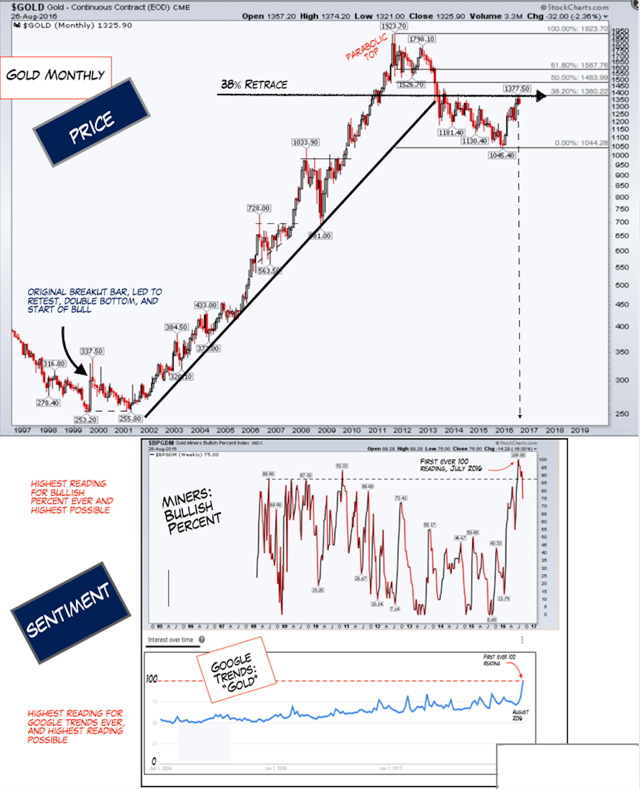 Here is a video I did in 2016 right before we sold the entire market significantly lower. In it I discuss a retracement and downtrend as our target levels, but obviously at the time I knew the sentiment was synched up as well.
Yields Today: Resistance meets Sentiment
What does this mean for markets today? If we look at bonds we have another interesting moment taking place. The chart below shows yields on top, with sentiment readings below. If you look, the higher sentiment readings line up with tops in yields (I've connected the data as it is not lined up exact on the bottom). With price clearly at resistance on the 30 year (3.2%), we are seeing another 'marriage moment' in this key macro market.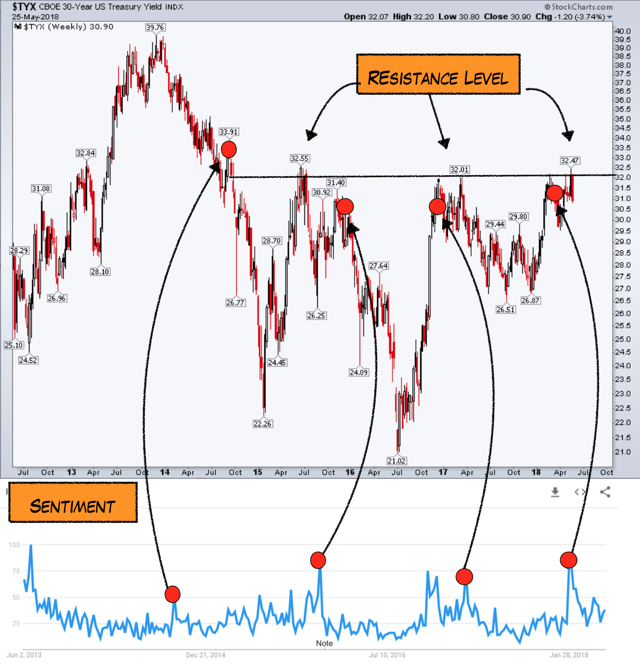 Will yields rollover here? It will be interesting to see, according to Gundlach we've got a 70% chance.
Thanks for reading....
Disclosure: I/we have no positions in any stocks mentioned, and no plans to initiate any positions within the next 72 hours.
I wrote this article myself, and it expresses my own opinions. I am not receiving compensation for it (other than from Seeking Alpha). I have no business relationship with any company whose stock is mentioned in this article.