As competition intensifies among hotels to cater to guests and encourage repeat business, hotel owners are starting to invest substantial resources into smart building technologies. Hotels are pursuing opportunities to connect guests to comfortable, intuitive, and individualized experiences that differentiate their offerings from those of competitors.
As a result, hoteliers have become eager innovators and market leaders in utilizing cutting-edge IoT-enabled equipment in guest rooms. While less than 10% of smart building products sold in 2018 were installed in hotels, smart building products in retrofit projects are projected to grow most rapidly in hotels during the next five years. The frequency of retrofit projects drives these sales: While most other commercial building types are renovated approximately once every 25-30 years on average, hotels are generally retrofitted with updated equipment in less than 10-year intervals.
Overall, hospitality is expected to be the fastest-growing end-user industry for connected equipment involving retrofit projects aimed at making buildings "smart." This year, hotels will spend more than $500 million on connected equipment and will invest over $2.2 billion to refurbish guest rooms.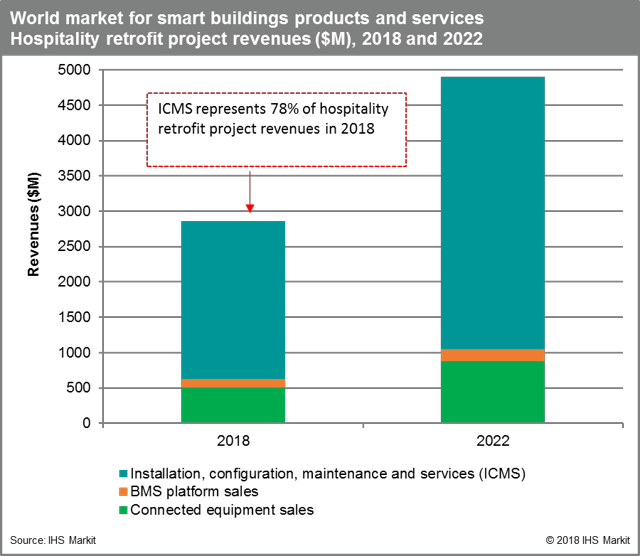 For guests, smart technologies and the integration of domains like energy and security within guest rooms will allow them to customize hotel rooms to match their unique preferences, with room conditions controlled from their mobile devices. In the short term, the most common application will involve mobile credentials, with guests' smartphones acting as electronic keycards to enter their rooms. However, smartphone applications are rapidly expanding to encompass more functionalities, enabling guests to control their room's climate, lighting, and appliance settings through a single device.
Eventually, many of these applications will be integrated with smart speakers, and guests will be able to manage room settings and receive guidance from virtual assistants through voice commands.
Keyless entry through smartphone applications
The most common smart building technology introduced in hotels is mobile credentials, which offer guests an alternative to traditional physical cards or keys to enter guest rooms. When a guest reserves a room, encrypted codes can be sent by push notifications to the guest's smartphone, which then enables the phone to function as a keycard. By holding the smartphone near the room's access control reader, the guest can automatically unlock the door. This technology has the potential to eliminate the need for registered users to stop at the front desk to check in with hotel clerks, as guests would have access to their room key before entering the property. Moreover, digital keys could ensure that access to guest rooms is maintained. While physical keycards can be misplaced, lost or stolen from guests, digital keys remain safe so long as guests have access to their smartphones.
Of all smart building technologies implemented in the hospitality sector, mobile credentials have been the most broadly adopted and are currently used in thousands of properties globally. IHS Markit estimates that between 2% and 4% of all hotels worldwide will use mobile credentials in 2018 to control access to some of their guest rooms. By 2022, more than 10% of all hotels are projected to utilize mobile credentials in this manner.
While most other smart building technologies have been implemented only by luxury five-star hotel properties, mobile credentials are enjoying broader adoption, with many hotel chains starting to roll out these applications for guests. At present, hotel chains offering rooms compatible with digital keys include the Hilton, Marriott, and Starwood, spread across approximately 1,000 properties, mostly located in North America. Still, digital keys are not equally optimal for all guests, so hotels incorporating this functionality are also maintaining conventional card access as an option for most of their guest rooms.
Mobile applications and smart guest rooms
As hotel guests become more accustomed to using smartphone programs to access their rooms, hoteliers can pursue opportunities to connect these applications to building management system (BMS) platforms. For instance, equipment from the energy and security domains in guest rooms can be linked together through centralized BMS platforms, and all domains can subsequently be controlled through customized inputs in the application.
Through these advanced in-room controls, guests can control variables associated with the lighting, temperature, blinds, and appliances in their rooms through their phones. This technology offers guests the opportunity to set personalized conditions for their rooms remotely, and variables can be altered before future occupants even arrive at the hotel. The most sophisticated room-control software can even remember guest preferences, automatically matching the room's parameters to occupants on the day of their reservations.
At present, smart in-room control of guest rooms currently lags behind mobile credentials in adoption rates, with less than 1% of all hotels currently integrating building management systems with smartphone applications. Even so, this technology is expected to grow dramatically in the next five years. Hilton is the first major hotel chain beginning to roll out guest room control as a new feature in their Hilton Honors smartphone application.
In the future, many hotels will also integrate smart speakers with their BMS platforms in guest rooms, enabling guests to alter lighting and climate parameters in rooms through voice commands. As with mobile credentials, hotels will generally offer guests the option to choose rooms with or without such functionality, as many guests will prefer to stay in traditional rooms without smart speakers, owing to privacy concerns. In general, voice-activated products will be more popular among hotels catering to millennials and in hotels located in technological hubs, such as Silicon Valley, Zurich, Munich, Singapore, and Hong Kong.
Hotels will act as trendsetters for smart buildings
Smart mirror is another device that has started to appear in the hotel industry. In smart mirrors, the electronics are embedded to add capabilities to the mirror's reflective surface, which can display entertainment or provide pertinent information to guests. While this technology is most commonly used to provide customers with immersive shopping experiences, many luxury hotels have begun experimenting with its implementation in guest rooms. Aside from providing screens to watch television or access the Internet, smart mirrors that are integrated with BMS platforms can provide users with an additional entry point to alter their room's lighting and temperature parameters.
A few hotels are even beginning to invest in robot butlers that can provide room services for guests. Hundreds of two- and three-foot-tall robot helpers are currently operating in hotels throughout North America and Western Europe. Most of these robots are designed to complete a single task, such as luggage handling or toiletry delivery. When the artificial intelligence in these robots is connected to a hotel's mobile application, customers can quickly prompt robots to perform services through their smartphones. Larger humanoid robots can now also be found, performing limited applications in labor-starved countries such as Japan, where they can be programmed to greet guests and answer basic inquiries.
The frequency of hotel retrofit projects and the highly competitive nature of the hospitality industry will mean that luxury hotels take a leading role in experimenting with new smart buildings technologies and integrating them with BMS platforms. With the hotel market expected to grow, more opportunities will be present for both start-ups and new market entrants of smart building technologies to penetrate - and potentially disrupt - the hotel industry, IHS Markit predicts.
To this end, companies like Telkonet are creating BMS platforms specifically catering to hotels, with the capability to store and recall guest preferences for connected domains. Unlike conventional BMS platforms from established building automation and IT companies that were frequently designed with offices and other commercial spaces in mind, the new platforms offer customization at the room level required to serve the needs of hotels.
Also projected to gain traction in the hospitality sector are providers of equipment suited for smart homes, such as ecobee smart thermostats, since hoteliers are expected to increasingly adopt smart home products in guest rooms.