Today, I'm kicking off a three-part series that answers a reader question. As a reminder, members of Ian's Insider Corner can get an analysis of a stock of their choosing (or some other investable asset) once per quarter. However, this general comment caught my eye, and I figured that I could answer it here:

Picking my top 30 or 40 favorite long-term holdings on a subjective basis would be pretty arbitrary. So to make the list, I simply pulled the top 30 holdings in my IMF Portfolio as of May 25th, and will provide my rationale and current outlook for those stocks.
These holdings make up 56.6% of the overall IMF portfolio, and as such will drive most of the overall performance in the portfolio. It's worth repeating that these largest positions have been built over the past 2+ years and don't necessarily reflect what I see as the best values today in the market. For that, see my weekly commentary in Ian's Insider Corner or follow me to see my monthly IMF buys posted here on Seeking Alpha. With that introduction, let's get started with my 30th largest holding in the IMF, and count them down to #1.
#30 Smith & Nephew (SNN) 1.0% of portfolio, 17% gain on cost basis
Smith & Nephew is a broadly diversified international medtech operator. Being based out of the UK, its stock got hit following Brexit, and as such was a timely addition for the portfolio. The portfolio's only other exposure to the space is via a tiny position in Johnson & Johnson (JNJ) - which is hardly a pureplay - so it's a solid diversifier.
Smith & Nephew gets roughly half its revenues from the US, 35% from other developed markets, and 15% from emerging, leading to strong geographic diversity. It also has a 10% or better market share in four different niches within the medtech space.
Now that Johnson & Johnson is back to 52-week lows, that one is probably more attractive for new money. SNN stock, at 17x forward earnings with 6% estimated earnings growth over the next five years should produce decent but not standout returns. The mid-2s dividend yield is again enough to get the job done, though hardly eye-catching. I'm a happy holder, particularly given my cost basis, but I see no rush to add to the position.
#29 Global Net Lease (GNL) 1.0% of portfolio, 1% loss
Fellow contributor Dane Bowler wrote an excellent in-depth article on Global Net Lease earlier this year, pointing out why this 11% yielder is actually safer and more attractive than numerous other REITs which yield less.
I'll just add to that a bit. I like the exposure to Europe and to offices, neither of which are represented that much elsewhere in the overall portfolio. There's also the nice perk that Global Net Lease pays a monthly dividend. As I'm not using my portfolio for income anytime soon, this is not particularly important. However, it's nice to have some stability from month to month in order to have a nice chunk of dividends to reinvest in the market regularly.
GNL stock plummeted earlier this spring, with the yield blowing out to more than 13% at one point. However, the stock has rebounded 20% now, as it appears that sellers have capitulated. Even so, the stock still yields 11%. That's high, and there's no guarantee that the dividend won't be trimmed in the future. Given the company's strong tenant base, however, I like the odds here.
#28 Walgreens Boots Alliance (WBA) 1.0% of portfolio, 9% loss
Walgreens Boots Alliance is one of the increasingly large number of out of favor Dividend Aristocrats. We're coming up on five years of this one trading sideways, which has led to an increasingly attractive starting yield and valuation: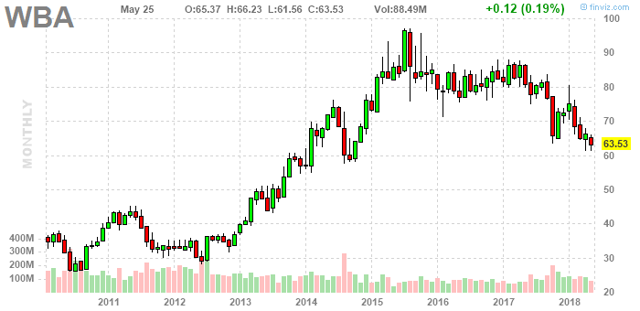 In fact, with the dividend at 2.5% (virtually unheard of for Walgreens over the past 30 years) and the forward P/E ratio under 10, this name has to be on a lot of dividend growth investors' radars. Is it worth buying today?
I've added more to the IMF in 2018. Sure, there is real disruption risk. Amazon (NASDAQ:AMZN) keeps hinting that it may enter the space aggressively, though of course there is way more regulatory overhang here than in other retail segments. There are other things that could go wrong, but at 10x earnings with 10% 5-year estimated EPS growth for a Dividend Aristocrat, the risk/reward is nice. I mean, even Best Buy (BBY), a textbook Amazon-exposed company, is at 14x forward earnings and yields the same as WBA stock. Seems like an easy choice.
#27 Orange (ORAN) 1.1% of portfolio, 17% gain
Count me among the relatively small group of investors that owns more Orange than Apple (NASDAQ:AAPL). In late 2016, the European telecoms were much more attractively priced than the US ones, so I bought a basket of names over there. Orange has done the job it was supposed to, outperforming the US guys fairly dramatically since then: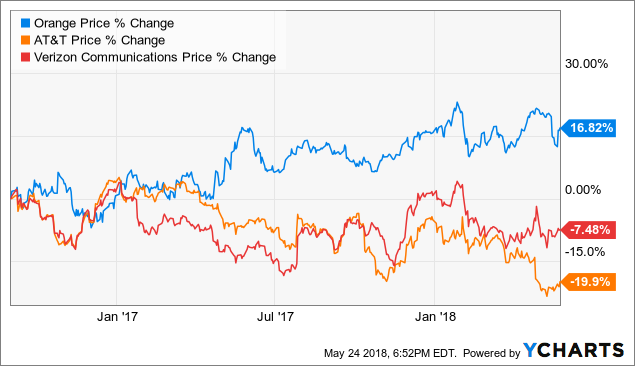 You'll never see the IMF overweight telecoms. Historically, these sorts of stocks simply don't keep up with the stock market indexes as a whole - you need more growth than you'll find here for outsized long-term returns. But I am running a quasi-index fund after all, and a little telecom exposure is okay. The dividend yields out of stocks like Orange help fund future investments into more rapidly growing companies. I'm unlikely to buy more Orange unless the price falls back to a significant discount to other telcos, but I'm happy to hold what I own.
#26 Compania Cervecerias Unidas (CCU) 1.1% of portfolio, 31% gain
Chile's dominant beer brewer has been a strong performer for the IMF. The company controls the outright majority of Chile's beer market, along with a smaller position in Argentina's beer market, wine exports, and the bottling of Pepsi in Chile.
The shares are down a bit lately, as Latin American stocks are down in general, and anything that does business in Argentina is especially selling off. That said, this is a classic buy and hold operation, as it earns fat profit margins with its monopoly position in Chilean beer.
The forward P/E ratio is back to a reasonable 18x with the recent sell-off. The greater than 2% dividend yield makes it easy to hold while we wait for some global megabrewer to eventually buy CCU out entirely. While the stock was fully valued at $30, here it looks like a reasonable target if you're lacking on either beer or Chilean equities.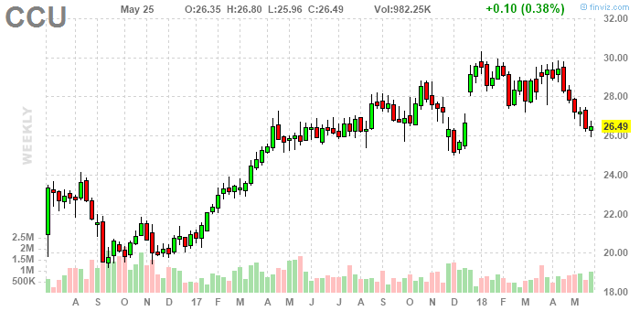 #25 Kimco (KIM) 1.1% of portfolio, at cost basis
Kimco, along with most other shopping center and mall REITs, has gotten whacked over the past two years. The stock is down more than 50% since mid-2016. However, unlike other peers such as low-end mall REITs, you'd think Kimco would be holding up much better.
The company has a strong credit rating and doesn't use excessive leverage. It has managed its property holdings well to ensure that it is mostly exposed to larger markets. Its tenant rent roll shows few companies that are likely to be destroyed by e-commerce in the near term.
All in all, the retail apocalypse remains problematic - expect pressure on rents everywhere due to there simply being too much space - but Kimco seems well-positioned to adapt. I'm not as bullish as some others on Kimco. I don't see the stock going back to $30 anytime soon. But a 7.5% yield on cost basis and even a return to, say, $20/share would be perfectly fine.
Given Kimco's strong balance sheet and exceedingly high yield, I'm less concerned about the impact of rising rates here versus other REITs, since a 7.5% yield offers such a premium to treasuries that even a few more Fed hikes would hardly move the needle on the spread between the two. As it is, KIM stock may sell off again, but the chart is looking more constructive, and its operating results remain fine enough.
#24 Northrim BanCorp (NRIM) 1.2% of portfolio, 49% gain
This is the biggest winner for the portfolio of the ten stocks we're looking at today. Northrim is one of just three major banks in the Alaskan market. That lack of competition has allowed the bank to earn outsized net interest margins - historically at least 1% above the national average. With huge margins come admirable profitability ratios.
At the time of my purchases, back in 2016, oil was in the dumps, so people were down on Alaska. Made it perfect to add to my community banking basket at 0.93x book value and just 10x (trough) earnings.
Fast forward to 2018, and people like oil again. These things go in cycles after all. NRIM stock initially took off with banks in general following Trump's win, but it's really spiked up this year as investors are anticipating that Alaska will become prosperous again. For Northrim, as one of the few banks operating in that state, a surge in profitability should be on the way. Even after a nice run this year, the stock is at just 15x forward earnings and 1.4x book value - there's probably more room to go here: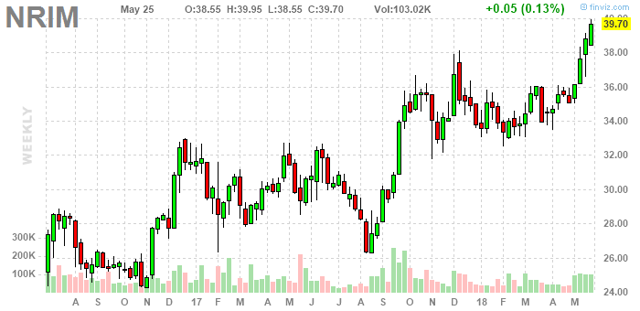 Finally, I'd note that my article on the company back in 2016 is the most recent on NRIM here at Seeking Alpha. Sometimes it pays to go looking through the weeds for bargain stocks, as we do at Ian's Insider Corner.
#23 National Grid (NGG) 1.2% of portfolio, 7% loss
The IMF acquired this UK power utility as part of the Brexit Basket following that vote in 2016. Alas, UK stocks have continued to struggle, leaving the performance of said basket at just so-so, aside from Diageo's (DEO) large gains.
National Grid bounced back in the wake of Brexit, but shares have slumped again as part of the broader turn away from utility stocks as interest rates surge. As it is, the IMF only owns one US utility stock, so I'm happy to have exposure to the sector via NGG, even if nobody wants to own this sort of stock at the moment due to interest rates.
The stock yields 5%, which is nice. But the company only plans to raise the dividend at the UK inflation rate, which is not nice. Overall, this is a classic bond-like holding. If you have a place for those in your portfolio, this sort of stock could fit the bill. Do be aware that they are a little constrained on the balance sheet for the time being. Given the slump in US utility stocks, there's less need to go overseas to get exposure to this sector as compared to 2016, when I was buying National Grid.
#22 Coca-Cola Femsa (KOF) 1.2% of portfolio, 11% loss
This is the other 3% yielding entity associated with Coca-Cola (KO). KOF is Latin America's largest Coke bottler, having a dominant position in Mexico, and various operations around South America.
Shares are down by two-thirds since 2013 (though they'd tripled previously) due to currency weakness, Venezuela imploding, and a general aversion for Mexican stocks. Is that fair? The stock looks reasonably priced though not screamingly cheap on an earnings basis (15x forward). But they're earning way short of potential. Get Venezuela out of hyperinflation so that market produces profits again, and combine with a Mexican Peso that was closer to fair value, and earnings would skyrocket. More on Mexico's outlook with the next holding: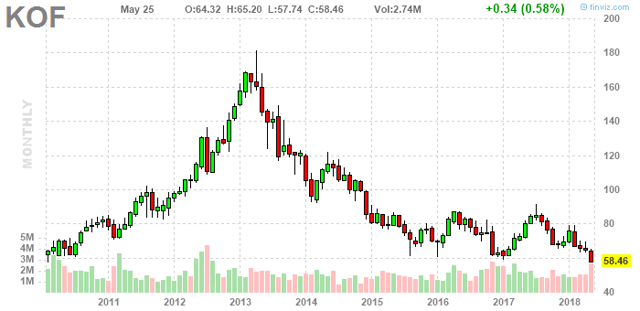 Even boring stocks such as Coca-Cola bottlers can have massive beta when located in emerging markets. For investors willing to buy low and then hold for a few years, good things tend to happen.
#21 Banco Santander Mexico (BSMX) 1.2% of portfolio, 14% loss
Santander Mexico, the crown jewel of the Spanish Santander banking empire, was briefly a big winner for the IMF. Shares rocketed up to $10 last summer as Trump fears dissipated in Mexico and optimism returned. Sadly, unfavorable presidential election polling in Mexico combined with a general LatAm stock selloff has BSMX stock back to 52-week lows and in fact below post-Trump election panic levels: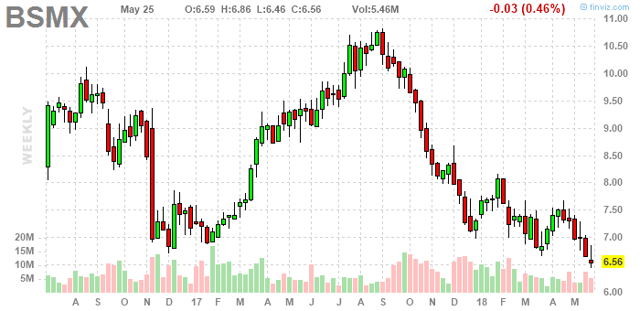 Is the current price an opportunity? Absolutely - this is arguably Mexico's best bank, and it's down more than 60% from 2013 levels. If you're bullish on Mexico, you want to hold some of this. Is this the time to buy it though?
The Mexican presidential election is coming up in about five weeks, and a leftist is likely (though not certain) to win. I'd argue this is largely priced into Mexican stocks, but you never know. A NAFTA deal that is acceptable to Mexico seems likely, but something could go wrong there too.
And Mexico, as the holder of the region's most tradable currency, is constantly used as a hedge to bet against other more illiquid countries such as Brazil and Argentina. Both of those, not coincidentally, are currently in panic mode, which has far away hedge fund managers dumping the continent in general, and Mexican assets in particular. When will it end? In July, if a pro-business candidate wins the presidency in Mexico. Other than that, who knows. I'm long Mexico, and will keep adding, but patience may be required for the next upswing.
Next up, the IMF's top holdings #20 through #11. We'll be back with that later this week.
Disclosure: I am/we are long ALL 10 HIGHLIGHTED STOCKS.
I wrote this article myself, and it expresses my own opinions. I am not receiving compensation for it (other than from Seeking Alpha). I have no business relationship with any company whose stock is mentioned in this article.