The World cup kicks off on June 14th @ 11 AM Eastern when Russia hosts Saudi Arabia. For a month the world will be focused on the games. The purpose of this article is to review apparel stocks Adidas (OTCQX:ADDYY), Nike (NKE), Under Armour (UAA) and Puma (OTCPK:PMMAF) for potential purchase.
Adidas CEO Kasper Rorsted played down the impact of the games on sales, but said that they are very important for the brand. I'd agree with that however Adidas did sell $2.4 billion worth of soccer gear in 2014. Part of that was a German championship but there were other success stories like a 45% YoY sales increase in Mexico, and selling 60% more jerseys for Colombia than they did for France in the previous World Cup.
Sponsorships
Below are the countries participating in the games, the sponsor, and the approximate payout to win the championship. For example, Argentina @ 9/1 means if you bet $100 and they win the Cup you get $900 winnings plus your $100 wager back.
Nike is sponsoring the overall favorite (Brazil) and 5 of the top 10. Adidas is sponsoring the returning champion (Germany slight #2), runner up (Argentina), and 4 of the top 6 teams. On paper, the champions are most likely to be wearing Adidas Jerseys when they hold up the trophy on July 15th in Moscow.
Brazil - Nike ~ 4 (Won 5 World Cups)
Germany - Adidas ~ 4.5 (Defending Champs won 4 World Cups)
Spain - Adidas ~ 6 (Won 1 World Cup)
France - Nike ~ 6 (Won 1 World Cup)
Argentina - Adidas ~ 9 (Won 2 World Cups)
Belgium - Adidas ~ 11
England - Nike ~ 16 (Won 1 World Cup)
Portugal - Nike ~ 25
Uruguay - Puma 28 (Won 2 World Cups)
Croatia - Nike ~ 33
Colombia - Adidas ~ 33-40
Russia - Adidas ~ 40
Poland - Nike ~ 50
Denmark - Hummel ~ 80-100
Mexico - Adidas ~ 100
Switzerland - Puma ~100
Egypt - Adidas ~ 150
Sweden - Adidas ~ 150
Senegal - Puma ~ 150-200
Serbia - Puma ~ 150-200
Nigeria - Nike ~200
Peru - Umbro ~ 200
Iceland - Errea ~ 200
Japan - Adidas ~ 200- 300
Morocco - Adidas ~250 - 500
South Korea - Nike ~ 250-750
Australia - Nike ~ 500
Costa Rica - New Balance ~ 500
Iran - Adidas ~ 500
Tunisia - Uhlsport ~ 750
Panama - New Balance ~ 1000
Saudi Arabia - Nike ~ 1000
Adidas 12 National teams
Nike 10 National teams
Puma - 4 National teams
New Balance - 2 National teams
Umbro, Hummel, Errea, Uhlsport - 1
*Nike also had some high profile teams fail to qualify like Chile (9), Netherlands (19), and the United States (24). FIFA Ratings are in parenthesis. A few others that did not make it were Slovakia (29), Turkey (37), Greece (44). New Zealand (Nike) lost to Peru (Umbro) for the final spot of the tournament. The Netherlands finished runner up back in 2010 and couldn't even qualify. How man team USA Jerseys will Nike sell with America out of the tournament? That's a big miss, especially in a growing U.S. soccer market.
* Puma only has 4 teams, they had 8 in the last World Cup and realistically had 10 in play. Some of their failed qualifiers include Italy (20), Austria (26), Czech Republic (45), Cameron (50), Ghana, and Ivory Coast. Puma might have lost before the games even started with 4 less teams and 4x Cup Winner Italy not even making it.
* Under Armour has zero teams playing in the games.
* Adidas is also the official sponsor of the World Cup through 2030. A few of their teams that did not make it are Wales (21), Northern Ireland (27), Paraguay (32), Congo (38), Venezuela (39), Bosnia (41). Sure, one of the smaller market U.K. teams could have made it but all things considered Adidas made out like bandits.
Taking stock with teens Spring 2018
The bi-annual Piper Jaffray survey of 6,000 teens can be used as a leading indicator or at least reinforcement of current trends.
Much of the data can be read here courtesy of SGB Media. After studying the data points I'd agree with their conclusions.
Adidas was the big winner. They reported nice year over year increases and were the #1 new brand that teen boys are wearing and #2 new brand that teen girls are wearing.
Nike is still #1 but lost ground for upper income teens 31% to 23% YoY and average income teens 27% to 25%.
Under Armour lost the most. For the 3rd survey in a row it was the #1 brand being ditched by teenage boys. It also fell from the 14th most preferred footwear brand to 24th most. Fashion trends come and go but as I've argued in the past, if Under Armour can't get shoes right this brand will never be what the longs want it to be. Being out of favor is one thing, but having a weak footwear brand get weaker is devastating.
Most recent data
Revenue increases (sourced from company filings, earnings transcripts)
Adidas 10% (currency neutral)
Nike 7%
Puma 21.5% (currency adjusted)
Under Armour 6.3%
North American Revenue growth
Adidas +21%
Nike (6%)
Under Armour (1%) (currency neutral)
Puma >10%
International Revenue Growth
Adidas 5% Western Europe, 10% Latin America, 15% Asia Pacific *including +26% in China, (5%) EM, (15%) Russia.
Nike 19% EMEA, 24% China, 13% Asia Pacific (Ex-China) + Latin America
Under Armour 23% EMEA, 35% Asia Pacific, 21% Latin America
Puma Over 10%
Footwear
Adidas: Single digits
Nike: 5%
Under Armour: +1%
Puma: Over 10%
Apparel
Adidas: Mid-teens
Nike: 13%
Under Armour: 7%
Puma: Over 10%
Operating Margins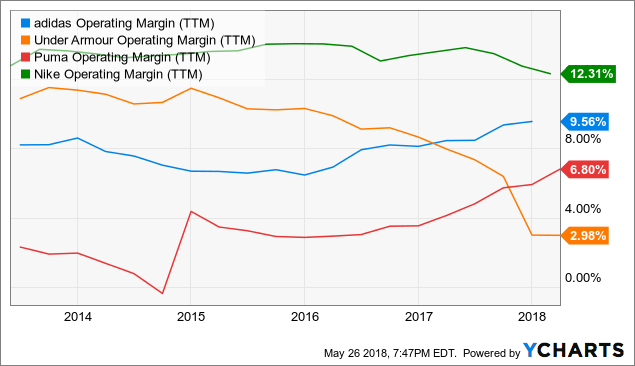 Valuations - (Forward PE per Morningstar)
Adidas 23.4
Nike 27.5
Under Armour 116.3
Puma 36.1
Adidas Commentary
Adidas is #1 for soccer and the world is about to focus on that in a big way. They grew revenue 21% in North America while Nike and Under Armour shrunk in their home market. All of the data confirms Adidas popularity as they are the "hottest" brand right now. At the same time the stock has nearly tripled in 3 years. The apparel market isn't a zero sum game but I can't help buy say that much of the rise of Adidas has come at the expense of Under Armour.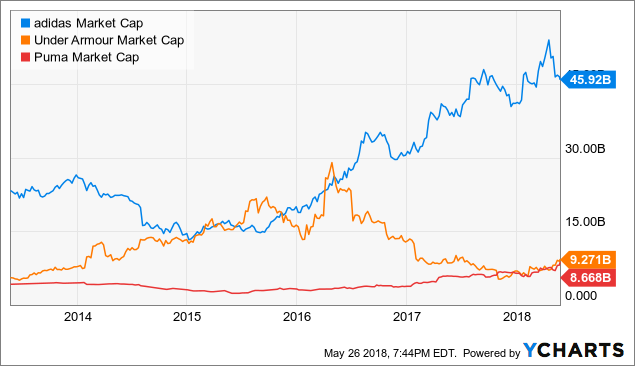 Adidas was declining as Under Armour was rising. Then Adidas jumped from a $15 billion market cap to $45 billion now. Under Armour very quickly rose from $15 billion to $30 billion and has fallen to $9 billion.
The better that Adidas does in North America, the worse it is for Under Armour. Whatever happened to, "We must protect this house"?
Under Armour Commentary
This company could seriously be in a death spiral. I know they have aspirations to one day challenge Nike but that doesn't look like it's ever going to happen. Maybe they could turn into some sort of regional niche player.
To make it big they will have to sell shoes and they will have to grow overseas. Selling athletic gear to women wouldn't hurt either. Right now their footwear grew 1% in the last quarter. The international business grew but off of such low levels. Under Armour pulled in $1.2 billion of global revenue last quarter, 80% of that being domestic. Nike sold more merchandise ($1.3 billion) in China alone. So when UAA brags they grew 35% in Asia last quarter, just put that 116 million into perspective. Nike only grew 24% in China alone (rest of Asia excluded), and pulled in 10 times the revenue in 1 country vs the entire region.
Under Armour is horribly managed right now. I say that because of their falling margins, 27% spike in inventory, 28% rise in accounts receivable, layoffs and turnover in the E team.
Under Armour is weak at soccer. That's bad because it's the #1 sport in the world. 8 companies are sponsoring World Cup teams and Under Armour isn't one of them. How are you realistically going to expand into Europe and Asia when your shoes are unpopular and you have a small footprint in soccer? Are they likely to go into Europe and unseat Adidas, Puma and Nike? NO, it's quite the opposite, what's happening is that Adidas and Puma are coming to North America and out growing Nike and Under Armour in their own backyard.
Under Armour losing MLB. It has been reported that UA is backing out of their major league baseball deal to save $50 million dollars. This is probably good news as the company is finally displaying financial discipline. Spending a billion dollars on fitness apps, high end Manhattan real estate, the largest deal in NCAA history, and a baseball deal cost this company. Every single time the company went on a spending spree the longs thought it was more reason to buy. Now the company has had a slowdown in revenue, rise in inventory, and they are tightening their belts.
Given the spendthrift ways, the company will still have to spend money to grow overseas. The best way to do that is soccer. Only 1 of the teams 14 they sponsor is in the premier league and they are currently in 17th out of 20th place. Keep in mind Nike sponsors almost 250 teams including Barcelona, Athletico Madrid, Man City, Chelsea, Tottenham, PSG, Roma. Adidas sponsors a similar amount of teams including Real Madrid, Baynern Munich, Man U, Juventus. Even Puma sponsors over 100 teams including Arsenal, AC Milan (start of next season) and Borussia Dortmund.
Under Armour is being priced like a growth company, but they are growing slower than their bigger, better competitors. They are currently fundamentally mismanaged, doing poor in their core market and they need to spend to grow abroad. All that and they are still priced higher than the competition. Needless to say I am not a fan.
Nike Commentary
Nike is a top 10 holding of mine and they are still the #1 apparel company. You can read about why I went long in 2016 here. Initial purchase on June 17th 2016 @ $53.85 is trading about equal to SPY on a total return basis. I added on May 18th 2017 @ $51.66 and Nike is handily beating the market since then (pic below). If it wasn't for a slight dividend cut 5 days after 9/11, Nike would have kept the dividend the same or raised it every year since 1987. I would not start a new position or add to my position at current prices.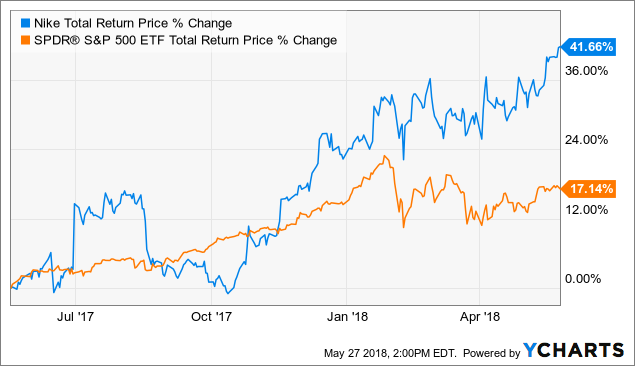 Puma Commentary
Puma is entering the basketball market as a way to gain market share in the U.S. and China. They are going to partner with athletes and celebrities linked to basketball. Puma has been another beneficiary of Under Armour's demise. 3 months ago I argued that, I'd rather buy Puma than Under Armour.
Take away
The World Cup is going to be an amazing event. At current prices I'd enjoy the games and ignore the apparel makers. None of these stocks are cheap.
Adidas is certainly the "hottest" right now and it's not even the most expensive. Under Armour has the slowest growth, biggest problems, is the only one that doesn't pay a dividend and it's the most expensive. UA's failure to ever gain traction in footwear makes me think they won't ever be the global power house they aspire to.
As mentioned I'm already long Nike in the low 50's. If I had to buy one of these stocks right now I'd buy Adidas. Nike and Puma are holds. Under Armour is a sell.
May the best team win.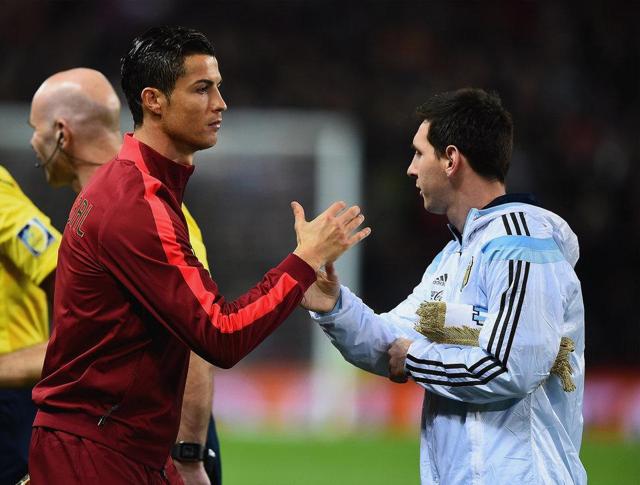 Disclosure: I am/we are long NKE. I wrote this article myself, and it expresses my own opinions. I am not receiving compensation for it (other than from Seeking Alpha). I have no business relationship with any company whose stock is mentioned in this article.
Editor's Note: This article discusses one or more securities that do not trade on a major U.S. exchange. Please be aware of the risks associated with these stocks.