Free Cash Flow does not lie
The reason we use free cash flow (FCF) as the basis for much of our analysis is that it is difficult to manipulate, unlike earnings per share. When a company does not generate any free cash flow our algorithm automatically assigns a Main Street Price (estimated current value) of zero. We do not gamble on companies that burn through cash without the ability to generate enough free cash flow to maintain operations without borrowing or diluting shareholders through stock issuance. There is nothing wrong with doing so, but we are risk averse investors, so it does not align with our philosophy.
We also calculate free cash flow differently from the traditional method. Why? Because we have found (through back testing) that by using our methodology we can more reliably identify companies with significant growth potential. We simplify the calculation by leaving out all of the changes in balance sheet items that move up and down from one quarter to the next. We consider these to be mostly temporary noise that can be manipulated by management over the short term. Our calculation is simply: (Net Income + Depreciation + Amortization – Capital Expenditures) / Diluted Shares Outstanding.
We realize that we will get comments that tell us we are crazy for using this approach. But the results from the back test stand the test of time over the 60-year period we used. We cannot take credit for this methodology as it was first introduced by Arnold Bernhard, founder of The Value Line Investment Survey, many years ago. However, Value Line uses the calculated result for a different purpose than we do.
More recently (August 7, 2017) we created a portfolio based upon free cash flow analysis as the foundation of stock selection. We are very please with the results thus far: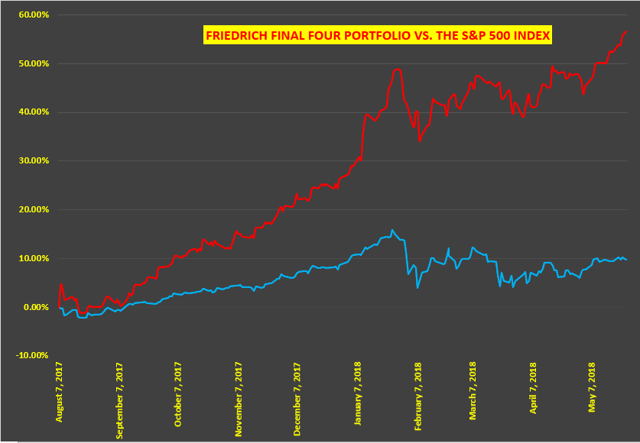 We are the red line. Our gain has been 56.67% vs 9.69% for the S&P 500 Index since August 2017. Year-to-Date our model portfolio is up +30.36% for 2018 vs. +1.03% for the S&P 500 Index. So, criticize our methodology if you like but we will stick with what is working.
Our algorithm produces what we call data files and quantitative charts for each of the more than 17,000 stocks worldwide for which we provide analysis. Below are examples of a data file and chart for one of the components held in the Powershares S&P Global Water Index Portfolio ETF (CGW). We chose American Water Works (AWK) because most investors will be familiar with the company.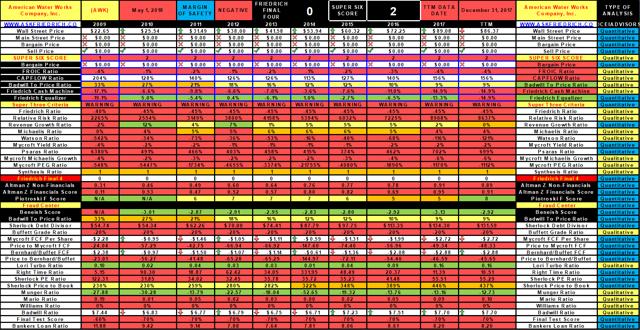 Notice that we include ten years of ratios with each U.S. stock (five years for foreign stocks). This is important because consistency is one factor upon which we place a lot of weight. Great companies tend to produce superior results regularly with perhaps only a minor blip over a ten-year period. We can also identify companies that are improving from year to year. We also only use GAAP (generally accepted accounting principles) because adjusted or proforma results can be manipulated by management.
On the downside, one-time events can skew GAAP results so we have to be aware of that possibility and check big improvements that appear to be too good to be true. There have been a lot of those recently because of the differing impacts that tax reform has had on companies. On the positive side, what you see is what you get (we used to call that Wysiwyg) without emotions or bias. Just the facts, plain and simple.
We focus primarily on FROIC (free cash flow return on invested capital), Friedrich Cash Machine (free cash flow generated from each dollar of revenue), Mycroft Yield (expected future 12-month investor earnings adjusted for debt), the Sherlock Debt Divisor (used to adjust ratios to account for a company's capital structure), the Price to Mycroft Free Cash Flow (identifies companies priced well relative to an expanded version of free cash flow) and the Price to Bernhard/Buffett FCF ratio (identifies companies with superior growth prospects at reasonable FCF valuations). These ratios explain a lot about a company in just a few seconds. For detailed explanations and formulas used in these ratios, please refer to this link.
The key is to take the emotions out of stock selection and try to not make a stock value fit your desired outcome. The algorithm is totally emotionless and based strictly on the math to give unbiased opinions about each company and the potential growth for its stock.
For a quick view of how much growth potential a stock has relative to its free cash flow valuation we include a quantitative chart for each company. Here is one for AWK: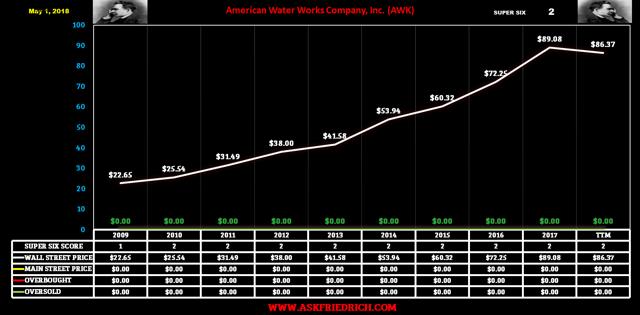 Friedrich rates AWK as overbought. It is a good company for those seeking income with a gradual dividend growth potential over time. The company is a water utility. Much of its operations are regulated. For investors looking for income that is usually a good thing in that utilities are generally allowed a reasonable rate of return by state rate commissions. This system most often provides investors with dependable, rising dividends but not much real growth in price.
There will be periods of strong growth, especially within a low or falling interest rate environment, but when rates rise the cost of capital goes up also adding to the interest expense line. Also, the new tax law limits how much interest expense can be deducted for tax purposes. Most utilities borrow money regularly; it is just how the business model is designed.
Finally, many utilities are unable to generate FCF because of the high capital expenditure costs. If you look at the AWK data file (table above the chart) you will see that the Capflow ratio (percentage of cash flow used for capital expenses) is consistently above 100%. That means the company cannot produce FCF and must rely on additional debt to maintain operations. It must also borrow for acquisitions and to pay dividends. So, when interest rates rise, expenses rise and margins tend to fall. We do not expect the price on AWK (or many other utilities) to improve in the current rising interest rate environment. To the contrary, we expect most to be lower a year from now. If you are seeking appreciation this is not the place to be, in our opinion. When interest rate top and begin to fall again prices should be lower with more upside potential to go with the rising dividends.
I am including a link to each company's web page for those who would like to learn more about any of the individual businesses. https://amwater.com/
As you can see, Friedrich has never identified the stock as a good value relative to its FCF. How do we see those results? The white line is the market price (or Wall Street Price; at year-end or recent for TTM – trailing twelve months). The yellow line is the Friedrich Main Street Price (or estimated value). The red line signifies an overbought level and the green line represents an oversold condition (or what we like to call a "bargain price").
So, when the white line goes below the green line the stock is considered a bargain and we buy the stock (as long as the company has posted consistently good (or consistently improving) results in the past. We assess value and future potential based upon FCF generation so it stands to reason that our model will not place any value on a company that does not generate any FCF.
When the Wall Street Price is no longer oversold (a bargain) but still below the Main Street Price it still represents a good value and could be bought. When the Wall Street Price is above the Main Street Price but still below the Overbought Price it is a hold. The closer the white line is to the yellow line the stronger the hold rating. When it rises above the red line and becomes overbought, Friedrich issues a warning signal. Risk averse investors may want to sell a stock at this point. For the long-term, conservative investor the warning may signal that it is time to review the holding and sell if its future potential no longer meets the investor's expected total return requirements.
So, with the explanations out of the way, let's take a look at the charts for each of the 20 out of the top 25 holdings in the CGW ETF (exchange-traded fund) for which Friedrich has coverage. Those we do not have coverage for are either in a country that we do not yet follow, report in one currency while being priced in another (making it near impossible to analyze properly with the algorithm) or because the data reported by the company is incomplete.
Top Fund Holdings
The following table listing the top 25 holdings is from Morningstar.
| | | | |
| --- | --- | --- | --- |
| Company | Ticker | % Weight | Market Cap |
| American Water Works | AWK | 8.53% | $14.3B |
| Xylem Inc. | XYL | 5.98% | $13.0B |
| Danaher Corp | DHR | 5.14% | $70.8B |
| GeberIt AG | GEBN.VX | 5.10% | $16.5B |
| Veolia Environnement SA | VIE.PA | 5.00% | $13.0B |
| IDEX Corp | IEX | 4.95% | $10.8B |
| United Utilities Group PLC | UU.L | 4.29% | $7.3B |
| Severn Trent PLC | SVT.L | 3.91% | $6.6B |
| Suez SA | SZEVF | 3.74% | $9.1B |
| Alfa Laval AB | ALFVY | 3.65% | $11.1B |
| Aqua America Inc. | WTR | 3.55% | $6.0B |
| Pentair PLC | PNR | 3.31% | $8.2B |
| Halma PLC | HLMA.L | 3.07% | $6.9B |
| Guangdong Investment | 0270.HK | 2.89% | $11.1B |
| Olin Corp | OLN | 2.60% | $5.6B |
| Algonquin Power & Utilities Corp | AQN | 2.50% | $4.6B |
| Pennon Group PLC | PNN.L | 2.42% | $4.2B |
| Aalberts Industries NV | AALB.AS | 2.18% | $5.6B |
| Coway Co Ltd | 021240.KS | 2.02% | $5.8B |
| Beijing Enterprises Water Group Ltd | 0371.HK | 1.94% | $5.9B |
| nVent Electric PLC | NVT | 1.81% | $4.6B |
| Tetra Tech Inc. | TTEK | 1.78% | $3.0B |
| Andritz AG | AZ2.DE | 1.63% | $5.2B |
| Ebara Corp | EBCOY | 1.56% | $3.8B |
| Companhia De Saneamento Basico Do Estado De Sao Paulo ADR | SBS | 1.42% | $4.9B |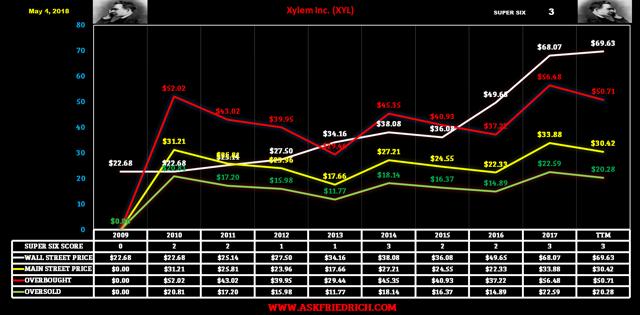 Xylem (XYL) is overbought. It represented a good value, according to Friedrich, back in 2010 and 2011. We like to get into a stock when the algorithm shows us a good value.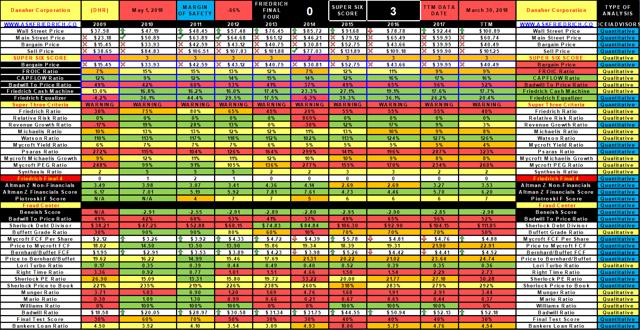 I thought that another example of a data file would be useful, especially one that is not all red (bad). Danaher (DHR) is not a utility so it provides a better example of how many companies' data will be displayed. Green is excellent, yellow is good, orange is average and red is bad. The color coding enables us to get a quick sense of performance at a glance.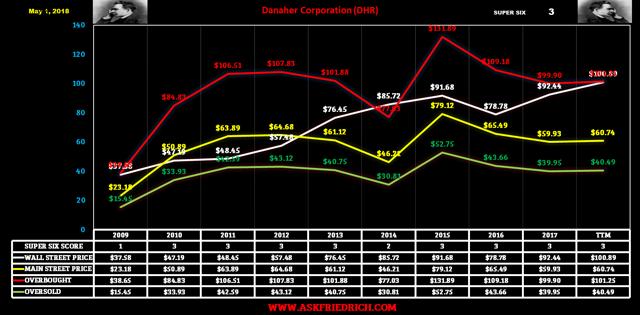 DHR is also overbought but represented a good value from 2010 to 2012. It is still rated a hold by Friedrich.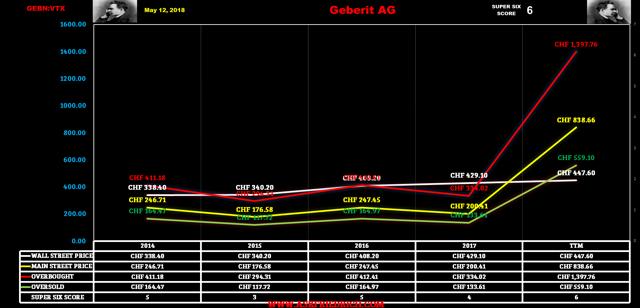 Geberit (GEBN.VX) is rated a buy by Friedrich since the projected value of the company has improved since the beginning of 2018.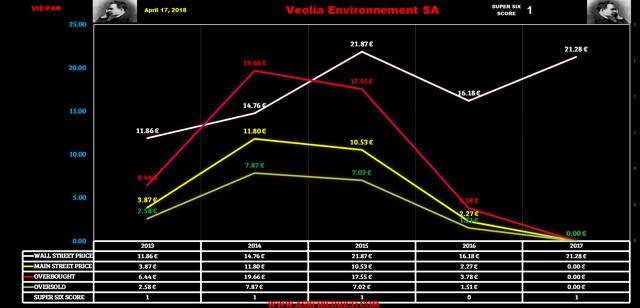 Veolia Envioronnement SA (VIE.PA) is overbought in a big way.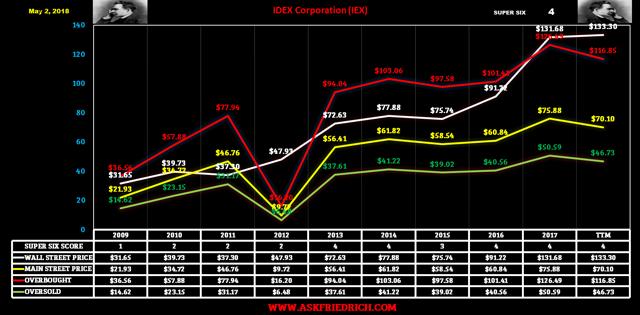 IDEX Corporation (IEX) is also currently overbought.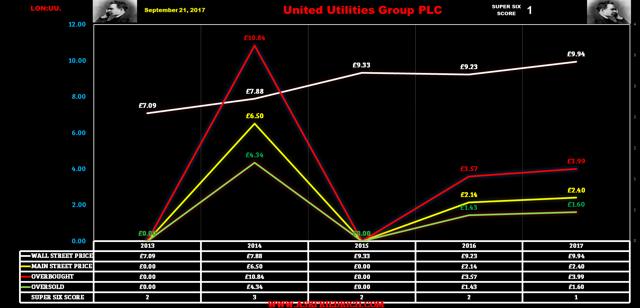 United Utilities Group (UU.L) tends to be overbought for the long haul due to its relatively low FCF generation capability.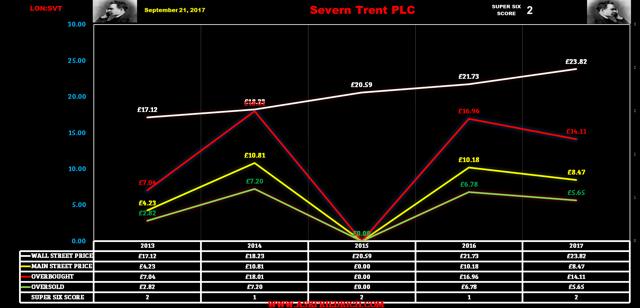 Severn Trent PLC (SVT.L) is also overbought.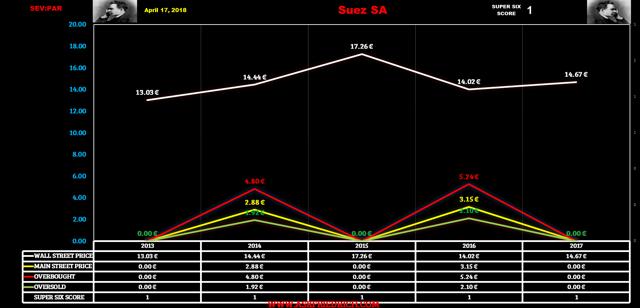 Suez SA (SEV.PA) again is overbought.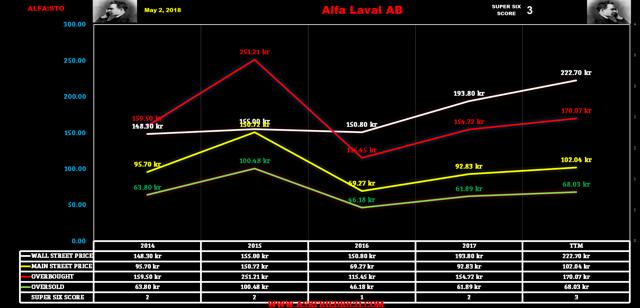 Alfa Laval AB (ALFA.ST) is rated overbought.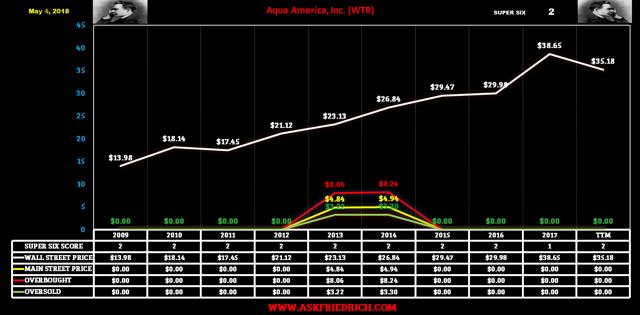 Aqua America (WTR) is another regulated utility that cannot generate FCF so it is rated overbought.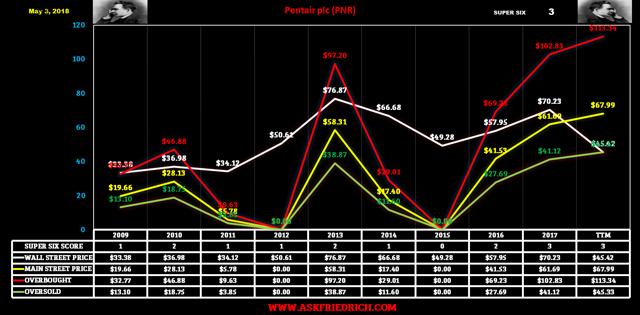 Pentair (PNR) is one of the few U.S. stock currently rated a buy by Friedrich. However, as we can see from the chart, the shares have fallen in price since year end creating the bargain. Because the FCF generation has continued to rise, though, Friedrich thinks the problem is probably related to a one-time charge resulting from the change in tax law. With a lower future tax rate leaving more FCF to be generated from each revenue dollar the future could be bright for PNR. The big hit came due to a huge miss in Q1 2018 on earnings.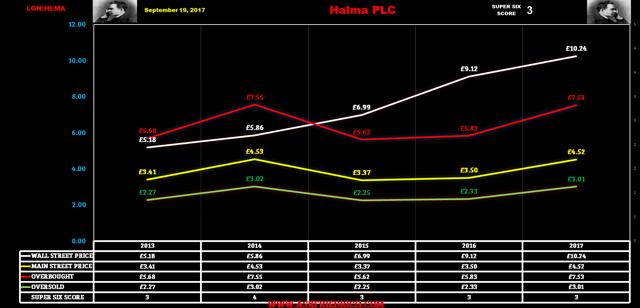 Halma PLC (HLMA.L) is overbought.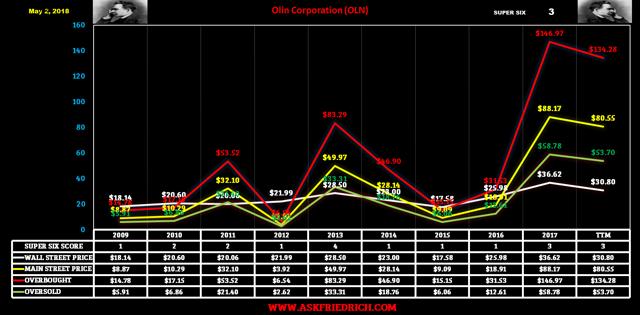 Olin Corporation is considered a bargain at the current price level by Friedrich. The company is rated a strong buy.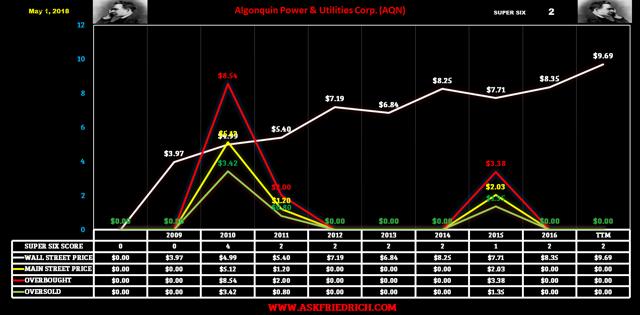 Algonquin Power & Utilities Corporation (AQN) is overbought.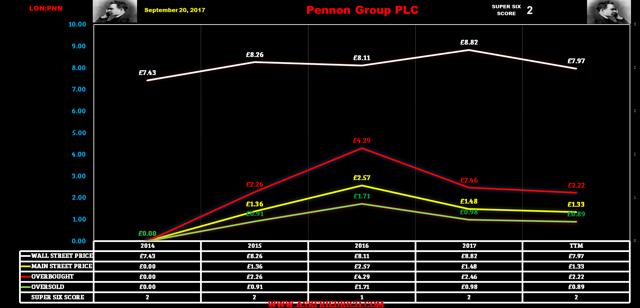 Pennon Group PLC (PNN.L) is really overbought.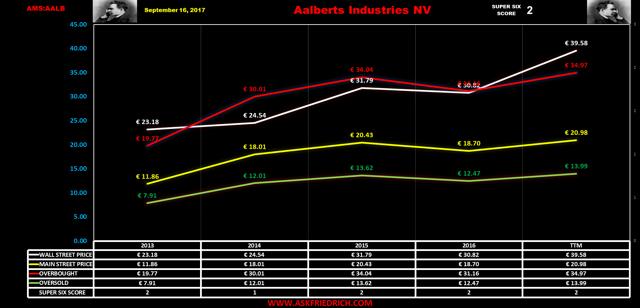 Aalberts Industries NV (AALB.AS) is overbought.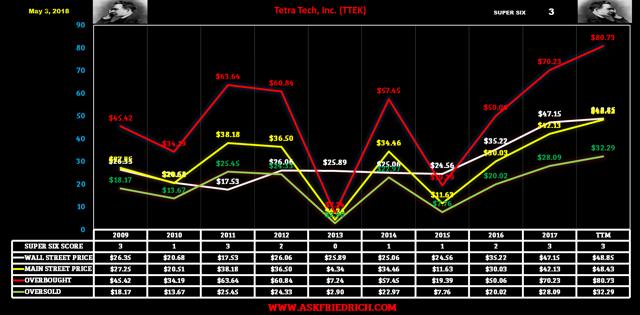 Tetra Tech (TTEK) is not a bargain but represents an approximation to fair value according to Friedrich. It is rated a strong hold.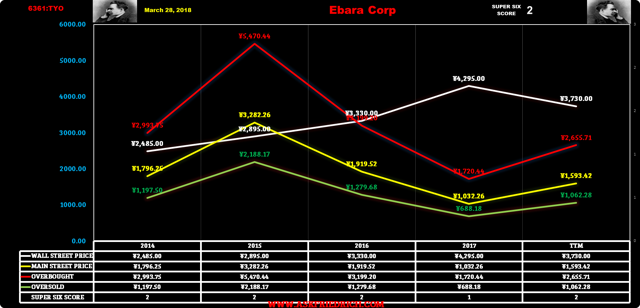 Ebara Corporation (OTCPK:EBCOY) is traded OTC in the U.S. but the data filed is not up to date so I have replaced it with the chart in local currency (Japanese Yen) for the ticker on the Tokyo Exchange (6361.T). Friedrich had rated it a buy in 2013 (from which the stock has risen nearly 50%) but now considers the stock overbought.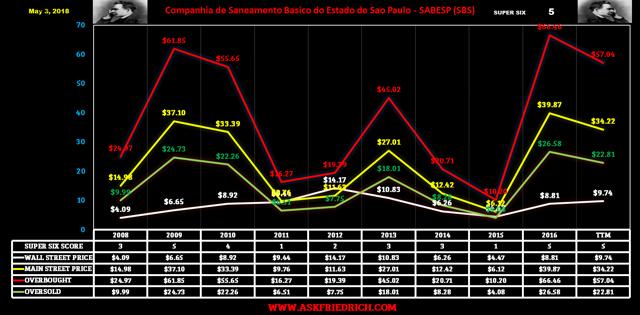 Finally, Companhia de Saneamento Basic o do Estado de Sau Paulo (SBS) is a Brazilian company traded as an ADR (American Depositary Receipt) in the U.S. If is rated a strong buy by Friedrich.
Taken as a Whole
Unless one has the time and expertise to analyze all stocks in an industry, diversification is important to reduce the overall risk. But there is still risk.
Since the prospects for continued growth of this industry may be good due to a growing global population and limited supply, the ETF may provide a decent return on investment over the very long term. However, we believe an investor could be more discriminating and build a portfolio with much better prospects by purchasing only those that represent a good value. It would mean giving up some diversification by concentrating in fewer stocks but it should also create a higher quality holding overall with much better long-term potential returns. We prefer to stick with quality and avoid the dogs often found inside ETFs along with great, good and average companies.
Diversification is good. But too much of a good thing can result in subpar results.
Investors in ETF need to remember a very important point. When institutional investors decide to take profits by selling a given ETF, all of the underlying stocks may fall as sales of the ETF means sales of each of the component stocks. Always remember that Wall Street has a herd mentality and "sell first, research later" is not just a saying.
If you have any questions, please feel free to ask them in the comment section below and don't forget to hit the "Follow" button next to my name at the top of this article. For those who would like to learn more about my investment philosophy, please consider reading " How I Created My Own Portfolio Over a Lifetime" or check out my webpage at BernFactor.com.
Disclosure: I/we have no positions in any stocks mentioned, and no plans to initiate any positions within the next 72 hours.
I wrote this article myself, and it expresses my own opinions. I am not receiving compensation for it (other than from Seeking Alpha). I have no business relationship with any company whose stock is mentioned in this article.
Additional disclosure: DISCLAIMER: This analysis is not advice to buy or sell this or any stock; it is just pointing out an objective observation of unique patterns that developed from our research. Factual material is obtained from sources believed to be reliable, but the poster is not responsible for any errors or omissions, or for the results of actions taken based on information contained herein. Nothing herein should be construed as an offer to buy or sell securities or to give individual investment advice.
Editor's Note: This article discusses one or more securities that do not trade on a major U.S. exchange. Please be aware of the risks associated with these stocks.