Welcome to the neutral edition of Natural Gas Daily!
Housekeeping item first.
We expect a +100 Bcf change in the storage report for the week ended May 25. A storage report of +100 Bcf would compare with +81 Bcf last year and +97 Bcf for the five-year average.

Source: ICE
Natural gas prices are taking it on the chin today following a slew of cooler than normal weather updates over the last 24 hours.
As you can see below, CDDs have started to come in lower starting the second week of June over the last 24 hours.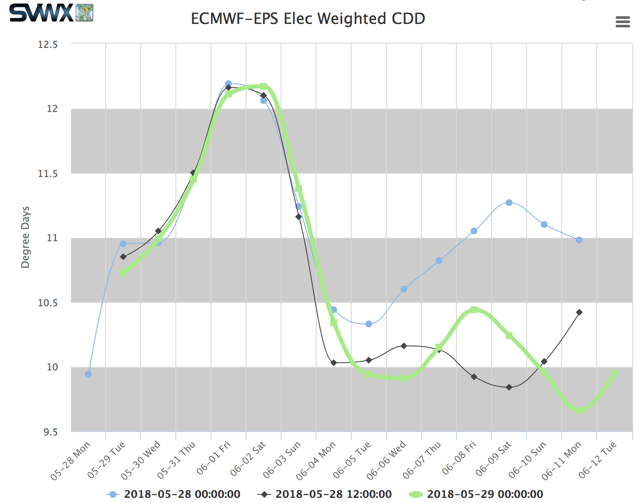 Source: StormVistaWxModels.com
Combining this lower than expected cooling demand forecast with recovering Lower 48 production, and we think July will likely be retesting the lower bound of the price range soon.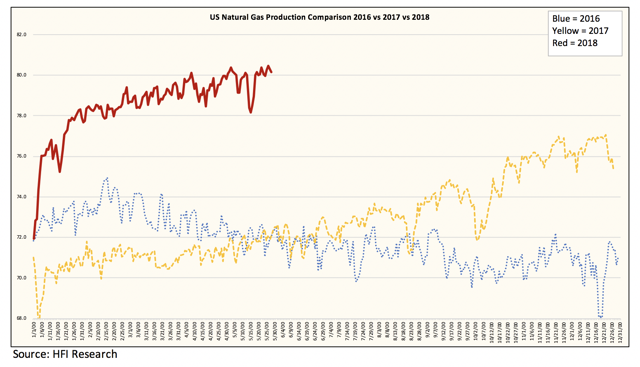 Last week Friday, we disclosed to the public that we were long DGAZ. Following today's price drop, we have now closed our long DGAZ position.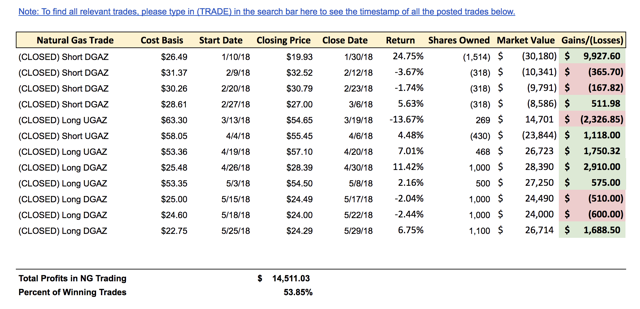 Source: HFI Portfolio natural gas trades
Why did we close our NG short (or long DGAZ)?
While the weather models are showing lower cooling demand ahead, the long-range outlook overnight wasn't overly bearish at all. The third week of June is still expected to show warmer than normal weather West and South:

Source: StormVistaWxModels.com
But the East coast is expected to be below average. This outlook pushes total degree days to neutral to slightly below the historical averages for that week. In addition, this outlook implies that unless the far right cluster forecast (the 14% chart) becomes the new outlook, natural gas prices should still be supported by fundamentals, for now.
Our latest view is that July could retest the $2.80 to $2.85/MMBtu range, and if the weather outlook starts to show warmer than normal temperature forecasts, we would look for a trade to the long side (via long UGAZ).
All of our trade alerts will be posted to subscribers first. If you are interested in what we have to offer in our service, please see here for more info.
Disclosure: I/we have no positions in any stocks mentioned, and no plans to initiate any positions within the next 72 hours.
I wrote this article myself, and it expresses my own opinions. I am not receiving compensation for it (other than from Seeking Alpha). I have no business relationship with any company whose stock is mentioned in this article.