The inherent cyclicality of restaurant shares has been exacerbated these past couple of years - thanks to a retail environment being re-shaped by the spending habits of millennials, heightened competition, and a plethora of dining-out choices. The evolutionary forces underway are especially evident within the industry's small-cap sub-set, where the volatility of their stocks denotes high risk-reward potential.
This report highlights the fundamental changes occurring within the small-cap restaurant space. Using a variety of key financial measures and my own qualitative views, I will discuss the medium-term outlook (~18 months) and the ongoing challenges for these restaurant companies.
The eight restaurant operators outlined represent a relatively broad cross-section of the mostly domestic landscape for the industry. They range in size from Papa John's (PZZA), with more than 5,000 restaurants and market value of $2 billion-plus, to Zoe's Mediterranean (ZOES) and The Habit (HABT), each with roughly 250 units and valued at less than $200 million.
These two micro-caps, along with Shake Shack (SHAK) and El Pollo Loco (LOCO), all completed their initial public offerings since 2014, whereas the other half of this group, including Cheesecake Factory (CAKE), Sonic (SONC), and Red Robin (RRGB) have been public for a decade or longer. The group spans several restaurant categories, each with different price points, from casual dining (CAKE) - at more than $20 per meal - to quick service (SONC) - less than $10.
Owned Vs. Franchised
Ownership model is a key differentiator among restaurants. Whether units are company-operated (i.e., owned) or franchised is a key determinant of strategy - from sales growth, to margins, to capital allocation.
At one end of the spectrum are the owner-dominated restaurants - those that operate the bulk of their units. Including RRGB, ZOES, and HABT, their primary focus is on cash flows (EBITDA), and profits (in dollars). With considerable operating leverage to a challenging demand environment and direct exposure to rapidly rising labor costs, shares in these three companies have sharply underperformed over the past year or two.

Source: SEC filings.
At the other end of the spectrum are the franchise-dominated restaurants. Companies like PZZA, SONC, LOCO are mainly focused on margin-driven returns on capital. You might call them the percentage players. Their high royalty fees encourage rapid unit growth, which underpins significant reductions in share capital. They tend to trade at premium valuations partly because of their superior margins and returns, but mostly because their fee-based profits are more stable over a cycle. Recent performance for these stocks has been mixed - though mostly better than for owner-operators.

Source: SEC filings.
Then there are companies like CAKE and SHAK - hybrids whose unit bases are more evenly split between corporate and licensed. They aim to have their cake and eat it too: the large cash flows and control arising from ownership, and the minimal capital required to expand via potentially high-return franchise agreements. Shares in CAKE have performed about in line with restaurants overall and SHAK's solidly outperformed.
Where's The Beef?
Organic demand growth is critical within this relatively mature industry. Comparable sales and related changes in average unit volumes (AUVs) are among the most important determinants of success among restaurant shares.
Owner-dominated operators are especially sensitive to same-store comparisons, given their significant operating leverage. Note this past Friday's 40% drop in shares of ZOES, punished because margins contracted almost 400 bps on just a 2% decline in quarterly comps.
That is not to minimize the importance of comps for franchise restaurants, however. Strong (weak) comparable sales growth immediately impacts existing franchise partners' cash flows and returns. If sustained, these short-term demand trends strongly encourage (deter) new franchise agreements.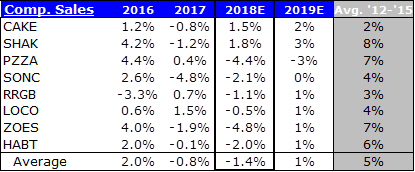 Source: SEC filings.
Shake Shack, for example, is leveraging formidable same-store growth at flagship New York City (owned) units, through rapid unit-count expansion among licensees in other parts of the country and internationally, especially the Middle East.
Recent success stories among restaurants must be qualified - even for Shake Shack. Its current same-store growth is less than half the (nominal) growth rate of the overall economy, even though it benefits from an easy comparison on a relatively narrow restaurant base.
My estimated 2018 like for like growth for the group in 2018E-19E, at -1.4% and 1%, is, of course, firmly below longer-term averages, reflecting industry demand that's slowed dramatically since 2016. Traffic remains a critical issue for restaurants in 2018. Every one of these operators has begun the year with a decline in customer counts (except Red Robin's Q1 increase of just 0.1%).
After the mid-single digit growth in the group's comparable sales from 2012-2015, during which higher prices were mostly either bolstered by or only modestly offset by fewer visits, bringing customers into the restaurants has become a growing challenge. To offset traffic woes, many have increased their promotions - from daily discounts at quick-service SONC, PZZA - to one-off deals at Red Robin and Shake Shack. Nearly all have become mobile - through the introduction of take-out, delivery, and online ordering.
Cheesecake Factory and Shake Shack are the lone positive comparable sales standouts, the only names I expect to have positive like-for-likes in 2018. Their rates of growth in AUV are also head of peers, even as their absolute sales volumes hold the top spots - by wide margins.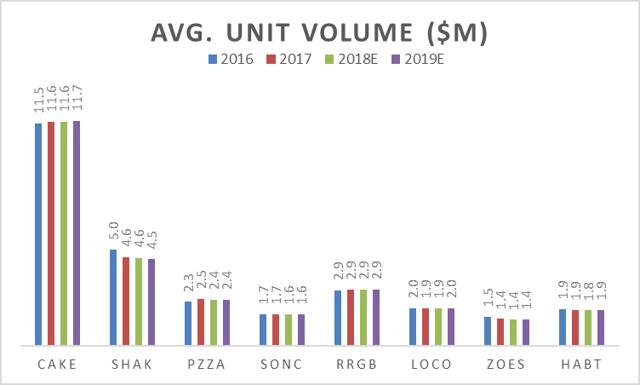 Source: SEC filings.
CAKE should continue raising menu prices by 1.0-2.0% annually (vs. current menu price ~$22) - around its broader inflation-like increases in the past - and with only negligible changes in visitation levels. Shake Shack's price hikes to start 2018, at nearly 6%, will slow through the year after anniversary-ing its free burger promotion from early 2017. My 1.8% "same-Shack" forecast for the remainder of 2018 assumes price/mix increases moderate to 3-4% and traffic normalizes to 1-2% past declines.
Zoe's and Papa John's are the group's same-store laggards, with declines seen approaching 5% in 2018. Of the two, ZOES is by far the more vulnerable, in part because it's in the critical early stage of development. Ditto for The Habit. At ZOES, which owns all but three of its restaurants, lower comps translate directly into lower margins. Franchise operations mitigate PZZA from some of the short-term impacts from weaker demand, but in the US - where comparable sales weakness is especially acute - a disproportionately high number of units are owned.
Unit Count Growth - Still Solid, But Slower
Broadly speaking, unit expansion during these next 18-24 months is mostly driven by same-store growth trends from the past 18-24 months. Even for cash flow driven franchisees, the key variable determining payback periods and returns is same-store improvements at the restaurant level.
Shake Shack will again lead this group in restaurant openings, though at 32% and 24% in 2018E-19E, at a slower pace given its larger unit base. In the face of a likely 2nd straight year of declining comparable sales, 2014-IPOs ZOES and HABT have pulled back sharply on their previous paces of expansion. Absent meaningful, unexpected recovery in profitability from at or below break-even levels forecast in 2018, new unit expansion will further decelerate in 2019 and beyond. Restaurant growth at PZZA, for its part, is also now slower overall, and expansion that is occurring is mostly among international franchisees.
This progressively falling pace of expansion is an industry-wide phenomenon where, in the US at least, virtually every retail sub-sector now appears over-stored. Among larger industry counterparts, like McDonald's (MCD) and Domino's Pizza (DPZ), new units are from franchisees, typically outside the country.
But while slower overall expansion benefits the industry's long-term health, these broader benefits hit especially hard on early-stage restaurants where the rationale for going public is to gain better access to growth capital.

*Compound annual growth through 2017 based on 10 years for CAKE, PZZA, SONC, and RRGB; 5 years for others (in italics).
Source: SEC filings.
On the bright side, owned SHAK units are set to grow at twice the pace of its franchisees over the next year. Both Cheesecake Factory and quick-casual Pollo Loco will have about 10 openings apiece in 2018, about evenly split between corporate and licensed. New or expanded franchising partnerships are the primary drivers to broadening their footprints beyond established geographies (CAKE: US Metro's; LOCO: S. Calif.). The former is adding franchised units internationally (e.g., China, Saudi Arabia), while the latter's build-out is mostly through the Southwestern US (e.g., NV, AZ). Meanwhile, Habit is moving eastward from its stronghold in California while premium-priced Shake Shack's domestic expansion is westward from New York.
Moderating Profits But Lower Share Counts
Let's stick to the burger theme for a moment, where SHAK, SONC, RRGB, and HABT help illustrate the variety within just these small-cap players. The best metric to explore these differences is in profitability based on operating profit margin.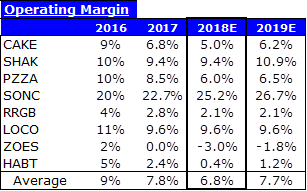 Source: SEC filings.
Shake Shack owes its solid profitability - at nearly 10% EBIT margin (comparable to a young, post-IPO Chipotle (CMG)) - to its early success in franchising as well as attractive economics at its mostly corporate, domestic units. These US restaurants continue to generate >$90K in weekly sales.
Sonic, through its unique drive-in concept (and goofy commercials), is pushing margins higher namely because owned drive-ins are being replaced by licensed units (i.e., re-franchising - a la McDonald's, YUM! Brands (YUM), etc.). With FY18 (Aug.) mostly complete, SONC's operating margin should about double from 2010, even as the owned unit-count will have been halved (to about 225).
Habit should be seeing improvement in profits, rather than struggling to just break-even, now that more than half its stores are at least four years old. Despite virtually no change in HABT's AUVs from 2015, operating profits per-restaurant will have fallen to <$10K in 2018, from about $110K.
Red Robin's profitability has trended in this same direction, though less sharply downward (vs. HABT's). After steady price hikes helped lift RRGB's EBIT margin to a decade-high at only 5%, its 2018 estimated profitability is now tracking at half this cycle's relatively modest peak.
The costs for RRGB winning-back customers (partly via promotions and a shift in mix toward lower-priced burgers) these past 18 months are seen in the cumulative effect of ongoing weakness in today's margins. In an industry environment where trade-offs can be sharp, Red Robin is compromising profitability in favor of sustaining cash flows. Continuing to buy-in franchisees and opening marginally profitable corporate restaurants at a still-steady clip only compounds that trade-off, adding further pressure to returns on capital.
Yet at RRGB and at its other relatively established peers (i.e., CAKE, PZZA, SONC), these returns are becoming less dependent on profitability and are increasingly a function of asset allocation. Share repurchases are now the rule among these four.
Sonic and Papa John's are the most aggressive in buying back stock, with average (diluted) share counts for 2018 that I project to be down 29% and 18% from 2015. These two have also seen the largest increases in borrowings (vs. EBITDA), with net debt I estimate above 4.0 times this year's expected operating cash flows.

Source: SEC filings.
Amid these financial restructurings, share-based capital is being replaced by debt issuances, where interest payments remain at relatively attractive levels and tax-deductible. Another trade-off, whereby shareholders are being rewarded at the potential expense of bondholders.
The broader shift is aimed at reducing physical assets at the corporate levels to improve shareholder returns. As a result, overall business risk is reduced, with bondholders absorbing a larger proportion of the exposure that remains. The group's average net debt should continue rising in 2018 to a still-manageable 1.9 times EBITDA from 0.6 times in 2015 and with large individual variances from the average.
In this group, only Pollo Loco has reduced the amount it borrows. In certain cases, absolute debt has increased significantly, although at Cheesecake Factory these increases compare to relatively conservative past levels. For others with downward trending EBITDA (e.g, PZZA, ZOES), the impact of higher leverage is magnified.
Valuations and Conclusion
CAKE, in my opinion, strikes the best balance between growing its future cash flows and allocating its ongoing capital. With large and steady free cash generation, the company has only modest levels of debt, pays a 2%-plus dividend (yield), and is reducing its share count by some 3% yearly. In addition to generating about 4% forecast annual growth in restaurants mentioned earlier, the company is also funding the development of a pair of young, high-growth concepts (e.g., Flower Child, North Italia). This minority investment, of at least $60 million in aggregate, allows CAKE the option to gain full control of these early-stage brands in the future, whether as franchised or owned units.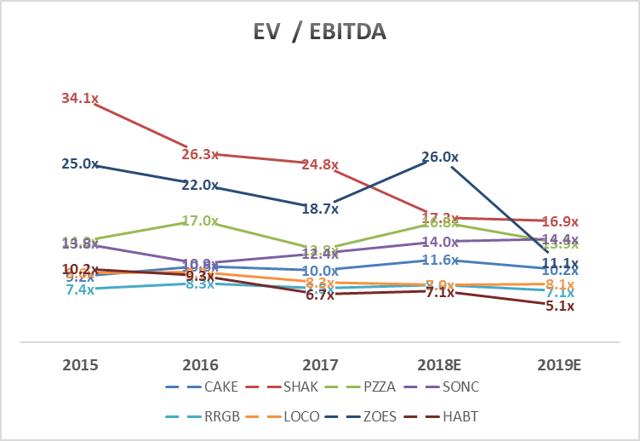 Source: SEC filings.
CAKE is the only name among this group of small-cap restaurants that I currently own, as I further outlined this past December. Over the past year, I've published negative views on Pollo Loco and Red Robin, and I remain downbeat on the shares.
I also continue to stand by my most recent article on The Habit, where my disinterest relates mostly to a lack of robust, sustainable growth. As with HABT, ZOES' double-digit new unit growth is only as sustainable as its profitability - a slippery slope. Given that, valuations here are far less important than healthy growth and profitability - a make or break in terms of their longer-term success.
By contrast, Shake Shack's runway for future growth is the best among all restaurants - hands-down. Operating cash flows, especially impressive for an early-stage restaurant operator, should sufficiently fund double-digit unit expansion for the foreseeable future, and without it having to draw on cash still on its balance sheet from its early-2015 IPO. But, so long as SHAK is valued anywhere close to its current 17 times EBITDA, I will continue to take a pass.
Finally, at the right price, I would look for opportunities to buy shares of PZZA and SONC. More specifically, low double-digit multiples on operating cash flows might make for attractive entry points, given the high-return potential for these asset-light franchisers.
Disclosure: I am/we are long CAKE, CMG.
I wrote this article myself, and it expresses my own opinions. I am not receiving compensation for it (other than from Seeking Alpha). I have no business relationship with any company whose stock is mentioned in this article.