On June 7th, 2018, The Cooper Companies (COO) will report its fiscal second-quarter earnings. The mid-cap healthcare device company has seen whipsaw movement in stock price so far in 2018. At the beginning of the year, COO traded around its bottom $216. After 6 months of trading, the stock has seen two quick tops at $247 and $252 and two bottoms near $220 and $218. Currently, the chart looks to be oscillating in a price channel that developed in April. Earnings could be the next catalyst that determines the movement of COO's share price. A beat or a miss could push COO out of its channel and into a breakthrough pattern.
From Finviz
Last quarter, COO saw a large unusual expense push EPS numbers into negative territory, but its adjusted EPS of $2.79 beat by $0.28. Additionally, its impressive 18 percent year-over-year growth pushed revenue of $590 million over expectations by $6.52 million. Since a terrible 2015 fourth quarter miss in both EPS and revenue, COO has posted 8 straight quarters of beats on the top- and bottom-lines.
The past 7 quarters of year-over-year revenue growth have been high single digits or low double digits. However, COO management reported lower than expected guidance of "$11.70-$11.90 vs. $12.51 analyst consensus estimate on revenues of $2.51B-$2.56B vs. $2.67B consensus" for FY18. How that weakness is communicated will surely be something to look out for in the upcoming earnings discussion.
The Cooper Companies consists of two different segments within the medical equipment industry. CooperVision, operations focused on eye health and competitors in the market for contact lenses, and CooperSurgical, diversified operations that include general healthcare devices but focus on women's health and fertility. As of 2018 Q1 earnings, CooperVision accounted for 75.4 percent of total revenues and CooperSurgical accounted for 24.6 percent of total revenues.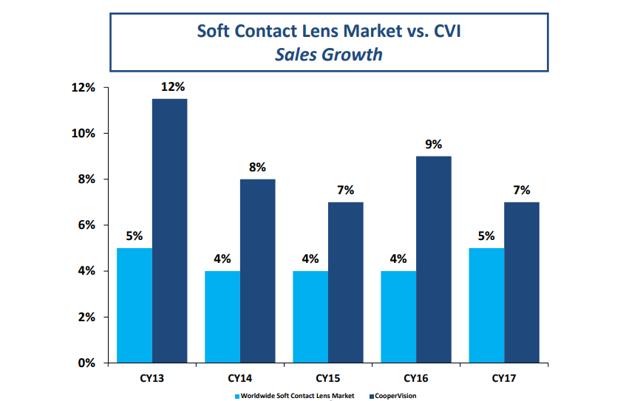 As mentioned above, CooperVision is responsible for most of COO's revenues with more than three quarters of sales. The segment has been aggressive in its pursuit of expanding market share in the contact lens market. Since 2017, the segment has acquired four companies in the contact lens market according to its first quarter filing:
Blueyes, "a long-standing distribution partner, with a leading position in the distribution of contact lenses to the Optical and Pharmacy sector in Israel."
Paragon Vision Sciences, "a leading provider of orthokeratology (ortho-k) specialty contact lenses and oxygen permeable rigid contact lens materials."
Procornea, "a Netherlands based manufacturer of specialty contact lenses."
Grand Vista, "a distributor in Russia of soft contact lenses."
These operations have all been added to try and extend its record of outperforming the contact lens market to grow market share. Specifically, COO hopes to grow into the "single-use contact lens" market where it sees a greater opportunity than the 2-week and monthly modality markets. In its investor presentation, COO estimates that in every geographical market (Americas, (EMEA), Asia Pacific), the single-use contact lens accounts for at least 40 percent of the total contact lens market.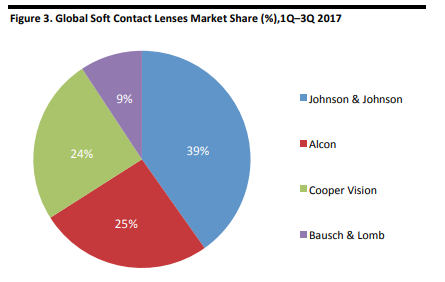 The contact lens market is hotly contested market with three major players dominating the field. Research from The Fung Group shows that only Johnson & Johnson (JNJ) and Alcon have more market share than COO at 39 percent and 25 percent. Another report from Transparency Market Research suggests that "the global contact lens market will expand at a healthy 7.6% (OTCPK:CAGR) over the period between 2016 and 2024" with the Asia Pacific region to be the fastest growing region.
With that being said, CooperVision should look to expand its opportunities there if it wants to extend an aggressive reach for more market share. In Q1 2018, sales in the Pacific reason grew 20 percent to account for 22 percent of total sales in the segment. This growth rate was second only to the (EMEA) region which saw 23 percent growth. Going forward, COO will have to rely less on its Americas operations to bolster growth (only grew 4 percent in Q1 2018). Expansion similar to its product testing in Korea in 2013 will be essential to maintaining COO's plans for accelerating growth.
The aggressive strategy isn't unique to CooperVision. In 2017, CooperSurgical added two new acquisitions to its portfolio:
PARAGARD, the Intrauterine Device business of Teva Pharmaceuticals (TEVA) in a deal worth about $1.1 billion.
Wallace, the in-vitro fertilization (IVF) operations of Smiths Medical International.
The large acquisition of PARAGARD shifted the product mix of the segment from an almost even split between medical devices for Ob/Gyns and (IVF) products to 62 percent Ob/Gyn products and 48 percent IVF products. Management saw opportunities for "operational synergies" in the PARAGARD acquisition and, therefore, was willing to enter in a new $1.425 billion loan agreement. As a result of acquisitions, CooperVision saw net sales shoot up 32 percent.
The growth rate of COO is impressive and has been sustained since 2016, but with an aggressive strategy supported by mergers and acquisitions comes the question of debt. In this quarter alone, COO had to cover $1.24 billion of investing activities with $1.67 billion of long-term debt. Not to mention, it also paid $445.8 million of debt outstanding at the same time. Total debt now stands at $2.4 billion dollars (more than double a quarter ago) and is composed of:
$1.425 billion term loan at the LIBO rate plus about 1 percent taken on November 1st, 2017, maturing on November 1st, 2022.

$1.0 billion revolving credit facility at the LIBO rate plus about 1 percent taken on March 1st, 2016, maturing on March 1st, 2021. This includes the option to add $750 million on the credit facility.

$830 term loan at the LIBO rate plus about 1 percent taken on March 1st, 2016, maturing on March 1st, 2021.
As of the end of Q1 2018, the total leverage ratio was at 2.68 which fell below the 3.00 required by the 2016 and 2017 agreements. This gives COO little room to continue its aggressive plans in the future which could explain why guidance came in lower than expected. With a current ratio of 0.35, COO is in no immediate danger of an unhealthy balance sheet, but as debt starts to mature, cash flow needs to be high enough to avoid any worries. The current cash level is $91.7 million, only $3 million above the previous quarter, so look to see if COO spends more conservatively to fill its coffers to cover its looming debt.
COO's top- and bottom-line performance is impressive but doesn't necessarily match the movement of its share price. While the contact lens market is robust and growing, investors may see stiff competition as a risk for CooperVision, which accounts for more than 75 percent of COO's sales. At a P/E ratio of about 65, investors might just see too much risk given the debt load that COO has taken on. Earnings will have to continue to be spectacular in 2018 and management will have to improve its guidance to have a chance at moving the share price higher. For that reason, COO should not be held through earnings as the downside risk of slowing growth could takeover any positives. Over the next 5 years, COO might see sales flatten to low to mid-single digits as acquisition activity halts.
Disclosure: I/we have no positions in any stocks mentioned, and no plans to initiate any positions within the next 72 hours. I wrote this article myself, and it expresses my own opinions. I am not receiving compensation for it (other than from Seeking Alpha). I have no business relationship with any company whose stock is mentioned in this article.