Perceived political uncertainty in two EU countries over the weekend is thrusting the US Dollar Index higher today - hitting 11 month highs and up 5.6% in just six weeks.

(Disclaimer: Past performance is not necessarily indicative of future results)
What about the European countries is causing such a reaction in the American dollar? Well, it's isn't so much that the US Dollar Index is moving higher, but that the euro is moving lower. The US Dollar Index measures the US dollar relative to six different currencies, including the Japanese yen, Canadian dollar, British pound, Swedish krona, Swiss franc, and finally, the euro currency, with 57% of the weighting coming from the euro.
Enter the rise of the 5 Star Movement and the Hard-Right League, Italy's recent nationalist parties (anti-EU parties) attempting to form a government, and Spain's Prime Minister facing a vote of no confidence - both moves which could impact the countries involvement in the EU and eurozone - and the heaviest weighting in the Dollar index (the euro currency) is now down 7% since mid-April, according to MarketWatch.
What does the mean for other markets?
Well, the short bond folks surely don't like it - with the rallying dollar wreaking havoc on the higher rates narrative (just when we thought, maybe, just maybe, this time was different and there would be an extended down-move in bonds), as prices have reverted back to beginning of April levels.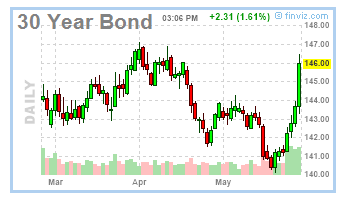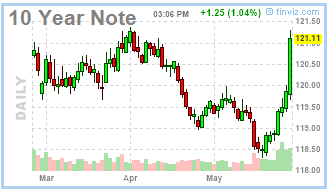 (Disclaimer: Past performance is not necessarily indicative of future results)
And with the Dow down over 500 points at one point today, this move in the euro currency and the US dollar highlights how more than just rates and currencies are involved. It affects stock markets and the commodity markets as well. It affects any and all things priced in US dollars. For Macro and Managed Futures investors, a trending dollar (no matter the direction) has been historically beneficial (past performance is not necessarily indicative of future results), but as we talked about back in 2016, they've never really seen a world in which the US dollar was trending and bonds falling (yields rising). Here's the quick history of the dollar and bonds, as compared to managed futures: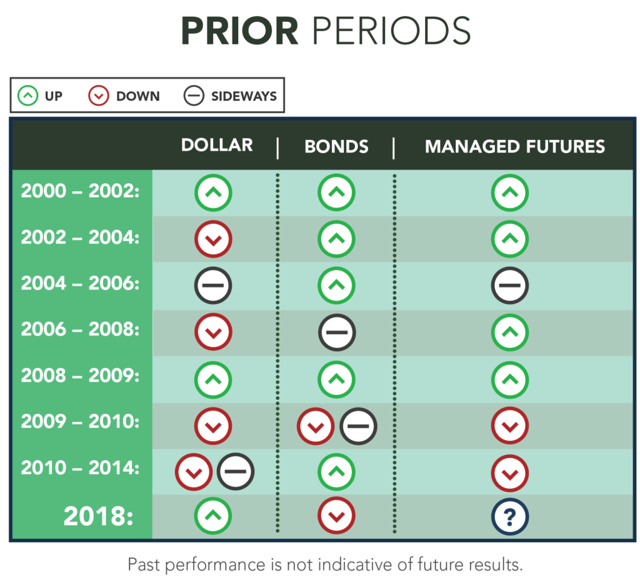 It just so happens the dollar is trending again, but this time with rates rising (if we ignore the past week or so and look at things month over month). What will the end result look like for macro and managed products investing in mostly dollar-denominated instruments? We're intrigued, to say the least. Stay tuned.
Disclaimer
The performance data displayed herein is compiled from various sources, including BarclayHedge, RCM's own estimates of performance based on account managed by advisors on its books, and reports directly from the advisors. These performance figures should not be relied on independent of the individual advisor's disclosure document, which has important information regarding the method of calculation used, whether or not the performance includes proprietary results, and other important footnotes on the advisor's track record.
Benchmark index performance is for the constituents of that index only, and does not represent the entire universe of possible investments within that asset class. And further, that there can be limitations and biases to indices such as survivorship, self reporting, and instant history.
Managed futures accounts can subject to substantial charges for management and advisory fees. The numbers within this website include all such fees, but it may be necessary for those accounts that are subject to these charges to make substantial trading profits in the future to avoid depletion or exhaustion of their assets.
Investors interested in investing with a managed futures program (excepting those programs which are offered exclusively to qualified eligible persons as that term is defined by CFTC regulation 4.7) will be required to receive and sign off on a disclosure document in compliance with certain CFT rules The disclosure documents contains a complete description of the principal risk factors and each fee to be charged to your account by the CTA, as well as the composite performance of accounts under the CTA's management over at least the most recent five years. Investor interested in investing in any of the programs on this website are urged to carefully read these disclosure documents, including, but not limited to the performance information, before investing in any such programs.
Those investors who are qualified eligible persons as that term is defined by CFTC regulation 4.7 and interested in investing in a program exempt from having to provide a disclosure document and considered by the regulations to be sophisticated enough to understand the risks and be able to interpret the accuracy and completeness of any performance information on their own.
RCM receives a portion of the commodity brokerage commissions you pay in connection with your futures trading and/or a portion of the interest income (if any) earned on an account's assets. The listed manager may also pay RCM a portion of the fees they receive from accounts introduced to them by RCM.
See the full terms of use and risk disclaimer here.