Mamma Mia! U.S. stock indexes were cascading lower on Tuesday, as a deepening political crisis in Italy triggered a rush to safe-haven assets. Bank stocks were among the hardest hit.
The butterfly effect was on full display. If anyone still harbors any doubts about how events in one country, thousands of miles away, can affect stock and bond markets here, look at how an election in Italy is raising doubts about whether Italy will stay in the eurozone.
As a result of this uncertainty, the S&P 500 and the Dow Jones Industrial Average were hovering near three-week lows.
Dow Jones Industrials, Tuesday, May 29, 2018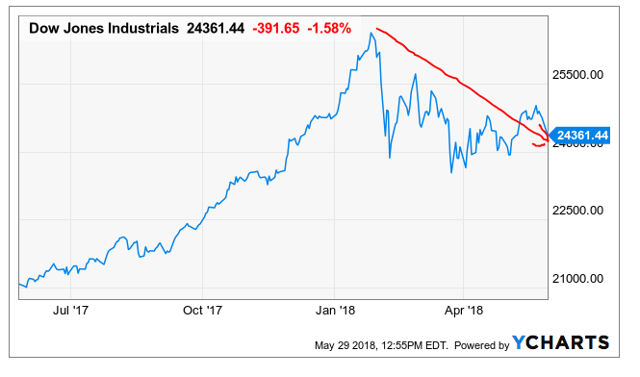 S&P 500 Index, Tuesday, May 29, 2018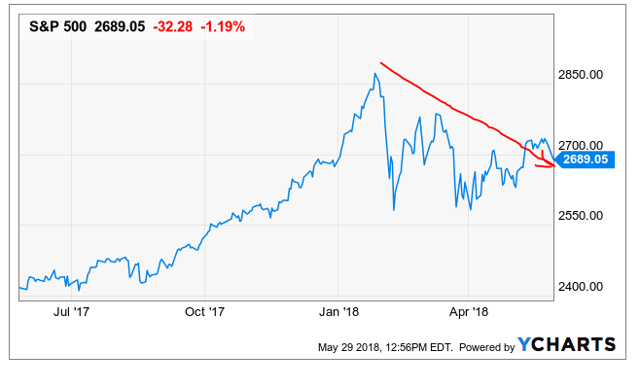 The news had a negative impact on markets globally. By now, many of us are pretty familiar with the opposite effect witnessed on assets perceived as safe havens. They usually include gold and bonds. Both rose convincingly, sending the interest rate on the 10-year Treasury down by 10 basis points to a yield of just 2.82%. Only a few weeks ago, the 10-year was yielding 3.13% and investors wondered how soon it would hit 4%, convinced this would send investors out of stocks and back into bonds in a big way.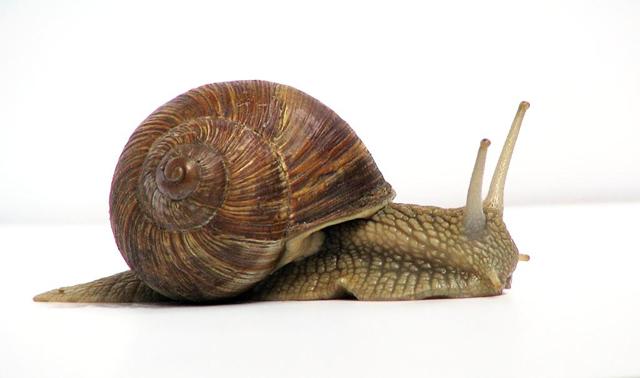 This decline of 31 basis points in a matter of weeks is considered a gargantuan move in a market that normally moves at a snail's pace. In percentage terms, the yield has contracted by 9.90%.
Investors who bought at the 3.13% yield point were patting themselves on the back Tuesday, congratulating themselves for having secured so much more income compared to investors running to the exits from equities now and into the warm, fuzzy arms of those Treasuries.
An investor who bought Treasuries at the 3.13% yield secured $3130.00 annually on their $100K investment. Tuesday's investor in the same bond obtained just $2820 annually in bond interest. Tuesday's investor has $310.00 less coming to them over the coming year.
$3,130.00 - $2,820 = $310.00
As with Brexit, when the U.K. decided to separate from the European Union and all the trade deals and agreements it entailed, the current threat by Italy to leave the Eurozone leaves investors nervous. They are wondering if Italy is just the next domino to fall in this rush to the exits from the Euro. Will other countries follow, and what would this mean to the value of the Euro, to world trade and stock markets in particular?
Paul Nolte, portfolio manager at Kingsview Asset Management in Chicago, said:
Each time it happens people wonder is this the time the euro blows up?

If you wind up blowing up the euro then what happens to trade and commerce in general. Everything screeches to a halt."

The 2.82% level on the U.S. 10-year Treasury notes is the lowest level since mid-April.

The S&P 500 banking index fell 2.8 percent, on track for its worst one-day fall in over two months, led by losses in JPMorgan (JPM) and Bank of America (BAC)."
JPMorgan Chase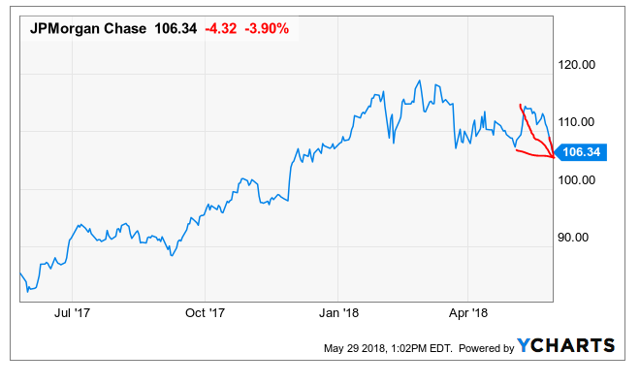 Bank of America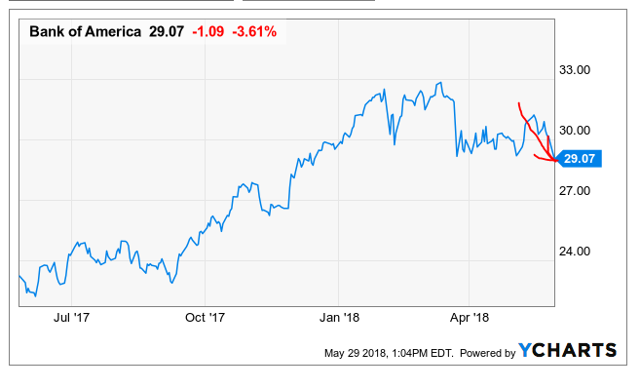 Bank share prices are usually well correlated to Treasury yields. When yields are rising banks have leeway to raise lending rates. Higher lending rates normally have a palliative effect on bank profits and push bank stock prices higher. Declining interest rates have the opposite effect as illustrated in Tuesday's trading, with both JPM and BAC contracting near 4% during the day.
Ryan Larson, head of U.S. equity trading at RBC Global Asset Management in Chicago, commented:
There's been a bit of a pullback in yields and obviously, with the contraction on the curve, there could be implications from a financial standpoint in terms of the banks' businesses that are tied to interest rates.
Around noon, the Dow Jones Industrial Average was down 434 points, or 1.75 percent, at 24,319, the S&P 500 was down 39 points, or 1.42 percent, at 2,683 and the Nasdaq Composite was down 69 points, or 0.92 percent, at 7365.
Another Port In The Storm
But falling Treasury rates aren't just sending investors to the safe haven of Treasury bonds, or sometimes to gold when uncertainty peaks. Real estate investments, highly dependent on the level of interest rates also benefit from a decline in rates.
The simplest way for individual investors to participate in the real estate sector without the headaches of being an actual landlord is through investments in publicly traded real estate investment trusts.
REITs: What Are They?
From Investopedia:
A real estate investment trust, or REIT, is a company that owns, operates or finances income-producing real estate. For a company to qualify as a REIT, it must meet certain regulatory guidelines. REITs often trades on major exchanges like other securities and provide investors with a liquid stake in real estate. ...

Most REITs specialize in a specific real-estate sector - for example, office REITs or healthcare REITs. Within this space, REITs must purchase and operate its holdings as a part of its portfolio. In most cases, REITs operate by leasing space and passing on collected rent payments to its investors in the form of dividends.

REIT Guidelines

A company must meet the following requirements to be qualified as a REIT:

Invest at least 75% of its total assets in real estate, cash or U.S. Treasuries
Receive at minimum 75% of its gross income from rents from real property, interest on mortgages financing real property or from sales of real estate
Pay a minimum of 90% percent of its taxable income in the form of shareholder dividends each year
Be an entity that is taxable as a corporation
Be managed by a board of directors or trustees
Have a minimum of 100 shareholders
Have no more than 50% of its shares held by five or fewer individuals
Strategy Session
Because the trend towards higher rates seems to have broken down for the time being, investors looking to profit, both from a capital appreciation perspective as well as an income perspective, might consider prospecting among the formerly broken-down REIT sector.
Dow Jones Equity REIT Index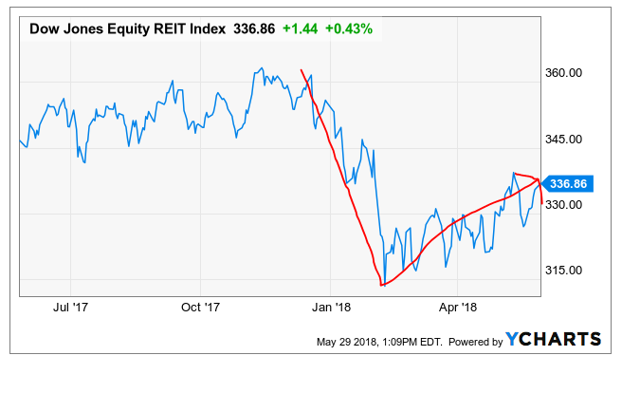 From a high of around 365 in December of 2017, this REIT index fell to around 310 as investors worried that rising interest rates would hammer REITs of all kinds. This 15% fall in the index saw share price contractions greater than 25% to 30% on some specific names in the sector.
Since the end of February, momentum for the REITs has changed as the sentiment on interest rates has changed and rates have backed off the dreaded path towards 4%.
A bounce in the REIT index from 310 to Tuesday's reading of 337 represents a gain of 8.71% for those paying attention to this switcharoo.
Over this same time period, several names, many of which reside in the Fill-The-Gap Portfolio, have recovered nicely as well.
Realty Income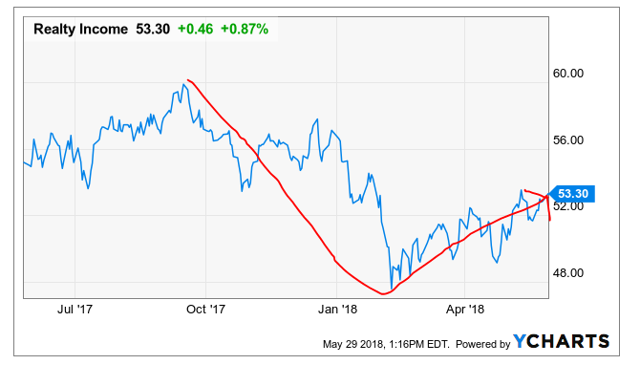 While investors fretted whether Realty Income (O) would "Kinder" them and become the next big name to fall onto the ash heap and cut the dividend, its stock price cratered 23.3%. "The Monthly Dividend Company" quickly transformed from the dividend growth investor's darling monthly dividend paying stock on Seeking Alpha to one of the most hated and stressed about companies.
In the meantime, believers who felt confident in their convictions and had the courage to step in and average down their share price walked away with a dividend yield substantially higher than Tuesday's and a stock valued 16% higher. Tuesday's yield, on an annual dividend rate of $2.63 was 4.93% compared to the substantially higher 5.72% secured by traders with conviction in February. February investors secured 79 more basis points in yield or 16% more income than Tuesday's investor.
Remember the investor above, who bought the 10-year Treasury and got themselves 11% more income by buying their bond a few weeks ago, compared to the investor who bought on Tuesday? Realty Income's income enhancement dovetailed in lockstep with the 10-year Treasury bond, even outperforming it, for those interested in taking the opportunity presented to them.
Some readers, undoubtedly, will say that a stock's price is affected by more than just interest rate movements. This is true. However, when a trend like this reverses and sentiment changes, interest rate direction and momentum become the primary catalyst to REIT stock prices and yields on those investments. At this time, and for the last several weeks, the change of direction is unarguably down for long yields and up for stock prices that are sensitive to those yields.
Looking For Steady Income Appreciation?
If you think you could benefit from a dose of steady income growth rather than steady erosion of capital take a look at Realty Income's recent record of dividend growth.
Realty Income Dividend Growth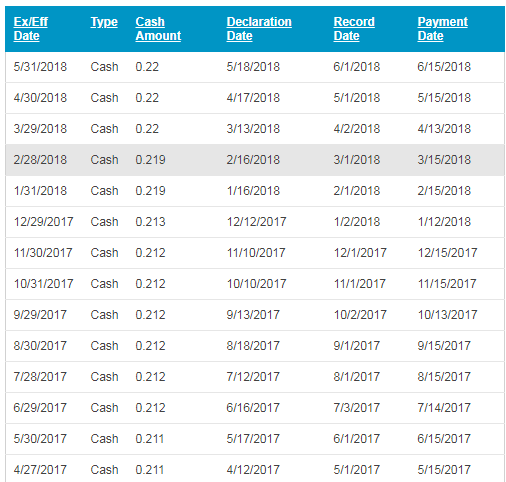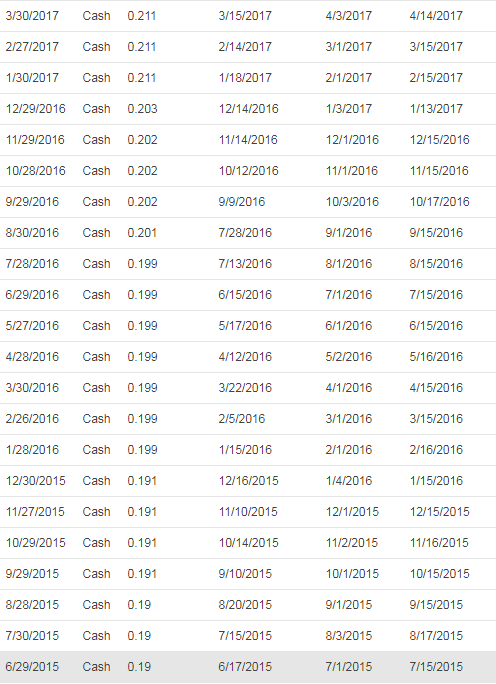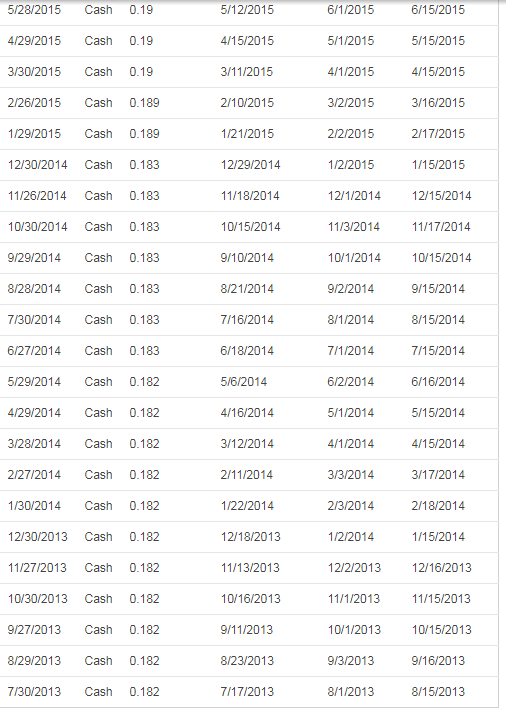 Realty Income has been raising its dividend steadily for over 30 years. Over the past five years detailed above, the monthly dividend has increased from $.182 to $.22 today. That's an increase of 22.2% over the last five years. How have your raises at work compared to this?
Read, research and decide if this approach is good for you.
Additional Illustration
The Fill-The-Gap Portfolio has several REITs in its portfolio. They run the gamut from healthcare REITs, to hotel REITs, office REITs specializing in buildings leased to government entities, prison REITs, document storage companies to mall and specialty store REITs.
As the stock market was in the process of melting down those 400+ points Tuesday, this is how the REITs in the FTG Portfolio closed out the day.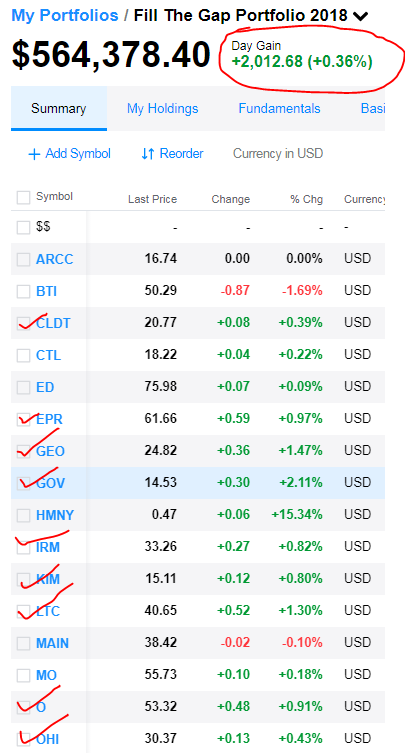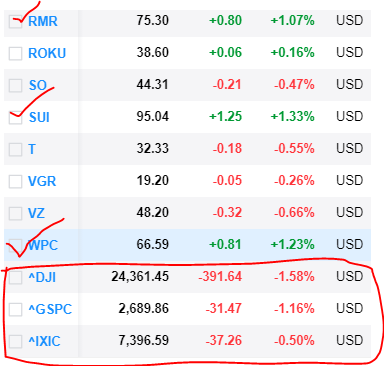 Note that every single REIT in our portfolio, denoted by a red check mark above, traded up, in stark contrast to the struggle that the Dow and S&P 500 was undergoing. These broad market indexes were losing the confidence of investors, caught up in the anxiety of the next "Italy Brexit". Those same investors were seeking the safe haven of real estate investments that would be benefiting from the decline of interest rates that were occurring in the safe haven trade of the treasury bond market.
While the Dow Jones lost 1.58% in market value and the S&P 500 declined 1.16%, the FTG Portfolio, thanks to the ballast provided by our REITs, rose .36% in market value. Our RODAT Subscriber Portfolio was ahead even more, up .43%.
My recent article, Retirement Security: A Dividend Is Never Fake News delves further into the importance of buying dividend growth stocks on sale, at value prices, in order to accomplish the type of higher dividend income we discussed here.
The Fill-The-Gap Portfolio
The FTG Portfolio contains a good helping of dividend growth stocks, like Realty Income, which has been in the portfolio for a good length of time. The portfolio was built with the express purpose of benefiting from this and other strategies.
Three and a half years ago, I began writing a series of articles on December 24, 2014, to demonstrate the real-life construction and management of a portfolio dedicated to growing income to close a yawning gap that so many millions of seniors and near-retirees face today between their Social Security benefit and retirement expenses.
The beginning article was entitled, "This Is Not Your Father's Retirement Plan." This project began with $411,600 in capital that was deployed in such a way that each of the portfolio constituents yielded approximately equal amounts of yearly income.
Constructed beginning on 12/24/14, this portfolio now consists of 23 companies, including AT&T Inc (T)., Altria Group, Inc. (MO), Consolidated Edison, Inc. (ED), Verizon Communications (VZ), CenturyLink, Inc. (CTL), Main Street Capital (MAIN), Ares Capital (ARCC), British American Tobacco (BTI), Vector Group Ltd. (VGR), EPR Properties (EPR), Realty Income Corporation, Sun Communities, Inc. (SUI), Omega Healthcare Investors (OHI), W.P. Carey, Inc. (WPC), Government Properties Income Trust (GOV), The GEO Group (GEO), The RMR Group (RMR), Southern Company (SO), Chatham Lodging Trust (CLDT), Iron Mountain, Inc. (IRM), Roku (ROKU), Helios and Matheson (HMNY), and LTC Properties (LTC).
Because we bought most of these equities at cheaper prices since the inception of the portfolio and because most of our stocks have increased their dividends regularly, the yield on cost that we have achieved is 8.28% since launch on December 24, 2014. Current portfolio income, including recent dividend, raises by AT&T and Realty Income, and our newest addition of AT&T shares and LTC Property now totals $34,098.78, which is $1,162.92 more annual income than the previous month. This represents a 3.53% annual income increase for the portfolio.
When added to the average couple's Social Security benefit of $32,848.08, this $34,098.78 of additional supplemental income brings this couple annual income of $66,946.86. This far surpasses the original goal set to achieve a total of $50,000.00, which is accepted as a fairly comfortable retirement income in many parts of the country. That being said, this average couple now has the means to splurge now and then on vacation travel, dinners out, travel to see the kids and grandkids and whatever else they deem interesting.
Taken all together, this is how the FTG Portfolio generates its annual income.
FTG Annual Dividend Income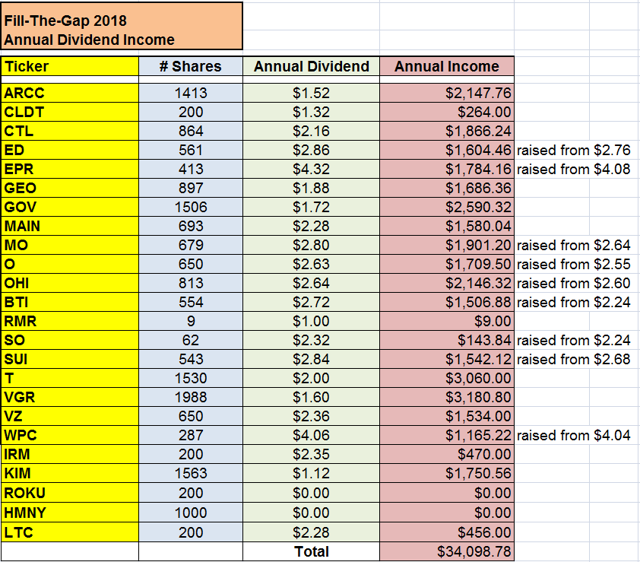 Source: author's chart
Your Takeaway
Global events can be the occasion for worry and anxiety, or they can be viewed as opportunities for income investors to grab by the horns. Some investors like the passive approach. They buy and hold. I like to buy and hold and buy some more when they're on sale.
Every time such an opportunity comes a' knockin' is yet another time to consider averaging down in price to average up our yield and income.
With all the worry that accompanied Brexit a few years ago, investors thought the world was coming to an end, sold off high-quality stocks, and deprived themselves of future growth of income and capital gain that accompanied a return to normalcy in the markets.
This time will be no different. The opportunity is the same today for investors willing to buy when the chips are down. Italy, the Eurozone's 3rd largest economy, will be here today, and here tomorrow, just like the U.K. after Brexit.
Your Engagement Is Appreciated
As always, I look forward to your comments, discussion, and questions. Are you a buy and hold investor? Does your plan allow for buying more shares of stock when prices decline? Do you follow interest rate cycles, trends and developments for clues to enhance your income? Please let me know in the comment section how you approach these situations in your own portfolio and how you arrive at your decisions.
Author's note: Should you be interested in reading any of my other articles detailing various strategies to enhance your returns on a dividend growth portfolio, you will find them here.
If you liked this article, please click the "like" button at the bottom of this article.
Only real-time followers will receive immediate notification whenever I write a free article, blog or stock talk. If you enjoyed this article and would like to receive immediate notification as soon as I write new content, simply scroll up and click the orange "follow" button at the top of this article next to my picture, then click "Real-time alerts."
Disclaimer: This article is intended to provide information to interested parties. As I have no knowledge of individual investor circumstances, goals, and/or portfolio concentration or diversification, readers are expected to complete their own due diligence before purchasing any stocks mentioned or recommended.
Thanks for reading. Interested in more dividend strategies and ideas?
I run Retire 1 Dividend At A Time to help investors stay focused on their portfolio income and long-term goals.
My promise to you: With every exclusive article, email, instant-text, and chat, I'll help guide you to:
Increased income for retirement, one dividend at-a-time.
Under-valued stocks for a greater margin of error and higher capital appreciation.
Methods to safely diversify your portfolio.
Strategies to build, grow and protect your income for retirement.
Join today with a two-week free trial to get started on the next step of your investing journey!

Disclosure: I am/we are long ALL FILL-THE-GAP PORTFOLIO STOCKS.
I wrote this article myself, and it expresses my own opinions. I am not receiving compensation for it (other than from Seeking Alpha). I have no business relationship with any company whose stock is mentioned in this article.
Editor's Note: This article covers one or more microcap stocks. Please be aware of the risks associated with these stocks.