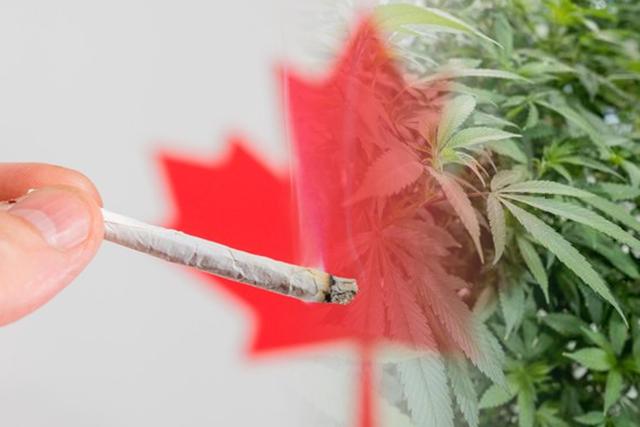 Time to set your sights on summer and specifically on one date: June 7. This is when Canada's Senate is set to vote on and potentially approve bill C-45, which is legislation that would make the recreational use of marijuana legal across the country. The Senate already cleared one key hurdle in March, with a 44-29 vote to allow the bill to advance to committee review.
As it stands today, within the last 100 years the Senate has only voted against one bill approved by the House of Commons. Based on this I think that it's highly likely the bill will pass the third and final reading without a hitch.
But the key question for the cannabis industry has a lot riding on how big the Canadian recreational marijuana market will actually become. Colorado's results from legalizing recreational marijuana could provide a clue to the answer.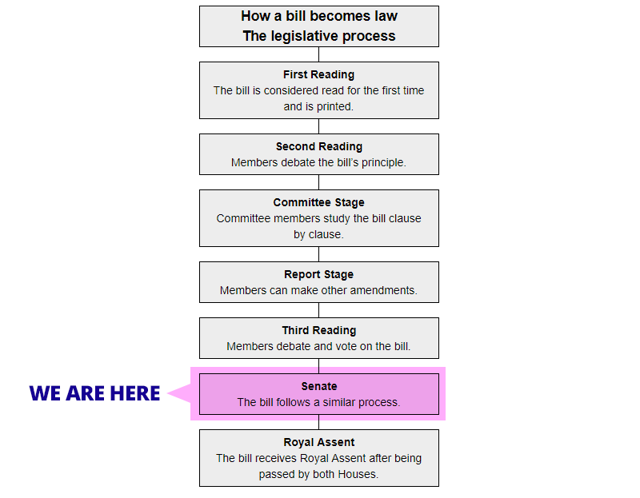 Canadian marijuana stocks climbed aggressively between October and January. This was during a time when investors drove prices higher due to increasing anticipation of a sales surge when the country legalizes adult use. A number of government delays, strict packaging and distribution rules, limited choices and what some will say are overvaluations for many of these companies have softened investors' enthusiasm.
Jason Zandberg, a research analyst at PI Financial, expects that sales for 2019 could be lower than anticipated. This is due, in part to initial shortages and slow consumer conversion from the illegal market. Zandberg also said he expects an oversupply in three to five years as more production will go live. He estimates that there will be over 3 million pounds of supply by 2023 compared to the 1.9 million pounds of demand in a Feb. 15 note.
As part of the National Cannabis Industry Association's lobby days that took place during the month of May, marijuana business owners held at least 200 separate meetings with U.S. House and Senate offices. The main goals focused on a number of bills that would limit or end the federal government's involvement with state marijuana laws. The bills would also give way to state-legal businesses to use banking services and in turn be taxed more fairly.
Senate Majority Leader Mitch McConnell (R-KY) recently filed a bill to legalize hemp. It already has more than a fifth of the body signed on as cosponsors, which includes Minority Leader Chuck Schumer (D-NY), who has traditionally not crossed the isle in support of a Republican filed bill.
Summer Is Typically Slower Before The Market Move In Q3
Over the last 2 years there has been a clear trend for marijuana stocks, which has been a sideways trend over all. From late May to September, the North American MJ Index has shown this to be the case. What has followed the sideways trend has been an aggressive and clear bull run to new market highs. I indicated below the period from July to September, which is typically when the industry is trending sideways: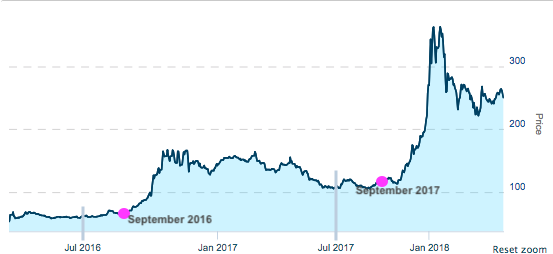 This year could be a bit different based on the one, big industry catalyst being Canadian recreational legalization. A more detailed look into the index is already showing that the Canadian index could be showing a strong and more consistent trend as of now: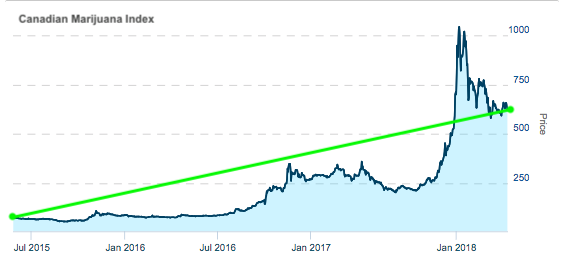 Since 2015 the trend for marijuana stocks in Canada has been a more consistent uptrend. This is compared to the US index, which has been a bit more sporadic. Keep in mind, however that over the last 3 years, both indices are up. From May 25 2015 to May 25 2018, the Canadian Marijuana Stock Index has increased by more than 740%. Compared to the US Index, that's more than 10x the increase; the US Index saw an increase of just under 40% from May 25, 2015 to May 25, 2018.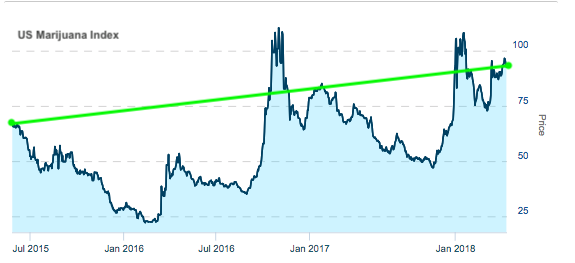 Which Marijuana Stocks Will Be Ones To Watch?
Now that we've seen that index tracking Canadian marijuana stocks specifically, has realized a considerably greater uptrend in value, we will most likely see more attention placed on Canadian cannabis in the near term. This is also the country that is beginning to see some of what we can consider early M&A activities right now.
Aurora Cannabis (OTCQX:ACBFF) has been quietly positioning itself on the map, globally via several key acquisitions and investments. Earlier in the year the company acquired CanniMed Therapeutics (OTC:CMMDF) for a deal valued at nearly $1 billion. When this deal was announced, it was the largest merger in the cannabis industry. It wasn't the easiest deal to get done by the cannabis company. In fact, CanniMed's board rejected the offer from Aurora initially. But at the end of the day, CanniMed decided that the value brought by Aurora outweighed other suitors.
Aurora Cannabis also recently agreed to purchase MedReleaf (OTCPK:MEDFF) for over $3 billion. The focus on expansion could set Aurora to become a leading cannabis company not just in North America but globally as well. This acquisition certainly sets the bar much higher for M&A in the legal cannabis space and essentially makes all other buyouts dwarfed in comparison.
Another big bet by Aurora that hasn't gotten the press it probably should, has also been their investment into The Green Organic Dutchman (OTCPK:TGODF). The two companies developed a strategic partnership when Aurora made a $55 million investment for approximately a 17.5% stake in TGOD. The positives of this transaction most likely will benefit The Green Organic Dutchman as they have commitments from Aurora to provide all organic cannabis to the company.
Aurora also has an option to build onto its ownership interest and can obtain up to more than 50%, should the company reach certain operation and financial milestones. For "The Dutchman," this could be one of the best deals for the recently IPO'd company. The company operates a cannabis product facility that spans more than 100 acres and is finishing up the build of projects in Quebec. In January, a supply contract was entered into and gives Aurora the right to buy 20% of The Dutchman's annual production.
Canopy Growth (CGC) made the shot heard round the world; sort of. In a move for access to a new pool of investors, Canopy Growth recently up-listed to the NYSE after trading on the OTC under its foreign symbol. The company also made news previously after beer, wine and spirits company, Constellation Brands (STZ) made an investment of just under $200 million into Canopy.
But Canopy makes this list for more than just its market moves. The company has also been on the expansion road. Canopy picked up Mettrum Health Corp for $283 million in stock. Among other things, the deal gives Canopy some 40,000 new medical marijuana patients.
Canopy has also been focusing globally. In 2016, Canopy acquired MedCann GmbH Pharma and Nutraceuticals. This deal put the company in position to tackle the growing market in Germany. "Working together as one team will allow Canopy Growth through Tweed, Tweed Farms, and future production sites to supply the unmet demand that has been building over the past decade," said Dr. P. Debs, founder of Medcann.
The company announced in April that it had signed a Memorandum of Understanding to build new experience-based learning opportunities for college students and grads. The company will work with Niagara College to create learning experiences for in this industry while also acting as a support for graduates looking for cannabis jobs. Over the last year, Canopy's share price has increased by as much as 632% since shares were trading at lows of $4.90 back in June of 2017.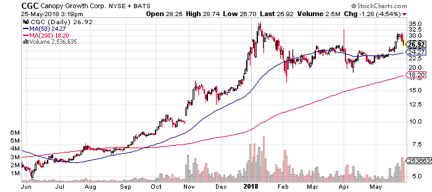 A list of marijuana stocks to watch wouldn't be complete if it didn't include Aphria (OTCQB:APHQF). Among the top cannabis companies getting involved in large M&A's, this company has completed its own fair share of transactions.
Aphria completed an acquisition of Broken Coast Cannabis for $185 million in February and followed that deal up by closing the buyout of Nuuvera the following month. Broken Coast Cannabis has roughly 26,000-square-foot of facility and is in the process of rapidly expanding.
In addition to this and similar to Canopy and Aurora, Aphria is also making a push toward the international markets via the $670 million Nuuvera acquisition. The company now has a reach across 10 countries besides Canada. Being that Germany ranks as one of the most important markets right now, Aphria's purchase of Nuuvera gives it a supply agreement with the second-largest pharmaceutical distributor serving the German medical marijuana market.
Keep in mind that the company is coming off of all-time high revenues according to its fiscal Q3 results. Aphria posted its 10th consecutive quarter of positive adjusted EBITDA, which is something that no other major Canadian marijuana grower can stake claim to.
But this isn't solely about Canadian marijuana stocks either as new legislation initiatives in the US could also make for an active next few months for some companies in the states.
Innovative Industrial Properties (IIPR) has found itself in a good situation where it has essentially begun to scoop up properties in the US. The purpose of these real estate investments has everything to do with securing square footage for the time that the US decides to flip the switch to recreational legalization. In the mean time, Innovative has targeted states with legal medical legalization in place already.
Last month the company closed on the $5.9 million acquisition of a property located in Scranton, Pennsylvania. The property includes roughly 89,000 square feet of industrial space. The Company previously executed two transactions with Vireo Health for its cultivation and processing facilities in New York and Minnesota last year. A subsidiary of Vireo Health, Inc. is also the tenant of the Scranton property.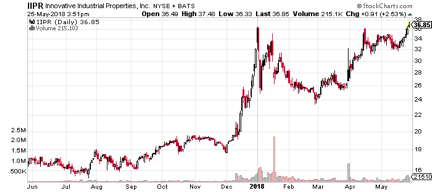 Last year, the Company purchased a medical-use cannabis cultivation and processing facility in a deal with a subsidiary of The Pharm, LLC in Arizona for total consideration of $18.0 million. Though it isn't on a global scale, Innovative Industry Properties has been growing its US footprint with a number of multi-million dollar deals over recent months.
For Innovative Industrial Properties, investors should also know that the company has been paying dividends as well. This is something that I haven't seen done by the traditional cannabis companies recently. The company most recently paid its third consecutive quarterly dividend in January. This dividend amount has also grown over that time and price performance of the stock has seen a move of more than 100% over the last year.
This Year Is An Anomaly, Which Could Be Good For Investors
Traditionally the cannabis sector cools off after May to pop its bullish horns out in Q3 but this year could be the anomaly. For this reason, it would be prudent to have a few of these marijuana stocks on watch at the very least. It seems like the name of the game this year is "M&A". The industry is fragmented and there's no getting around that but as cannabis becomes a more legitimate enterprise opportunity, so too will the industry.
In this case, the next few days leading up to June 7 as well as the weeks leading up to a proposed, nation wide legalization for recreational marijuana in Canada will set this year apart from any other year the marijuana sector has seen. This is where the opportunity lies.
Disclosure: I am/we are long TGODF.
I wrote this article myself, and it expresses my own opinions. I am not receiving compensation for it (other than from Seeking Alpha). I have no business relationship with any company whose stock is mentioned in this article.
Editor's Note: This article discusses one or more securities that do not trade on a major U.S. exchange. Please be aware of the risks associated with these stocks.