Note: This article was originally published May 10th on Value Investor's Edge, a Seeking Alpha subscription service. This week only - we are offering a free trial to celebrate our 3-Year Anniversary on Seeking Alpha along with $300 off the first year.
Overview
If you're familiar with my work, you know that since the middle of 2015, I have been bearish on container shipping prospects. But that may be coming to an end for certain classes. So what's behind this change in sentiment and why only certain classes? Here we will examine a few key trends that appear to be playing into a recovery for smaller container ships.
Some of the container ship companies traded in the U.S. market include Seaspan Corporation (NYSE:SSW), Costamare, Inc. (NYSE:CMRE), Diana Containerships, Inc. (NASDAQ:DCIX), Global Ship Lease, Inc. (NYSE:GSL), Danaos Corporation (NYSE:DAC), Ship Finance International Limited (NYSE:SFL), and Navios Maritime Partners L.P. (NYSE:NMM).
Background
As larger boxships came into being, many companies placed orders in an effort to capitalize on economies of scale. The problem was too many orders were placed which was the main cause behind the current downturn. The number of orders combined with the scale of these massive ships created an oversupply problem which led to severely depressed charter rates. But as owners focused their attention and capital on these new mega-boxships, the smaller classes were basically forgotten and ordering waned.
Also occurring during this time was the opening of the new Panama Canal lane which allowed larger vessels. The Panama Canal expansion accommodates vessels up to approximately 14k TEU, which are termed Post-Panamax or New-Panamax. These larger vessels present far more attractive economies of scale and were therefore preferred over their smaller counterparts, the Panamax class.
This left the Panamax class, which was once the workhorse of the container shipping market, in a very tough spot. As employment opportunities dried up, owners faced the music and began sending younger and younger Panamax vessels to the scrapyard, some as young as seven years old.
The result is a bifurcated market where mega-boxships are still in the thick of an oversupplied market, with more still to come, while the Panamax and smaller vessels are benefiting from a thin orderbook and the heavy amount of scrapping over the course of 2016 and 2017, which reduced supply on the water.
In fact, there are indications that perhaps the market may have overshot when it comes to how many of these smaller vessels were removed from service.
Crowding Out
The opening of the new Panama Canal expansion coupled with high deliveries of mega-box ships paved the way for a massive adjustment in the container shipping market.
Both of these scenarios led to quite a bit of cascading in the global fleet. As mega-box ships hit the trading lanes, slightly smaller vessels were forced to find other employment on different routes. As Post and New-Panamax vessels gained favor over their Panamax counterparts, these Panamax vessels were either scrapped or encroached on other routes served by similar or smaller vessels.
The result of all this was charter rate turmoil across the board. These depressed rates made it possible to charter larger vessels at the same price or lower. Therefore, we witnessed larger vessels crowding out smaller vessels, which in turn crowded out even smaller vessels and so on.
There are two reasons why this will be coming to an end. First, the Panamax and smaller classes have adjusted to the new normal. Second, the mega-boxships, while still facing an oversupply and thick orderbook, are being managed as to not induce this sort of effect.
Panamax And Smaller
The Panamax class was put through the ringer over the past couple of years. Charter rates were severely depressed and many even speculated that the Panamax class represented a dying breed of container ship which inspired record demolitions, rapidly reducing the supply.
However, the Panamax class is not dying, it simply needed to adjust to the new normal regarding demand for these vessels, and it has.
In fact, since the start of 2016, well over 100 Panamax vessels were sent to the scrapyard leaving just 729 vessels on the water. Currently, there are only nine vessels on order bringing the orderbook for this class to a paltry 1.2% in terms of vessel numbers and just 1.0% in terms of capacity.
The massive amount of demolitions coupled with a scarcity of new supply hitting the water has created an interesting situation.
On May 9th, The Loadstar reported that a shortage could be developing in the market.
In particular the hitherto workhorses of new service links, the classic panamax ships of 4,000-5,300 teu are "virtually sold out" according to the latest report from Alphaliner.

The consultant noted that just three panamax units remain 'open' for employment around the world after a flurry of charter activity in the past few months.
One Hamburg broker told The Loadstar this week that he had cargo on his books prepared to pay up to $20,000 a day for a young 4,000 teu ship.
This is in stark contrast to the few thousand dollars per day a ship commanded during the height of the crisis and thousands above current rates, indicating that if supply remains tight another move to the upside is imminent.

Source: VesselsValue
In fact, notice that rates have been on an upward climb in recent months and are approaching a five-year high.
But this trend is also being witnessed in other small classes as well.

Source: VesselsValue

Source: VesselsValue
The story for the smaller classes is similar but with one twist. Let's remember that the recent wave of containership growth was fueled almost entirely from the top. Ironically, as vessels get bigger, the frequency of direct port calls tends to be reduced. Therefore, getting many of those goods to their end destination actually requires more feedering, or use of smaller vessels for those short hauls from large to smaller ports, or smaller markets.
In fact, the situation is getting a bit desperate here as well. SeaIntel predicts that in a worst-case scenario there could be a shortage of 400 to 1,200 feeder vessels by 2020.
SeaIntel chief executive Alan Murphy said:
It is clear that in the absence of any additional feeder vessel ordering, we will very likely see an increase in the premium for feeder tonnage – and this in turn will place further pressure on the pricing strategies for the carriers.
It is becoming very clear that the focus almost entirely on ordering ULCVs in the past few years has potentially paved the way for a looming shortage in both the Panamax and feeder vessels.
Mega-Boxships
My concerns regarding the mega-boxship orderbook still remain. It will take some time to work through the massive amount of contracted newbuilds set to hit the water. So why do I think the crowding out effect here will be less than we saw during 2016 and early 2017?
Let's start with the fact that the container shipping segment isn't nearly as fragmented as other shipping segments. 90% of all container ship traffic is now accounted for by three major alliances (THE Alliance, OCEAN and 2M). This means that coordination is not only possible, but more likely, than in other major segments.
So while we are expecting an influx of vessels, the ability to control that influx is possible with some coordination. This coordinated effort looks to have started in the back half of 2017.
In late 2017, I reported that two prominent industry professionals saw signs of supply being controlled or were outright making efforts to control the pace of tonnage hitting the water. This would impact not only rates, but the degree to which smaller vessels would be crowded out. Below are those two quotes from the aforementioned article.
Peter Sand of BIMCO asks:
With demand growing briskly, why are spot freight rates falling significantly on all those trades?

Because of the liner companies' interest in 'testing' the strength of the market, they deploy tonnage into the trades until the freight rates drop! Only by doing that, can they reveal the true strength of demand.
This sentiment was confirmed by Maersk Line chief operating officer Soren Toft. The Loadstar reported:
Mr. Toft said that although there was an agreed delivery schedule, "if we find that fundamentals are different then we will surely take up dialogue with the yard."
Some companies have already made that call. Cosco has deferred 10 of the 28 ULCVs it was due to receive this year to 2018 and Yang Ming has pushed back delivery of three 14,000 teu vessels into next year.
Currently, according to Shanghai Shipping Exchange market reports, this supply control strategy has proven successful and continues to play a key role in ensuring high levels of utilization and therefore rates. The SSE has noted repeatedly that "box liners continue to control capacity" in which they seek to establish above 90% slot utilization rates for major routes.
A few times recently carriers have introduced tonnage which outpaced demand creating sub 85% slot utilization rates which caused carriers to cut rates for bigger market shares. Quickly realizing the error they resorted back to controlling tonnage through blank sailings, which is industry speak for withdrawing planned voyages thus leading to both greater utilization for ships that do sail and higher rates.
Since the economies of scale premise rests on near full utilization of mega-boxship capacity the strategy of controlling tonnage not only provides for near optimal utilization but at rates higher than would be otherwise if tonnage wasn't being controlled.
Turning back to the idea of crowding out, if tonnage is being controlled in such a way as to ensure the right amount is being placed in service to optimize capacity and buoy rates, this means that excess capacity is being kept out of the picture which removes the catalyst for crowding out smaller classes.
Therefore, if this trend is maintained it looks as though the high levels of cascading/displacement/crowding out, or whatever you want to call it are behind us.
Orderbook
To drive home my premise of a bifurcated market let's take a quick look at the orderbook.
The classes are divided up as follows:
ULCV: 13,400 - 22,500 teu.
New-Panamax: 10,300 - 13,399 teu with beams less than 49m.
Post-Panamax: 3,000 - 10,299 teu with beams greater than 33m.
Panamax: 3,000 - 5,999 teu with beams less than 33m.
Sub-Panamax: 2,000 - 2,999 teu.
Handy: 1,250 - 1,999 teu.
Feedermax: 500 - 1,249 teu.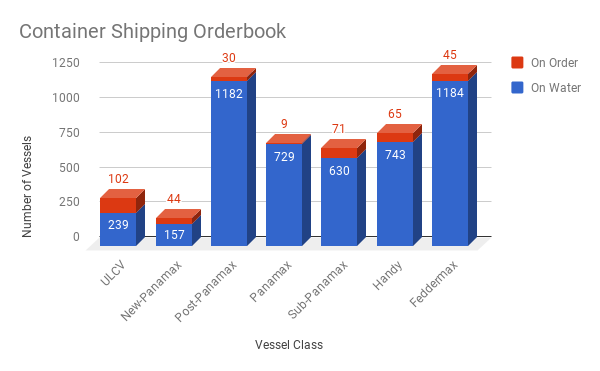 Source: Data Courtesy of VesselsValue - Chart by Author
What we see here is smaller classes having a very manageable orderbook while rates are improving. While the larger classes have a very thick orderbook with rates still under pressure.
When looking at the orderbook vessel numbers as a percentage of the on the water fleet the picture becomes quite clear.
ULCV: 42.7%.
New-Panamax: 28%.
Post-Panamax: 2.5%.
Panamax: 1.2%.
Sub-Panamax: 11.3%.
Handy: 8.7%.
Feddermax: 3.8%.
These percentages show that the two largest classes have a significant amount of supply still set to hit the water, whereas the smaller classes have a downright bullish looking orderbook. Typically anything below 15% is considered acceptable in a normal market and anything less than 5% in a normal market could result in a supply shortage in coming years.
Asset Values
Another key indicator in how the market is shifting comes in the form of asset values.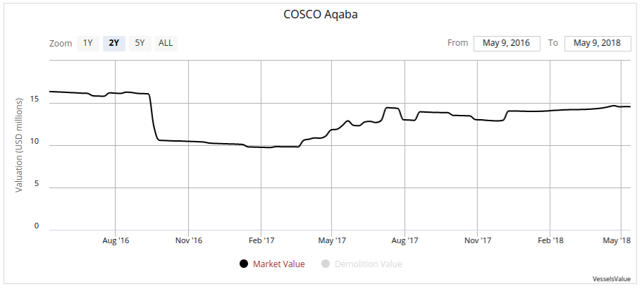 Source: VesselsValue
Above is a chart showing the nearly 50% increase in value for the COSCO Aqaba, a 4,253 teu Panamax vessel that hit the water in September of 2013.
We are seeing similar appreciation trends across several small vessel classes, such as the Feedermax.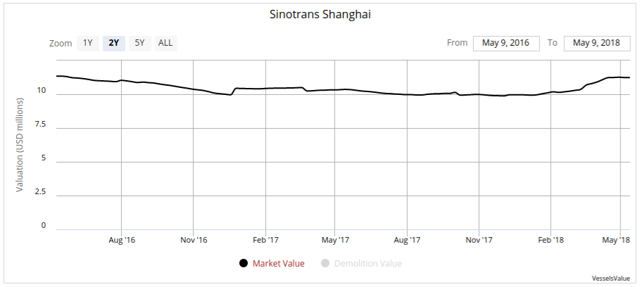 Source: VesselsValue
The 1,040 teu Sinotrans Shanghai hit the water in August of 2013 and since the start of the year its value has increased almost 15%.
The reason why the Panamax has gained more recently as opposed to the Feedermax comes from Panamax values dropping off a cliff relative to other classes during the height of the market crisis. This gave the Panamax a lower starting point for a recovery relative to others so the upturn in asset values looks more impressive for the Panamax class as opposed to any other.
Now, compare those above two examples of smaller vessels with that of the Majestic Maersk, an 18,270 teu vessel that set sail in August of 2013.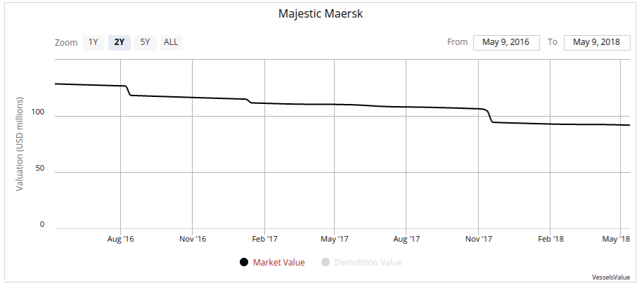 Source: VesselsValue
In fact, ULCVs that haven't even hit the water yet are seeing asset values decline.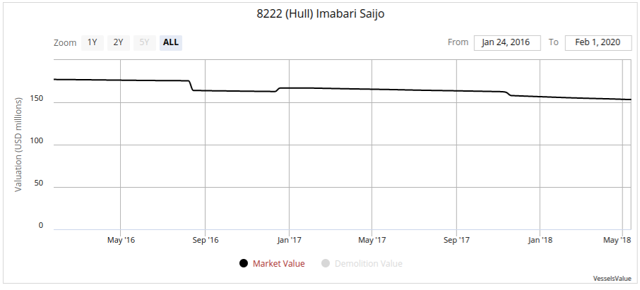 Source: VesselsValue
The 20,150 teu Imabari Saijo is set to sail in February of 2020, but even before hitting the water it is declining in value, a strong indicator of the current market and where it is headed for these larger vessels.
Conclusion
The container shipping segment is seeing two distinct market sentiments develop.
The smaller classes look to be on a path toward a sustained recovery. The cascading impacts from the Panama Canal expansion are easing. Furthermore, the market has adjusted to the new normal regarding demand by removing excess tonnage - perhaps too much. Now, the market appears tight for several smaller classes and given the very thin orderbook it could grow even tighter which would propel rates higher.
The larger classes are being managed in an effort to maximize slot utilization which results in higher rates. The challenge here is for ship planners to phase them into their trade loops without causing a big spike in capacity and a negative impact on freight rates. Aside from delaying deliveries of these vessels, it looks as though voiding sailings to match demand will be the optimizing strategy going forward. Holding back these mega-boxships should minimize a cascade of smaller – though still fairly large – ships into secondary trades, and so on and so forth.
However, it is noteworthy that even if these mega-boxships were to hit the water furthering an oversupply situation cascading opportunities might not be available.
The Loadstar reports:
Cascading appears to have hit a wall, according to one carrier source who admitted to The Loadstar recently that many of the displaced ships were proving to be "far too large" for other trades.
All of this implies that knowing the fleet details of a company becomes crucial to investors. Those companies with a fleet composed of smaller vessels should start feeling a bit optimistic while companies with fleets composed of larger mega-boxships might have to wait a bit longer for that same sentiment.
Latest Research - Two Weeks Free!
Value Investor's Edge focuses on deep-value opportunities in shipping, industrials, midstreams, international opportunities, and special situations. Each member of our analyst team is singularly focused, which means you benefit from the strongest expertise in a single sector while also gaining access to opportunities in related markets. We seek opportunities to exploit market disconnects while providing regular previews and reviews on the sectors we cover.
You'll also join a community of investors committed to helping keep one another informed about the best opportunities and news impacting the markets. Click here to sign up, and see for yourself why we have 96% 5-star reviews.
This week only - we are offering free trials to celebrate our 3-Year Anniversary on Seeking Alpha along with $300/off the first year.
Disclosure: I am/we are long NMM.
I wrote this article myself, and it expresses my own opinions. I am not receiving compensation for it (other than from Seeking Alpha). I have no business relationship with any company whose stock is mentioned in this article.