Valeant's turnaround story is quickly coming to one of the most exciting phases: growth. The shares are trading less than 10% from their 52-week high, and I am convinced at some point late this year they will test the $30 mark and continue going higher in the years to come. The shares still have some risks, but the potential profit in here greatly outweighs the risks. Valeant is a buy.

Source: Valeant Q1 Conference Call
Bill Ackman And The Management Team
I have to admit that I feel bad for Bill Ackman and his team. They started buying Valeant Pharmaceuticals (VRX) around the $180 mark, averaged down at around $60 just to finish selling at $11 per share. His investment in Valeant, along with his bad bet on Herbalife (HLF), will hunt him for the rest of his life.
His involvement in Valeant will be remembered as a fiasco. But longs in Valeant should at least be grateful he showed up when he did. Because thanks to Ackman and his involvement with the board of directors, Valeant didn't go bankrupt. In fact, Valeant can end up being one of the most successful turnaround stories in history. It was Bill Ackman who helped choose the current management team. He had seen the work done by CFO Paul Herendeen in one of his investments, Zoetis, and Ackman decided Herendeen was the right person to bring Valeant's finances in order.
Valeant Achieves Organic Growth
Valeant is a very interesting story because it's a story that begins with leadership. CEO Joseph Papa and his team believe that hiring the best people for the job as well as working with integrity and honesty is the best recipe for success in the future. That strategy is now bringing fruit.
Consider that the top 10 products in aggregate across the company during Q1 18 delivered a 20% revenue growth compared to Q1 17. The strongest growing segment was the Branded Rx with an 8% organic growth vs. Q1 17.
Adjusted EBITDA came in at $832 million vs. $861 million last year. The most important thing to observe in these numbers is that most of the business is now growing, and EBITDA has finally stabilized and is projected to grow next year.
Valeant Raises Guidance
Using Q1 $832 million as the run rate for the rest of the year, we get an annual EBITDA of $3.32 billion. Considering there's a significant reset on insurance deductibles on Q1, I consider that even the raised guidance is significantly conservative.


Source: Valeant Q1 Presentation
We all know that CFO Paul Herendeen is always cautious and gives himself plenty of room to work with. These are encouraging news for anyone investing in this company. I believe EBITDA for this year can easily come in at $3.4 billion. Regardless of the final number, we know that, based on company's projections, that number will grow growing forward.
Valeant Bonds Trading At A Premium
The bonds at Valeant should be a very clear indicator of what's happening with the sentiment on this company. For example, look at the graph of this 2021 bond which was trading at 82 cents on the dollar a year ago just to recently be trading at 150 basis points above par.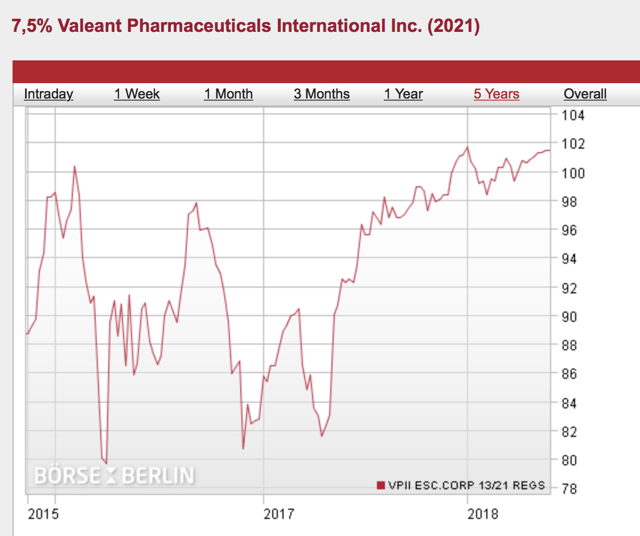 Source: Borse Berlin
There are no words that would make justice to the management team for achieving this feat in a rising rate environment. That's a rally of a whopping 19.5%.
Valeant At An Inflection Point
If the same type of rally occurs in Valeant's enterprise value at a valuation of $30.53 billion, we could be looking at a valuation of $36.64 billion or a market cap of $13.88 billion. That would equate to a share price of roughly $40 per share.
Valeant Can Quickly Deleverage Going Forward
If Valeant can achieve a significant share appreciation this year, it should come as no surprise that Paul Herendeen would then consider doing a secondary offering to help accelerate the transformation of Valeant and continuing to deleverage the company. At a valuation of $14 billion, the company could raise an additional $3 billion in the open market.
There's a wild scenario where, in 2019, the company could achieve a $3.6 billion EBITDA while, with the help of a secondary and cash flow, debt could be below the long-stated goal of $20 billion.
Conclusion
The company continues to be overleveraged, but I believe, going forward, the odds are now in the bulls' favor. The recent round of refinancing has helped spread down the repayment of debt as well as lowered the costs of debt.
The recent bull market in the company bonds will make any new debt offering easier as there's significant demand for the company debt. The successful launch of several new products will continue to add revenue going forward and help the company grow in the years to come while continuously deleveraging. Valeant has one of the most capable teams in the industry, and it seems the market is just recently waking up to what the new Valeant is and what its future looks like going forward.