Welcome to the May edition of the graphite miners news.
Graphite spot and contract price news
During May China graphite flake-194 EXW spot prices were up 0.81%, and are up 9.78% over the past year.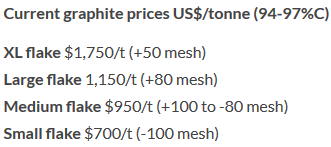 Source: Northern Graphite (early 2018)
Natural graphite price history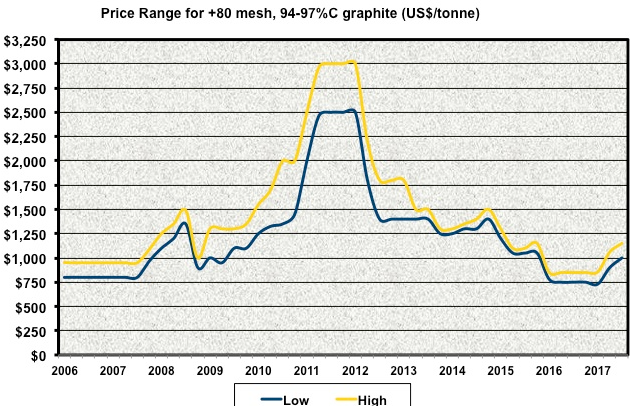 Source: Northern Graphite website
In my January 30 Trend Investing Interview with Benchmark Minerals Simon Moores he said about graphite:
Spherical graphite anode plants, predominately based in China, were traditionally 5-10,000 tpa but now we are tacking four megafactories that are looking to produce 60,000 to 100,000 tpa from 2020 onwards. This will have a significant impact on the precursor markets of flake and synthetic graphite. On the flake graphite side, a fall in output from China together with a rebound in demand from steel (refractories and recarburizer) and lithium ion batteries has pushed prices up. Our flake graphite prices index is up 25% y-o-y. The timing is good for the opening of what will be the world's largest flake graphite mine operated by Syrah Resources in Mozambique. The ramp up of this mine will have the most significant impact on the global graphite market in many years.
Graphite demand v supply
Demand
China steel industry demand is a significant factor.
EV led lithium ion battery demand is strong and growing as evidenced by four new anode megafactories with 360,000 tpa capacity set to come online by 2020 (a tripling of current capacity).
Supply
China dominates graphite supply.
New supply is coming on from Syrah Resources.
Graphite market news
On May 3 Investing News reported: "Graphite's role in the electric vehicle revolution. Graphite, a little-known component of lithium-ion batteries, is booming thanks to a unified global pushback against fossil fuels and a commitment to clean energy. It's here that graphite producers hope to contribute to the gradual curbing of climate change-related effects by helping create batteries for emission-free vehicles. "Demand for graphite is going to increase dramatically as the trend towards electric vehicles grows exponentially over the next several years," Thomas Yingling, CEO of Berkwood Resources [TSXV:BKR], told INN."
On May 18 Industrial Minerals reported: "China graphite market to climb on reducing supply; amorphous price edging up. Graphite producers in Qingdao suspended production this week to guarantee better air conditions before the Shanghai Cooperation Organization [SCO] Summit in June, supporting graphite flake prices, while amorphous graphite prices into Europe increased."
Graphite miner news
Graphite producers
I have not covered the following graphite producers as they are not accessible to most Western investors. They include - Aoyu Graphite Group, BTR New Energy Materials, Qingdao Black Dragon, National de Grafite.
Syrah Resources Limited [ASX:SYR][GR:3S7]( OTCPK:SYAAF)(OTC:SRHYY)
Syrah Resources Limited own the Balama graphite mine in Mozambique.
On April 30 Syrah Resources announced: "Today, Gov. John Bel Edwards and Syrah Resources CEO Shaun Verner announced the company has selected a Vidalia site as its preferred location for its $25 million capital investment to develop a graphite processing facility in Louisiana. The Concordia Parish plant will produce graphite anode materials for batteries in electric vehicles and other products. The company, based in Melbourne, Australia, plans an initial graphite processing plant in a 50,000-square-foot industrial building it intends to purchase near the Vidalia Port. The building can be expanded at a later date, should Syrah develop additional phases."
On May 9 Syrah Resources announced, "Syrah Resources targets EV battery market with Mozambique graphite mine. "The growth market and our focus in the coming years is very much in the lithium-ion battery segment," Syrah Chief Executive Shaun Verner told Reuters in a telephone interview. Verner said Syrah saw the market for natural-flake graphite more than doubling over the next eight years to 1.6 million tonnes from 700,000 tonnes currently, with the battery industry accounting for the bulk of that demand. Currently battery demand is about 200,000 tonnes or around 30 percent of the market."
On May 17 Industrial Minerals reported: "Syrah's Q1 graphite output down but remains on track for 2018 target. Syrah's first quarter output hit by operational problems, with prices increases expected and graphite output to ramp up in the second quarter 2018."
You can view the latest investor presentation here.
Graphite developers
Battery Minerals [ASX:BAT] [GR:0FS]
Battery Minerals Limited is a diversified mining development and minerals exploration company dedicated to exploring for and developing mineral deposits in Mozambique. The Company's core commodity targets are graphite, zinc/lead and copper. BAT is maintaining a focus on its two graphite development assets Montepuez and Balama which are located in Mozambique. The projects are expected to come into production in late 2018 and 2021 respectively.
On May 3 Battery Minerals Limited announced, "Battery Minerals agrees terms of US$30m debt & equity funding package with RCF Proceeds will be used for construction of Montepuez graphite project."
Highlights include:
"Term sheet signed for US$25m term loan and US$5m equity
US$25m term loan is for 3years a tan interest rate of 10%pa
RCF to subscribe for US$5m (~AUD$6.7m) in proposed placement
Proceeds will be used for construction of the Montepuez graphite project"
On May 17 Battery Minerals Limited announced, "Battery Minerals raises $20m to continue building Montepuez Graphite Project over-subscribed placement ensures Battery Minerals continues to be on track for commissioning in Q1 CY2019. Battery Minerals Limited is pleased to advise that its strategy to develop the Montepuez Graphite Project in Mozambique is well on track, with the Company receiving firm commitments for $20 million in a share placement. The placement was at 6 cents per share with a free one-for-two option exercisable at 10c with an expiry date of July 2023."
You can view the latest investor presentation here.
Magnis Resources [ASX:MNS] (OTC:URNXF)
Magnis is an Australian based company that has rapidly moved into battery technology and is planning to become one of the world's largest manufacturers of lithium-ion battery cells. Magnis will be responsible for the end to end supply chain in sourcing the raw materials including high quality graphite and associated technologies for these cells. Magnis has a world class graphite deposit in Tanzania known as the Nachu Graphite Project with high distribution towards natural flake graphite in the Super Jumbo, Jumbo and Large flake categories. The world supply of such categories is very low, making the Nachu project highly valuable. The company was founded on July 4, 2005 and is headquartered in Sydney, Australia.
On April 30 Magnis Resources Limited announced, "Magnis Resources Limited is pleased to present its Quarterly Activities Report for the period ended 31 March 2018." Highlights include:
"NY battery plant acquisition and relocation update.
Strategic investment in US Lithium-ion battery technology group - C4V.
Joint development agreement signed with battery separator leader-Celgard.
Letter of Intent signed with SIEMENS.
Agreement reached with Tanzanian Government to progress Nachu development Corporate.
Cash position for the Company at 31 March 2018 A$3.47M."
Mason Graphite [TSXV:LLG] [GR:M01] ( OTCQX:MGPHF)
Mason Graphite is a Canadian graphite mining and processing company focused on the development of the Lac Guéret project located in northeastern Quebec, where the graphite grade is believed by management to be among the highest in the world. Led by a proven team with over 50 years of cumulative graphite experience, including processing knowledge and distribution capabilities, the Company is well positioned to achieve production in the near term.
No news for this month.
You can view the latest investor presentation here.
Talga Resources [ASX:TLG] [GR:TGX] (OTCPK:TLGRF)
Talga Resources Ltd is a technology minerals company enabling stronger, lighter and more functional materials for the multi-billion dollar global coatings, battery, construction and carbon composites markets using graphene and graphite. Talga has significant advantages owing to its 100% owned graphite deposits in Sweden, proprietary process test facility in Germany and in-house graphene product technology.
On May 9 Talga Resources announced, "Talga flags cobalt spin-off. Diversified explorer and technology firm Talga Resources has decided to tidy up its Scandinavian cobalt projects and put them into a separate Swedish domiciled subsidiary - Talga Battery Metals - that will have a dedicated management team, ahead of a possible spin-out. The junior, which has transitioned from precious metals exploration to advanced materials and technologies in recent years, intends to focus on its advanced graphite-graphene projects for the global energy and industrial applications, and says it makes sense to consider separating its early stage cobalt assets."
You can view the latest investor presentation here.
SRG Graphite [TSXV:SRG] [GR:18Y]
SRG Graphite Inc. is a Canadian-based resource company with the goal of creating shareholder value by becoming a leader in the production and delivery of low-cost, quick-to-market, quality graphite. SRG is focused on developing the Lola graphite deposit, which is located in the Republic of Guinea, West Africa. The Lola Graphite occurrence has a prospective surface outline of 3.22 km2 of continuous graphitic gneiss, one of the largest graphitic surface areas in the world. SRG owns 100% of the Lola Graphite Project.
On May 2 SRG Graphite Inc. announced, "an 8m capital raising at $1.50 per share with an attached warrant at an exercise price of $2.30 per Common Share at any time for a period of 12 months following the closing date of the Offering."
You can view the latest investor presentation here.
Leading Edge Materials [TSXV:LEM] (OTCQB:LEMIF)
Leading Edge Materials Corp. (TSXV:LEM) (OTCQB:OTCQB:LEMIF) is a Canadian company focused on becoming a sustainable supplier of a range of critical materials necessary in the global transition to a low-carbon energy future. Leading Edge Materials has a unique project portfolio in Scandinavia centered on critical specialty materials-including graphite, lithium, cobalt and rare earths- for various energy related markets including lithium-ion batteries, energy generation and storage, and thermal efficiency building products. Leading Edge Materials' flagship asset is the Woxna Graphite production facility in central Sweden. Woxna is targeting the supply of high purity spherical graphite used in the production of lithium ion batteries and graphene for electrodes, barriers and coatings. Woxna is one of a few graphite producers in the western world and one of only two in Europe. The company also owns the Bergby lithium project, the Norra Karr REE project, and the Kontio cobalt project all located in Scandanavia .
On April 29 Leading Edge Materials announced, "Leading Edge Materials Corp. is pleased to report the initiation of an exploration alliance focused on lithium ion battery materials in Romania. The exploration alliance has highlighted cobalt and lithium opportunities, for which secure tenure is now being sought (the "Exploration Area"). Under the terms of the Share Purchase Agreement, Leading Edge Materials will hold an initial 51% interest in the Partnership Company and the right to acquire up to 91% interest by making certain payments in shares of Leading Edge Materials (the "LEM Shares"), including an initial payment of 367,006 LEM Shares."
Investors can view the latest company presentation here.
Triton Minerals [ASX:TON][GR:1TG]
Triton Minerals Ltd. engages in the acquisition, exploration and development of areas that are highly prospective for gold, graphite and other minerals. The company was founded on March 28, 2006 and is headquartered in West Perth, Australia. Triton have three large graphite projects in Mozambique, not far from Syrah Resources Balama project.
Ancuabe: Industry leading flake size distribution, purity and expandability.
Nicanda Hill: One of the worlds largest flake graphite/vanadium deposits.
Nicanda West: Industry leading flake size distribution and purity.
On May 9 Triton Minerals Ltd. announced: "Second binding offtake agreement signed for Ancuabe graphite project. Offtake with Chenyang highlights strong demand for Ancuabe graphite concentrate." Highlights include:
"Binding offtake agreement with major Chinese graphite company, Chenyang, for up to 16,000 tonnes per annum of Ancuabe graphite concentrate.

Up to 32,000 tonnes per annum now sold forward via binding offtake agreements for a minimum of 5 years which is >50% of forecast annual production.

Graphite concentrate to be sold at prevailing market prices, ensuring exposure to anticipated strong demand and projected prices for premium-quality graphite.

Strong momentum in product marketing, EPC and financing objectives for Ancuabe."
You can view the latest investor presentation here, a recent broker report here, with a price target of AUD 0.15 (~100% upside), and an excellent video here.
Nouveau Monde Graphite [TSXV:NOU] (OTCQX:NMGRF)
Nouveau own the Matawinie graphite project, located in the municipality of Saint-Michel-des-Saints, approximately 150 km north of Montreal, Canada.
On May 17 Nouveau Monde Graphite announced: "Hydro-Québec (HQ) and Nouveau Monde Graphite are pleased to announce the signing of a license and a research and development agreements respecting the processing of graphite for use in lithium-ion batteries. This collaboration will hopefully enable NMG to commercialize battery material technologies developed by HQ over the past 30 years, helping to position Québec strategically in the lithium-ion battery market."
You can view the latest investor presentation here.
Volt Resources [ASX:VRC] [GR:R8L]
Volt Resources Ltd is a graphite exploration company. The Company is focused on the exploration and development of its existing wholly owned Bunyu Graphite Project in Tanzania and the identification of further assets globally which have the potential to add value to shareholders.
On May 1 Volt Resources Ltd announced, "Quarterly activities report to March 31 2018." Volt Resources CEO stated, "Volt remains focused on completing the Stage 1 development of the Bunyu Graphite Project within the next 12 to 15 months, and a number of important operative foundations were completed over the course of the March quarter. The lodgement of documents such as the Environmental and Social Impact Statement, mining licence applications and the completion of the Resettlement Action Plan with associated valuation report lodged for approval with the Chief Valuer represent the progress of a number of critical components of the Company's strategy. Furthermore, the regulatory review of the draft prospectus for the US$40 million Tanzanian Note issue is now well underway. With these developments anticipated to be finalised in the June quarter, Volt is entering an exciting phase and remains on track to develop its world-class graphite business."
You can view the latest investor presentation here.
Next Source Materials [TSX:NEXT] [GR:1JW] (OTCQB:NSRCF)
NextSource Materials Inc. is a mine development company based in Toronto, Canada, that is developing its 100%-owned, Feasibility-Stage Molo Graphite Project in Madagascar. The company states: "The Molo Graphite Project is a Feasibility-Stage project and ranks as one of the largest-known and highest quality flake graphite deposits in the world and the only project with SuperFlake® graphite."
No news for the month.
Investors can view the latest company presentation here. You can watch the latest company's Senior Vice President Brent Nykoliation video interview here.
Renascor Resources [ASX:RNU]
Renascor Resources Ltd. is an Australian exploration company, which focuses on the discovery and development of economically viable deposits containing uranium, gold, copper, and associated minerals. Its projects include graphite, copper, precious metals, and uranium.
On April 30 Renascor Resources Ltd. announced:
"Quarterly reports. Significant Events are:
Prefeasibility Study [PFS] completed for the Siviour Graphite Project. Post-tax unleveraged NPV 10 of US$500m. 30-year mine life, with average production of 117,000t per annum (142,000t per annum over first ten years). Operating cost of US$335 per tonne.
PFS also considers low-start-up capital, staged development. Pre-production capital of US$29m (versus US$99m in immediate large-scale option noted above). Average production of 22,800t per annum in Stage 1, before transitioning to larger scale production of 156,000t per annum in Stage 2. Operating cost of US$577 per tonne of product in Stage 1, reducing to US$333 in Stage 2, placing Siviour amongst the world's lowest cost graphite concentrate operations.
Maiden JORC-compliant Ore Reserve of 45.2Mt @ 7.9% TGC for 3.6 million tonnes of contained graphite, underpinning a long-life mining operation
Spherical scoping study results suggest potential for value uplift through vertically integrated development of mine and flake graphite concentrate operation, plus downstream production of spherical graphite.
Independent tests confirm Siviour graphite meets or exceeds industry specifications, with key results including: Production of 99.99% spherical graphite suitable for use in lithium ion battery anodes. Production of lithium ion battery anode material from Siviour spherical graphite. Additional tests confirm suitability of Siviour con centrates for expandable graphite and a range of high-value and traditional markets.
Renascor enters into revised Option Agreement to acquire 100% of the Siviour Graphite Project; consideration fixed at 189.6 million shares in Renascor, subject to shareholder approval.
Cobalt prospective areas at Renascor's 100%-owned Olary Project significantly expanded by extensive cobalt-enriched gossan trend and new geophysical targets over Shorts Dam prospect. Follow-on exploration and drilling anticipated to commence later this quarter.
Cash position of ~$1.7 million as of 31 March 2018. Subsequent to the end of the quarter, the Company has received firm commitments for a placement to raise $6.5 million (announced on 30 April 2018), and will under take a Share Purchase Plan to eligible shareholders to raise up to a further $2 million."
On May 8 Renascor Resources Limited announced, "Renascor Resources Limited hereby provides notice to the ASX for the purpose of section 708A(5)(e) of the Corporations Act that it has issued today 159,302,080 fully paid Ordinary Shares in the Company at an issue price of $0.027 per Ordinary Share without disclosure to investors under Part 6D.2 of the Corporations Act to raise $4,301,156.16 (before costs) by way of a placement as announced on 30 April 2018 ("the Placement")."
You can view the latest investor presentation here.
Kibaran Resources [ASX:KNL] (OTC:KBBRF)
Kibaran Resources Limited is an ASX-listed exploration company focused on unlocking the graphite potential of the mineral-rich landscapes of Tanzania, East Africa. The primary focus is on the 100%-owned Epanko Deposit - a key graphite target within the Epanko Graphite Project area, which has been identified to host large flake graphite with 'expanded' properties. The Epanko Deposit has a JORC Indicated Mineral Resource Estimate of 12.8Mt at 10% TGC, for 1.28Mt of contained graphite.
April 30 Kibaran Resources Limited announced:
"Quarterly reports. Kibaran Resources Limited is pleased to release its activities and cash flow report for the three months ended 31 March 2018. Highlights include:
Positive high-level meetings with Tanzanian Government defines way forward for development of the Epanko Graphite Project ("Epanko" or the "Project") and value-added strategy to produce battery (spherical) graphite for the lithium-ion battery market.
Mining Commission appointed by the President of Tanzania HE Dr John Pombe Magufuli on Tuesday 17 April 2018.
High level diplomatic meetings held in Korea and Japan where strong market support is received as a result of the product qualification process for battery (spherical) graphite.
Epanko graphite piloting testwork commenced as first stage of phased commercialisation using the Company's new eco-friendly non-hydrofluoric acid purification technology (patent pending).
Pilot plant located in Germany and to be subsequently expanded to enable initial commercial sales of battery (spherical) graphite products.
Assessment of other graphite feedstocks using eco-friendly purification pilot plant underway.
Demand growth expected to result in supply of battery (spherical) graphite directly to battery manufacturers.
Discussions progressing with leading carbon and battery product manufacturers in Asia and Europe on joint development of battery (spherical) graphite products with focus on eco-friendly purification."
You can view the latest investor presentation here.
Zenyatta Ventures [TSXV:ZEN] (OTCPK:ZENYF)
Zenyatta Ventures Ltd. ("Zenyatta") is a mineral development company based in Thunder Bay, Ontario. Zenyatta is currently developing the Albany Graphite Deposit ("Albany") - a rare, igneous related, hydrothermal graphite deposit with the potential to produce a natural, high-purity graphite that may compete in high-technology markets traditionally reserved for synthetic graphite. To date, Albany is the largest and only known global deposit within the rare igneous-hosted, hydrothermal ("vein") subclass of graphite deposits to be in development.
No significant news for the month.
You can view the latest investor presentation here.
Sovereign Metals [ASX:SVM] [GR:SVM]
Sovereign Metals Ltd. is an exploration company, which engages in the explorations of graphite, copper and gold resources.It operates through the Queensland, Australia and Malawi geographical segments. Sovereign Metals has worlds biggest graphite saprolith source of 65m tonnes at 7.1% TGC at their Maligunde project.
On April 30 Sovereign Metals Ltd. announced:
"Quarterly report. Sovereign Metals Limited is pleased to present its quarterly report for the period ending 31 March 2018. The Company is focused on the world-class Malingunde Saprolite Hosted Graphite Project in Malawi. The results of the 2017 Malingunde Scoping Study demonstrate the potential for the deposit to support a very low capital and operating cost operation with annual graphite concentrate production of approximately 44,000 tonnes over an initial mine life of 17 years. Highlights include:
Rapid progression of Pre-feasibility Study ("PFS") at Malingunde.
In November 2017, the Company commenced the PFS for the exceptionally low cost Malingunde Saprolite-Hosted Graphite Project. During the quarter the Company progressed key PFS disciplines, including engineering, mining, processing, environmental and social activities, including: Completion of process design including final process flowsheets and design criteria. Completion of flowsheet optimisation and commencement of the variability program. Selection of final locations for major infrastructure, allowing completion of engineering activities.
The PFS on track for completion in mid-2018.
Drilling intersects further high grade saprolite and identifies new zone at Malingunde.
Aircore drilling was conducted in late 2017, with 210 holes for 6,212 metres completed. All results were released during and immediately post the March quarter and continued to confirm the excellent consistency of high-grade mineralisation along strike, as well as the substantial vertical thickness of the deposit.
Drilling at Msinja, some 1.5km south-east of Malingunde, has defined a new and significant zone of high-grade saprolite-hosted graphite mineralisation over approximately 1km of strike. The mineralisation at Msinja is expected to add to the overall resource base.
All drilling results will be incorporated into the updated JORC resource estimate, expected to be delivered this quarter.
Significant additions to Malawi land-holding.
An additional, large Exclusive Prospecting Licence EPL0492 of 1,896km 2, located to the north of Malingunde and covering ground highly prospective for saprolite-hosted graphite deposits, was granted.
The Company's land holding in central Malawi now totals 3,993km 2. The Company has re-commenced regional exploration for further high-grade, saprolite-hosted graphite mineralisation on EPL0492 and its other existing EPLs.
Upcoming activity and news flow.
The Company is rapidly progressing activities required to develop the Malingunde project. Upcoming news flow associated with the PFS includes an updated JORC resource estimate, metallurgical test work, flowsheet optimisation and advancement of the rail transport agreement."
You can view the latest investor presentation here.
Lomiko Metals Inc. [TSXV:LMR] (OTCQB:LMRMF)
Lomiko Metals is focused on the exploration and development of minerals for the new green economy such a lithium and graphite and also has a 100% interest in Lomiko Technologies Inc., an investor in technology and manufacturer of electronic products.
On May 25 Lomiko Metals Inc. announced: "The Company announces that it will raise $186,558 through the sale of 1,865,580 units at $0.10 per unit. Each unit will consist of one common share and one-half purchase warrant, with each whole warrant exercisable into one common share at a price of $0.20 for a period of one year from the closing date."
Mustang Resources [ASX:MUS]
Mustang Resources are a Mozambique-focused emerging mining company. The company is currently fast-tracking the development of their two highly prospective projects: the Montepuez Ruby Project and the Caula Graphite and Vanadium Project. The two projects are located next to each other, in the Cabo Delgado Province of Northern Mozambique. The Caula Graphite & Vanadium project Mozambique. A high grade graphite deposits (13% TGC @ 6% cut-off) with >50% large to super jumbo flakes. The company also has vanadium associated up to 1.02% V2O5 (125m @ 0.42% V2O5).
On May 13 4-traders reported, "Mustang Resources Ltd. is pleased to announce that it has placed 21.74 million fully paid ordinary shares at 2.3 cents to raise $500,000 before costs under the recently completed Entitlement Offer."
On May 22 4-traders reported, "Mustang Resources is pleased to announce that it has agreed to amend the terms of the A$19.95 million investment facility from Arena Investors LP (refer to ASX Announcement dated 8 January 2018 "Mustang Secures $19.95 million funding package from leading institutional investor"). Mustang Managing Director Dr. Bernard Olivier stated, "The continued strong support from Arena, a major global institutional investor managing in excess of US$750 million, is testimony to the quality of Mustang's Montepuez Ruby and Caula Vanadium-Graphite projects. The reduction in the original Tranche 2 quantum to be drawn end of May 2018 will result in less potential equity dilution for existing shareholders, but does not adversely affect the funding of the Company's planned project activities in June and July 2018."
You can view the latest investor presentation here.
Northern Graphite [TSXV:NGC][GR:ONG] (OTCQX:NGPHF)
Northern Graphite Corporation is an Ottawa-based Canadian mine development company. Northern's principal asset is the Bissett Creek graphite project located 100km east of North Bay, Ontario and close to major roads and infrastructure. The Company has completed an NI 43-101 Bankable final Feasibility Study and received its major environmental permit.
On May 8 Northern Graphite Corporation announced, "that ongoing metallurgical testing being carried out by SGS Lakefield ["SGS"] has identified a very promising opportunity to simplify the process plant design and reduce capital and operating costs for the Bissett Creek Project. The test work is part of the Company's planned update of its Feasibility Study ["FS"] and is subject to further evaluation, testing and cost/benefit analysis."
You can view the latest investor presentation here.
Westwater Resources (WWR)
Westwater Resources, Inc., is an explorer and developer of mineral resources that are materials essential to clean energy production. Formerly known as Uranium Resources, Inc., Westwater is developing an advanced battery graphite business in Alabama, holds dominant mineral rights positions in the Western United States and the Republic of Turkey for both lithium and uranium deposits, as well as licensed production facilities for uranium in Texas. As society grows more dependent on energy sources more sensitive to our environment, metals such as graphite, lithium and uranium play important roles in our energy future. Our experienced staff and extensive technical expertise set us apart from our peers and provide a strong platform for energy metals exploration and development.
On May 14 Westwater Resources Inc. announced, "Westwater Resources, Inc. an energy materials development company, announced today its results for the first quarter of fiscal year 2018, and also discussed its business outlook and its energy materials business development in 2018. The company discuss its graphite, lithium and uranium project."
You can view the latest investor presentation here.
Ceylon Graphite [TSXV:CYL] [GR:CCY] (OTC:CYLYF)
Ceylon Graphite is currently exploring and developing graphite mines in historic resource jurisdictions in Sri Lanka. It holds a land package constituting 121 km² grids containing historic vein graphite deposits. These unique and comparatively higher margin vein (lump) deposits currently make-up less than 1% of the world graphite production. These exploration grids represent the majority of known historic graphite resources in Sri Lanka.
On May 23 Ceylon Graphite announced, "Ceylon Graphite completes $2million non-brokered private placement led by strategic investment from Mr. Sasha Jacob. Ceylon Graphite Corp. is pleased to announce it has completed a non-brokered private placement offering of units, at a purchase price of CDN$1.00 per Unit for aggregate gross proceeds of CDN$2,000,000 led by a strategic investment from Mr. Sasha Jacob. Each Unit will be comprised of CDN$1.00 in principal amount of convertible debentures and two common share purchase warrants. The principal amount of the Convertible Debentures will be convertible at the holder's option into fully-paid common shares in the capital of the Company at any time prior to Maturity in three years, at a conversion price of CDN$0.25 per share. This is a premium of 25% to the current share price of CDN$0.20."
You can view the latest investor presentation here.
Eagle Graphite [TSXV:EGA] [GR:NJGP] (OTC:APMFF)
Eagle Graphite owns one of only two natural flake graphite production facilities in North America. The project, known as the Black Crystal graphite quarry, is located 35 kilometres west of the city of Nelson in British Columbia, Canada, and 70 kilometres north of the state of Washington, USA.
On May 10 Eagle Graphite announced: "Eagle Graphite announces substantial increase in graphite resource. Eagle Graphite is pleased to announce an updated resource estimate for its 100%-owned Black Crystal graphite quarry in southeastern British Columbia.
Highlights include:
Total Measured and Indicated ("M&I") resource of 19.23 Million tonnes ("Mt") averaging 1.35% crystalline flake graphite ("Cg") is more than 3.5 times the previous estimate of 5.41 Mt averaging 1.28% Cg.
Total Inferred resource of 23.92 Mt averaging 1.30% Cg is more than 4.5 times the previous estimate of 5.11 Mt averaging 1.29% Cg.
Total M&I contained graphite increased to over 250,000 tonnes.
Total Inferred contained graphite increased to over 300,000 tonnes.
A cut-off grade of 0.7% Cg was applied to all estimates."
You can view the latest investor presentation here.
Focus Graphite [TSXV:FMS][GR:FKC] (OTCQB:FCSMF)
Focus Graphite Inc. was listed on the TSX-Venture Exchange in May 2010 under the symbol "FMS". Then known as Focus Metals Inc., it acquired the Lac Knife high purity natural flake graphite property located on the Quebec-Labrador border from IAMGOLD Corporation.
No news for this month.
You can view the latest investor presentation here.
Graphite One Resources Inc. [TSXV:GPH] [GR:2JC] (OTCQB:GPHOF)
The Property is located on the Seward Peninsula in Western Alaska, along the north flank of the Kigluaik Mountains about 55 kilometers (37 miles) north of the City of Nome. It is approximately 35 kilometers (22 miles) from seasonal roads and 5 kilometers (3 miles) inland from inter tidal waters at Windy Cove (Imuruk Basin). The company claims to have "America's highest grade and largest known, large flake graphite deposit."
On April 30 Graphite One Resources announced, "Graphite One Resources Inc. announced today that the process of converting the 24 unpatented federal mining claims leased from Kougarok LLC to State of Alaska mining claims is now complete. All resources identified to date within the Company's Graphite Creek flake graphite deposit are now held by the Company by state mining claims either (1) owned by Kougarok LLC and leased to the Company or (2) owned by the Company directly. Certain prior royalty rights remain unaffected by the conversion."
On May 1 Graphite One Resources announced, "Graphite One Resources Inc. announces that it intends to complete a non-brokered private placement offering (the "Offering") to raise gross proceeds of up to CA$2,500,000. The Corporation plans to issue up to 35.7 million units (the "Units") at a price of CA$0.07 per Unit."
Great Lakes Graphite [TSXV:GLK] [GR:8GL] (OTC:GLKIF)
Great Lakes Graphite is a clean technology minerals processing company supplying customers with innovative, high quality value-added carbon products. Great Lakes Graphite is focused on the manufacture, marketing and sales of graphite products to a growing base of regional customers.
on May 16 Great Lakes Graphite announced, "Great Lakes Graphite announces resumption of trading and corporate update.
Highlights include:
Trading of the company's shares on the TSX Venture Exchange will resume on May 17, 2018.
The Company has signed a Definitive Agreement to sell the Lochaber Graphite Property to Saint Jean Carbon
The Company is rebranding as NovoCarbon and has formed a US subsidiary under that brand.
A special shareholder meeting will be convened to approve a proposed change of business and other matters."
You can view the latest investor presentation here.
Walkabout Resources Ltd [ASX:WKT]
Walkabout Resources Ltd. is a mineral exploration company. Its principal activities include exploration and development of resources and energy assets located in Australia, Botswana and Tanzania. It operates through the following segments: Graphite, Coal, Lithium, Copper, and Corporate. The Graphite segment includes assets and all related expenses to the tenements in Tanzania.
No significant news for the month.
You can view the latest investor presentation here.
DNI Metals [CSE:DNI] (OTCPK:DMNKF)
DNI Metals, Inc. is an exploration and evaluation stage company, which engages in the exploration and development of mineral properties. It holds base and precious metals, specialty metals, rare earth elements, diamond, graphite and uranium mineral properties in Alberta, Utah and Ontario.
On March 5 DNI Metals announced, "DNI Metals: Assays for an additional 17 drill holes and 1 trench received; Including 14.64m grading 9.92% graphitic carbon from surface and 24.00m grading 7.71% graphitic carbon in trenching (4m depth)"
You can view the latest investor presentation here.
Graphite processors/traders
Some graphite processors and traders include:
Asbury Carbons (private), Superior Graphite (private), Imerys [FP:NK] (OTC:IMYSF) (OTC:IMYSY)), Graftech, SGL Carbon [GR:SGL], Georg H Luh, AMG Advanced Metallurgical Group [GR:ADG] (OTCPK:AMVMF).
Other graphite juniors
Black Rock Mining [ASX:BKT], Bass Metals [ASX:BSM], Elcora Advanced Materials Corp. [TSXV:ERA](OTCQB:ECORF), Gratomic Inc. (TSXV:GRAT), Graphite Energy Corp. [CSE:GRE] [GR:GOA] (OTCPK:GRXXF).
Conclusion
Graphite spot prices rose slightly in May.
My highlights for the month were:
Investing News - "Demand for graphite is going to increase dramatically as the trend towards electric vehicles grows exponentially over the next several years."
Industrial Minerals - "China graphite market to climb on reducing supply."
Renascor Resources PFS completed for the Siviour Graphite Project with a post-tax NPV10% of US$500m.
Triton Minerals off-take agreement with Chenyang.
Eagle Graphite announces substantial increase in graphite resource.
As usual all comments are welcome.
Disclaimer: The information in this article is general in nature and should not be relied upon as personal financial advice.
Trend Investing
Thanks for reading the article. If you want to go to the next level, sign up for Trend Investing, my Marketplace service. I share my best investing ideas and latest articles on the latest trends. You will also get access to exclusive CEO interviews and chat room access to me, and to other sophisticated investors. You can benefit from the hundreds of hours of work I've done to analyze the best opportunities in emerging industries, especially the electric vehicle and EV metals sector. You can learn more by reading "The Trend Investing Difference," "Recent Subscriber Feedback On Trend Investing," or sign up here.
My latest related Trend Investing articles are as follows:
Disclosure: I am/we are long SYRAH RESOURCES (ASX:SYR), KIBARAN RESOURCES (ASX:KNL), TRITON MINERALS (ASX:TON).
I wrote this article myself, and it expresses my own opinions. I am not receiving compensation for it (other than from Seeking Alpha). I have no business relationship with any company whose stock is mentioned in this article.
Editor's Note: This article covers one or more stocks trading at less than $1 per share and/or with less than a $100 million market cap. Please be aware of the risks associated with these stocks.