Investors with interest in Las Vegas casino operators should be watching not only the countdown to the Stanley Cup, but also the few negotiating hours left until May 31, 2018 - contract expiration date for the Culinary and Bartenders Unions. Newsflash - the 50,000 workers affected by these contracts voted last week to go out on strike if they don't get the terms they demand for contract renewal by Friday this week.
It's been 34 years since Las Vegas suffered a strike that mattered so much as this. The previous Culinary Union strike in 1984 continued for 67 days, costing Las Vegas and Nevada millions of dollars in lost tourism and gaming revenue. Casino operators should be bracing for much lower gaming revenue as well as an immediate hit to profitability when food service workers go out on strike.
It's been a slow start for 2018 in Las Vegas. MGM Resorts reported revenues decreased (1%) for 1Q 2018, with adjusted EBITDA down (5%). Newly reconstituted Caesar's Entertainment saw same property revenues decrease (2%) for 1Q 2018, with adjusted EBITDA decreasing (3.4%).
Meanwhile, investors in Casino REITs have seen steady dividend income and promises for portfolio expansion, as tenant casino operators seek to raise money by selling more of their assets to the related REITs that own the properties they manage.
Let's see how the Casino REITs stack up compared to the Casino Operators:
This table compares Casino REITs MGM Growth Properties (owner of 12 MGM Resorts US properties) to VICI Properties (similar relationship to Caesar's Entertainment for 20 Caesar's gaming properties and 4 golf courses).

Note that yield is higher for MGM Growth Properties at 5.7% compared to 5.3% for VICI Properties. Market cap to annualized revenue is also higher for MGM Properties, at 9.1X annualized properties, compared to 7.8X for VICI Properties. This appears to show that investors value the MGM Growth Properties casinos at a higher rate than the Caesar's Properties, perhaps because the VICI Properties portfolio is more diverse than MGM Growth Properties.
However, consider the amount of debt owed by both of these Casino REITs.

The table shown above adds debt to the market cap for each of these Casino REITs, and compares the total capitalization to adjusted EBITDA (annualized from 1Q 2018). Here we see that the valuation is almost identical, 15.8X for MGM Growth Properties and 15.6X for VICI Properties.
So if the valuation of the adjusted EBITDA earned by these 2 Casino REITs is almost the same, then we would prefer to own the one that pays the higher yield - MGM Growth Properties.
Now consider the merits of the related casino tenants that rent their locations from these 2 Casino REITs. The casino operators would face operational challenges from a strike, in addition to lower revenue and profitability. This would not be a pleasant time for casino operators struggling to meet the demands of their hungry and thirsty customers. Rents would still be paid to their landlord REITs, at higher levels than for 2017, due to contractual rent escalators.
Caesar's Entertainment emerged from bankruptcy last year, September, 2017. All of its casino resort properties also were involved in the bankruptcy proceedings, until they were transferred to VICI Properties at the time of VICI's quite recent IPO, February 2018.
So although most visitors agree that Caesar's still has some of the highest quality hotels and casinos, the properties have recently experienced a period of financial stress. It seems reasonable to expect that the new backers of the company, including all the new investment bankers, have a shorter fuse on their perceptions of Caesar's and VICI Properties than on MGM Resorts.
Concern over the impact of a strike might be greater for Caesar's than for MGM.
The table below compares the current valuation of MGM Resorts to Caesar's Entertainment, showing that analysts expect rapid earnings growth from both of these casino operators.

Also note that the ratio of market cap to annualized revenue is much higher, at 1.6X for MGM Properties, compared to only 1.1X for Caesar's Entertainment. It appears investors value the revenue stream for MGM Resorts more highly because of greater perceived certainty, due to an uninterrupted long term track record of success.
So when Las Vegas Culinary and Bartenders Union members walk out on Friday this week (or perhaps later, if the negotiators are close to agreement on Thursday night), then we would prefer to be ready to BUY MGM Growth Properties than either MGM Resorts or Caesar's Entertainment, when the stocks trade lower.
VICI Properties would be a better choice than Caesar's Entertainment, if the strike continues for an extended time, as it did in 1984.
As always, the REITs can continue to deliver dividends and growth for their investors.
About REITMonitor Index: REITMonitor Index tracks 88 REITs with total market cap of $844 billion. Performance is analyzed by REIT sectors, noting standout performers and underperformers triggering investor response - see charts below.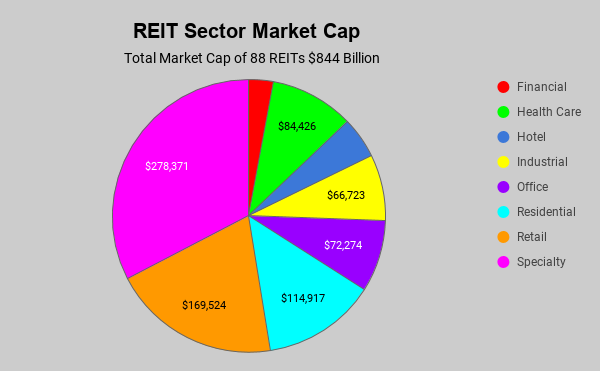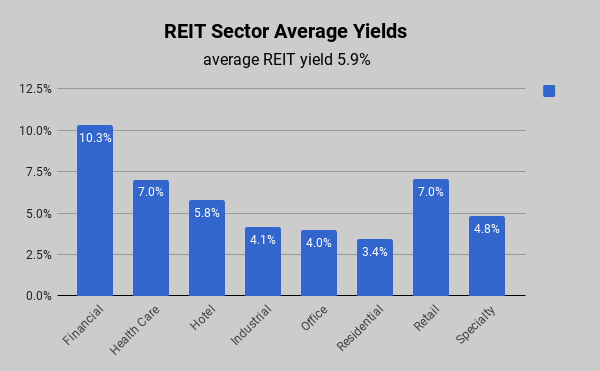 Disclosure: I/we have no positions in any stocks mentioned, and no plans to initiate any positions within the next 72 hours. I wrote this article myself, and it expresses my own opinions. I am not receiving compensation for it (other than from Seeking Alpha). I have no business relationship with any company whose stock is mentioned in this article.
Additional disclosure: timely - events later this week - still time to trade