In this article, I will give you my monthly economic outlook based on leading regional manufacturing surveys. I look at five key regional bank surveys every month that tell us what we can expect in terms of economic growth. These regional banks are listed below.
New York
Philadelphia
Richmond
Kansas City
Dallas
I always combine all reports to get a less volatile report which actually tells us what we can expect in terms of general economic growth while we also get to know a lot about sub-indicators like new orders, shipments, employment, prices and future capital expenditures.
By clicking on this link, you will be able to read the report from last month.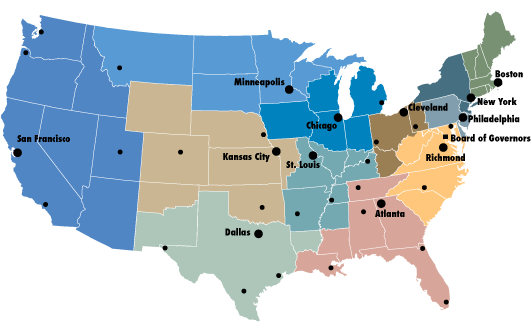 Source: Federal Reserve Education.
Changed Indicators
Before I break down the results, I have to mention that I changed my indicators a bit. I do not use a simple average to combine all reports anymore. I look at the averages of every single report and calculate the difference of every month compared to its average. I then take the average of these results. This way, I was able to push the correlation to the ISM index to more than 90% (+1 point). It increased the correlation to the other indicators as well. Therefore, note that a value below 0 does not indicate contraction, it merely means that the value is below its average. The key is to spot the trend as we will do in this article.
This Month's Keyword Is 'Rebound'
Last month, I concluded that economic growth in the US had peaked. I said that further sentiment declines were likely. However, I also mentioned something very important. It is way too early to become bearish, given that sentiment was still at above-average levels and that further readings around these levels would keep the bull case alive.
That said, this month we witnessed exactly that. Every single regional index increased in May. Kansas City even reached a new high.
The result can be seen below. Regional indicators are now predicting an ISM rebound to 61 points in May versus expectations of 57.7. In other words, I am once again a few points away from the official consensus. On a side note, look at how well regional surveys predicted last month's decline, which also came in below consensus expectations.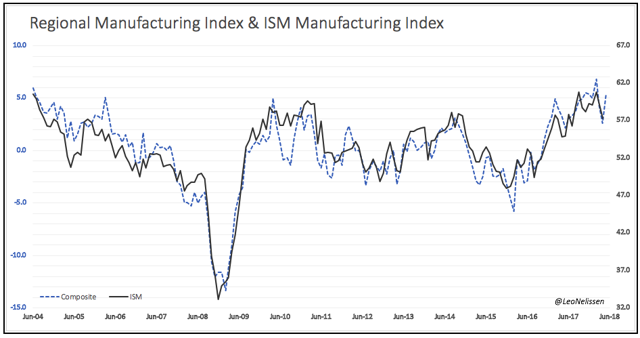 Besides that it is always a good thing to predict the ISM index release correctly, it is way more important to get the bigger trend right. At this point, we are getting a much-needed rebound which will stimulate the economy in the mid-term. However, the growth peak is not off the table as I will explain at the end of this article.
First, it is important to look at a few sub-indicators like new orders. New orders are a bit more volatile than the composite index and are currently pointing at an ISM new orders rebound to 68 points. This would then be another reading at extremely strong levels.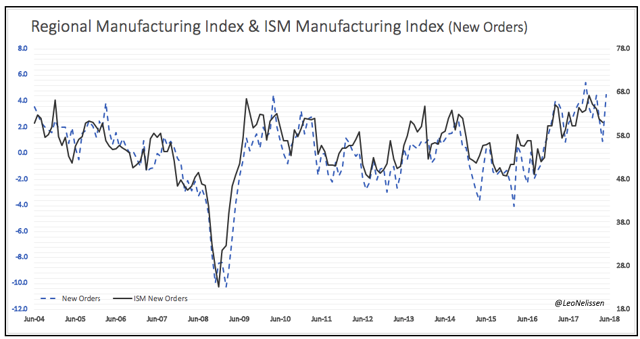 The same goes for shipments. We are seeing one of the biggest increases since the start of the upswing in 2016, which has nearly made it to its previous highs. Regardless of that, it indicates further strength for the U.S. transportation industry.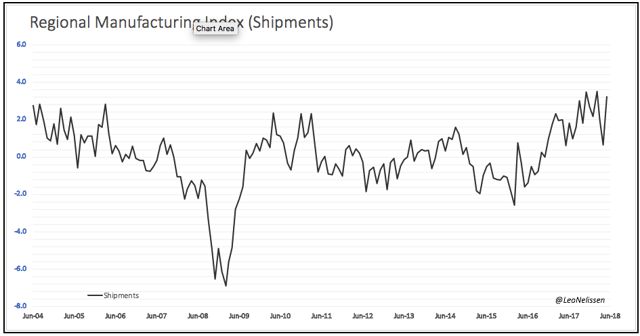 Moreover, employment almost made a new high in May after starting an impressive rally in 2017. The labor market is further tightening which will support wages and hit labor-intensive companies' profitability.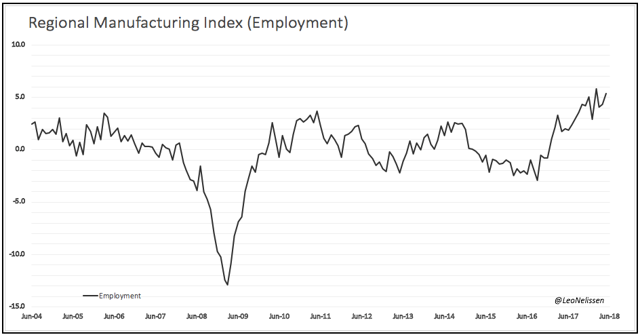 Prices Are Still Red-Hot
The pressure on input prices is not dwindling, it is rising. May saw prices received another increase to levels not seen since 2008. At this point, we are also starting to see a rise in consumer prices, which are slowly but steadily accelerating towards 2.5%. At this point, it is just a matter of time until we hit 3.0%.
And just to give you a confirmation of the strength of this trend: prices paid are still at elevated levels without any signs of a slow-down. Also note that this is the second time since 2004 that official producer prices are lagging this index. The logical result should be a strong move towards at least 6-7% growth over the next 3 months.
Why The Growth Top Is In
Future capital expenditures maybe an even better indicator to spot economic trends. Every single economic trend has been correctly predicted by capital expenditures. Personally, I believe that the validity is mainly based on the fact that capital expenditures are something a company spends a lot of time on while answering a question about one's economic outlook might be an easier question.
That said, we see that capex is further declining in May. The good news is that capex is still at rock-solid levels. Not even 2010 got close to the current expectations. That said, the bad news is that the trend is down. And that would likely mean that we can expect overall growth to decline in the long term.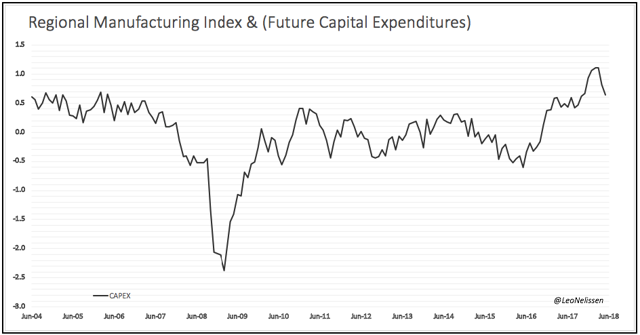 Takeaway
Over the past two months, I discussed a possible growth peak in the US. Last month, we got an ugly report that more or less confirmed this thesis. That being said, a very important part of this thesis is that growth indicators are not going to fall like a brick. It is very likely to get growth readings at current (above-average) levels. This would then further stimulate the economy in the mid-term. This month has been a very good example of such an occurrence.
Capital expenditures, on the other hand, are falling further. This indicates that we can indeed expect growth to decline further in the long term.
All things considered, I am sticking to my call that growth has peaked. However, I am not turning bearish yet. Especially this month has shown that there is more momentum to the upside which is likely going to support the stock market and cyclical assets in the next 3-6 months.
In other words, do not get bearish too quickly. There is nothing wrong with selling some cyclical assets/stocks at peak levels. However, bearish positions could backfire given that growth is not imploding like it did in 2014.
Stay tuned!
Thank you for reading my article. Please let me know what you think of my thesis. Your input is highly appreciated!
Disclosure: I/we have no positions in any stocks mentioned, and no plans to initiate any positions within the next 72 hours. I wrote this article myself, and it expresses my own opinions. I am not receiving compensation for it (other than from Seeking Alpha). I have no business relationship with any company whose stock is mentioned in this article.
Additional disclosure: This article serves the sole purpose of adding value to the research process. Always take care of your own risk management and asset allocation.