With the earnings seasons gaining full swing, stock markets recovered and concentrated on earnings, casting aside doubts about a looming economic downturn. The only exception here were classic dividend stocks which all took a beating, ranging from Procter & Gamble (PG), Altria (MO), AT&T (T) to AbbVie (ABBV), 3M (MMM) and others.
All this has created attractive buying opportunities for savvy, long-term investors. I also used this opportunity to reflect on my portfolio composition and decided to trim my shares in Altria for now.
Portfolio Changes | 2 new stocks, 2 sales and 20 repurchases
I spent a net total of $3,000 in April and grew the portfolio with two new stocks: Kinder Morgan (KMI) and Intel (INTC).
There is no dominant purchase in this month as my investments were allocated fairly equally to various stocks with Micron Technology (MU) receiving the largest contribution.
Sales
After Altria released disappointing earnings on April 26, I carefully studied the press statement, conference call and industry commentary and reached the conclusion that my initial long thesis has weakened. In my article "The Fall of 2 Dividend Champions," I outlined my reasoning precisely. In a nutshell, it goes like this:
Altria has been in difficult situations before. Being a major player in the arguably most regulated and most scrutinized industry, uncertainty and challenges are part of Altria's bloodline. However, simply assuming that since management was able to mitigate the impact from the Master Tobacco Settlement Agreement and all the regulatory hurdles it has been confronted with over time such as rising taxes, commercial restrictions, shock picture on packs and so on, it can do the same again is lacking context and could be a classic case of confirmation bias. The situation is completely different. Back then, cigarette prices have been very low, and smoker rates still comparatively high. With prices increasing substantially and the number of smokers declining significantly, the room for maneuver is much smaller. Also, if, on the one hand, your traditional cash cows are receiving less and less demand and new products are not receiving as much adoption as expected the business will certainly dry out. Sooner or later, the world will turn tobacco-free, and if Altria wants to remain a major player here, it needs to be more aggressive now.
I trimmed my holdings by 10 shares representing around 1/6 of my total holdings in Altria. I am still long by around 50 shares and but will eye the business carefully and especially whether the speed by which JUUL is taking over the smokeless tobacco market is slowing down or accelerating further. I have strong trust in Altria's management and given that it reiterated guidance for 2017 and long-term numerous times during the call and as part of its annual investor day, I am still confident that management can deliver.
I also trimmed a bit of my overweight exposure on AT&T as the falling euro helped reduce the losses. For AT&T, I have become a little bit more cautious, primarily due to the fact that the company's cash flow generation targets are very ambitious. At this stage, I am HOLDING my position waiting for AT&T's Q2 report, for which FCF generation will be key to me. AT&T has substantially underperformed the market for at least two decades, and I see no reason for that trend to change. Still, if you are on the hunt for dividend income, this stock represents the highest-yielding opportunity in the mega-cap segment. A lot of negativity has been priced into the stock, but with the Time Warner (NYSE:TWX) trial still being anyone's guess, a high degree of uncertainty will likely accompany the stock as this year unfolds.
New Stocks
Kinder Morgan: The company hiked its dividend by 60% on April 18, and with oil prices recovering and Kinder's balance sheet strengthening after it slashed its dividend a couple of years ago, this is a small, high-yielding dividend position for me. Nothing to get excited about, but worth the risk at this stage.
Intel: Given that I am already invested in Intel's main rivals Advanced Micro Devices (AMD) and Nvidia (NVDA), it only seemed logical for me also invest in the industry leader Intel as well. The company is growing strongly, especially in the ever more important data center segment and rallied strongly on excellent Q1 results featuring upside Q2 guidance.
Repurchases
My repurchases break down as follows:
1) Continue ongoing monthly stock savings plans: These are routine investments between $50 and $115 each into Wells Fargo (NYSE:WFC), Visa (NYSE:V), McDonald's (NYSE:MCD), Johnson & Johnson (NYSE:JNJ), Apple (NASDAQ:AAPL) and the lesser-known Commonwealth Bank of Australia (OTCPK:CBAUF).
2) Invest in existing dividend stocks: For long-term dividend growth, I bought a couple of more shares in solid dividend-paying companies such as Cisco Systems (CSCO), 3M and Honeywell (HON). All three have a stellar dividend track record and have been posting very solid results quarter after quarter. Downside guidance from 3M sent the stock back to an almost 3% yield below $200, and Cisco, despite very solid results, also experienced a 5% drop subsequently. Both stocks have failed to recover so far, but that only extends the time window to buy these stocks at more attractive prices.
I also purchased 7 more shares in Micron and have quickly grown this holding into an aspiring core position of my portfolio. I found out way too late about this underappreciated and undervalued jewel but still right on time before the stock shot through the roof following tremendous Q2 results and a remarkable analyst day accompanied by various target increases and a heavy stock buyback announcement. Right now with the stock trading at $64, it has risen by almost 30% during the quarter and is remarkably still only trading at around 8 times earnings.
All net purchases and sales in April can be seen below: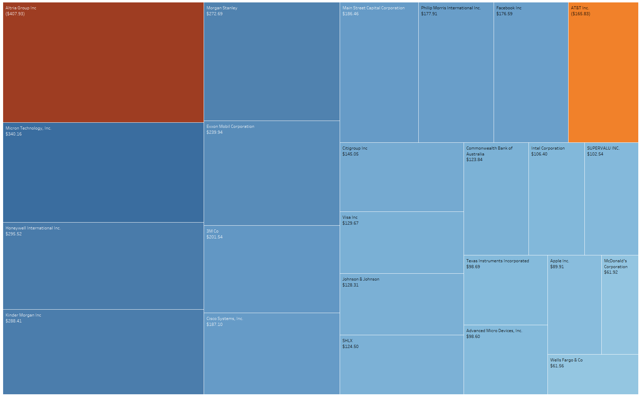 Dividend Income: What happened on the dividend side?
My income from 23 corporations amounted to $248 in dividends, up 50% sequentially and up 99% Y/Y.
These high growth rates are affected by the annual dividend payment from Daimler (OTCPK:DDAIF) and more than $30K invested over the last 12 months, mostly into dividend paying stocks. This has boosted the average monthly dividend in 2018 to $219 and remains right on track to hit the $250 mark as the year progresses.
In April, 64% of total dividend income originated from five companies spearheaded by Daimler with 27% of income alone. The stock may have not done me a lot of favors over the past year, but the dividends keep on coming and rising.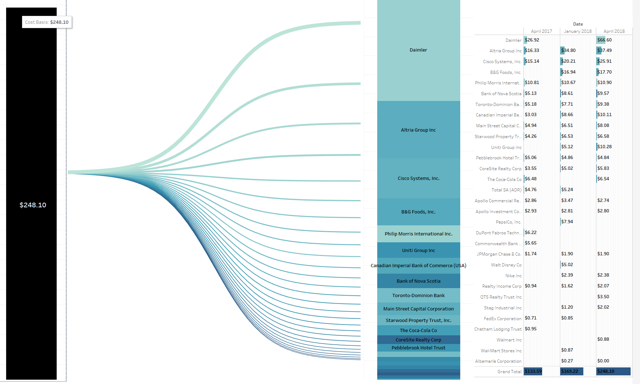 This dashboard shows how the monthly dividend income breaks down into individual stocks. It also shows the change in income versus the previous quarter and year.
Here is a look at my favorite chart, the net dividend income development by month over time between 2015 and 2018, where you can easily see the development of my dividend income as well as the average annual dividend in a given year: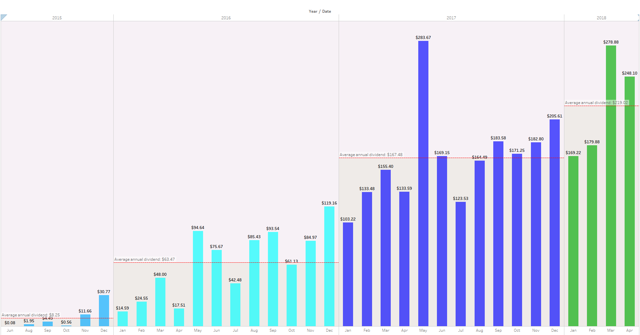 With an average of $219 in net dividend income per month over the first trimester, this shows some strong growth compared to 2017 and sets me up right on track towards my annual goal of $2,500 in net dividends. The upcoming Q2/2018 will see a big boost in dividend income, as all my German companies will distribute their annual dividends here.
Next, I have scattered all the individual dividend payments I have ever received and colored them by year, rearranging the years side by side rather than horizontally as in previous updates: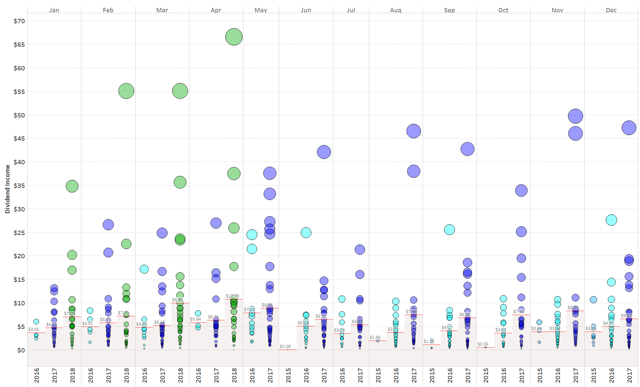 The readability of the numbers is rather poor, as there is so much data, but the bigger picture becomes apparent regardless of these numbers. I am just looking at the size and quantity of the bubbles as they keep on climbing higher and expanding in size.
It remains fascinating to watch how all these metrics develop over time. Right now, as I am still in the early stages, these metrics are not that impressive, but the growth is truly striking, and all these instruments help me measure it and provide meaning to it.
Speaking in terms of meaning, another way to express the monthly dividend income is in terms of Gifted Working Time (GWT). I am assuming an average hourly rate of $25 here. My annual target is to replace 100 hours of active work with passive dividend income. This translates to $2,500 in annual net dividends, or around $208 per month. I am not sure if I am sandbagging here, and thus, may readjust that target after the next quarter as right now it looks as if I might get to around $250 by month and thus ending up at a lofty $3,000 by year-end.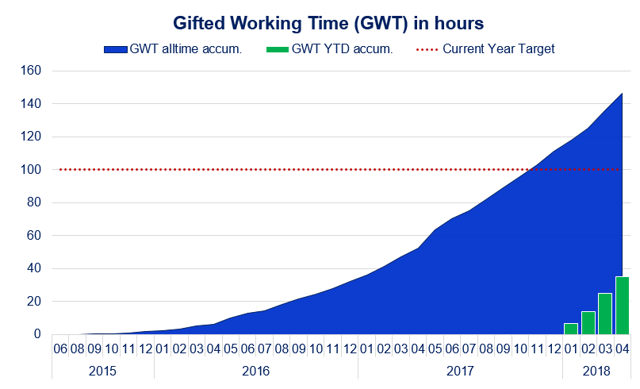 What this shows is as follows:
All time (blue area) - Around 146 hours, or 18 days, of active work have been replaced with passive income since the start of my dividend journey. Assuming a 5-day work week, that equals more than three weeks of vacation funded via dividends.
YTD (green bars) - Around 35 hours, or 4.4 days, of active work have been replaced with passive income in 2018.
My portfolio composition
As of the end of April, based on cost basis and previously mentioned clustering, my portfolio is comprised as follows: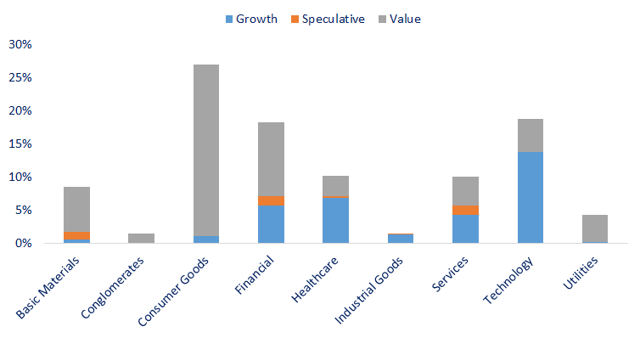 Value: 62% (-1pp)
Growth: 34% (+1pp)
Speculate: 4% (unchanged)
By holding, it looks like this:
| | | |
| --- | --- | --- |
| AT&T Inc. | (T) | 6.21% |
| Apple Inc. | (AAPL) | 4.81% |
| Altria Group Inc | (MO) | 4.42% |
| Royal Dutch Shell Plc | (RDS.B) | 3.98% |
| Gilead Sciences, Inc. | (GILD) | 3.80% |
| Cisco Systems, Inc. | (CSCO) | 3.38% |
| Southern Co | (SO) | 2.96% |
| McDonald's Corporation | (MCD) | 2.94% |
| Visa Inc | (V) | 2.46% |
| Main Street Capital Corporation | (MAIN) | 2.31% |
| Commonwealth Bank of Australia | (OTCPK:CBAUF) | 2.29% |
| AbbVie Inc | (ABBV) | 2.12% |
| Unilever NV (ADR) | (UN) | 2.06% |
| Johnson & Johnson | (JNJ) | 2.01% |
| B&G Foods, Inc. | (BGS) | 1.98% |
| Wells Fargo & Co | (WFC) | 1.95% |
| Bayerische Motoren Werke AG | (OTCPK:BMWYY) | 1.85% |
| PepsiCo, Inc. | (PEP) | 1.81% |
| Daimler | (OTCPK:DDAIF) | 1.69% |
| Philip Morris International Inc. | (PM) | 1.58% |
| Toronto-Dominion Bank | (TD) | 1.56% |
| 3M Co | (MMM) | 1.45% |
| Microsoft Corporation | (MSFT) | 1.43% |
| Procter & Gamble Co | (PG) | 1.37% |
| Bank of Nova Scotia | (BNS) | 1.35% |
| Honeywell International Inc. | (HON) | 1.29% |
| Verizon Communications Inc. | (VZ) | 1.28% |
| NVIDIA Corporation | (NVDA) | 1.26% |
| Canadian Imperial Bank of Commerce (NYSE:USA) | (CM) | 1.24% |
| Dominion Energy Inc | (D) | 1.14% |
| Micron Technology, Inc. | (MU) | 1.11% |
| Exxon Mobil Corporation | (XOM) | 1.10% |
| The Coca-Cola Co | (KO) | 1.08% |
| BASF | (OTCQX:BASFY) | 1.05% |
| Senior Housing Properties Trust | (SNH) | 1.00% |
| Texas Instruments Incorporated | (TXN) | 1.00% |
| Spectra Energy Partners, LP | (NYSE:SEP) | 0.89% |
| Morgan Stanley | (MS) | 0.88% |
| Nike Inc. | (NKE) | 0.87% |
| Bank of America Corp | (BAC) | 0.86% |
| General Motors Company | (GM) | 0.85% |
| Omega Healthcare Investors Inc | (OHI) | 0.82% |
| Royal Bank of Canada | (RY) | 0.82% |
| Baozun Inc (ADR) | (BZUN) | 0.79% |
| Realty Income Corp | (O) | 0.73% |
| Advanced Micro Devices, Inc. | (AMD) | 0.72% |
| Momo Inc (ADR) | (MOMO) | 0.72% |
| General Mills, Inc. | (NYSE:GIS) | 0.72% |
| Target Corporation | (TGT) | 0.67% |
| Allianz SE | (OTCQX:AZSEY) | 0.66% |
| Drillisch | (OTC:DRHKF) | 0.65% |
| BP | (NYSE:BP) | 0.62% |
| Walt Disney Co | (NYSE:DIS) | 0.56% |
| Stag Industrial Inc | (NYSE:STAG) | 0.53% |
| Pfizer Inc. | (PFE) | 0.53% |
| Pebblebrook Hotel Trust | (NYSE:PEB) | 0.50% |
| Fresenius SE | (OTCQX:FSNUF) | 0.49% |
| CoreSite Realty Corp | (COR) | 0.49% |
| Bayer AG | (OTCPK:BAYZF) | 0.47% |
| Alibaba Group Holding Ltd | (BABA) | 0.42% |
| Starwood Property Trust, Inc. | (NYSE:STWD) | 0.40% |
| QTS Realty Trust Inc | (NYSE:QTS) | 0.40% |
| Teekay Tankers Ltd. | (NYSE:TNK) | 0.39% |
| Colgate-Palmolive Company | (NYSE:CL) | 0.38% |
| Ares Capital Corporation | (NASDAQ:ARCC) | 0.35% |
| JPMorgan Chase & Co. | (JPM) | 0.35% |
| Uniti Group Inc | (UNIT) | 0.35% |
| Lanxess AG | (LXS) (OTC:LNXSY) | 0.33% |
| Enterprise Products Partners L.P. | (NYSE:EPD) | 0.32% |
| Macquarie Infrastructure Corp | (NYSE:MIC) | 0.29% |
| Arista Networks Inc | (ANET) | 0.28% |
| Tableau Software Inc | (NYSE:DATA) | 0.27% |
| Starbucks Corporation | (SBUX) | 0.26% |
| Albemarle Corporation | (NYSE:ALB) | 0.25% |
| CenturyLink Inc | (NYSE:CTL) | 0.24% |
| Galapagos NV (ADR) | (NASDAQ:GLPG) | 0.21% |
| MediGene AG | (MDG1) (OTCPK:MDGEF) | 0.21% |
| Fresenius Medical Care | (NYSE:FMS) | 0.20% |
| Time Warner Inc | (TWX) | 0.20% |
| Frontline Ltd. | (NYSE:FRO) | 0.20% |
| International Business Machines Corp. | (NYSE:IBM) | 0.18% |
| CF Industries Holdings, Inc. | (NYSE:CF) | 0.16% |
| Apollo Commercial Real Est. Finance Inc | (NYSE:ARI) | 0.15% |
| Energy Transfer Equity LP | (ETE) | 0.15% |
| Activision Blizzard, Inc. | (NASDAQ:ATVI) | 0.15% |
| Apollo Investment Corp. | (AINV) | 0.15% |
| DHT Holdings Inc | (NYSE:DHT) | 0.14% |
| Brookfield Infrastructure Partners L.P. | (NYSE:BIP) | 0.13% |
| General Electric Company | (NYSE:GE) | 0.13% |
| Atlassian Corporation PLC | (NASDAQ:TEAM) | 0.12% |
| Incyte Corporation | (NASDAQ:INCY) | 0.10% |
As always, I hope that you find this update interesting and relevant. The biggest inspiration for me is reading these updates from other authors and following their progress over the years. Compared to them, I am still really at the beginning of my journey, and I would appreciate if you want to follow/continue to follow my journey as well. I hope to inspire many more readers to also start and share their journey.
Author's note: If you enjoyed this article, the only favor I ask for is to click the "Follow" button next my name at the top of this article. This allows me to develop my readership so I can offer my opinion and experiences to interested readers who may not have received them otherwise. Happy investing :)
Disclosure: I am/we are long AAPL, BP, CSCO, KO, CL, XOM, GILD, JNJ, MCD, PM, PG, RDS.B, UN, DIS, PEP, VZ, V, WFC, GIS, BGS, SEP, MSFT, MAIN, CTL, TNK, HCP, ABBV, RY, EPD, QTS, GM, OHI, CM, T, JPM, STAG, AINV, SNH, DHT, FRO, HON, STWD, PEB, MS, CF, SO, BNS, MO, PFE, TWX, O, COR, TD, ARI, D, FB, ALB, TGT, WMT, AMD, 3M, BZUN, MOMO, DATA, ATVI, TTWO, LNXSF, TXN, ETE, TEAM, SBUX, UNIT, MIC, GLPG, ANET, BABA, INCY, ARCC, ETP, BIP, GE, MU, KMI, INTC. I wrote this article myself, and it expresses my own opinions. I am not receiving compensation for it (other than from Seeking Alpha). I have no business relationship with any company whose stock is mentioned in this article.
Editor's Note: This article discusses one or more securities that do not trade on a major U.S. exchange. Please be aware of the risks associated with these stocks.