Hey! It's that time of the month again. Time to tally all the totals and see how we are progressing.
May isn't exactly over, but I have received all our dividend payments and other sources of passive income for the month. This month has just flown by. Work is just insane. I have been working 60-plus hours a week, 6 days a week (Saturday is normally a half day) This is a big reason for my lack of posts currently.
I just finished getting our vegetable garden all set up with the drip line system. Feels good to get that done, as the side of our house was a huge mess. This cleans it up more, and got to love fresh vegetables! I planted a bunch of tomatoes and cherry tomatoes, green peppers, red peppers, some herbs, cucumbers, beans, and for the first time we are going to try watermelons. I'm looking forward to seeing how those turn out.
The weather has been very nice, and we really hit it off this year with a bunch of the neighbours. It's great to have a group of friends so close. Beers are always flowing, pool parties and fires tend to be constant. The kids all get along, which is a massive bonus.
Summer is all about camping, we love to go for the weekends. We haven't gone yet, but got two trips booked and debating setting up another. Anyways, let's see how the progress is going...
2 stocks decided to bulk up their dividends for me this month.
Dividend Income
14 companies paid us this month:
| Stocks | May 2018 Income |
| --- | --- |
| Totals | 307.07 |
| Proctor & Gamble (PG) | 17.21 |
| National Bank of Canada (OTCPK:NTIOF) | 21.60 |
| AltaGas (OTCPK:ATGFF) | 5.48 |
| Sienna Sr. Living (OTCPK:LWSCF) | 2.40 |
| Bank of Montreal (BMO) | 15.81 |
| CVS Health Corp. - USD (CVS) | 15.50 |
| BMO US Dividend ETF (TSE:ZDY) | 7.67 |
| Boardwalk REIT (OTCPK:BOWFF) | 2.42 |
| Shaw (SJR) | 30.32 (1 Drip) |
| Emera (OTCPK:EMRAF) | 50.85 (1 Drip) |
| Corus Entertainment (OTCPK:CJREF) | 19.29 (3 Drips) |
| RioCan (OTCPK:RIOCF) | 39.36 (1 Drip) |
| Extendicare (OTCPK:EXETF) | 16.44 (2 Drips) |
| General Mills - USD (GIS) | 62.72 (1 Drip) |
May 2018 Dividend Total = $307.07 (%317.44 higher year over year)
May 2017 Dividend Total = $73.56 (Previous Dividend Income)
Our Drips (Dividend Reinvestment Program) added $11.22 to our yearly forward dividend this month.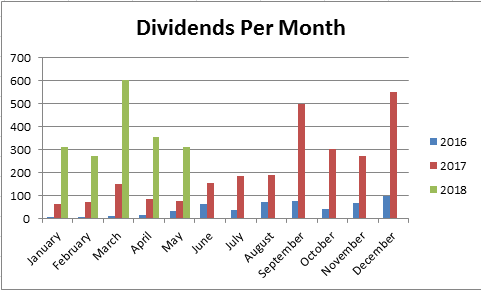 Other Income
Private Investment Payment - $500.00
Solar Panel Income - $245.09
Total May 2018 - Passive Income - $1052.16
Total Passive Income Increase over last year. - 1330.34%
Totals For 2018

Dividends Year to Date Total - $1836.21
Other Passive Income Year to Date - $3458.86
Total Passive Income for 2018 - $5295.07
Year-end Goal - $15,000 - %35.30
May 2018 Purchases
Conclusion
This was the first month Emera and Proctor & Gamble paid me. Very nice! Two more dividend increases! Man, do I ever love dividend investing... Solar was a little lower than last month because of the ice storm, but overall another great month. I'm really looking forward to seeing what June will bring in total.
Jordan, aka the moneymaaster, has a great series called Know the blogger. Recently I answered all his questions, and if you would like to know more about me or other bloggers, check his site out. Pretty cool to learn more about some of you!
Anyways, that's all folks! How did you do?
Editor's Note: This article discusses one or more securities that do not trade on a major U.S. exchange. Please be aware of the risks associated with these stocks.