By Jerry Wagner
I made a trip to a travel clinic this morning. It's the first time I've had to do that since I went to Russia more than 10 years ago. But this year, I plan to go to some developing market countries, so a return trip to the clinic was necessary.
The Centers for Disease Control and Prevention (CDC) says, "Immunization is one of the best forms of protection for all travelers." The need for such protection seems obvious. There are some very bad bugs out there that can not only ruin your trip but also take your life.
Since I spend most of my waking hours engaged in risk management, getting a few shots in advance of traveling seemed like a no-brainer. A vaccination plan for dealing with deadly diseases seems just like a risk management plan for bear markets that threaten the financial health of your investment portfolio. I don't want yellow fever, and I don't want to lose 50% or more the next time the stock market crumbles.
Just as a bout of malaria can disable one for years, so too can a market meltdown immobilize an investor for years. We have the proof. It has happened twice already in the last 20 years!
Similarly, not doing something before you travel limits your options. Once you're "in-country," you may be left with merely treating the symptoms. That can be enough, but it may fall short. It's like betting on an event. You have to look at the possible outcomes and determine if you can live with them... literally.
Planning ahead is the most significant way of increasing your odds. To do that with your travel health, you need vaccination before you travel. To accomplish the same for your financial health, you need to talk to your financial advisor and adopt a risk management program before the stock market shrinks in value.
Like vaccination before you travel, adopting a risk management plan is not foolproof. It simply puts the probabilities on your side. And like the shot that can cause side effects, risk management can result in short-term losses in the name of long-term protection.
Your surroundings can matter. If you are traveling to a modern country, the risks of travel are not that different from here in the U.S. But travel to a developing country and the risks multiply. In the same way, when stocks are early in a bull market uptrend, risks can seem pretty small. But we know that when your trip with the S&P starts to go sideways or down, the negative options can come at you in a pretty fast and furious manner.
Market update
It can be pretty difficult to know whether the market environment is favorable or not most of the time. And right now is no different.
Tariffs are on, and then they are off. The North Korean Summit is off, and then it is on again. The economy is ramping up, or it's slowing down. Interest rates are rising, but then they are falling. A blue wave has Democrats running away in the polls, and then the next thing we hear is that their lead is shrinking - the midterm results are not so easy to gauge.
U.S. stock market indexes generally moved higher last week, as they have done mostly throughout the second quarter. As the following chart shows, international markets have not fared as well.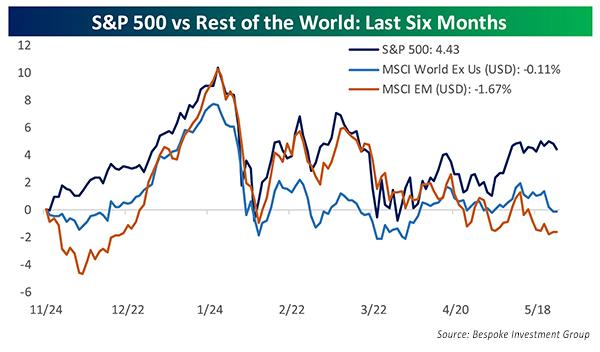 Even here in this country, the picture is not a simple one. While the S&P 500 is up, although less than 2% for the year, five of its 11 sectors are up more than 5%. The bad news, however, is that six of its sectors are down more than 5%! It's a tough sideways market in which to make a profit.
In a surprise move, interest rates tumbled last week in response to revived fears of international instability emanating from the European Union. Political disruption in the governing bodies of both Spain and Italy caused a flight to U.S. quality, and bond prices jumped in response. In Italy, that matter was compounded by calls for an end to EU membership and short-term debt coverage issues.
The result was higher U.S. bond prices across the duration spectrum. And the U.S. dollar continued to rally, especially against the euro. With the dollar up more than 4% since November, summer travel abroad for Americans should be less expensive this year.
Memorial Day weekend travel here in the U.S. was probably more expensive for citizens, as gasoline prices were at their year-to-date highs. So far it appears to be the normal seasonal rise. Hopefully, last week's 5% decrease in the price of oil will signal that we've hit the top and prices will either stabilize for summer, as they normally do, or fall.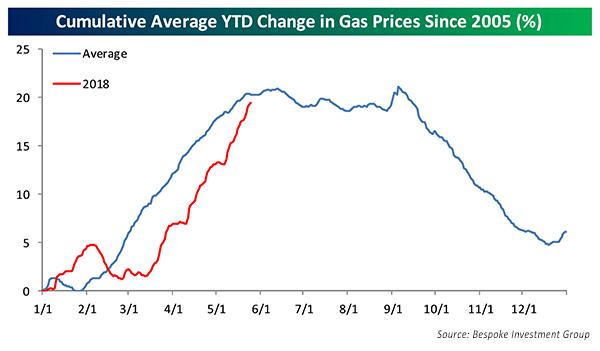 Economic reports provided some of the catalyst for higher U.S. stock prices last week. Nine out of 15 surprised to the upside. There will be many more reports this week - 26 in all - including most of the big-impact ones, such as consumer confidence, revised GDP, inflationary measures, manufacturing, and employment.
These reports could test the recently lowered volatility levels in stocks. As the following graph demonstrates, volatility is much lower in the second quarter than it was earlier in the year.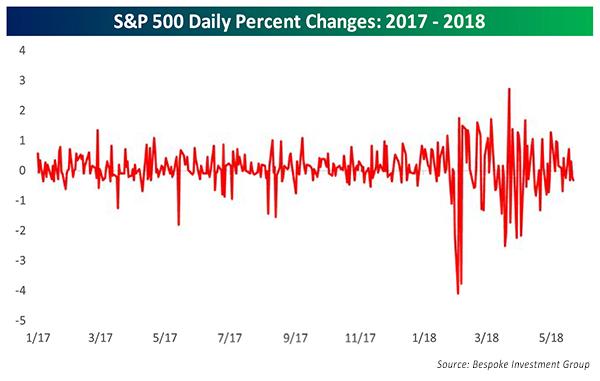 Normally, the week after Memorial Day would be a positive one for stocks. At least that's what the long-term historical studies tell us. Unfortunately, that has not been the case since this bull market began, with declines in five of the last nine years.
Another difference observed in the past five years is the stock market returns in periods of rising rates. It is a given of traditional market analysis that during regimes of rising rates, stock market returns should decline. Yet, as my firm has found in most of our regime research, the environmental analysis should focus on four dimensions, not just two. While the traditional analysis seems to hold when rates are at normal or higher levels, during periods of low interest rates, the opposite appears to be the case.
As the following chart shows, when rates are rising (in the shaded areas), the S&P has also tended to rise.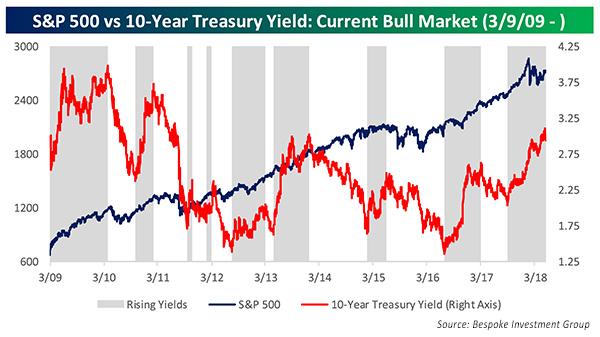 In fact, as Bespoke Investment Group recently reported, in the nine periods of rising yields since the bull market began, the S&P 500 has averaged a gain of 18.9% (median: 13.7%) with gains every time. And when rates have been falling, S&P returns averaged -0.5% (although a median of 1.6%).
This may explain why the stock market made positive strides this quarter despite rising rates. However, the decline in rates last week, which is continuing today, provides misgivings for future performance gains in stocks as long as rates continue to tumble.
Finally, I have reported that economic report surprises were mostly positive last week, but the following graph provides a longer-term perspective. It appears that Bespoke's Economic Indicator Diffusion Index on economic report surprises is about to turn from positive to negative.
This is not a good intermediate-term omen for stocks. Historically, this has been a negative prognosticator for stocks over the next six months - although, consistent with the previous discussion, it has been a positive development for bonds.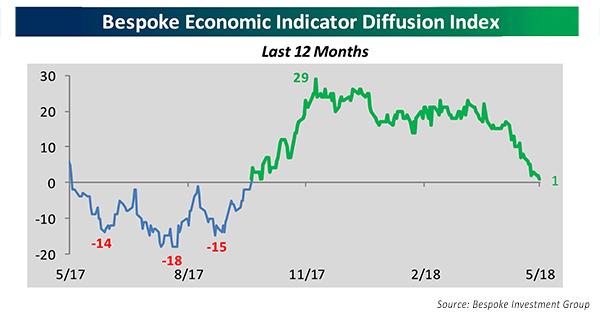 Perhaps those 26 economic reports coming this week will prevent the Index from going negative, and instead provide a needed "shot in the arm" for the stock market. If not, adopting a risk management plan or some risk-managed solutions may be just what the doctor ordered, to vaccinate your portfolio against some of the present and future market risk.