US markets have done extremely well in last several years and a cautious investor may wish to diversify their portfolio. Diversification comes in many shapes and forms. I am personally interested in diversifying across industries, geographies, political landscapes and currencies. As an avid dividend growth investor, I try to find global dividend growth companies that can additionally de-risk my portfolio while providing an avenue to benefit from worldwide economic growth. In this article, I identify some of the strongest German dividend paying companies.
Why Germany
Germany is an economic powerhouse and the largest economy in Europe. German economy is the fourth-largest in the world after U.S., China and Japan. Germany is the world's third-largest exporter (behind China and the US) but it is interesting to note that 47% of German GDP is exported compared to 12% of American GDP. Germany has a highly qualified labor force and a very high level of innovation which has helped its citizens maintain a very high standard of living and provide a comprehensive system of social security. The unemployment in Germany is quite low compared to other Eurozone member states.
Germany is home to many household names like Adidas (OTCQX:ADDYY), Allianz (OTCPK:AZSEY), BASF (OTCQX:BASFY), Bayer (OTCPK:BAYRY), BMW (OTCPK:BMWYY), Bosch, Continental (OTCPK:CTTAY), Daimler Benz (OTCPK:DMLRY), Deutsche Bank (DB), Henkel (OTCPK:HENKY), Lufthansa (OTCQX:DLAKY), SAP (SAP), Siemens (OTCPK:SIEGY), T-Mobile (TMUS), Volkswagen (VLKAY) and many more. A few of these and some lesser known names satisfy my criteria for sustainable revenue growth, long periods of compounded dividend growth and reasonable dividend payout ratio. All of these help provide more margin of safety for continued dividend growth in the future and potential for enhanced total returns.
Risks Involved
Investors should take note that German companies typically pay dividends once a year rather than quarterly. In addition, most of them do not necessarily strive to increase it every year. They rather pay a certain percentage of their profits as dividends. This may lead to no dividend growth or perhaps even a decline in a year with poor earnings growth. There may also be potential ADR fees extracted by some US brokerage firms which can reduce the dividend yield just a tiny bit.
Furthermore, diversification is a double-edged sword. While investing in Germany will definitely provide geopolitical diversification, it will introduce exposure to currency fluctuations. Almost all German companies declare and distribute dividends in euros which will vary for US investors based on dollar-euro exchange rate. In case dollar is much stronger than euro then the actual dividend in US dollars may reduce even if dividend payout in euros increased.
Withholding Tax on Dividends
Germany withholds tax on dividends at the rate of 25% + solidarity tax (total of 26.375%) for non-resident investors. An individual investor can file for tax credit on Form 1040 if the shares are held in a regular brokerage account subject to certain limitations. Amounts up to $300 ($600 for joint returns) can be claimed directly on the 1040 but greater amounts or carry-forward/backward requires Form 1116.
If the shares are held in a tax deferred account like IRA or 401(k) then no withholding taxes are deducted by Germany. This is quite different from most other countries so German stocks are suited for such tax advantaged accounts. However, some brokers may not file the appropriate paperwork that proves the US resident status to the German tax authorities. If this happens then there is no mechanism to recover the withholding foreign tax for tax advantaged accounts which would reduce the effective yield. Confirm with your broker before buying German equities in your IRA or 401(k).
Quick Figures
This article focuses on companies with attractive dividend CAGR and reasonable payout ratios. These companies are all large companies that trade over-the-counter (except for one). Do not think of these 5-character stock symbols as penny stocks trading on pink sheets. They are all Level-1 ADR and are sponsored except for Daimler and Vonovia. They are all larger than $10B companies and most are large or mega-cap.
| | | | | | | | | | |
| --- | --- | --- | --- | --- | --- | --- | --- | --- | --- |
| Company | US ADR Price | P/E | Yield | Payout Ratio | 15yr Div Growth | 10yr Div Growth | 5yr Div Growth | 3yr Div Growth | 1yr Div Growth |
| BMW AG OTCPK:BMWYY | $34.03 | 6.43 | 4.77% | 30.5% | 14.57% | 14.20% | 9.86% | 11.32% | 14.29% |
| Daimler AG OTCPK:DMLRY | $18.97 | 6.63 | 5.92% | 37.9% | 6.11% | 6.20% | 10.66% | 14.21% | 12.31% |
| Adidas OTCQX:ADDYY | $115 | 27.7 | 1.40% | 36.9% | | 17.92% | 14.01% | 20.12% | 30.00% |
| Fresenius SE OTCQX:FSNUY | $19.75 | 20.79 | 1.17% | 22.9% | 12.39% | 13.05% | 15.18% | 19.45% | 20.97% |
| Fresenius Medical Care FMS | $50.46 | 21.28 | 1.29% | 25.4% | 8.54% | 6.98% | 7.16% | 10.77% | 10.42% |
| Henkel AG OTCPK:HENKY | $119 | 17.38 | 1.83% | 30.5% | 10.80% | 13.25% | 13.74% | 11.12% | 10.63% |
| Vonovia SE OTCPK:VONOY | $23.55 | 8.47 | 3.45% | 26.1% | n/a | n/a | 18.47% | 21.28% | 17.86% |
| Allianz SE OTCPK:AZSEY | 21.91 | 11.51 | 4.49% | 52.5% | 11.81% | 3.82% | 12.20% | 5.31% | 5.26% |
Rejected Stocks
I watch a few more Germany stocks but do not find them attractive for investment at this stage due to anemic dividend growth and limited future prospects. These include the chemical giant BASF (OTCQX:BASFY), pharma and agri-giant Bayer (OTCPK:BAYRY), industrial multinational Siemens (OTCPK:SIEGY), re-insurance giant Munich Re (OTCPK:MURGY), pharma giant Merck KgaA (OTCPK:MKKGY) and liquid/gas chemicals company Linde (LNEGY) due to impending merger with Praxair.
BMW AG
BMW is a premium automobile, motorcycle and engine manufacturer with headquarters in Munich. Its car brands include BMW, Mini, Rolls-Royce and the motorcycle brand, BMW Motorrad. It is the world's biggest maker of luxury vehicles and is followed by Audi, which is owned by Volkswagen.
The company is investing heavily in electric vehicles with both plug-in hybrids as well as pure battery vehicles. It is doing well in this space compared to other luxury car players like Mercedes, Audi, Infiniti, Acura and Lexus. The biggest competition is of course from Tesla (NASDAQ:TSLA) which is indeed a reasonable risk for the company. I do believe that the global market is big enough to support multiple players. The company intends to have 500K cars on the road by end of 2019. BMW is actively working on autonomous driving as well as mobility services via ReachNow, DriveNow, myTaxi, ParkNow and ChargeNow.
The company expects number of units sold to grow at CAGR of 2.6% through 2022 with a big chunk of that coming from China, Brazil, India, Russia, South Korea and Turkey. The company has maintained high ROE and EBIT margin.
The company reduced the dividend during the recession in 2008 but has since recovered and increased the amount substantially.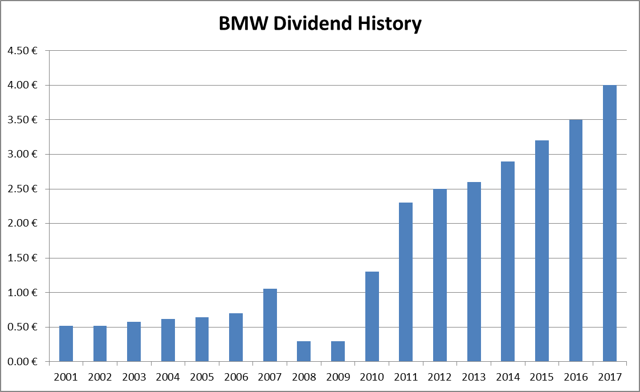 Source: Author spreadsheets with data from past company annual reports
Daimler AG
Daimler needs little introduction as one of the largest diversified automotive manufacturer. It is similar to BMW in that it is one of the biggest luxury cars manufacturers (Mercedes-Benz). However, Daimler also manufactures vans, buses and trucks for commercial use. The trucks and buses are sold under the brands of Freightliner, Thomas Built Buses and more. The company is a leader in diesel vehicles and pioneered the modern clean diesel engine. It is still unclear if and how much were they involved in the dieselgate scandal that primarily hit VW. Daimler is also investing in electric and hybrid technologies though it has sold far fewer battery-based vehicles than Nissan, Tesla and BMW so far.
Daimler also reduced the dividend during the recession in 2008 and 2009 but has since recovered and increased the amount substantially. Most investors hate it when a company cuts dividend payout but I am fine with a short-lived elimination especially during the great recession. Mercedes has varied products and great brand loyalty with increasing sales in the developing world.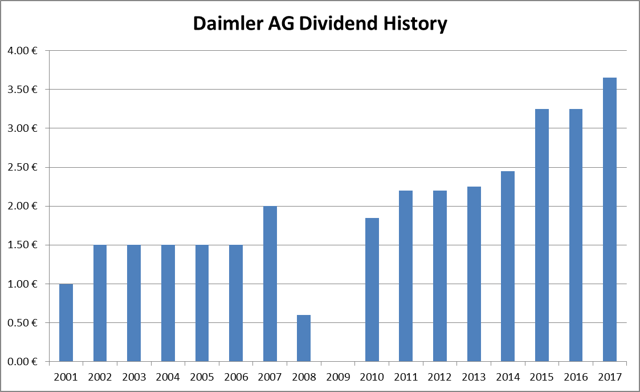 Source: Author spreadsheets with data from past company annual reports
Adidas
Adidas is a global powerhouse in shoes, apparel and sporting goods. It is world's second largest sportswear company after Nike (NKE). Adidas also owns Reebok and TaylorMade golf company along with a minority stake in FC Bayer Munich sports club. It is trying to catch up with Nike and Under Armor (UA) in digital area via its Runtastic group that has many smartphone apps.
Adidas has had a few good years recently with strong to-line growth in both North America as well as Asia-Pacific. The company has been able to increase EPS at a good pace on back of strong gross-margin increase as well as operating margin improvements. Western Europe has seen slower growth though that might improve with the FIFA World Cup about to begin. The world cup is the biggest sports event in the world and Adidas is well positioned to benefit from it.
The company expects EPS growth to be between 12-16% which should maintain the recent strong growth in dividend. Most recent increase was very satisfying 30%. The current yield is alas not as enticing but the group is expected to do well for coming years and is worthy of investment on any signs of stock price weakness.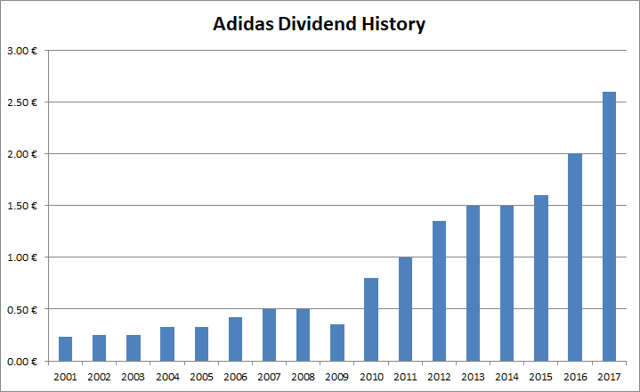 Source: Author spreadsheets with data from past company annual reports
Fresenius SE & Co. KGaA
Unlike Adidas, BMW and Daimler, perhaps Fresenius (OTCQX:FSNUY) may need some introduction. It is a healthcare giant with four major business subsidiaries. Fresenius has more than 275,000 employees worldwide and annual revenue of more than $35B. Its biggest subsidiary is Fresenius Medical Care which is publicly traded and focuses on kidney care and is the world largest dialysis provider.
Its second division is Fresenius Helios which is Germany's biggest hospital operator with 156 hospitals and 41,000 beds. Fresenius Kabi is a wholesale supplier of devices and medicines. It has a large number of production sites and fast becoming a leader in generics business. Its fourth division is Fresenius Vamed that manages healthcare facilities in more than 80 countries. Fresenius had intended to buy Akorn, a maker of liquid generic drugs for about $4.75B. However, Fresenius pulled out of the deal last month as it found data integrity breaches at Akron which appears to be a good financial decision.
The group has had many years of strong sales and earnings growth making it my favorite stock. Sales have grown at CAGR of 12% over last 14 years and net income grew at 22% compounded over the same period. The only caveat is that the current yield is low.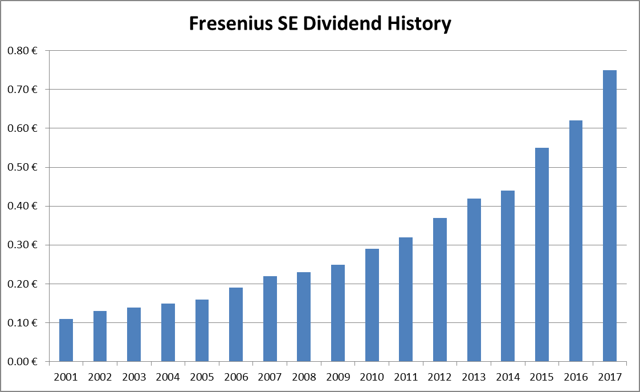 Source: Author spreadsheets with data from past company annual reports
Fresenius Medical Care
Fresenius Medical Care (FMS) is world's largest dialysis provider and is 30% owned by Fresenius SE. It provides products and services for patients with chronic kidney failure. There are more than 3 million patients worldwide who need products and machines to cleanse their blood due to kidney failure. The company has a network of more than 3700 clinics whether it treats more than 320,000 patients. The company has revenue of more than $20B and listed on the Frankfurt exchange and on the NYSE as well.
The number of dialysis patients worldwide is expected to grow at 6% compounded rate for the next several years. This would help the company increase its sales at a compounded rate of 10% for the coming few years. Last year's acquisition of Massachusetts based NxStage Medical for $2B will help the company maintain its momentum. As the company expands its non-dialysis segment, the EPS is expected to grow faster at more than 10% every year.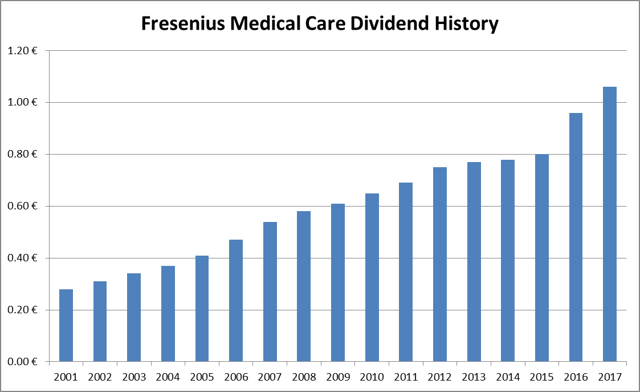 Source: Author spreadsheets with data from past company annual reports
Henkel AG
Henkel is a large consumer goods company with a long history. It was founded in 1876 and has three major divisions - laundry and home care, beauty care and adhesives. Henkel is much smaller than its bigger known competitors such as Procter & Gamble (NYSE:PG), Unilever (NYSE:UL) and Reckitt Benckiser. The adhesive business is led by Loctite while Laundry & Home business consists of Persil, Purex and All detergent. Beauty consists of Schwarzkopf, syoss and Dial. It has annual revenue of more than $25B that have grown at mid-single digits over last several years as result of strategic acquisitions in addition to organic growth in developing countries.
The recent fast pace of dividend growth is unlikely to be maintained as the EPS is expected to grow 7-9% for the next few years. I can see dividend growth at about 9-11% on back of low payout ratio, continued margin improvement, acquisitions and share buybacks.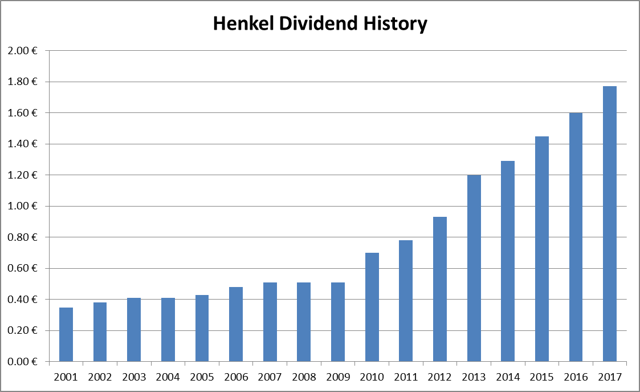 Source: Author spreadsheets with data from past company annual reports
Vonovia SE
Vonovia (OTCPK:VONOY) is a large European residential real-estate company. The company has a huge portfolio that is worth more than $40B. Vonovia owns and manages 355,000 residential units across almost all key areas of Germany. It also manages more than 65,000 apartments that are owned by others.
The company went public in 2013 and is a member of the DAX30 index as well. As such it has limited history of increasing dividend payments. The company has done well in last several years as German economy has been resilient. Vonovia has made some strategic acquisitions as well including the Austrian company Buwog in March 2018. The dividend is unlikely to grow at recent rates but is well covered by funds from operations. The company managed to reduce operating expenses as well as interest expenses in last few quarters.
I like German housing prospects with strong economic growth and recent influx of immigrants. Vonovia is a well-managed company and I am looking to start a position if and when yield reaches 4% for extra margin of safety.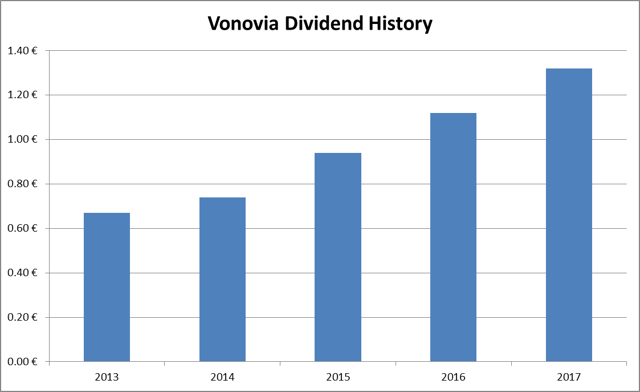 Source: Author spreadsheets with data from past company annual reports
Allianz
Allianz is a financial services giant headquartered in Munich. It primarily does insurance business and asset management. It is the world's largest insurance company and largest financial company by various metrics. Its asset management division consists of PIMCO and Allianz Global Investors. It used to own Dresdner Bank as well that it sold to Commerzbank which gave it a 14% stake in this giant bank.
The group revenue was more than €126B and operating profit for €11B that has grown at low single digit percentage over last several years. It has delivered steady earnings over several decades except during the great recession when dividend was cut though not eliminated. The company has a sizeable share buyback program as well that helps the EPS grow faster than underlying profits. The current yield is attractive and one can expect 5-7% dividend growth going forward based on strong asset management prospects.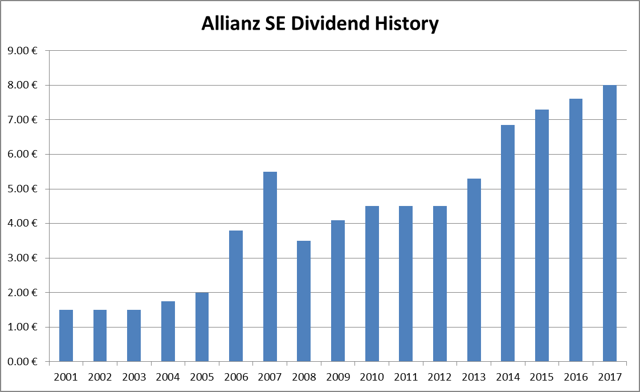 Source: Author spreadsheets with data from past company annual reports
Summary
Germany is a developed country with a strong resilient economy. It is home to some very strong companies with long history of dividend payments. A few of these provide growth at reasonable valuations. There is obvious currency exchange risk involved when investing outside the US but Germany has high corporate governance and euro is relatively stable against the US dollar. In fact some investors may prefer a portion of their portfolio to be in strong global companies.
I presented eight companies that are worthy of further due diligence by an investor looking for dividend growth and diversification. I already own four of these and would like to hear your opinions in the comments stream below.
Disclosure: I am/we are long BMWYY, DMLRY, FSNUY, HENKY. I wrote this article myself, and it expresses my own opinions. I am not receiving compensation for it (other than from Seeking Alpha). I have no business relationship with any company whose stock is mentioned in this article.
Additional disclosure: I intend to buy ADDYY if it corrects by >15%.
Editor's Note: This article discusses one or more securities that do not trade on a major U.S. exchange. Please be aware of the risks associated with these stocks.