Cryptocurrencies have been on a wild ride over the past year. Bitcoin, which was the first of what are now some 1600 different versions, rose dramatically from about $1800 to a peak of over $19000 on December 16, 2017 as shown on Chart I attached. This peak was reached soon after the Chicago Mercantile Exchange began trading in Bitcoin futures. The currency then fell to a low around $6600 in April this year only to rise to nearly $10000 in May before falling back to its current value around $8000.
Considering the cost of computers that are necessary to "mine" a crypto currency and the cost of the electricity necessary to run the computers, many estimate the break even price of Bitcoin to be right around its current level. But this has not deterred forecasters from projecting wide deviations from this break even level. Indeed, skeptics such as Warren Buffet proscribe a value of zero to the currency while some are projecting a rise to as much as $64000 in the foreseeable future.
The recent rebound in Bitcoin and its cohorts was interrupted by a series of negative developments. Aside from Warren Buffet denouncing it at Berkshire Hathaway's annual meeting, Korean prosecutors exercised a search warrant on the nation's largest crypto exchange, UPbit. In that warrant prosecutors alleged that the exchange has been transferring funds from customer accounts to a separate account allegedly belonging to an executive of UPbit. Instances of alleged fraud and theft via computer hacking have come to light on a fairly regular basis. Indeed, in just the last week U.S. prosecutors announced a wide ranging investigation into crypto price fixing and manipulation.
This has not deterred enthusiasts from predicting eventual widespread acceptance of cryptos. In our report last January titled The Cryptocurrency Craze we pointed out that cryptocurrency transactions are still too slow and cumbersome to replace most other mediums of exchange. Moreover, the price of cryptos fluctuates wildly on a daily basis, significantly impeding their reliability as a means of payment or as a unit of account. To some extent, the slowness is a technology issue that could be overcome as computers continue to become faster and more powerful. Self-driving cars are an imperfect analogy. The technology is not yet at hand, but autonomous vehicles may eventually be economically feasible. Flying cars are a less optimistic analogy. These have been forecast to be economically feasible in movies and magazines since the 1930s. But technology in this area has run up against physical constraints.
Since its notion of use as a medium of exchange has been debunked by us and others, supporters now primarily emphasize its function as a store of value. Goldman Sachs (GS) pointed to the desire to use cryptocurrency for this purpose in its announcement of plans to begin a Bitcoin trading operation. A Goldman spokesperson noted that the firm concluded that Bitcoin is not a fraud. But while it does not have the characteristics of a currency, hedge funds, endowments, and foundations express interest in holding it as a valuable commodity given the limited quantity of Bitcoin that can ever be "mined" in a complex virtual system. Goldman said "it resonates with us when a client says, "I want to hold Bitcoin or Bitcoin futures because I think it is an alternate to gold as a store of value".
There are currently 1,624 cryptocurrencies of which a partial list is shown on Table I attached. The total market capitalization of all cryptocurrencies is about $380 billion. Four account for about $266 billion or about 70% of the total. By far the largest with about $147 billion in market capitalization is Bitcoin. Many use the terms "Bitcoin" and "cryptocurrency" interchangeably. The other major cryptocurrencies are: Ethereum with about $67 billion of market capitalization, Ripple with about $27 billion in market capitalization, and Bitcoin cash with about $24 billion in market capitalization.
While these are all cryptocurrencies there are significant differences among them. Ethereum is technically not the name of a cryptocurrency but rather the name of the blockchain company that created the cryptocurrency "ether". Ethereum and ether are now used interchangeably and most refer to the cryptocurrency ether as Ethereum. Many believe Ethereum will ultimately be more important than Bitcoin. A consortium called the Enterprise Ethereum Alliance, which includes companies like Microsoft (MSFT) and J P Morgan (JPM), is developing uses for the Ethereum blockchain.
While Bitcoin has no use other than as a medium of exchange or store of value, Ethereum's ether is also a type of fuel which must be purchased in order to use and access the Ethereum blockchain platform. The main advantage that Ethereum has over Bitcoin is smart contracts. A smart contract is one that is written in code into a blockchain. Once the terms of the contract are met by each party, a deal would be automatically executed. Smart contracts are very useful in applications such as gambling and financial transactions. In addition to its use as a medium of exchange and store of value, Ethereum's ether has an intrinsic value as a fuel that must be bought by the many entities that are employing smart contracts on the platform. Some predict that Bitcoin may be adapted to include smart contracts in the future.
On May 17, 2018 China's Ministry of Industry and Information Technology released its public blockchain ratings, ranking various blockchain projects like Bitcoin and Ethereum in the global cryptocurrency sector based on three criteria: technology, application, and innovation. Ethereum received the highest ranking while Bitcoin was ranked at only 13. The top five were Ethereum, Steem, Lisk, NEO, and Komodo, all of which utilize smart contracts.
Ripple has a very low price relative to the others and as a result it has been popular with investors/speculators. The Ripple digital currency, known as XRP, may be used by enterprises to get instant liquidity needed to consummate a high-value transaction without incurring fees. XRP acts as a bridge between fiat currencies during a transaction. Ripple said transactions in XRP can be settled in four seconds, faster than any existing major cryptocurrency.
Bitcoin cash is a version of Bitcoin that was created by a split in Bitcoin. Those who owned Bitcoin at the time received free Bitcoin cash tokens. Many developers voiced concern over the high transaction time on a Bitcoin network. As a result, they proposed a solution that would increase the size of each transaction and therefore boost the speed. But not all in the community agreed with the proposal, resulting in the split. The supporters of Bitcoin cash claim that transaction times are faster than the original Bitcoin.
In our report from January, 2018 we pointed out that digital cryptocurrency would eventually replace money as we know it today. But before this would occur we also suggested that government would take control of the cryptocurrency universe. Government would then know the exact real identity of all blockchain wallet owners, giving government knowledge of all transactions. Government and banks, central and otherwise, would then be the sole creators of the cryptocurrency and would control the amount outstanding.
The first step in how governments might get involved could involve cashing in on their names and status. Already there is a patent pending "Systems and methods for managing and processing transactions where legal tender status may be established for cryptocurrencies". This would allow cash hungry governments at the national, state, and even local level to obtain income from cryptocurrencies without financial risk. Russia and Turkey have floated the prospect of a national cryptocurrency and Venezuela has actually launched one called the Petro. The price of one Petro is pegged to the price of one barrel of Venezuelan oil. The main purposes of the Petro were to evade sanctions and raise desperately needed cash. The Venezuelan government has already defaulted on debt so trusting Venezuela to honor its promise with regard to the Petro would seem no less risky than trusting it to pay interest on its bonds.
The challenge all cryptocurrencies face is attracting miners who use the crypto of choice for transactions, as a store of value, or as a speculative instrument. There is a need for each crypto to devise some feature that allows for a market share gain over others. It is presently unlikely that a crypto directly issued by a government or a central bank would receive immediate wide acceptance since the major original attraction of cryptos was that they were independent from governments or central banks. However, a crypto that had some element of legal tender status would clearly have a competitive advantage over its competitors.
We think the eventual replacement of paper money with a digital crypto could involve municipalities issuing what might be described as a put warrant. This is a security that gives the holder the right (but not the obligation) to sell a given quantity of an underlying asset for an agreed upon price on or before a specified date. A typical put warrant issued via blockchain methodology by a municipality would allow the holder to use specific cryptos to satisfy obligations to the government at a specified exchange rate, which is the strike price.
A example of such a transaction might be one in which a municipality issues a crypto put warrant with a market price of $1000 and a strike price of the warrant at $100. This gives the holder of the warrant the right to put to the government one unit of cryptocurrency and be credited with $100 as payment for taxes. This theoretical warrant is far out of the money and would likely never be exercised. The worst case for the municipality is that the crypto's value falls to zero sometime in the future. This would cost the municipality $100 at some future date as the warrant reduces the holder's tax burden by using one unit of cryptocurrency to satisfy all or part of its obligation to the municipal government. However, the municipality had initially received more than $100 in return for issuing the warrant so it will always benefit or at worst break even. The cryptocurrency that first aligns itself with a municipal government will likely be a winner during the period that the transition to a digital currency gradually occurs. That particular crypto would enjoy a first mover advantage in a new world monetary order.
Summary and Conclusions
We agree with GS that Bitcoin is not a fraud. To some extent cryptocurrencies comprise an asset class different from any that has ever existed before. GS and their clients appear to be applying Modern Portfolio Theory and the Capital Asset Pricing Model, which says that the most efficient portfolio is one that includes all possible invest-able assets. Current portfolio theory textbooks, now indicate that all invest-able assets should include collectibles, art, real estate, bullion etc. A consensus among those in the financial theory community that cryptocurrencies are an asset class that makes a portfolio more efficient, could provide a boost to cryptocurrencies. A thing to keep an eye on is whether other major financial market participants follow GS with regard to the cryptocurrencies.
Despite claims by some, we have not seen any methodology which can be used to arrive at an intrinsic value for a cryptocurrency. This is certainly an impediment to cryptocurrency achieving the status of an asset class that would routinely be included in well diversified portfolios. The next major event in the cryptocurrency space will likely be the integration with cryptocurrencies by state and local governments. This will involve quasi-legal tender status being obtained by some cryptocurrencies, in that under some circumstances, cryptocurrencies could be used to satisfy obligations to state and local governments. It is not clear if this will provide a boost for the entire cryptocurrency space or result in distinct winners and losers among the cryptocurrencies. In order to integrate with the public finance issuers, cryptocurrencies will have to provide financial incentives to the cash-hungry state and local governments. The winners and losers among the cryptocurrencies may, in a large part, depend on which particular have the ability, willingness or political connections to be among the earliest to achieve quasi-legal tender status via integration with state and local governments.
Chart I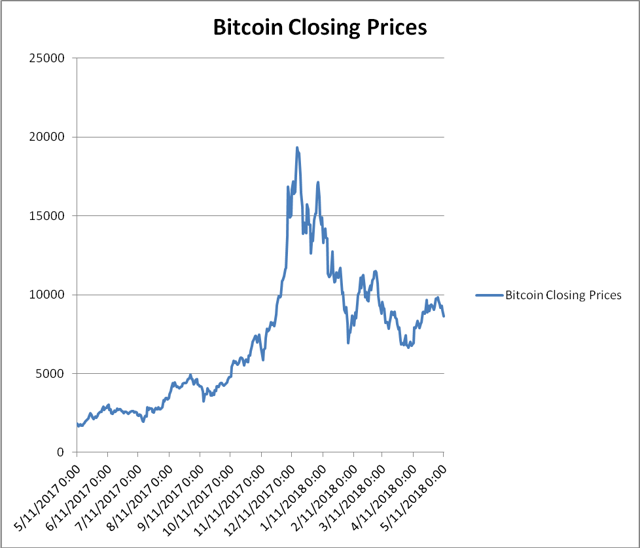 Table I
| | | | | |
| --- | --- | --- | --- | --- |
| Rank | Name | Market Capitalization | Price | Volume (24 hr) |
| | | | | |
| 1 | Bitcoin | $146,541,860,906 | $8,606.03 | $8,567,950,000 |
| 2 | Ethereum | $67,876,381,205 | $683.05 | $3,346,050,000 |
| 3 | Ripple | $27,421,064,017 | $0.70 | $1,007,500,000 |
| 4 | Bitcoin Cash | $24,126,395,967 | $1,409.07 | $1,542,470,000 |
| 5 | EOS | $12,835,558,191 | $15.12 | $2,858,100,000 |
| 6 | Litecoin | $7,923,310,528 | $140.27 | $524,888,000 |
| 7 | Cardano | $7,024,887,908 | $0.27 | $358,459,000 |
| 8 | Stellar | $5,991,215,504 | $0.32 | $84,959,400 |
| 9 | IOTA | $5,219,346,375 | $1.88 | $142,953,000 |
| 10 | TRON | $4,454,743,580 | $0.07 | $885,512,000 |
| 11 | NEO | $4,257,292,000 | $65.50 | $184,304,000 |
| 12 | Monero | $3,331,899,512 | $207.98 | $53,445,600 |
| 13 | Dash | $3,237,846,643 | $401.46 | $113,922,000 |
| 14 | NEM | $2,912,436,000 | $0.32 | $31,691,400 |
| 15 | VeChain | $2,437,136,135 | $4.63 | $111,904,000 |
| 16 | Tether | $2,106,040,886 | $1.00 | $4,745,190,000 |
| 17 | Bytecoin | $1,847,562,322 | $0.01 | $84,214,700 |
| 18 | Ethereum Classic | $1,847,350,629 | $18.18 | $370,591,000 |
| 19 | ICON | $1,550,911,891 | $4.01 | $212,041,000 |
| 20 | Qtum | $1,472,769,382 | $16.63 | $207,413,000 |
| 21 | Binance Coin | $1,472,033,569 | $12.91 | $56,002,500 |
| 22 | OmiseGO | $1,418,248,610 | $13.90 | $57,999,100 |
| 23 | Zilliqa | $1,256,243,093 | $0.17 | $306,397,000 |
| 24 | Lisk | $1,104,204,049 | $10.44 | $26,347,600 |
| 25 | Bitcoin Gold | $991,529,683 | $58.33 | $35,796,500 |
| 26 | Zcash | $957,220,905 | $245.81 | $59,520,200 |
| 27 | Aeternity | $928,327,929 | $3.98 | $31,648,300 |
| 28 | 0x | $910,479,182 | $1.72 | $79,128,500 |
| 29 | Verge | $901,972,834 | $0.06 | $82,265,800 |
| 30 | Nano | $845,123,277 | $6.34 | $17,772,700 |
| 31 | Ontology | $842,833,870 | $7.42 | $90,400,000 |
| 32 | Steem | $732,532,379 | $2.87 | $18,581,700 |
| 33 | Wanchain | $723,100,165 | $6.81 | $22,069,000 |
| 34 | Siacoin | $720,819,582 | $0.02 | $71,421,400 |
| 35 | Bytom | $684,106,479 | $0.69 | $78,750,700 |
| | | | | |
Disclaimer: This article was written by Drs. Vincent J. Malanga and Lance Brofman with sponsorship by Beach Investment Counsel, Inc., and is used with the permission of both.
Dr. Brofman is author and owner of the pending patent "Systems and methods for managing and processing transactions where legal tender status may be established for cryptocurrencies," mentioned above.