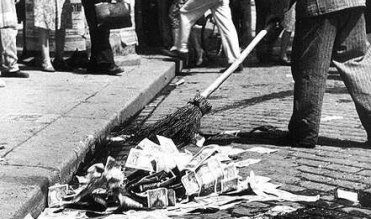 Although I don't think we will see the hyperinflation of the Weimar Republic of the 1920s pictured above, I do believe that inflation will rise above current levels and possibly above investors' current expectations. The low inflation environment we have been in for years now has been but one unusual aspect of the economic recovery since the financial crisis. Considering improvements in employment and the generally strong economy, higher inflation sooner rather than later would normally be expected. What's odd is that the dramatic improvement in the unemployment rate from 10% in 2009 to the current 3.9% level has left inflation and interest rates relatively stable by historical standards. One possible explanation for this divergence from historical norms is the tepid growth in wages over this period, which has served to keep inflation, and therefore interest rates, in check.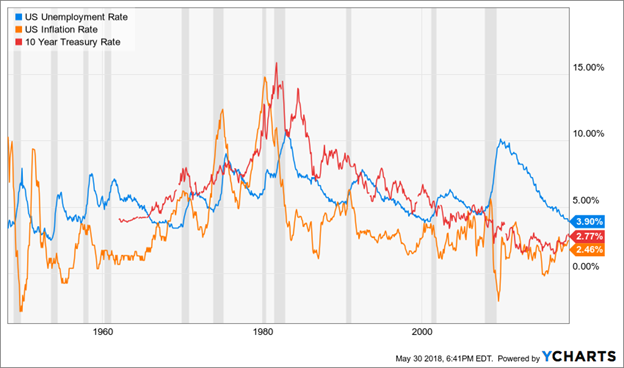 Where is the Inflation?
Although inflation hasn't revealed itself in traditional measures, it is always present. If inflation is defined as too many dollars chasing too few goods, where are those dollars going right now? These dollars might be driving asset prices higher, essentially causing a type of inflation in stocks or real estate. Or maybe these dollars have gone to fund research and development projects that have improved productivity, neutralizing inflation. While it is impossible to predict when this low inflation trend will end, it is worth thinking about how to position your portfolio in such a way as to not only hedge against an increase in inflation or inflation expectations, but enhance diversification and generate attractive returns in the interim. Keeping an eye on inflation has become increasingly important in recent weeks due to trade tensions with China over tariffs as well as the release of the Federal Reserve's minutes from its May meeting. The minutes express the Fed's position that it may be willing to allow inflation to rise above its target level.
Don't Just Survive, Thrive
Within the broader scope of portfolio strategy, investors may benefit from active management in this environment, moving outside traditional bond index components for exposure, and looking beyond TIPS and commodities to incorporate other sources of inflation protection. I will walk through 3 nontraditional ideas that can serve as a hedge during accelerating inflation, but can also add value to your portfolio during periods of low inflation. I will also review some traditional approaches to hedging against inflation, adding some suggestions to accomplish that objective more effectively.
Inflation as a Tailwind: Nontraditional Approaches
The following nontraditional strategies are meant to generate attractive expected real returns in both periods of low inflation as well as rising and high inflation. The logic behind these ideas is that inflation is difficult to predict, difficult to truly hedge, and that the dynamics of different asset classes have second or third order consequences. In other words, these strategies are intended to add protection against inflation without distorting portfolio construction or sacrificing diversification benefits. In some cases, such as technology and healthcare, the logic is that these industries benefit largely from factors outside of fiscal or monetary policy and are often insulated from rising prices and higher interest rates.
1. Foreign Bonds
An allocation to foreign bonds can be an effective hedge against inflation. Bonds issued in local currencies from around the world, in both developed and emerging markets add valuable diversification benefits to portfolios, but can also perform well in an inflationary environment in the United States. The reasoning behind this is that as inflation in this country rises, the value of the dollar will likely weaken at home and relative to a basket of foreign currencies. This makes assets denominated in foreign currencies more valuable in US dollar terms. The currency effect, combined with attractive yields on many foreign bonds, is therefore expected to generate a return that can be additive to portfolios today, and even more so as inflation creeps higher.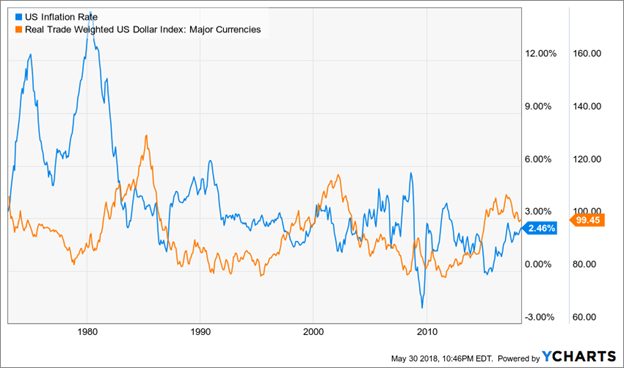 Numerous world bond and emerging market bond funds are now available. Because of the nature of the underlying assets, understanding local markets and credit quality is critical, making this is an area in which active management is most appropriate. One fund that offers a globally diversified bond portfolio with local currency exposure is the PIMCO Global Bond Unhedged (NASDAQ: PIGLX or PAGPX). As this is a global fund, approximately 40% of its assets are allocated to fixed income instruments within the U.S. with the remaining amount spread across developed markets. The fund's largest allocations are to agency mortgage-based securities, corporate bonds, and government and government related issuance. Within local currency emerging market bonds, the Eaton Vance (NYSE: EV) Emerging Markets Local Income (NASDAQ: EEIAX) is a strong option with a 30-Day SEC Yield of 6.6% and average credit quality of BB. The fund's largest holdings are spread across the Dominican Republic, Serbia, Russia, Peru, and numerous other developing countries. Although expense ratios run relatively high, the professional management, exposure to the asset class, and absolute return mandates still make these options attractive.
2. Technology and Healthcare
Technology and healthcare are not typically thought of as traditional inflation hedges, but I think the case can be made just the same. Technology companies are positioned to benefit during a rising inflation environment due to increased spending by companies seeking to reduce costs, both from labor and less efficient technology. Although many larger tech companies need or desire access to capital markets, which are impacted by fiscal and monetary policies, true innovation that leads to productivity gains is the dominant underlying driver. With the proliferation of cloud-based services, countless apps, and more powerful hardware, companies are able to cut costs while providing more streamlined services to their customers.
Technologies within AI and robotics are reaching a stage where they are impacting our everyday lives, at work and at home. A relatively new ETF seeking to benefit from this ongoing trend in the ROBO Global Robotics and Automation Index ETF (NYSE: ROBO). The fund holds a portfolio focused on companies within the robotics, automation, and AI industries with diversification across geographies and market caps. A broader technology option is the Vanguard Information Technology Index ETF (NYSE: VGT).
Healthcare costs have been rising faster than inflation for numerous years. There are many factors underpinning this climb, from research and development costs of pharmaceuticals, development of new medical equipment within prosthetics and mobility, to biological tissue replacement, and unfortunately, administrative costs. Although the ultimate beneficiaries to medical advances are the patients themselves, it is not without increased costs. But there is hope. The treatments involving genetics and nanotechnology, although sometimes expensive, have been declining at an accelerating pace. This in large part has been the result of continued improvements in computing power and ever-increasing resources allocated to these causes.
Picking the right stocks in the healthcare and technology sectors can be extremely tricky. It is virtually impossible to distinguish between the many pre-revenue biotechs that will go on to profitability versus the ones destined for bankruptcy. To help overcome this challenge, the iShares NASDAQ Biotechnology ETF (NASDAQ: IBB) holds nearly 200 positions and has an expense ratio of about 47 basis points. The Vanguard Healthcare ETF (NYSE: VHT) is a more conservative option within healthcare with about 360 positions and higher average market cap. The Vanguard ETF is available for an expense ratio of 10 basis points.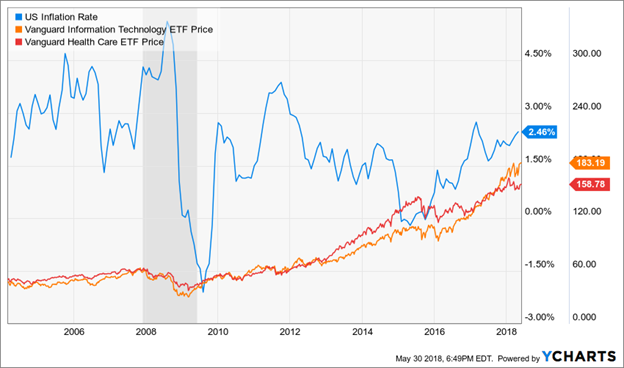 3. Financials
The last idea for managing inflation risk in your portfolio is to consider exposure to the financial sector. Banks and other financial intermediaries rely on a normal yield curve to maintain profitability. As we look forward to an environment of rising interest rates combined with rising inflation, I would expect the yield curve to steepen. As this happens, banks will make a larger spread on their lending activities, driving total profitability higher. Share prices should reflect these higher margins and accelerated earnings growth during this period. Again, instead of trying to pick winners and losers in the space, I suggest using a more diversified, and low cost, ETF. Both the Vanguard Financials Index Fund ETF (NYSE: VFH) and the iShares U.S. Financials ETF (NYSE: IYF) offer exactly that. The major differences between the two funds include that the Vanguard fund is cheaper at 10 basis points and holds an additional 100 positions.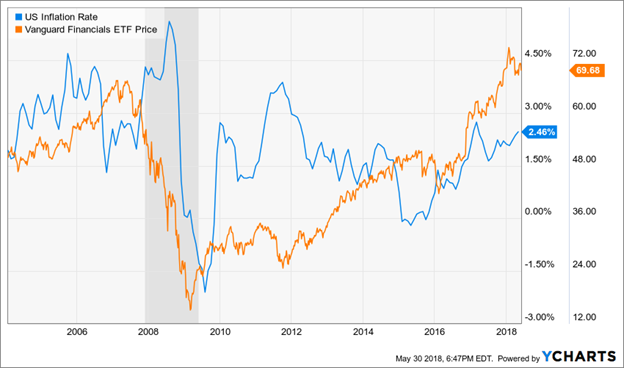 Improvements to Traditional Approaches
1. Cash
It should go without saying that within in a high or rising inflation environment, cash is the worst asset class to hold. By definition, as inflation rises, each dollar you hold decreases in purchasing power. That being said, it is not a trivial task to find attractive investments at a time in which stocks have risen for the previous nine years and interest rates have been declining for nearly 40 years, but I think it's possible.
2. Gold & Commodities
Gold and commodities can be an effective short-term hedge against upticks in inflation. Holding gold directly or through an ETF (SPDR Gold Shares (NYSE: GLD) and iShares Gold Trust (NYSE: IAU)) can also be effective, but this can come at the cost of relatively high volatility for inflation protection. (Note that the expense ratio for GLD is 40 basis, but only 25 basis points for IAU. Although not a meaningful percentage of portfolio assets, it helps to save investment costs, particularly with unproductive, that is, non-incoming-producing, assets.) This volatility can and should be managed through sizing positions accordingly, but in doing so it reduces the effectiveness of the inflation hedge for the entire portfolio. For example, because of the volatility of gold and commodities, the appropriate position size might be only 3-5% of portfolio value, adding only incremental protection against an uptick in inflation. We currently use both GLD and IAU in our portfolios in position sizes up to 5% of portfolio value. We have recently begun replacing GLD with IAU to reduce total portfolio expenses.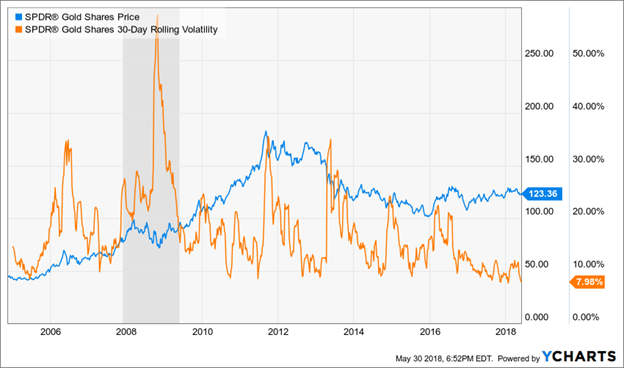 Gold is far less attractive during periods of low to moderate inflation as seen in the chart below. It does not generate any cash flow or compounded growth during these times in the way that a diversified basket of stocks and bonds might. It sometimes provides a hedge against geopolitical events, but even this is inconsistent. Looking at the chart, you can plainly see that gold declined from the late 1980s through the early 2000s despite a move higher in inflation prior to the 1991 recession and despite geopolitical conflicts and wars.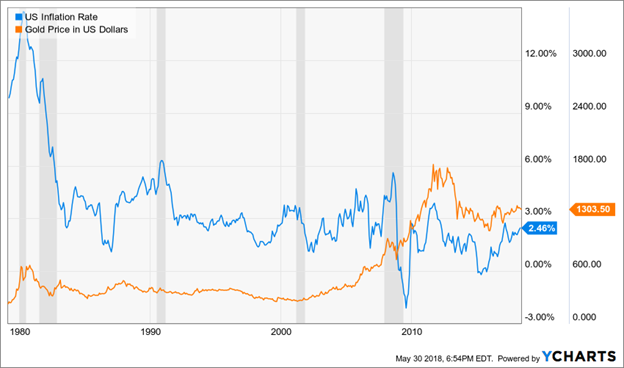 3. TIPS
TIPS are effective at hedging inflation, but must be used in the right way. For the last several decades we have been in a falling interest rate environment. This has allowed the majority of the current TIPS market introduced in the late 1990s, which are longer duration, to provide attractive returns even in periods of very low inflation. However, as we make the turn from falling interest rates to rising interest rates, duration will act as a headwind, offsetting much of the benefit from the inflation hedge. Fortunately, short-duration TIPS products have been brought to market. While the iShares TIPS Bond ETF (NYSE: TIP) has been popular in recent years, its average effective duration of 7.5 year now makes it far less attractive as a pure inflation hedge.
Shorter duration TIPS products are now available at extremely low expense ratios. While the iShares TIPS Bond ETF (NYSE: TIP) has an expense ratio of 20 basis points, both the Vanguard Short-Term Inflation-Protected Securities Index Fund ETF (NASDAQ: VTIP) and the iShares 0-5 Year TIPS Bond ETF (NYSE: STIP) are available with an expense ratio of only 6 basis points. Furthermore, the short-duration ETFs each have an effective duration under 3 years, reducing their exposure to rising interest rates and enhancing their inflation hedging ability. To read more about the difference between traditional longer duration TIPS and the growing short-duration TIPS market, see Vanguard's 2012 research paper.
4. Bonds
For your bond allocation, shortening the duration across investment-grade and high yield will protect your portfolio from rising interest rates, but also reduce nominal, and therefore real returns in a rising inflation environment. Moving a notch or two higher in credit quality will also reduce credit risk and overall volatility of the bond allocation, but like a shorter duration, will also reduce your real returns. To offset these moves, I suggest adding satellite positions in short-duration floating rate securities and/or short-term high yield.
The floating rate exposure will perform well as interest rates rise along with inflation, and the high yield exposure provides incremental yield while keeping duration short. Nuveen has two funds that we use in some of our client portfolios. For floating rate exposure, we use the Nuveen Symphony Floating Rate Income Fund (NASDAQ: NFRIX) and for short-term high yield, we use the Nuveen Short Duration High Yield Muni Bond (NASDAQ: NVHIX.) Note that both of these funds are the I share class requiring a $100,000 minimum investment. Nuveen Symphony Floating Rate Income Fund has an average effective duration of about 0.3 years and 30-Day SEC Yield of 4.30%. The fund actively invests predominantly in bank loans and corporate bonds with portfolio holdings having an average credit quality of BB. Nuveen Short Duration High Yield Muni Bond has an average effective duration of about 4 years and 30-Day SEC Yield of 3.65%. This fund actively invests across numerous municipal bond categories, with the largest allocations to revenue, transportation, and healthcare related bonds. The portfolio holdings having an average credit quality of BB.
Although we use funds from Nuveen, comparable offerings are available from other large asset managers. To add emphasis to an earlier point, while active management comes at a higher cost, the benefits of an analyst team doing credit work and structuring the portfolio are distinct advantages over cheaper ETF alternatives like the PowerShares Senior Loan ETF (NYSE: BKLN). Portfolio managers at large bond shops like Nuveen, Eaton Vance, or PIMCO are better equipped to understand and manage the intricacies of the bond market in general, and that of bank loans and high yield in particular. Professional portfolio managers are able to manage fund flows more efficiently, taking into consideration the effects of trade settlement times and redemptions, both of which are material to net returns.
Final Thoughts
Rising interest rates and inflation are in our future. The question is whether it will be in the next couple of quarters, couple of years, or longer. The danger with most traditional strategies for hedging inflation is that they don't contribute to returns during periods of low or flat inflation. This in itself is a risk to portfolio returns as investors sit and wait for inflation to arrive. The ideas I suggest above are intended to provide investors with attractive total returns, no matter the environment, especially during periods of rising or high inflation.
Any allocation to the above strategies should be looked at within the broader context of the global financial markets and sized appropriately. Any overweight or underweight position needs to be considered carefully to understand its impact on long-term total returns.
Disclaimer
Please remember that past performance may not be indicative of future results. Different types of investments involve varying degrees of risk, and there can be no assurance that the future performance of any specific investment, investment strategy, or product (including the investments and/or investment strategies recommended or undertaken by Mosaic Advisors ("Mosaic"), including the author, or any non-investment related content, made reference to directly or indirectly in this commentary will be profitable, equal any corresponding indicated historical performance level(s), be suitable for your portfolio or individual situation, or prove successful. Due to various factors, including changing market conditions and/or applicable laws, the content may no longer be reflective of current opinions or positions. Moreover, you should not assume that any discussion or information contained in this commentary serves as the receipt of, or as a substitute for, personalized investment advice from Mosaic or the author. Mosaic is neither a law firm nor a certified public accounting firm and no portion of the commentary content should be construed as legal or accounting advice. A copy of the Mosaic's current written disclosure Brochure discussing our advisory services and fees continues to remain available upon request.
Disclosure: I am/we are long EV GLD IAU NFRIX NVHIX. I wrote this article myself, and it expresses my own opinions. I am not receiving compensation for it (other than from Seeking Alpha). I have no business relationship with any company whose stock is mentioned in this article.