Decreasing cost for lithium battery systems has begun to spur a shift to hybrid and all-electric transit bus fleets around the world. Over the past year, municipalities have won headlines about the electrification of their mass transit fleets. It is in my opinion that this is an exciting, emerging market for the lithium battery supply chain because of the vast number of transit bus and motor coaches deployed globally, and specifically because of the large battery packs that are required per bus. Further, the frequency of bus replacement generally remains consistent and it is backed mostly by public funding. For these reasons, the transit bus and motor coach market is well suited to benefit from converting to lithium-based, all-electric drive systems that will add meaningful new demand to the lithium supply chain over the next years.
Significant opportunities such as the conversion of large mass transit fleets to electric drive continue to reinforce my long-standing investment thesis, which remains unchanged: invest in late-stage lithium exploration and early-stage production companies along with companies that offer some form of strategic value, such as a well-positioned land package or end-user relationship.
The overall theme is that municipalities are going to shift to electric buses because they will assist with reducing low-ground air emissions in urban centers. With technologies that are nearly all new, the initial costs are greater than is the case for mature platforms such as compressed natural gas, but eventually the lifetime ownership benefits coupled with other forms of cost savings will allow these new technologies to become widespread. Today bus electrification technology can reduce operational cost and emissions as electric buses have no internal combustion engine, transmission, or intake and exhaust. Despite potential cost savings over the duration of ownership, the true advantage of electric buses will be reduced emissions.
North American cities begin converting buses to all electric drive
With lithium battery technologies already very mature due to increase in consumer demand and government mandates for new energy vehicles, it is my expectation that their adoption rate and scale will significantly increase. Of course, municipalities will initially begin with multi-year pilot projects that will likely lead to widespread adoption in the next half decade. In recent times, there has been a series of announcements regarding the shift to electric buses, including: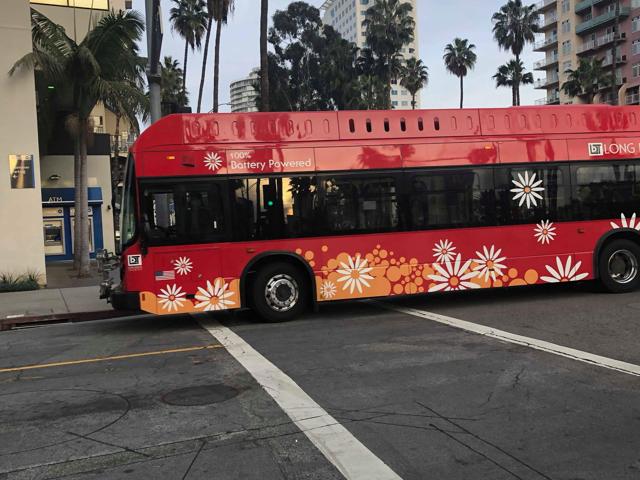 Author Supplied - BYD 100% battery electric bus in Long Beach, California 2018
It is clear that the North American market is playing catch-up to the Asian market, where electric buses are already mainstream. The Chinese market for pure electric buses in 2017 was nearly 90,000 units primarily supplied by BYD (OTCPK:BYDDF), which is the largest electric bus manufacturer in China. In December 2017, the City of Shenzhen announced that 100% of its 16,000 plus buses were electric. In March 2018, India captured headlines as the Government of India moved to support the purchase of 40 buses for every city under a pilot project. Some cities opted to purchase more than the 40-unit allocation, including Bengaluru at 150 units, Hyderabad at 100 units, and Delhi at 700 units. Collectively, the total purchase amounted to around 1,000 electric buses, primarily being supplied by Tata Motors (NYSE:TTM) and BYD.
Tremendous volume of batteries will be required to support the conversion to electric drive
As illustrated in the graph below, the overall demand for mass transit buses around the world is rapidly increasing. Between the years 2015 and 2022, every major market is expected to see an increase in total buses deployed to over 200,000 units. New Flyer Industries (OTCPK:NFYEF) presently offers platforms ranging from 200kWh to over 800kWh of battery storage capacity, while Proterra offers buses with total energy capacity from 80kWh up to 600kWh.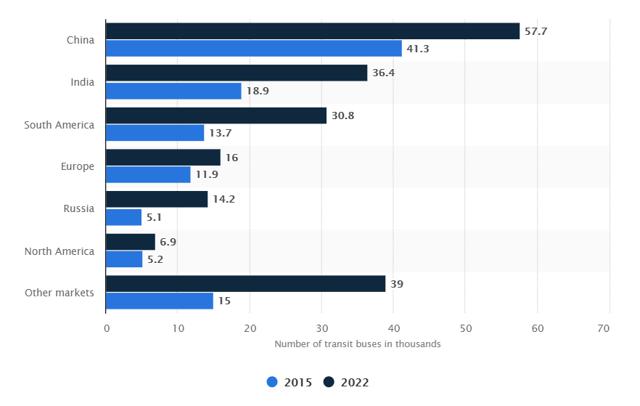 Source: Statista - Projected worldwide number of heavy-duty transit buses in 2015 and 2022, by region or country, in thousands
The transition to electric buses for municipal fleets is already happening in China and is beginning to manifest in North America, which indicates that the global penetration rate will continue to rise as transit authorities move to reduce local emissions such as those declared by the City of Toronto. If we assume that 25% of the global buses on the road in 2022 are purchased as electric drive, then 50,000 units would be required with an average of 200KWh per unit, amounting to 10,000MWh or 100GWh of battery storage capacity.
The preceding analysis does not include the spread of electric drive to traditional school buses, which exceed 480,000 units in the USA in 2016. Several companies have already announced that they will enter high-volume production throughout 2018. Rated battery storage capacity for school buses is around 150KWh per bus. Converting the entire American school bus fleet to electric drive would require approximately 75,000MWh or 75GWh of battery storage capacity, illustrating another sizable opportunity for the battery markets to rapidly expand into high- volume applications.
New Flyer - Shares have risen since my recommendation to buy
In March 2015, I recommended investors take a ride with Winnipeg-based New Flyer Industries, which is the largest transit bus and motor coach manufacturer and parts distributor in North America (Seeking Alpha: Free Bus Ride With New Flyer Dividends). At that point, shares in the company were selling for C$15/share. Over the past 3 years, the company has moved to further secure its leadership position in the North American market through a series of acquisitions and investment in new energy technologies. The most notable transaction was the acquisition of Motor Coach Industries, which assisted in propelling the company's value to over C$50/share. To follow up on my March 2015 buy recommendation for New Flyer Industries, I am suggesting that investors continue to monitor the developments at New Flyer for exposure to the North American transit bus and motor coach markets. Regarding the international markets, China battery and electric bus manufacturer, BYD, provides excellent exposure.
For those who are unfamiliar with New Flyer Industries, it is a Canadian-based manufacturer of heavy-duty transit buses in North America. The company is a technology leader in the space and offers drive systems powered by clean diesel, natural gas, diesel-electric hybrid, electric trolley and now, electric battery. New Flyer also operates the industry's most sophisticated aftermarket parts organization, sourcing parts from hundreds of different suppliers and providing support for all types of transit buses.
Junior lithium pure plays will benefit from rising use of lithium batteries
It is undeniable that a long-term trend to electric drive for a widespread range of motive applications has begun to increase. One of the underlying industries that is positioned to benefit from a rise in demand is the lithium chemicals market. Therefore, I continue to believe that advanced lithium exploration, early-stage producers, and select strategic lithium property plays will continue to perform well throughout 2018 and into 2019 and 2020.
My top investment in the lithium junior space is Advantage Lithium (OTCQX:AVLIF), which is a highly strategic player in the global exploration landscape. The company is actively developing its flagship project in the Olaroz-Cauchari Basin, which is 25% owned by Orocobre (OTCPK:OROCF), which also controls around 30% of the company's shares. For additional background information on Orocobre and Advantage Lithium, please see one of my numerous other documents. In May 2018, Advantage Lithium completed the second phase of its exploration program at Cauchari by delivering an updated resource estimate. The key highlights of the updated resource report include:
Six-fold increase from 500,000T LCE to 3 million T LCE. The company has completed a 43-101 compliant resource, a significant milestone for junior exploration firms. Phase 2 drilling is now completed, including an expansion to the Southeast zone and previously unexplored Northwest zone. Phase 3 drilling will continue to expand the basin at depth as none of the boreholes have reached the basin floor, creating the potential for the resource to be further expanded. The brine chemistry continues to reflect that of Orocobre's Olaroz project, with a magnesium to lithium ratio averaging 2.5.
In recent weeks, Australia-based Galaxy Resources (OTCPK:GALXF) and South Korean-based POSCO (PKX) announced the sale of a land package, including certain northern land tenements, at the Sal de Vida lithium brine project located in Argentina. Cash consideration of $350 million (all figures in Canadian dollars) was paid for approximately 2.54 million tonnes of LCE of JORC compliant total resources, which translates into a price of $140/T LCE. Based on Advantage Lithium's 140 million issued shares and a 75% ownership position in Cauchari, which contains at least 3 million T LCE, this implies a price target of over $2.00/share.
It is in my opinion that Advantage Lithium is one of the most strategic, publicly-traded junior lithium-exploration companies in the market today. This view is reinforced by various research houses, including the following:
Eight Capital has recently updated the target price to C$2.50/share from $1.90/share, and Cantor Fitzgerald initiated coverage on the company in May 2018 with a target of C$2.00/share. National Bank of Canada has recently initiated coverage with a buy rating and price target of C$1.90/ share. As noted above, these price targets are strongly in line with my buy recommendation and price target of $2.00/ share.
Author's note: If you enjoyed this article, then be sure to receive future material by clicking on the "Follow" tab at the top of this page or on my profile.
Disclosure: I am/we are long AVLIF, NFYEF, OROCF.
I wrote this article myself, and it expresses my own opinions. I am not receiving compensation for it (other than from Seeking Alpha). I have no business relationship with any company whose stock is mentioned in this article.
Editor's Note: This article covers one or more microcap stocks. Please be aware of the risks associated with these stocks.