We first covered Chico's (CHS) in August 2017 and cited it as a name that was not dead and was one to watch. Chico's is another retailer dealing with intense competition and working to adapt to a transitioning market landscape and a fickle consumer. The name is in a crowded space, no doubt. Just when we thought the company and the stock had some momentum, it reported earnings and the stock shed nearly 20% in a day. It is our belief that there are some reasons to be positive, and the stock could see a second mean reversion off the present $8 level. Let us discuss.
Recent Price Action
We took a look at the chart over at BAD BEAT Investing and our chartist identified some technical reasons why shares could bounce. Take a look at the last year of trading: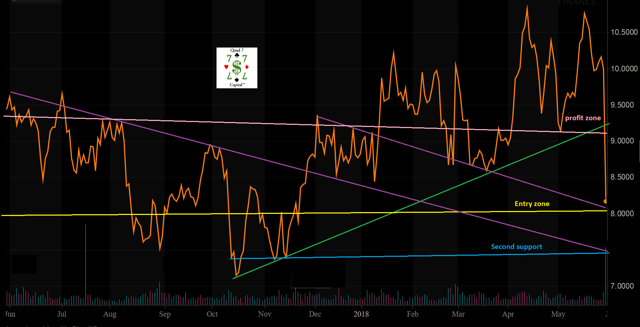 Source: BAD BEAT Investing
As you can see, there are some defined zones here. We see the $8 level as a key support line, with a secondary support at $7.50. Thus, we think from a technical standpoint, these are levels that intrigue from a technical entry perspective. Let us discuss the fundamental picture here.
Fundamental Considerations
Shares are at an interesting point here, as the company's transitional plans that we discussed last summer are underway. We know some investors are betting on a turn-around, others are trading the name, and others are on the short-side. We are looking for a mean reversion, technically, but believe there are fundamental strengths (and weaknesses) to be aware of here.
We do want to caution you not to get too excited as the quarter certainly was much worse than expected. We would not necessarily consider this perfectly in line with our BAD BEAT philosophy, but the company did beat on the sales front. With retail, we often care more about the top line, despite the fact that in general investing is about increasing profits. While the bottom line missed consensus expectations, the company just lost 20% of its value. Is that justifiable?
Performance was strong in certain aspects and weak in others. The company is still turning out a profit, but there are ongoing issues with traffic and comparable sales. While much of the retail sector has been struggling, the best names are managing to increase sales and generate positive comps. Right now, Chico's still is not doing that, and so the stock is taking a hit. But can we expect a turn this year? We believe expectations have been rising, and that is why the headline numbers came in below consensus. An investment here is not just technical in nature, but one has to believe management can deliver because the current key performance measures were subpar.
So what are we looking at in the most recent earnings? In Q1 2018, the company reported net income of $29.0 million ($0.23 per share). This compares to net income of $33.6 million or $0.26 per share last year. This drop in profitability was a shock to the Street, as consensus was for a flat year-over-year quarter. It is worth noting that much of this miss comes from taking a hit on margins, despite sales being better than the Street's expectations.
Sales were better than expected overall. They came in at $561.8 million and surpassed estimates by $9 million. What is key to note is that these sales were down 3.8% from last year. While this is an issue, the one indicator that we watch more than any other in retail is same-store sales. Same-store sales were drastically lower as well. As a whole, they were down 5.9%.
This news alone is worth some of the selling in our estimation despite the positives we have noted with overall sales. One thing that we think that is positive is this sales beat came despite terrible comps, while also closing another 41 stores. That needs to be considered. We love brick and mortar retailers that are aggressive with closing losing ventures. We want to see the company do more of this while continuing its promotion to shore up struggling brands. This promotion has helped offset some traffic pressures but comes at the expense of margins. That said, we thought margins would take a bigger hit. Gross margin was $226.9 million or 40.4% of net sales compared to $237.4 million or 40.7% of net sales.
The story here really is comparable sales. While they were poor overall, when we look at the portfolio, we can identify where there are some improvements. While comps are still negative across the board, compared to last year, comps are trending higher everywhere but Soma. Overall, Chico's brand saw 5.5% comp declines (an improvement versus last year's -10.0%), while White House Black Market was down 6.6%, improving from down 9.7% last year. So, the pain of negative comps is real, but the trend is improving. Finally, Soma took a hit here in Q1 coming in at -5.8% versus plus 0.2%. So we need to keep in mind which segments are struggling and whether the company has a solid plan here. Frankly, we are unsure of the strategy here, though the company is focused on closing losing stores, being promotional, and pushing sales to drive traffic. However, e-commerce is critical, and we are pleased to see major developments from the company on this front.
The company continues to make progress on its strategic initiative to build new channels of growth and increase brand awareness, most notably in its e-commerce plans. One such example is that the company partnered up with Amazon (AMZN) to offer a number of different Chico's brand merchandise. In addition, Chico's launched its partnership with ShopRunner, the free two-day shipping and payment network, reaching ShopRunner's several million active members. Outside of e-commerce, Soma, which struggled in Q1, has a key apparel brand now appearing on QVC. These examples are critical to the future growth of the company and to building brand recognition. Such building could boost traffic in stores later in the year, however, since the initiatives are so new, a real impact may not be felt until 2019.
Looking Ahead
As we look ahead for the full-year 2018, we are expecting a low- to mid-single digit decline in net sales and a low-to-mid single digit decline comparable sales. We also expect additional store closures, but think existing stores are likely to see gross margins flat to up 50 basis points from last year, even factoring in promotional activity. As for earnings, we are looking for $0.86 to $1.01 per share. Let us not forget, the company continues to pay a solid dividend, currently yielding 4.2%.
While the Street is digesting the news of these plans to advance the business through more e-commerce and continues to weigh the trends in comparable sales, we see CHS stock right now as a mean reversion play off this $8.00 level. Longer term, the pressure is on and the outlook is shaky in this time of transition, but the company continues to chug along, and we think a 20% selloff is overdone.
Quad 7 Capital has been a leading contributor with Seeking Alpha since early 2012. If you like the material and want to see more, scroll to the top of the article and hit "Follow." Quad 7 Capital also writes a lot of "breaking" articles that are time sensitive. If you would like to be among the first to be updated, be sure to check "Get email alerts" under "Follow."
Our introductory pricing at 46% off the annual rate is only available to 3 more paying subscribers. After this, the price will nearly double as the community continues to grow.
We find beaten-down stocks and profit from their reversals, just like this idea!
Swing trades are suggested almost daily, along with frequent deep value plays.
Dozens of investors are winning, thanks to ideas like this and our members profit daily.
We've generated thousands of profitable ideas, but our best ideas are reserved for our members.
Invest in your future by joining BAD BEAT Investing today!
Disclosure: I/we have no positions in any stocks mentioned, and no plans to initiate any positions within the next 72 hours. I wrote this article myself, and it expresses my own opinions. I am not receiving compensation for it (other than from Seeking Alpha). I have no business relationship with any company whose stock is mentioned in this article.