Biotech Pulse


Small caps, a speculative segment of the market as opposed to mid and large caps, has made new highs. Can biotechs be far behind?
Last week, we further discussed the leading role that small caps have assumed in the article Small Caps Charge Augurs Well for the Stock Market. The new all-time highs recorded by the small cap index Russell 2000 (IWM) over the past two weeks is leading the relatively muted performance of the broader market indexes like the Nasdaq (QQQ) and S&P 500 (SPY), which still have to achieve that milestone since the pullback in March.
The rise of the small cap stock indexes at this juncture suggests an underlying healthy risk appetite that is recovering and strengthening after the highly volatile period from February to April. It is just a matter of time before the Nasdaq records new highs as well, driven by the earnings strength of technology companies, and eventually followed by the S&P 500.
In an environment being led by a market rotation into lagging speculative segments, biotechs stocks should not be far behind in gaining investor interest, particularly the small and mid caps. And the largest oncology conference next month may just be the catalyst to get things moving.


Here Comes ASCO!




The ASCO annual meeting, the biggest oncology event in North America, gets underway from June 1 to 5. The event typically creates significant news flow in oncology, the biggest drug research segment in biopharma, and is often also used as a platform to announce major partnerships and deals.
Last Friday, the Cancer Research Institute quantified the enormity of interest in cancer cell therapies when in its report, The Global Landscape of Cancer Cell Therapy which appeared in the preeminent drug discovery publication, Nature, it identified 753 therapeutic programs globally with 375 in clinical studies. The United States led with over 45% of the total programs, while China was next with 27%.
The momentum in cancer programs has continued to strengthen, and as the Institute noted:
350 new cancer cell therapies have entered the global development pipeline since September 2017, an 87% increase in less than 7 months.
The diversity of the programs is underscored by the statistic that 113 oncology targets are being pursued by the academic institutes and industry globally in 7 different classes of cell therapies, with CAR-T therapy accounting for over 50% of the total.
Source: CRI, Nature, Report by Tang et al. (doi:10.1038/nrd.2018.74)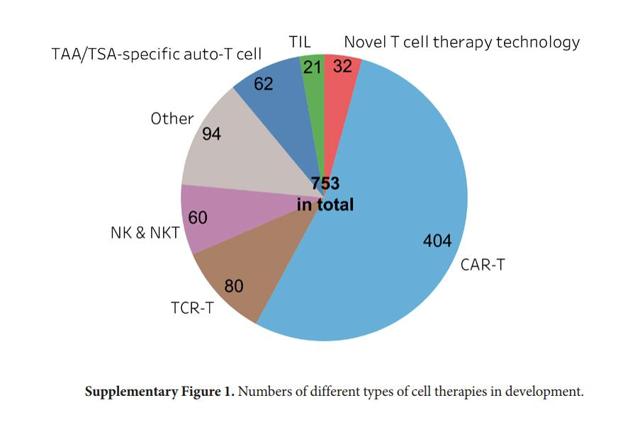 Interestingly, the bulk of China's cancer cell therapy programs are in CAR-T and the country accounts for 38% of all CAR-T programs globally compared to a little over 42% for the US. Many may remember the astonishing data presented by the heretofore unknown Legend Biotech from Nanjing, China, at the last ASCO meeting in June 2017. With 94% remission rate in a small sample size of 35 patients, the data was compelling enough for Johnson & Johnson to pony up $350 million in upfront cash a few months later for the right to partner with the Chinese firm for multiple myeloma.
Cancer immunotherapy, also referred to as immuno-oncology (IO), is the harnessing of the body's immune system to play a pivotal role in combating cancer cells, and is the most promising approach to cancer treatment, probably since chemotherapy. As a result, it has garnered great interest from the industry and the academia. The Cancer Research Institute in its December 2017 report, Comprehensive Analysis of the Immuno-Oncology Landscape, published in the Annals of Oncology, estimated an unprecedented 2,004 IO agents of which 940 are already in clinical stage development from 864 companies and covering 303 targets. The transfer of T-Cells, or CAR-T, is one kind of IO treatment, with others being Monoclonal Antibodies, Checkpoint Inhibitors or Immune Modulators, Vaccines, Oncolytic Virus, Cytokines, and Adjuvants.
The success of Merck's (MRK) Keytruda and Bristol Myers Squibbs' (BMY) Opdivo for treatment of melanoma using checkpoint inhibitors has spawned multiple programs around PD-1 and PD-L1 inhibitors. The Cancer Research Institute counted 164 PD-1/L1 checkpoint agents of which 5 are already approved by the FDA, and 50 are in clinical trials. These agents are being evaluated in 1500 studies of which over two-thirds are combination trials, many involving approved drugs like Keytruda and Opdivo. Regeneron Pharmaceuticals (REGN) has its own promising anti-PD-1 monoclonal antibody agent, Cemiplimab, that will have some data flow giving some early indications on its ability to compete with leading drugs Keyruda and Opdivo.
Source: Cancer Research Institute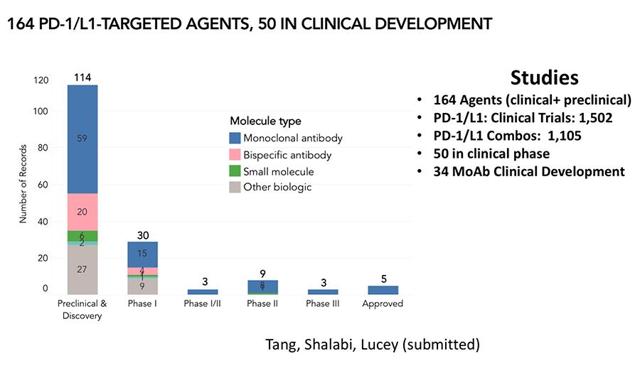 While a number of these studies in checkpoint inhibitors are a shot in the dark, with many as single-site studies, it cannot be denied that the interest in new approaches around emerging sciences is at an all-time high.
4 Reasons Biotechs Appear Well-Positioned
The biotech industry remains well-positioned for the following key reasons.
A Growing Appetite for Risk and A Rotation Into Lagging Sectors.
There is a healthy appetite for assuming risk as evidenced by the rise in small caps and their recent outperformance versus the larger cap stocks. The small cap segment, as represented by the Russell 2000 Index, has been lagging the larger cap indexes, like the S&P 500 and Nasdaq, for the past 2 out of 3 years. Similarly, biotech stocks, as represented by Nasdaq Biotechnology Index, have been lagging the broader indexes over the past two years as well as in 2018.
Source: PrudentBiotech.com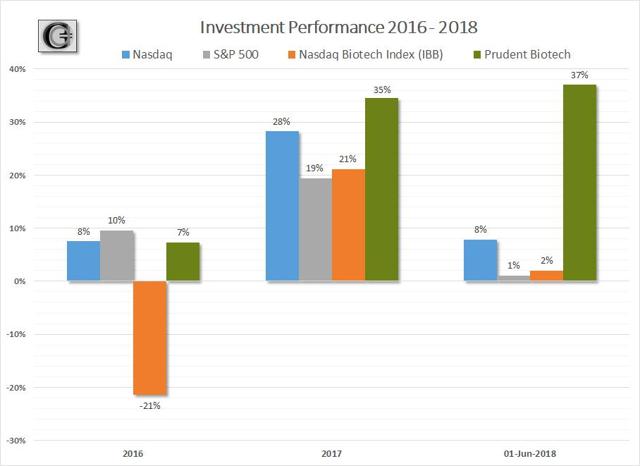 Biotech is one of the rare industries that has not yet recorded a new all-time high and is still trying to eclipse the last one recorded in mid-2015. The Nasdaq Biotechnology Index (IBB) remains nearly 25% below its 2015 highs. The S&P Biotechnology Select Index (XBI) in the first quarter this year did inch past its 2015 high, only to pullback since and remain in that vicinity.
There continues to be a record number of biotech IPOs this year and the rate of funding of biotech venture cap deals is further evidence of a tilt towards risk-taking. The globe remains awash in capital and that surely makes it less challenging to fund riskier investments. Nonetheless, biotechs from a financing standpoint have not had such a robust market since early 2015.
Blueprint Threat Has Passed for the Near Term.
Heading into May, a big threat to the biopharma industry was the introduction of the blueprint by the White House to reduce drug prices. A big potential threat was that the blueprint could recommend direct drug price negotiating power for the Centers for Medicare & Medicaid Services. As pointed out in the article, Biotechs Emerge Unscathed, the blueprint, American Patients First (APF), was quite industry-friendly and cleared a cloud of uncertainty, at least for the near-term, and diminishes the risk of draconian policy announcements. With the mid-term elections in November, the issue of drug prices is bound to resurface later this year. But for now, it paves the way for sunnier days ahead.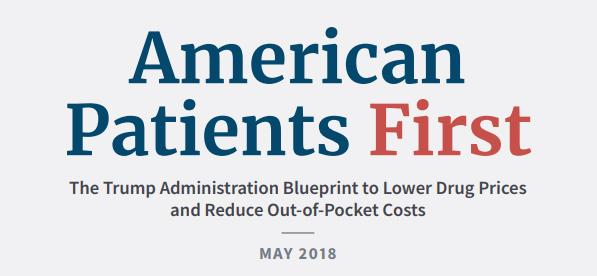 Momentum in Drug Research and Discoveries.
These days one gets the feeling that everything is happening faster in biotech. The sector has the dynamism of a start-up era as strides in technology create new pathways to manage and overcome old maladies. The excitement and abundance of new drug research using innovative approaches are not just limited to oncology, as discussed above. One example of a newer approach is gene editing, which is pushing the frontiers of science into areas of incredible potential. The key gene editing Clustered Regularly Interspaced Short Palindromic Repeats (CRISPR) technology continues to advance with near-monthly announcements on newer versions which are making the technology more robust and versatile.
With a more industry-friendly and forward-thinking FDA open to framing pragmatic policies, as evidenced by the approval of the CAR-T therapies, Kymriah by Novartis (NVS) and Yescarta by Gilead (GILD), the political and regulatory landscape, for now, is as stable and benign as it has ever been since 2015. Expecting anything more in this political climate on a hot-button issue will be too presumptuous.
Mergers & Acquisitions.
Biotech M&A is an ongoing 2018 theme and has accomplished much more in the first few months of this year than the entire last year. The transaction and partnership activity is being spurred by tax cuts and policy clarity, the rapid pace of innovation, and difficult pharma industry dynamics with A declining Internal Rate of Return on the significant R&D expenditures, as discussed in the update, Biotechs Still Remain Well-Positioned.
Last month, Pharmaceutical giant Novartis had swooped up Avexis (AVXS) at a nearly 90% premium in an all-cash $9 billion transaction. The substantial size of the acquisition premium from a conservative Swiss company shows the stakes are rising for the pharmaceutical companies as new treatments are recasting the opportunities to overcome serious diseases and upending entrenched franchises. And such activity is only picking up momentum.
Takeda Pharmaceuticals (OTCPK:TKPYY) was successful this month in its bid to acquire Shire Pharmaceuticals (SHPG) for $62 billion, much of it financed. The ability of Takeda, a ~$30 billion Japanese pharmaceutical major, to line up financing for a $62 billion acquisition, shows the deep-pocket ability of large pharmaceuticals to finance major transactions in a highly liquid market willing to assume the risk. Incidentally, Takeda had announced the acquisition of Ariad Pharmaceuticals for a hefty premium at the last year's ASCO.
A few of the key acquisition-minded companies that have the interest and ability to engage in major and minor transactions include Pfizer (PFE), Celgene (CELG), Amgen (AMGN), Johnson & Johnson (JNJ), Biogen (BIIB), Gilead Sciences (GILD), Merck (MRK), Sanofi (SNY) and Novartis.
Conclusion
The Nasdaq Biotechnology Index has not yet recorded a new all-time high. But from the standpoint of the number of therapeutic programs, the ability to finance them, and the innovative lines of treatments being pursued not just in oncology but across a spectrum of diseases, the biotech industry has not been in a more healthy state in recent memory. There is a vibrant biotech ecosystem that exists presently not just in the United States but globally, and a significant portion of this breakthrough work is being done in pure-play, mid-cap and small-cap biotech companies.
We have remained positive on the sector and continue to believe that a portfolio exposure to the speculative biotech sector is a prudent strategy in a risk-favoring environment. Biotechs over the long-term have well-compensated investors for the additional speculative risk that is assumed. However, a prudent portfolio strategy must be pursued to manage the high risk of significant volatility.
Biotech Performance 2003 - 2017 (smoothed chart)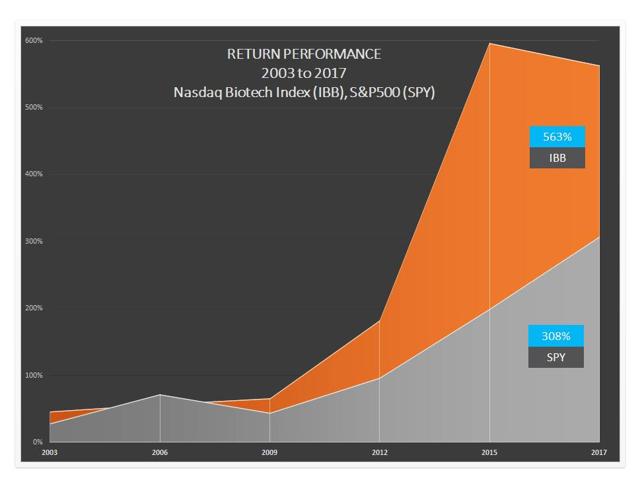 Source: PrudentBiotech.com
As of June 1, the Nasdaq Biotechnology Index had a return of 2% and the Prudent Biotech Portfolio was up +37%.
There are many promising companies in the biotech sector at this time. A few such companies, which may be now or in the past part of our model portfolios, include, Immunomedics (IMMU), Loxo Oncology (LOXO), Agio Pharmaceuticals (AGIO), Sarepta Therapeutics (SRPT), Supernus Pharmaceuticals (SUPN), Heron Therapeutics (HRTX), BeiGene (BGNE), G1 Therapeutics (GTHX), Crispr Therapeutics (CRSP), Mirati Therapeutics (MRTX), Adaptimmune Therapeutics (ADAP), Arena Pharmaceuticals (ARNA), Endocyte (ECYT), Regenexbio (RGNX), Uniqure (QURE), Neurocrine Biosciences (NBIX), Atara Biotherapeutics (ATRA), Catalyst Biosciences (CBIO), and Ultragenyx Pharma (RARE).
Author's note: As always, kindly do your own due diligence. The smallcap/early midcap and biotech sector carry more risk of losses than the broader market. For additional information and helpful links, please check the Profile by clicking on the name above. Also, you can consider clicking the orange Follow button to receive such information immediately when published. Please feel free to add to this commentary or point out errors in the Comments section. Opinions can change with time and additional data. More details about our exposure to the names mentioned herein are in the disclosure below.
Disclaimer: Graycell Advisors or Prudent Biotech is not a registered investment advisor (RIA) and publishes quantitative-driven model portfolios for investors and RIAs. Some or all of the companies/stocks mentioned in the article may be in the past, now, or in the future, be part of the various model portfolios for subscribers. In addition, although there are no personal positions presently, stocks mentioned can be part of portfolios of family and associates.
Past performance is not a guarantee of future results. The information here is only provided for a general informational purpose and not as a recommendation, and is not guaranteed to be complete or accurate. Companies mentioned here may not be favored in the future as market trend changes and/or new information emerges, and no portfolio updates will be provided unless you are a model portfolio subscriber. Opinions, where expressed, can change with time and new information.
Disclosure: I/we have no positions in any stocks mentioned, and no plans to initiate any positions within the next 72 hours.
I wrote this article myself, and it expresses my own opinions. I am not receiving compensation for it (other than from Seeking Alpha). I have no business relationship with any company whose stock is mentioned in this article.
Editor's Note: This article covers one or more microcap stocks. Please be aware of the risks associated with these stocks.