Sometimes, greed can be good. There are times when others are fearful you should be greedy. To make money, one needs to be a contrarian and not follow the herd. Some of the beverage companies are on sale of late. Their dividend yields have gone up significantly more than their 5-year averages. Sure, some of these companies have stagnant or declining revenues. So, not all companies are equal or worth consideration. However, some of them are indeed attractive buys, but first, we need to separate the wheat from the chaff.
We believe that the investors should be well-diversified in the different sectors of the economy. We should also be diversified within a sector itself, based on the number of stocks that we may own in our portfolio. If your portfolio has just ten stocks, maybe you can only hold one company from each sector. However, if it is a 30-stock portfolio, there will be a place for at least 3-4 stocks from the Consumer Defensive sector and maybe one beverage company.
You may ask, why even buy a beverage company. Beverage companies are one important segment of the Consumer Defensive sector. When the economy is booming, these companies do reasonably well; however, when the economy is not doing so well, that is when these companies tend to outperform the broader indexes.
So, let's assume we want to add one of the best beverage companies from all around the world. What would it be? Part of the answer lies in your goals, whether you are a growth-oriented or an income-oriented investor.
In any case, we will compare some of the largest beverage companies from all over the world and select two companies, one for the income investors and another for growth-oriented investors.
There are many companies which are primarily beverage companies; for example, Coke (KO) and Diageo (DEO). Then there are companies like Pepsi (PEP) which have their largest source of revenue coming from beverages, but they also have other important revenue streams like snacks. We also have a large number of companies that draw a minor portion from beverages in their overall business; for example, Nestle (OTCPK:NSRGY) selling coffee and other beverage products, counting only about 25% of the overall revenue of the company. Then there are companies like Starbucks (SBUX), which get most of their revenue by selling beverages and coffee products, but their business model is more akin to 'Restaurant' business rather than Beverage business.
What Companies Are Worth Considering?
In this article, to maintain an apples-to-apples comparison, we will mainly focus on companies that draw the majority of their revenue from beverages. Here are the companies that we will consider, listed in the order of their market-cap:
Name and Symbol

Market-Cap

Distance from

52-Week High

Current Price

(05/25/2018)

1

Anheuser-Busch InBev (BUD)

$160 Billion

(-) 25.12%

$94.72

2

Coca-Cola Co. (KO)

$180 Billion

(-) 12.79%

$42.40

3

Pepsi (PEP)

$142 Billion

(-) 18.12%

$100.30

4

Diageo PLC (DEO)

$90 Billion

(-) 0.86%

$146.34

5

Constellation Brands (STZ)

$43 Billion

(-) 8.37%

$216.81
There are other major companies in this segment, which could be of interest to some investors, but not covered in this article:
Suntory Holdings Ltd. (OTCPK:STBFY) (Japan)
Heineken N.V. (OTCQX:HEINY)(The Netherlands)
Red Bull GMBH (Austria)
Molson Coors Brewing Co. (NYSE:TAP) (USA/Canada)
Dr. Pepper Snapple Group (USA) (DPS) (Pending merger with Keurig Green Mountain)
We will compare our set of five companies by following metrics:
Size and economic moat

Dividend Yield

Dividend growth

Dividend safety

Valuation

Long-term debt

Revenue growth

EPS growth

Future growth estimates
Note: On each of the above metrics, we will provide a relative "Rating" (between 0 and 1.5) to each company. Please note that the rating is unscientific and subjective, in this case, based on our opinion. It should not be used for buy/sell decisions, rather only as a starting point for further research.
Size and Economic Moat:
Our selected list consists of companies that are well known and sell their products all over the world (Constellation Brands has a presence in limited markets outside the US). They also own some of the most recognized brand names. Almost all of them are large-cap companies, with leading positions in some of their product categories. Even though some of them are larger than others, we will consider them on equal footing. Except that we will award a slightly lower rating to Constellation Brands due to its narrow-moat; though it is the third-largest beer company in the US, it has presence in just a few countries outside the US, namely Canada, Mexico, New Zealand and Italy. Moreover, STZ has a short dividend history only since 2015.
Dividend Yield:
The current yield of a company's stock will vary from day to day as it depends on the market price. So, when the market price declines, the yield would go up. Ideally, we should buy when the current yield is at least higher or equal to the stock's 5-year average yield.
Currently, four of these companies are yielding higher than their 5-year average, because of the recent decline in prices.
| | | | | | | |
| --- | --- | --- | --- | --- | --- | --- |
| Symbol | Current Price (As on 05/25/2018) | Current Dividend Yield | Forward Dividend Yield | 5-yr Trailing Yield | Positive Diff of Fwd Yld vs. 5-yr Avg. | RATING |
| BUD | $94.72 | 4.51% # | 4.51% # | 3.08% | 16.88% | 1.5 |
| KO | $42.40 | 3.54% | 3.68% | 3.05% | 20.66% | 1.5 |
| PEP | $100.30 | 3.21% | 3.70% | 2.72% | 36.03% | 1.5 |
| DEO | $146.34 | 2.36% | 2.36% | 2.72% | -13.24% | 1.0 |
| STZ | $216.81 | 1.02% | 1.36% | 0.88% * | 54.5% | 0.50 |
* STZ has a 3-year dividend record only (since 2015).
# BUD pays the dividends semi-annually, and the amounts can vary. The last two dividend payments were $2.39 and $1.8839. The total of the two payments works out to be $4.27 and 4.51% yield (on 05/25/2018 share price).
Dividend Growth:
For DGI investors, both the current yield and the growth of the divided are important. Obviously, as investors, we want both to be high enough.
Generally, there are two types of companies. Some companies offer a low initial yield (due to higher share price), but the investor could be compensated by high dividend growth. An example of this could be Home-Depot (HD). Alternatively, another company that has a low dividend-growth but high initial yield could still be attractive to DGI investors; for example, AT&T (T).
We could use the Chowder-number to determine if the company provides enough of dividend growth and the current yield. The Chowder-number is the sum-total of current yield and past 5-year dividend growth. Generally, we would want the Chowder-number to be at least 8 or higher. Below are three examples of different growth models:
| | | | |
| --- | --- | --- | --- |
| | Current Yield | Previous 5-Yr Div. Growth | Chowder-number (total div return) |
| Home Depot | 2.36% | 24.10% | 26.46% |
| Pfizer Inc. (NYSE:PFE) | 3.83% | 7.80% | 11.63% |
| AT&T | 6.04% | 2.20% | 8.24% |
Below is a table that provides an idea of how much time it takes for a high dividend-growth but low initial yield stock to catch up (provide the same or higher dividend amount) to another stock which yields high but provides low growth.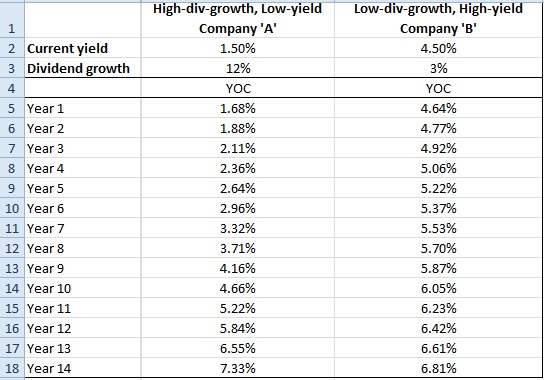 Here is the comparison of previous 3-year and 5-year dividend growth for our selected companies:
Symbol

FWD Dividend

Yield

3-Year

Dividend Growth

5-Year

Dividend Growth

RATING

BUD

4.51%

9.40%

22.60%

1.5

KO

3.68%

6.70%

7.70%

1.00

PEP

3.70%

7.70%

8.70%

1.00

DEO

2.36%

7.20%

8.00%

1.00

STZ

1.36%

45.1%

NA

1.5
Dividend Safety:
For retirees, dividend safety may actually be more important than either the current yield or the dividend growth. After all, what good is the yield or growth, if that gets cut after a year. Unfortunately, investors learned that the hard way in case of Kinder Morgan (KMI) a couple of years ago and more recently with General Electric (GE).
However, it is more difficult to know the dividend-safety factor, than say dividend-growth. It is often said that safest dividend is the one that just got raised. The past growth of the dividend, especially the very recent growth can tell a lot about safety. However, there are other factors like free cash flow and payout ratio that the investors need to look at very carefully. The operating or the net income of a company can be dressed up to look good by smart accounting techniques, but free cash flow will provide a true picture of how well the dividend is covered. Generally, free cash flow can be determined in the following manner:
Free cash flow = Operating cash-flow + (Depreciation) – (Capital expenditure)
So, for dividend safety, we should look for:
Previous 3-year and 5-year dividend growth Current Payout ratio versus past 5-years payout ratios.
| | | | | | |
| --- | --- | --- | --- | --- | --- |
| Symbol | FWD Dividend Yield | 5-Year Dividend Growth | Payout Ratio | 5-Year Payout Ratio | RATING |
| BUD | 4.51% | 22.60% | 102.0% | *69.0% | 0.75 |
| KO | 3.68% | 7.70% | 126.0% | *77.0% | 0.50 |
| PEP | 3.70% | 8.70% | 64.36% | 64.19% | 1.25 |
| DEO | 2.36% | 8.00% | 49.71% | 55.51% | 1.50 |
| STZ ## | 1.36% | NA | 18.01% | NA | 1.0 |
** For KO, 5-Yr average excludes 2017. For BUD, it excludes 2016.
## STZ has a short dividend history only since 2015. Even though its payout ratio is very low and growth has been excellent, the short history has impacted its rating in this category.
Valuation:
Valuation is important at the time of a 'buy,' but we should not look at the valuation alone. As Warren Buffett said, "it's far better to buy a wonderful company at a fair price than a fair company at a wonderful price." It is important to ensure that the fundamentals and the prospects of the company are solid as well. However, all things equal, valuation is important. As such, valuation is just one of the nine factors in our analysis.
When the stock price of a company declines, its valuation improves, provided its fundamentals remain the same. For example, BUD has declined roughly 25% in the recent past; the company has become much cheaper, provided its future EPS does not decline. P/E (or the forward P/E) is the most common metric that is used to judge the valuation. We should also compare the current P/E with the last 5-years' average P/E to judge relative valuation.
Symbol

Current P/E

Forward P/E

5-Yr

P/E

PEG

Ratio

Price/Book

Price/Sales

RATING

BUD

25.12

18.59

31.43

2.34

2.21

3.30

1.50

KO

139.13 #

20.53

28.29

7.50

9.20

5.40

0.75

PEP

29.42

17.61

23.77

3.87

13.07

2.25

1.25

DEO

21.48

21.41

21.28

2.56

6.78

5.67

0.75

STZ

22.87

23.20

23.17

2.11

5.35

5.95

0.75
#The current P/E for KO is very high due to the dip in earnings in 2017. Earnings are expected to improve in 2018 to bring forward P/E to a much reasonable level.
*PEG ratio is calculated by dividing the Current P/E by expected 5-year future growth.
According to Investopedia, PEG ratio is a company's P/E ratio divided by its estimated future earnings per share growth rate. A benefit that the PEG ratio can provide over P/Es is that it accounts for both the past and the future. However, the five-year EPS growth rate used in the calculation is only an estimate, and results could be materially different than expected.
Long-term Debt:
The long-term debt of a company and its ability to service those debts are important to know. We should look at the interest expense versus the income to get an idea if the debt load is going to be too much for the company. We can also look at the credit rating of the company provided by various credit agencies.
| | | | | |
| --- | --- | --- | --- | --- |
| Symbol | Long-Term Debt | S&P Credit Rating (L.T.) | Debt/Total Asset ratio | RATING |
| BUD | $109 Billion | A- | 0.44 | 1.0 |
| KO | $29 Billion | A+ | 0.32 | 1.5 |
| PEP | $32 Billion | A+ | 0.39 | 1.5 |
| DEO | $10 Billion | A- | 0.25 | 1.0 |
| STZ | $9.4 Billion | BBB | 0.45 | 0.75 |
Revenue Growth:
Revenue growth will tell us if the company is growing its top line. As you can see below, the only companies that have performed much better recently are Diageo and Constellation Brands. This recent performance reflects in their share prices.
| | | | | |
| --- | --- | --- | --- | --- |
| Symbol | Previous 3-yrs Growth | Previous 5-yrs Growth | Previous 10-yrs Growth | RATING |
| BUD | 1.20% | 5.90% | 5.50% | 0.75 |
| KO | -7.50% | -4.20% | 4.30% | 0.0 |
| PEP | 0.40% | 0.90% | 6.30% | 0.50 |
| DEO | 5.40% | 1.20% | 4.20% | 1.0 |
| STZ | 8.00% | 18.40 | 10.70% | 1.5 |
EPS Growth:
The growth of earnings is a very important metric, as the earnings of a company grow, so is the share price. We should look at past 3-years' and 5-years' earnings growth.
Symbol

Previous 3-yrs

EPS Growth

Previous 5-yrs

EPS Growth

RATING

BUD

-9.40%

-17.80%

0.0

KO

-44.70%

-26.20%

0.0

PEP

-7.50%

-2.40%

0.0

DEO

5.20%

4.30%

1.0

STZ

40.4%

26.0%

1.5
Future Growth Estimates:
The recent history of EPS growth can tell a lot about how the company has been growing. But it still can't tell about the future. However, we can use the EPS growth estimates for this purpose. Below are the EPS growth estimates from Nasdaq.com. These are just consensus analysts' estimates, and there is no certainty about them; actual growth could vary. However, this is just one out of nine factors in our analysis.
Symbol

Next-year

Growth Est.

Next 5-years

Growth Est.

RATING

BUD

13.54%

10.72%

1.5

KO

6.90%

5.88%

0.75

PEP

8.76%

7.61%

1.0

DEO

7.23%

8.38%

1.0

STZ

13.89%

18.88%

1.5
Overall Rating:
We summarize the category-wise ratings for the five stocks and calculate the overall ratings.
| | | | | | |
| --- | --- | --- | --- | --- | --- |
| | BUD | KO | PEP | DEO | STZ |
| Size and economic moat | 1.5 | 1.5 | 1.5 | 1.5 | 1.0 |
| Dividend Yield | 1.5 | 1.5 | 1.5 | 1.0 | 0.50 |
| Dividend growth | 1.5 | 1 | 1 | 1 | 1.5 |
| Dividend safety | 0.75 | 0.50 | 1.25 | 1.50 | 1.0 |
| Valuation | 1.50 | 0.75 | 1.25 | 0.75 | 0.75 |
| Long-term debt | 1.0 | 1.5 | 1.5 | 1.0 | 0.75 |
| Revenue growth | 0.75 | 0.0 | 0.50 | 1.0 | 1.5 |
| EPS growth | 0.0 | 0.0 | 0.0 | 1.0 | 1.5 |
| Future growth estimates | 1.5 | 0.75 | 1.0 | 1.0 | 1.5 |
| RATING TOTAL | 10.0 | 7.5 | 9.5 | 9.75 | 10.0 |
Which Company Is A Winner?
In our estimate, there are three clear winners in the following order.
BUD (AB InBev) from valuation and growth perspective.

PepsiCo from the perspective of a stable-growth and very attractive valuation.

Constellation Brands from the dividend growth perspective, but it is not cheap by any means.
Who Should Buy?
Certainly, many of these stocks are at attractive valuation right now. Also, it should be kept in mind that just because they have declined recently, does not mean they can't dip further. However, we believe, as long as the overall market does not get hit, they should be okay. However, we always advise looking into additional factors that need to be looked into:
Do you own some of them already? If so, how are they weighted in your overall portfolio? As a general rule, you should not have more than 15% in one sector, after all, there are 11 sectors of the economy. Also, you should not have more than 5% in one single stock, assuming you have a minimum of 20 stocks in your portfolio.

If you already hold stocks in this sector and are over-weighted in the stock or the sector, there is no need to get tempted to buy further. It is never a good idea to have more than 15-20% in one sector. You would do well to remember the performance of the Tech in 2001-2003 downturn and the Financial sector in 2008-2009 crisis.

What are your income needs? If you need high income, investing at the current yields into these generally low-risk stocks would make sense. However, if you are in the accumulation phase and still have at least 20 years before retirement, high dividend growth stocks would make more sense.

Do these stocks fit your risk-profile? Generally speaking, some of these stocks should fit even the most conservative stock investors. However, if the broader markets were to take a big hit, these stocks would not be spared either. That said, they are likely to go down less compared to the broader market. If your investment horizon is longer than ten years, and you are prepared to look at the income component rather than the market price, then these may be suitable investments.
Conclusion:
We have analyzed five relatively safe, dividend-paying companies on a variety of metrics. As you can see from the overall analysis, there are only marginal differences in the net rating that we have derived. Please note that this rating method is unscientific and subjective to some extent; we still find it helpful to provide a meaningful comparison.
If we were looking for a company paying a reasonably high dividend and relatively cheap valuation, BUD (AB InBev) stands out. PepsiCo also makes a compelling case. However, STZ (Constellation Brands) stands out in terms of dividend growth and its prospects. But, sadly, the market already recognizes this, and STZ is not cheap, and the current yield is very low.
Regarding future prospects and growth, it is difficult to say with any certainty which company will grow faster than others. The 5-year EPS growth estimates suggest higher growth for BUD and STZ going forward, but these are only Wall-street estimates at this point and should be taken with a grain of salt.
Disclaimer: The information presented in this article is for informational purposes only and in no way should be construed as financial advice or recommendation to buy or sell any stock. Please always do further research and do your own due diligence before making any investments. Every effort has been made to present the data/information accurately; however, the author does not claim 100% accuracy. Any stock portfolio or strategy presented here is only for demonstration purposes.
If you liked reading this article, please click on the "Follow" button at the top of the article. We provide many of the strategies and portfolios similar to the one discussed in the article in our Marketplace Service "High Income DIY Portfolios." The HIDIY premium service includes five portfolios, including two High-Income portfolios, a conservative strategy for 401(k) accounts, a Sector-Rotation strategy and a High-Growth portfolio. For more details or a two-week free trial, please click on the image just below our logo at the top of the article.
Disclosure: I am/we are long ABBV, ABT, ADM, ARCC, BUD, CL, CLX, CSCO, CVS, CVX, DAE, DEO, EVT, FFC, GIS, HCP, HQH, INTC, JNJ, JPC, JPS,JRI, KO, KYN, LOW, MAIN, MCD, MO, MON, MSFT, NBB, NLY, NMZ, NNN, NSRGY, NVO, NVS, O, OHI, PCI, PDI, PEP, PFE, PFF, PG, PM, RFI, RNP, STAG, T, TLT, UL, UTF, VLO, VTR, VZ, WBA, WMT, WPC, XOM.
I wrote this article myself, and it expresses my own opinions. I am not receiving compensation for it (other than from Seeking Alpha). I have no business relationship with any company whose stock is mentioned in this article.